Are you looking for new ways to make money online? Running your own business can be a daunting and expensive task, but luckily, several great affiliate programs allow you to make money passively. One such program is AppSumo's Affiliate Program, which can help you generate extra income with minimal effort.
In this guide, we'll discuss the Overview of the AppSumo Affiliate Program and how it works so you can start earning commissions from your promotions. From figuring out how much you could earn to tips on promoting with maximum efficiency, let us show you everything necessary to maximize your earnings through their program!
What is AppSumo Affiliate Program
AppSumo Affiliate Program is a referral program offered by AppSumo, a popular online platform that offers discounted software deals and digital products for entrepreneurs and small businesses. The program enables individuals and companies to earn commissions by promoting AppSumo's products to their network and audience.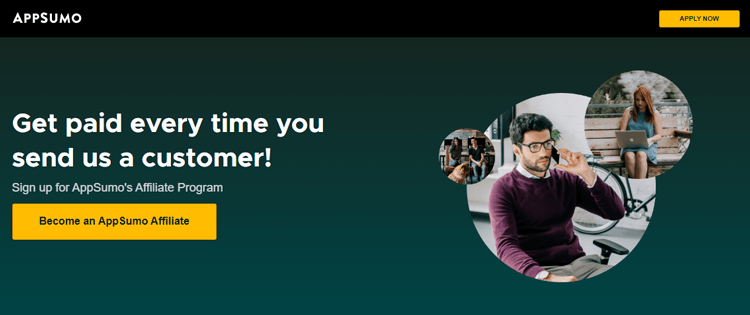 As an affiliate, you'll receive a unique referral link that you can share through your blog, social media channels, or website. In addition, you will get paid a commission when someone uses your ad to buy something from AppSumo.
Depending on the product, the commission rate changes but ranges from 10% to 40%. The program is free to join, and it offers a simple and effective way for affiliates to earn passive income by promoting quality software deals to their audience.
Benefits of joining the AppSumo Affiliate Program
Some of the benefits of joining the AppSumo Affiliate Program:
Earn commission: As an affiliate, you earn a commission of up to 30% for every purchase made by a customer you refer to AppSumo.
High-converting products: AppSumo offers a wide range of software tools and digital products that are highly sought after by businesses and individuals.
Trusted brand: AppSumo is a well-known and respected brand in the software industry, which makes it easier to promote its products to your audience.
Dedicated support: AppSumo provides dedicated support to its affiliates to help them succeed in their marketing efforts.
Easy to use platform: The AppSumo Affiliate dashboard is user-friendly and makes it easy to track your earnings and marketing performance.
Access to marketing materials: AppSumo provides its affiliates with a range of marketing materials, such as banners, emails, and social media posts, to help them promote the products effectively.
Flexibility: The AppSumo Affiliate program is flexible, which means you can promote its products in a way that suits your audience and marketing strategy.
Large potential earnings: AppSumo has a high average order value, which means you have the potential to earn significant commissions with every referral.

Overview of the guide of the AppSumo Affiliate Program
Signing up for the AppSumo Affiliate Program
AppSumo Affiliate Program provides an exclusive opportunity for affiliates to earn money by promoting AppSumo products. Signing up is easy and simple. In addition, it offers great rewards for successful referrals.
All you need to do is register with AppSumo, select a payment method, get your unique AppSumo affiliate link to promote AppSumo products, and start earning Sales Commission on every successful referral. With AppSumo's competitive payouts and generous discounts, it's a great opportunity to maximize your revenue potential.
Setting up your affiliate account and dashboard
Every AppSumo account holder can become an affiliate and start building their portfolio. You'll need to set up your AppSumo Affiliate account and dashboard to get started. Then, by completing a few simple steps, such as verifying your email address, race and selecting a payout method, you'll be eligible to earn passive income through AppSumo. AppSumo also provides additional resources like regular performance analyses, detailed reporting capabilities, and access to dedicated affiliate managers.
Understanding the terms and conditions of the program
It's important to understand the terms and conditions of the AppSumo Affiliate Program prior to joining in order to ensure a successful experience. AppSumo offers affiliates helpful resources, such as information about commission rates, approved promo codes, and marketing materials that can be used to maximize performance.
AppSumo is committed to creating transparency for both its customers and affiliates alike. Anyone looking for a great way to partner with AppSumo should look at signing up for the AppSumo Affiliate Program.
How to Promote AppSumo Offers
Identifying the best offers to promote
To promote AppSumo offers, it is important to identify the ones that will resonate with your audience and are likely to get the most clicks. Researching AppSumo's current deals and understanding what type of tools or resources are being offered can help you assess which AppSumo deals make sense to promote.
In addition, taking advantage of AppSumo's data-driven marketing tactics, such as testing different offers, pricing models, and channels, can also be beneficial for determining which AppSumo deals are most effective for your target audience.
Using your unique affiliate link to promote offers
By joining AppSumo's Affiliate Program, you can promote AppSumo offers and earn commissions. AppSumo's affiliate system lets you connect with its existing customer base to share exclusive discounts and offers and get rewarded for doing so.
All you need to do is use your unique AppSumo affiliate link to promote the AppSumo offer, whether on social media channels or on an email list. You will then receive commissions for any purchases that originate from that link.
Tips for creating effective promotional materials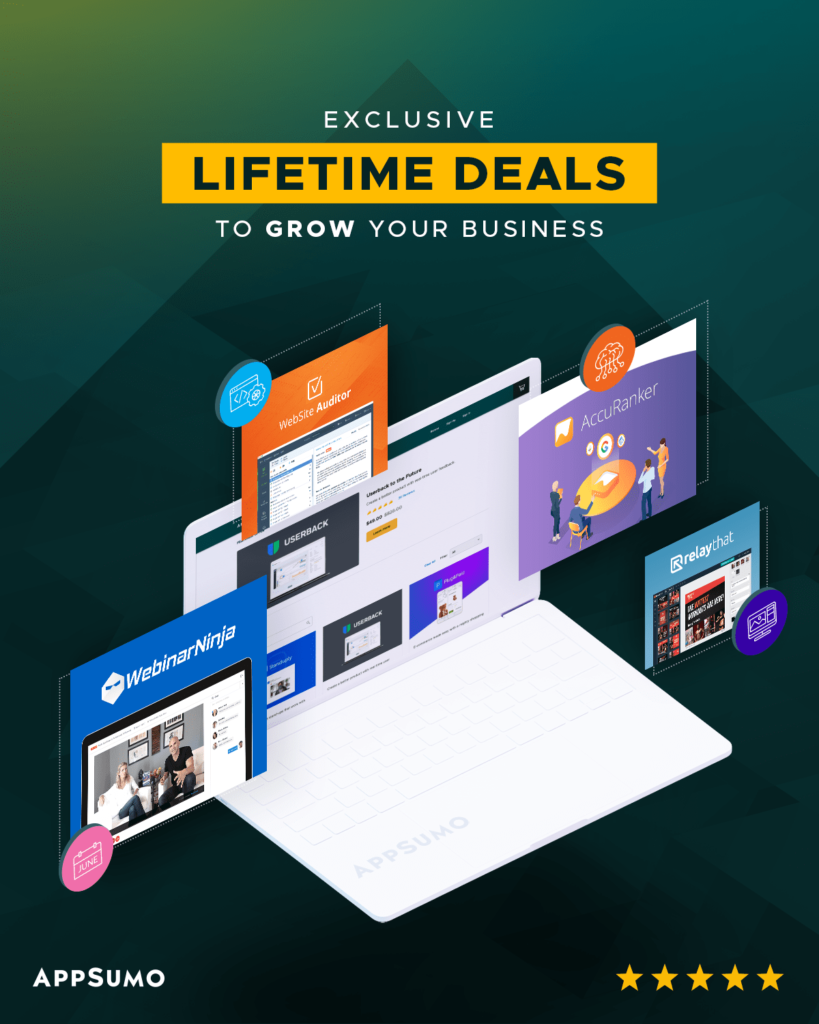 Know Your Audience: Research who your target audience is so that you can tailor your promotional materials to them.
Keep It Simple: Use simple language and clear visuals for best results, and make sure to avoid jargon or unnecessary information.
Be Concise: Make sure to keep your promotional materials concise and to the point; it should be easy for readers to understand quickly.
Focus on Benefits: Highlight the benefits of what you're offering instead of solely focusing on features. Let people know how they'll benefit from it.
Include a Call-to-Action: Include a call-to-action (CTA) in your promotional materials, so readers know exactly what action to take next.
Frequently Asked Questions
1. How do I access my affiliate dashboard and promotional materials?
To get started, log in to AppSumo where you will be prompted to activate AppSumo's Affiliate Program. Once activated, you can develop links, track your progress, and view available offers and promotions directly from the Appsumo dashboard.
Additionally, AppSumo gives members access to various tools and customizable resources for sharing AppSumo products with their audiences.
From short text ads to embedding HTML snippets, Appsumo provides members with an array of ways to increase their affiliate earnings with Appsumo's unique offerings.
2. How do I promote AppSumo offers?
AppSumo's Affiliate Program allows partners to promote AppSumo offers and earn a commission for every purchase made through their links or custom discounts.
Additionally, this program provides partners with exclusive AppSumo deals unavailable elsewhere. To maximize the promotion of App Sumo offers, affiliates can use email campaigns, social media marketing, and even content marketing by sharing helpful App Sumo tutorials on related blogs. All these strategies are effective ways to generate more AppSumo sales that generate affiliate commissions.
3. How do I track my earnings?
AppSumo provides a dedicated dashboard that allows you to see your total commissions, individual transactions, conversion rates, and more. All the data is updated in real time, so you can easily track how much you are earning from your affiliations. AppSumo also offers plenty of resources, such as tutorials and marketing resources, that can help you maximize your earning potential. With AppSumo, tracking your earnings has never been easier.
4. How often do I get paid?
All payout requests must be raised within the AppSumo platform and approved by AppSumo to be honored. Payments are typically processed within 30 days of approval. This marketplace strives to ensure clear communication between their affiliates and them so that all parties receive the most up-to-date information in regard to payment terms and other associated topics.
They also allow affiliates to track their commissions with daily performance updates. With Appsumo's simple system and helpful customer service team, affiliates can easily inquire as to when they will get paid.
Final Words
AppSumo's Affiliate Program provides a tremendous opportunity to leverage AppSumo's amazing products and services to achieve your financial goals. With its generous terms, enticing deals, and large commission percentages – AppSumo stands out as an ideal platform to maximize your earnings.
By staying informed of AppSumo's updates and special offers, you have everything you need to properly promote AppSumo and experience the rewards that come with it. The AppSumo Affiliate Program takes time and effort to succeed, but the potential is undeniable when done well.