Suppose you are looking for the best AI content-writing tool. There are lots of AI content writing tools available on the market. Copy.ai and WordHero are two popular AI writing tools in the market now. They offer a similar range of features and pricing plans, making it difficult to choose between them. In this blog post, we will discuss "Copyai vs WordHero" to help you decide which tool is correct.
Copyai vs WordHero
What is Copyai?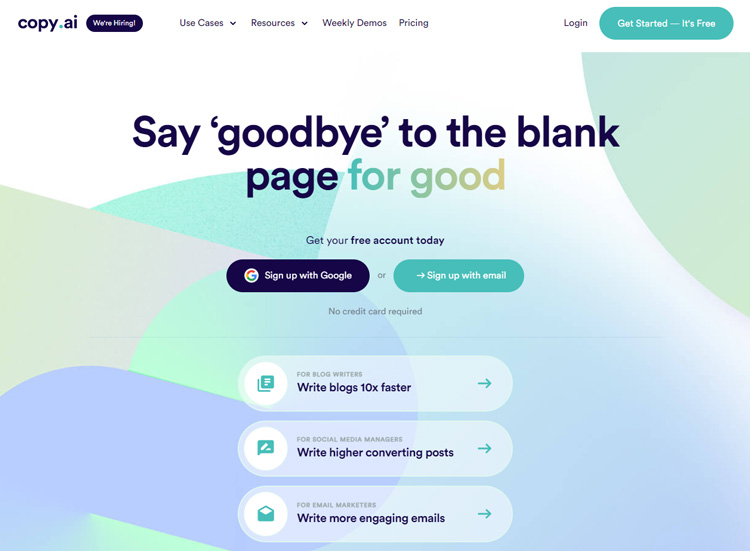 Copyai is a cutting-edge content generation tool that uses natural language processing and deep learning to create high-quality content for your website or blog. With Copy.ai, you can create content faster and more efficiently, freeing up your time to focus on other tasks. Copy.ai also offers a comprehensive suite of SEO tools to manage you optimize your content and rank higher in search engines.
What is WordHero?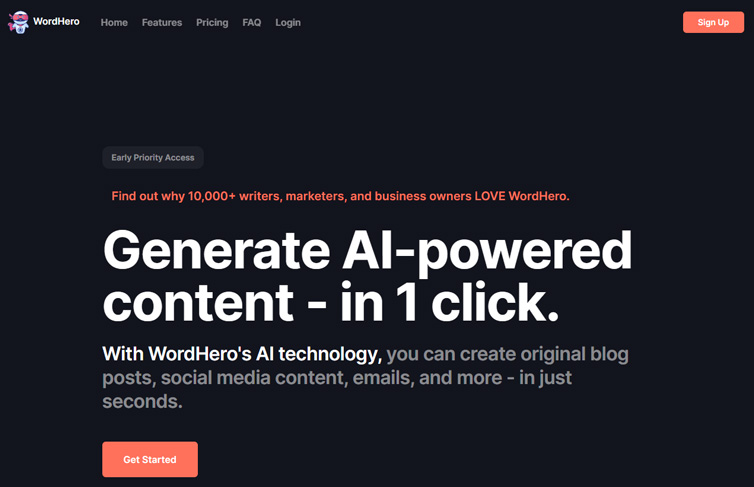 WordHero is a powerful writing tool that can produce high-quality content. With WordHero, you can quickly create blog articles, social media captions, emails, advertising copy, product descriptions, and more. It also helps you minimize your web research and writing time by providing a wealth of content ideas and resources. As a result, WordHero can be an invaluable resource for startups, marketing teams, content creators, and anyone else who needs to produce quality written content.
Features List of Copyai
Browser-free tools:
Blog Title Generator
Blog Title Generator is an AI-powered tool that helps you develop SEO-optimized headlines for your blog posts in seconds. It's an excellent tool for brainstorming headline ideas because it considers the length, topic, and keywords you want to include in your title.
Webinar Title Generator
Webinar Title Generator is a tool that can help you brainstorm exciting and relevant titles for your next webinar. Enter a few keywords related to your webinar topic, and Webinar Title Generator will generate a list of potential titles for you to choose from.
SEO Title Generator
SEO Title Generator is a handy tool that helps you quickly brainstorm and write unique title tags for your blog, website, and marketing campaigns. Then, with just a few clicks, you can generate catchy headlines that will help improve your SEO and draw more traffic to your site. These tools are a great way to save time and ensure that your titles are effective and catchy. In addition, with SEO Title Generator, you can easily create SEO-friendly bulk titles that will help improve your ranking in search engines.
Free Acronym Generator
Free Acronym Generator is an excellent tool for anyone looking to generate ideas for their business, event, product, or team. Enter a query, and the generator will provide five potential acronyms based on that query. This is a great way to brainstorm initial ideas and narrow your options. You can then use these ideas to help you come up with a more catchy and memorable name for your business, event, product, or team.
Free Bio Generator
Free Bio Generator is a revolutionary new tool that makes creating a social media bio easy and fun. With a few clicks, you can make a bio that is both clever and witty. Best of all, Free Bio Generator does all the hard work for you. So whether you're updating your Facebook page or tweeting for the first time, Free Bio Generator will help you create a great bio in seconds. Enter your name, choose your social media platform, and Free Bio Generator will provide you with options for your new bio.
Useful Browser Templates of Copy.ai
Cover Letter Template
The template provides a structure for you to fill in your information, and it also includes tips. With Cover Letter Template, you'll be well to writing a solid and compelling cover letter that will give your job application the best chance of success.
Resignation letter template
Resignation letter templates can be a helpful way to start writing a resignation letter and can be found online. Once you have found a template, log in with your email address and customize it to fit your needs. Many resignation letter templates also include guidance on what to include in your Letter and tips on avoiding common mistakes.
Business plan templates
The business plan template includes everything to get started, including sections on your business concept, market analysis, and competitive landscape; plus, it's easy to use and customize. So whether you're looking for funding or want to get organized, our business plan template can manage you get started on the right foot.
Letter of Recommendation
A Letter of Recommendation provides valuable information about a person's character, abilities, and accomplishments. A Letter of Recommendation can be an excellent factor in a person's success when applying for a job, admission to a school, or another opportunity.
Features list of WordHero
Generator Mode
Generator Mode in WordHero is the perfect solution for creating content quickly and easily. With a comprehensive set of more than 40 writing tools, it offers everything you need to produce high-quality blog entries, social media captions, emails, ads, sales pitches, product descriptions, and more. And new tools are added weekly, so you can always keep your content fresh and engaging.
Editor Mode
Editor Mode is a content creation tool that can create better content faster. By identifying and correcting grammar mistakes, Editor Mode can help you improve your writing and make it more readable. Additionally, Editor Mode can paraphrase and restructure your content to make it more effective. By using Editor Mode, you can create better content in less time, making it an essential tool for any content creator.
Keyword Assistant
Keyword Assistant is an excellent tool for helping you to add your target keywords to your content. Just enter the keywords you want to use, and the Assistant will automatically insert them into your text. This can help boost your SEO, ensuring that your keywords are included in your content quickly and easily. Additionally, the Assistant can track the keywords you use effectively.
Easy-to-use Interface
WordHero's easy-to-use interface is its most valuable asset. The interface is simple to understand, making it easy for users to navigate and use all the functions with just a few clicks. It is visually appealing, which makes it more attractive for the users. The interface is designed so the users can find any function quickly and use it efficiently. The user-friendly interface is well-organized, making it a valuable tool for users.
Language Supported Section
WordHero supports different languages, so it is helpful in you to write marketing copy, book descriptions, emails, blog posts, social media content, and more. The easy-to-use tool can translate your content into more than 100 languages, making it ideal for businesses with an international audience. With WordHero, you can create content in any desired language quickly and easily.
Useful Templates of WordHero
Blog Intro
Blog Intro is the perfect tool for busy bloggers who want to generate an introductory paragraph for their blog posts quickly. A strong blog intro is essential for any blogger who wants to create a successful and engaging site. Blog intros are the best way for your readers to know what they can expect from your content.
Blog Outline
A blog outline template of WordHero is a great way to plan out your article before you start writing it. This will help you stay focused and make sure that you cover all of the essential points. And with this tool, it's easy to generate a complete blog outline. Just enter your topic, and WordHero will create an outline for you.
Blog Conclusion
A blog conclusion is a great way to summarize the main points and help your readers understand what you are trying to say. In addition, a blog conclusion can help to provide closure on the topic you are discussing and leave your readers with a lasting impression.
Blog topics
Blog topics are a great way to develop ideas for blog entries and provide a simple solution. Fill in the spaces with your thoughts, and you will have a list of topics to write about. This process can help to stimulate your creative juices and ensure that you always have things to say. In addition, it can also help to keep your blog entries focused and on-topic.
AIDA Copy Writing Formula
AIDA stands for Attention, Interest, Desire, and Action. It's a copywriting formula used for decades to create compelling, persuasive content. The AIDA copy writing formula of WordHero helps you engage your reader emotionally, creating a desire for your product or service.
Book Title
Book titles are essential for helping readers identify which books might interest them. A good title can create a big difference in whether or not someone picks up your book. When thinking about what to call your book, it's essential to be creative and develop a title that will grab attention.
Brand Name Ideas
Brand names are essential for businesses. They help to create an identity and build customer loyalty. WordHero's brand name generator makes it easy to develop great ideas for your business in minutes. All you need to do is enter keywords, and the generator will list potential names. With this tool, you'll be able to find the name of your business in no time.
Book Descriptions
The Book Description Template is an easy-to-use tool that lets you quickly and easily create eye-catching, sales-boosting descriptions for your books. Not only will a well-written description help you sell more copies, but it will also ensure that your book appears higher in search results.
Amazon Product Description
Amazon Product Description is an easy-to-use Amazon listing optimization tool that will help Amazon sellers write high-quality product descriptions that are keyword rich, help you rank higher in the search engines, and get more traffic to your Amazon affiliate website.
Analogy Provider
The Analogy Provider template is an excellent method for making comparisons. In addition, the Analogy Provider template is a tool that can be used to create analogies to understand complex concepts. For example, using this template, you can appreciate evolution much more simpler.
Benefits of using Copy.ai
Create high-quality content briefs
Generate click-worthy email subjects
Copy.ai lets you generate human-like text within seconds.
Easily create unique and engaging content.
It helps rewrite and rephrase your writing so that it sounds concise.
It helps you auto-correct grammar and spelling errors that might occur.
This tool helps detect phrases and sentences that might be the same as another post.
It lets the user track its clarity and engagement by suggesting automated content for your writing.
Benefits of using WordHero
These tools are designed to help writers improve their skills through grammar analysis, word choice, and sentence structure feedback.
This tool writes to help them produce high-quality content more efficiently.
It saves countless hours of backbreaking work.
You can also make your writers use WordHero to reduce their writing time.
It helps you generate articles rapidly and at any scale.
Generate an unlimited amount of content every month.
The user interface of WordHero is elegant and modern.
This Al Writing tool also assists you in getting more traffic to your site.
Pros and cons of Copy.ai
Pros:
The content creation process is straightforward
Offers a generous free trial, and you don't need to enter credit card information
It has a simple interface that's easily understood
Create multiple content types with templates
You can style content to specific tones
AIDA and PAS frameworks supported
They offer survey forms to better their AI writing with solid feedback.
Cons:
Not optimal for long-form content
Highly random content sometimes appears
The customer support team could be faster
Pros and cons of WordHero
Pros:
The content created is plagiarism free
The workspace is simple to navigate.
New features are being implemented.
Increase the time to market by a significant amount.
Aids in the quick and large-scale creation of articles.
Every month, create a limitless amount of material.
This is good for generating SEO-optimized content within seconds.
Cons:
Free version is not available.
This tool is in the learning stage
Issues with long structure
Pricing plan of Copy.ai:
Free Plan: This plan is offered at $0 per month.
The following features are included:
Only 1 user seat
90+ copywriting tools
Unlimited projects
7-day free trial of Pro Plan
Pro plan: This plan is offered at $49 per month. The following features are included:
5 user seats included
90+ copywriting tools
Unlimited projects
Priority email support
Pricing plan of WordHero:
Unlimited plan: The WordHero offered onetime purchase at $49 per month. The following features are included:
Generate unlimited content
Access to all writing tools
Long-form editor and keyword assistant
Write in 108 languages
Conclusion:
Copyai vs WordHero, both of them are AI-powered writing tools that can help you produce high-quality content quickly and efficiently. However, you should know some differences between the tools to decide. Copy.ai is primarily a Copywriting tool, whereas WordHero is an all-in-one AI Writing Assistant Platform. Ultimately, deciding which tool to use depends on your needs and preferences. Suppose you're looking for a tool to help with copywriting specifically; then Copy.ai is the better option. However, if you're looking for an AI Writing Assistant to help with all aspects of your writing, then WordHero is the better choice.