Do you want to improve your social media marketing? In this blog post we will discuss "Postly In-depth Review"- a Social Media Manager and Content Scheduler. With Postly, you can publish content to hundreds of Facebook pages and groups with a single click. You can also schedule content for future publication, making it simpler than ever to distribute your marketing content on a large scale. In addition, Postly provides private, secure workspaces where you can plan, review, approve, and schedule social media content. This makes creating a content strategy and increasing your target market easier.
What is Postly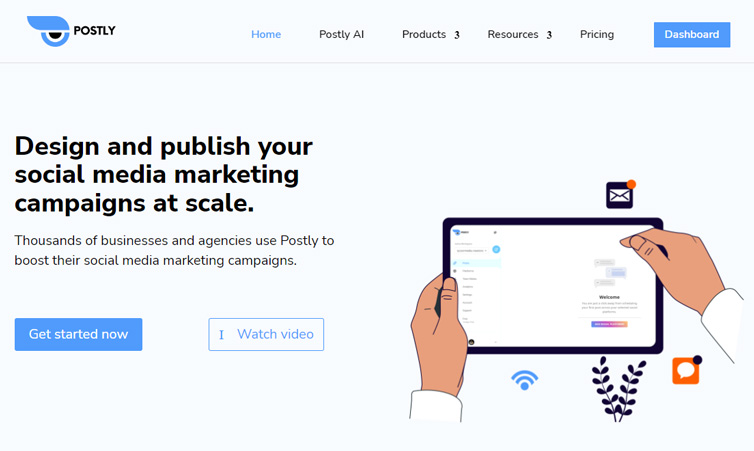 Postly is an AI-powered social media management tool that helps you plan and review content in a private, secure workspace. Postly makes it easy on top of your social media campaigns by allowing you to see all your content in one place. In addition, with Postly, you can quickly review and approve content before it goes live, ensuring that your social media presence is always on point.
What are the Benefits of using Postly?
The benefits of using postly are given below:
Increase Brand Awareness and Visibility
Create stunning marketing campaigns with a free online image editor
Publish social media content at scale across multiple channels
Create personalized social media experiences at the scale
Generate quality content, design, and publish faster
No more link-shortening headaches, as well as focus on the campaign.
Visually design your Content weeks and months in advance.
Save time, and create multiple Workspaces at once.
View content trends and gain insights about what to post.
Who needs to use Postly
Freelancers, Social Media Managers, Brands, Agencies, Startups, Enterprises, Small And Large Businesses, New Businesses, PR Companies, Media Companies, Advertising Businesses, Digital Marketing Companies, And Agencies are the actual users of this software.
Features List of Postly
Social Media Monitoring
Social media monitoring is a tool to track and listen to conversations across the internet. This includes traditional media publishers and the millions of social sites where people talk about their interests, experiences, and opinions.
Customer Engagement
Customer engagement is a term used in marketing and public relations. It describes the level of an individual's or group's involvement with a company or brand. Customer engagement activities include interacting with a brand on social media, leaving reviews, or participating in loyalty programs.
Analytics(Social Media)
Analytics is analyzing data to discover valuable insights that companies can act on. For example, businesses can better understand their customers and what they want by analyzing social media activity. Analytics software has become more intelligent in understanding customers, allowing companies to make data-driven decisions.
Posts Schedule
Post Schedule is a feature that allows you to specify specific time slots for the day when you want to schedule your content. This feature is also necessary if you have a lot of content that you want to post regularly or to ensure that your posts are evenly spaced throughout the day. Most social media platforms have a settings menu where you can schedule posts.
Brand Tracking
Brand tracking is the practice of measuring the effects of brand-building campaigns on sales and conversions. Brand tracking allows marketing teams to see how their campaigns are performing and whether or not they are having the desired effect on customers. By using brand tracking, marketers can ensure that their efforts are paying off and that they are on the right track to building a successful brand.
Content Management
Content management (CM) handles digital information from creation to distribution. It involves using procedures and technologies to facilitate knowledge collection, management, and transmission in any format or medium. The ultimate goal of CM is to ensure that all digital content is accurate, up-to-date, and accessible to authorized users.
Multi-User Collaboration
Multi-User Collaboration is a process in which more than one user work on the same account to reach a common goal. It can be done by using a shared online workspace or by working offline and then uploading the changes. Multi-User Collaboration is beneficial because it allows users to share their knowledge and skills, learn from each other, and complete tasks faster.
Auto Publishing
Auto publishing is a handy tool that allows you to plan your posts ahead of time. It also allows your content to be published later on the social media platform. By scheduling your content, you can be sure that your posts will go live when your audience is likely online.
Pros and Cons of Postly
Pros:
Postly is an easy-to-use social media manager with added functionalities, so planning, creating, and scheduling posts is effortless.
Customer support has been beneficial, and the platform has felt very stable.
The team is focused on developing a high-quality and polished SAAS product.
Postly saves a lot of time with client posts and allows you to post everything in advance, so you don't have to worry about when to post.
Easy for beginners to use, reasonable capabilities, and affordable price.
Cons:
Sometimes it takes time to load
It still needs more automation software.
Price:
On Website:
Seodity offers the following pricing plans-
Free plan: $0
Solo plan: $9
Basic plan: $19
Starter plan: $29
Growth plan: $99
Agency plan: $499
On Appsumo:
Postly lifetime deal is now available on Appsumo, and you have to pay just $79 at once with no monthly or annual charge. Appsumo also offers you a 60 days money guarantee. In addition, you get lifetime updates with the Postly Appsumo plan and more.
Final Word
In a word, Postly is a social media management tool that helps users post content to their various accounts with minimal effort. This tool also provides users with a unified platform to post content, monitor activity, and engage with followers. Additionally, Postly is necessary for social media managers who want to streamline their workflows.