If you're looking for options beyond Support Candy WordPress plugins to boost your website's performance, look no further. In this guide, we'll explore the 6 top-notch alternatives to Support Candy WordPress plugins that offer a delectable array of features and support to satisfy your site's cravings. Whether it's for eCommerce, design, or optimization, these alternatives have you covered.
Overview of Support Candy WordPress plugins
The Support Candy WordPress Plugin stands as a dynamic and versatile solution designed to elevate customer support operations for WordPress websites. It redefines the way businesses manage support inquiries and interactions, offering a range of features that streamline processes and enhance user satisfaction. It simplifies the process of managing customer inquiries by converting them into structured tickets.
The plugin provides a centralized platform for seamless communication between support agents and customers. Agents can respond to inquiries, provide updates, and gather information all within the same interface. Additionally, it allows businesses to tailor their support workflows to match their unique requirements. From ticket categorization to automated actions based on triggers, the flexibility to design workflows enhances operational efficiency.
Features and Functionalities of Support Candy WordPress Plugins
Email Piping (Channel): Support Candy enables seamless integration of customer communication through email. It allows users to create and manage support tickets directly from incoming emails, ensuring that customer queries are promptly addressed within the system.
Workflows: The plugin facilitates the customization of support workflows to match the specific needs of your organization. You can define stages for tickets, automate actions based on triggers, and establish rules for routing tickets to the appropriate teams or agents.
Service Level Agreements (SLA): With SLA functionality, you can set predefined response and resolution times for different types of tickets. This ensures that customer inquiries are handled within specified timeframes, enhancing customer satisfaction.
Usergroups (Company): Support Candy enables customers to be categorized into user groups, allowing them to provide a tailored support experience based on customer type, preferences, or subscription level.
Agent groups (Team): This feature lets you organize your support agents into teams or agent groups. Assigning tickets to specific agent groups ensures that inquiries are routed to the most relevant and skilled team members.
Satisfaction Survey: After a ticket is resolved, Support Candy allows collecting feedback from customers through satisfaction surveys. This valuable insight helps you gauge customer sentiment and improve your support services.
Timer (Time Tracking): Time tracking functionality helps agents log the time spent on each ticket. This information is useful for measuring agent performance, calculating billing for clients, and optimizing support processes.
Private Credentials: For handling sensitive information, Support Candy offers a secure space to store private credentials, such as login details, passwords, and other confidential data, within the system.
Schedule Tickets: Users can schedule tickets to be addressed at specific times, which is particularly useful for managing follow-ups, planned updates, or time-sensitive support tasks.
Automatic Close Tickets: The plugin allows you to set conditions that trigger automatic ticket closure when certain criteria are met. This prevents tickets from lingering in the system unnecessarily and helps maintain a tidy ticket queue.
Reports: Support Candy offers robust reporting features, providing insights into ticket volumes, response times, resolution rates, and agent performance. These reports aid in making informed decisions and identifying areas for improvement.
Export Tickets: Users can export ticket data in various formats, such as CSV or Excel, for further analysis, archiving, or reporting purposes.
Print Ticket: This feature allows you to generate printable versions of support tickets, which can be useful for record-keeping or internal documentation.
6 Best Alternatives to Support Candy WordPress Plugins
Support Genix – WordPress Support Ticket Plugin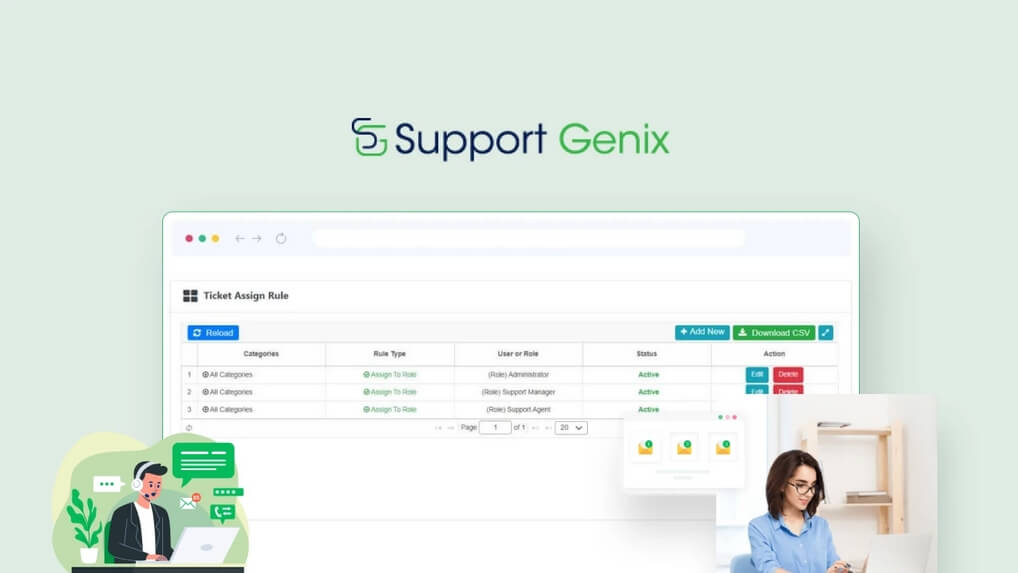 Support Genix is an innovative customer support solution tailored specifically for WordPress website owners. By seamlessly integrating into the WordPress platform, it provides a streamlined and user-friendly interface for users to create and manage support tickets directly from the website. This eliminates the need for customers to navigate through complex systems, enhancing their overall experience.
With a strong emphasis on efficiency, Support Genix empowers support teams to effectively manage incoming tickets, reducing response times and improving customer satisfaction. Moreover, Support Genix goes beyond the basics, offering personalized customer insights and interaction histories to support agents, fostering more meaningful and tailored responses.
Features List:
Unlimited Tickets
Unlimited Agents
Unlimited Customers
Agent Control
Transfer Ticket
Email piping
Envato integration
File upload settings
Email notification
WooCommerce integrations
Reports
Pros and Cons of Support Genix
Pros:
SupportGenix provides a user-friendly experience and facilitates swift and effortless management of your support tickets.
It offers a means for customers to submit tickets while assisting you in monitoring, tracking, and responding to those tickets.
SupportGenix simplifies the handling of customer support requests, enabling you to ensure the happiness of your customers with ease.
Cons:
SupportGenix exclusively functions as a WordPress Support Ticket Plugin designed solely for use within the WordPress framework. If your website operates outside of WordPress, this plugin will not hold any relevance for your needs.
The exclusive features are not found in the basic version. To access the complete range of features and functionalities, you have to upgrade to the premium version is necessary.
Pricing Plan of Support Genix:
Lifetime:
Personal: $99/Lifetime for 1 website
Developer: $199/Lifetime for 5 websites
Agency: $399/Lifetime for 100 websites
Yearly:
Personal: $59/Year for 1 website
Developer: $99 /Year for 5 websites
Agency: $149 /Year for 100 websites
WPHelpDesk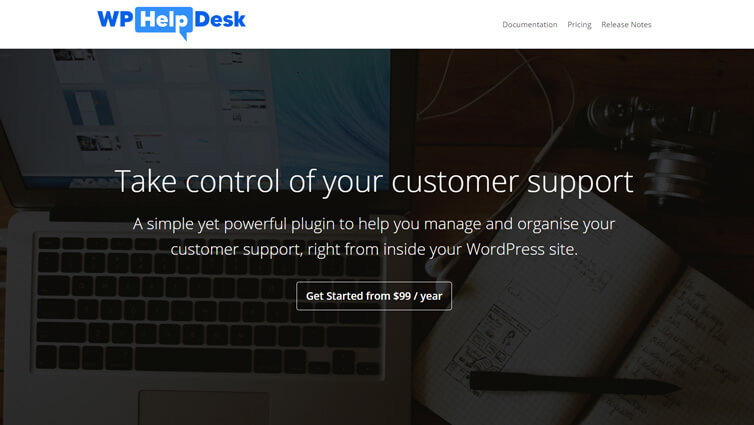 WPHelpDesk is a robust customer support solution designed to integrate within your WordPress website seamlessly. This plugin offers a powerful platform for managing and enhancing your wooCommerce support ticket plugin services. Its straightforward installation process ensures you can set up and deploy your customer support system in a matter of minutes.
The plugin's intuitive interface is organized to optimize your helpdesk support ticket workflow. Support tickets are allocated priorities, allowing you to address and resolve issues based on their urgency efficiently. Additionally, WPHelpDesk offers a structured approach to customer information, ensuring that you have the necessary details at your fingertips to provide personalized and effective assistance.
Features List:
Straightforward configuration
Custom fields
Canned Responses
Public Forums
Pros and Cons of WPHelpDesk
Pros:
Seamless Integration
Easy Setup
Efficient Ticket Prioritization
Structured Customer Information
Advanced Filtering
Cons:
Dependency on WordPress
Limited Standalone Functionality
Pricing Plan
Standard Plan – $99/year (1 Site)
Professional Plan – $199/year (1 Site)
Zendesk Support for WordPress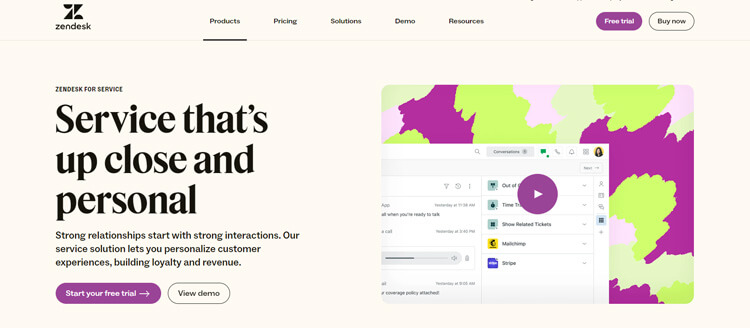 Zendesk Support ticket systems for WordPress represent a valuable integration that empowers users to incorporate robust customer support capabilities into their websites seamlessly. This integration acts as a bridge between the widely used WordPress platform and Zendesk's powerful ticketing and support features. With this WordPress helpdesk ticket plugin, website administrators can easily embed support request forms directly into their web pages, enabling visitors to easily initiate support searches.
Additionally, this integration coordinates support tickets between the WordPress environment and Zendesk's comprehensive ticket management system. This ensures that customer queries are efficiently captured and organized for streamlined resolution. The integration also enables administrators to tailor the support experience, allowing them to customize the appearance and behavior of the support forms to align with their website's aesthetics and user experience.
Features List:
Internal Desk Help
Analytics and Reporting
Triggers
Multichannel
Multilingual Interface and Support
Answer Bot
Better Security
Third-party Integration
Self Service
Customization
Pros and Cons of Zendesk
Pros:
Comprehensive Ticketing System
Multichannel Support
Automation and Workflows
Integration Capabilities
Reporting and Analytics
Customization
Cons:
Limited Features in Lower Tiers
Dependency on Internet Connectivity
Complex Setup for Advanced Workflows
Pricing Plan
Monthly:
Suite Team: $69 per agent/month
Suite Growth: $115 per agent/month
Suite Professional: $149 per agent/month
Suite Enterprise: contact with them
Annual:
Suite Team: $55 per agent/month
Suite Growth: $89 per agent/month
Suite Professional: $115 per agent/month
Suite Enterprise: contact with them
Awesome Support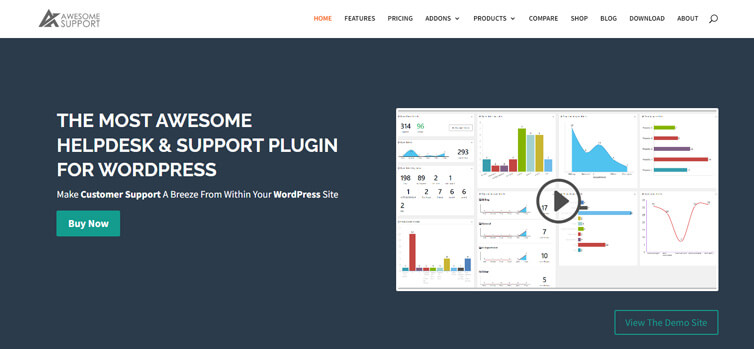 Awesome Support WordPress Ticket Plugin emerges as a standout solution for companies and people looking to strengthen their customer care initiatives. With a user-friendly interface and a host of practical features, it seamlessly integrates into the WordPress ecosystem, catering to businesses and individuals alike.
Navigating customer support becomes a breeze as this plugin simplifies ticket creation, tracking, and resolution. Its versatility shines through customizable ticket forms, enabling tailored data collection that aligns with specific business needs. Moreover, it allows for efficient agent assignment, ensuring that customer inquiries are swiftly routed to the right personnel.
Features List:
Unlimited Tickets
Unlimited Agents
Agent Control And Collaboration
Email Handling
Agent Assignment And Routing
Branding and "Look & Feel"
Files and Attachments
Automatic Ticket Close
Notifications
Private Credentials
Integrations
Pros and Cons of Awesome Support
Pros:
User-Friendly Interface
Efficient Ticket Management
Customizable Ticket Forms
Agent Assignment
Integration Capabilities
Cons:
Limited Feature Set in Free Version
Learning Curve for Advanced Features
Dependency on WordPress
Pricing Plan:
Standard: $149/year
Pro: $229/year
Enterprise: $289/year
Agency: $409/year
LiveAgent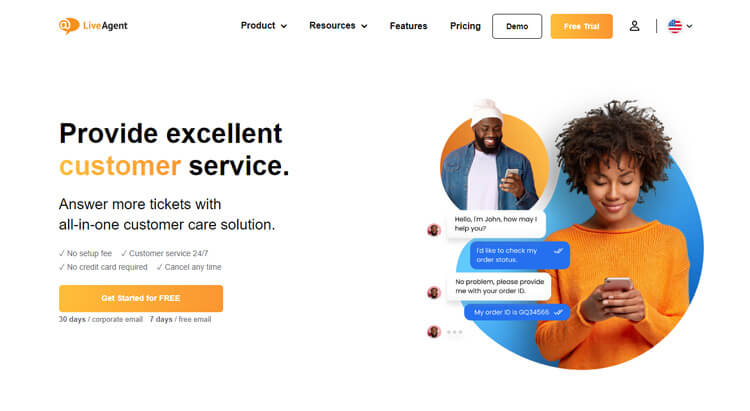 LiveAgent is a versatile online Help Desk solution specifically crafted to meet the needs of eCommerce businesses operating within the realms of small and midsize enterprises. This platform offers an array of essential features, encompassing live chat applications, efficient ticket management, self-service portals for customers, and adept change and license management tools. Notably, these functionalities can be harnessed as integrated components within the suite or as standalone applications.
This WordPress support ticket plugin presents an extended spectrum of customer relationship management (CRM) applications, partnering with a diverse array of third-party software companies to facilitate functionalities like marketing and sales force automation. With a focus on adaptability, LiveAgent serves as a customizable solution capable of seamlessly scaling as small businesses expand their customer bases and online services.
Feature List:
Ticketing system
Live chat
Call center
Social media help desk
Multilanguage
Customer Portal
Mobile help desk apps
Help desk security
Pros and Cons of LiveAgent
Pros:
Immediate Access for Customers
Efficient Use of Employee Time
Affordable for Businesses
Improves Brand Image
Cons:
Initial setup and configuration required.
Limited customization options compared to other software options.
The learning curve for advanced features.
Limitations in ticket-only plans compared to higher-tier plans.
Pricing Plan
Small business: $9/agent/month
Medium business: $29/agent/month
Large business: $49/agent/month
Enterprise: $69/agent/month
Help Scout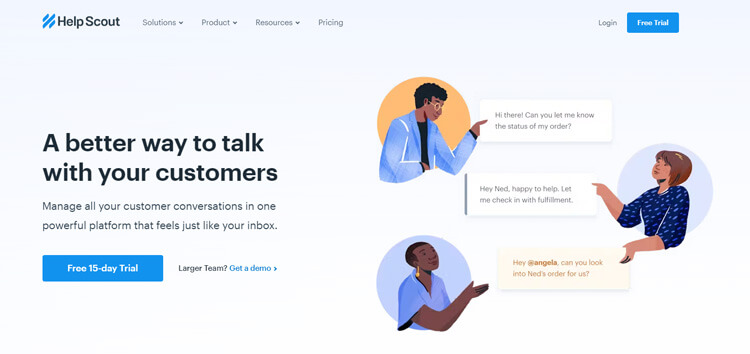 HelpScout is a versatile and powerful support ticketing solution designed to streamline customer assistance processes. Catering to WordPress users, it offers a dedicated plugin that enables the creation and management of customer support ticket systems for WordPress. This integration enhances customer satisfaction by ensuring prompt and efficient responses to queries.
This plugin simplifies customer support by centralizing communication in one location, allowing businesses to track, categorize, and manage support requests seamlessly. Its user-friendly interface makes it easy for both customers to submit tickets and support teams to respond promptly. Furthermore, HelpScout's affordability and commitment to providing excellent helpdesk support tickets contribute to its reputation as a reliable choice for businesses of all sizes.
Feature List:
Support Ticket Management
WordPress Integration
Centralized Communication
Automation and Workflows
Collaboration Tools
Reporting and Analytics
Multichannel Support
Pros and Cons of Help Scout
Pros:
Intuitive Interface
WordPress Integration
Customization
Automation and Workflows
Multichannel Support
Exceptional helpdesk support ticket
Cons:
Learning Curve
Limited Features in Lower Tiers
Dependency on Integration
Price:
Free: $0 /month
Standard: $20 / month
Plus: $32 / month
Frequently Asked Questions
What is the best customer support plugin for WordPress?
Determining the "best" customer support plugin for WordPress can depend on your specific needs, preferences, and the features that are most important to you. However, there are several popular and highly regarded options that you might consider:
1. Support Genix
2. Zendesk for WordPress
3. HelpScout
4. LiveChat
Are these alternatives compatible with different WordPress themes?
Yes, these alternatives are designed to be compatible with a wide range of WordPress themes. Plugin developers understand the importance of seamless integration, and they typically adhere to WordPress coding standards to ensure that their plugins work well with different themes.
What kind of customer support can be expected with these alternatives?
The level of customer support provided by different customer support help desk software alternatives can vary based on the plugin developer's policies, the pricing tier you choose, and the overall focus of the company. Here's what you can generally expect:
1. Responsive Support Channels
2. Documentation and Knowledge Base
3. Priority Support
4. Live Chat
5. Ticketing System
6. Feedback and Improvement
Can these alternatives improve website performance compared to Support Candy WordPress plugins?
Comparing different WordPress customer support plugin alternatives to the Support Candy WordPress plugin in terms of their potential impact on website performance requires careful consideration of various factors. While the specific impact can vary depending on the plugin, here are some general points to consider:
1. Code Efficiency
2. Optimized Resources
3. Caching and Speed
4. Browser Compatibility
5. Optimized UI Elements
6. Efficient Database Usage
Final thoughts on choosing the best alternative for your website's needs
Selecting the best Alternatives to Support Candy WordPress plugins for your website requires careful examination of your individual requirements. This decision will have long-term consequences on your website's functionality and user experience. It is important to strike a balance between critical features, scalability, user-friendliness, and support. Choosing the best option not only meets your current needs but can also meet your website's growing and changing needs.