Are you looking for a way to find prospect contact information? If so, useArtemis is the tool for you. useArtemis makes it easy to locate prospect contact information. For example, you can search for prospects by company name, job title, or location, and the tool will provide you with their phone number and email address. In this article, we will show you how to use useArtemis to its full potential.
What is useArtemis?
UseArtemis is a powerful tool that helps sales managers and small businesses find contact information for their prospects quickly and accurately. This tool makes it easy to find potential customers by searching for keywords related to your product or service. This tool allows you to easily export your results in a format that can be imported into your CRM system.
In addition, this tool provides a variety of filters that can be used to target specific industries or countries. As a result, UseArtemis is an essential tool for any sales manager or small business looking to expand its customer base.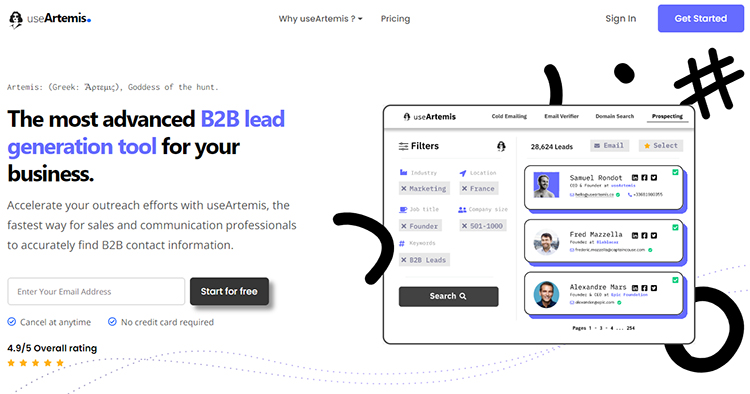 Benefits of using useArtemis
The benefits of using Artemis are numerous:
You can find anyone's contact details, emails, and phone numbers with just a few clicks.
It is constantly updated with new data, so you can be confident that you always get the most accurate information.
With useArtesmis, you can manage your events and contacts in one place.
The benefits of useArtesmis include the ability to connect with people worldwide and the ability to share photos and videos.
With Chrome Extension, you can search LinkedIn and instantly reveal contact details or import results to your dashboard.
By useArtesmis, you can find the hidden email addresses of your target market and export them to CSV.
How to use useArtemis?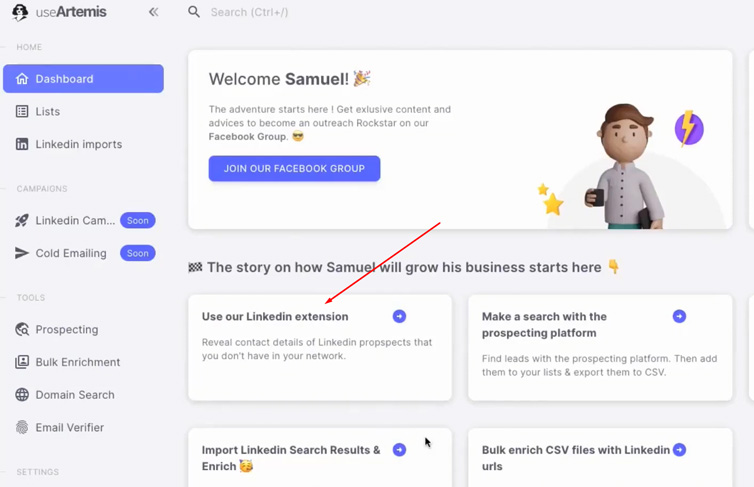 To get started with using useArtesmis, create an account and log in. Once logged in, you can search for prospects by company name, job title, or location. The results will include the prospect's phone number and email address. In addition, useArtemis offers various features that make it easy to connect with prospects, such as creating and managing prospect lists, creating and sending customized emails, and tracking your progress. So the features are listed below with details:
Use of Linkedin Chrome Extension tool:
The Linkedin Chrome Extension is an excellent tool for finding contact information for LinkedIn profiles. After you sign up, you will be redirected to Google Web, where you can download the extension. After installing, open the LinkedIn profile of the person for whom you are looking for contact details. Then launch the useArtemis extension. You will see a list of "censored" emails and phone numbers linked to the account. Next, click on "Reveal Details," and you will have the contact information you are looking for.
Use of Linkedin import:
UseArtemis Extension is an excellent tool for importing LinkedIn Search Results. The process is simple: launch the extension, give your import a name, select the pages you want to import, and click on Start Import. The import may take a few minutes, depending on the data size, but once it's over, You can find it under "Linkedin Imports" on your dashboard.
Use of Prospecting tool:
Prospecting is searching for potential customers or clients for your business. And while it can be time-consuming, it's a necessary step in the sales process. You can quickly and easily find leads with contact details that match your search criteria using useArtemis. Next, select the leads you want to add to a new list and export the list to CSV. Now, all that's left is reaching out and building relationships. With useArtemis, it is quick and simple to Find the contact details for your prospects.
Use of Bulk enrichment:
Bulk enrichment is a great feature that can be found on the Artemis website. With Bulk Enrichment, you can upload a CSV file that contains several Linkedin profile URLs. Once you have completed this, you will get a list of corresponding profiles enriched with emails and phone numbers. Bulk enrichment is a great way to quickly get a list of profiles with the information you need to reach out to customers or clients.
Use of Domain Search Tool:
Domain Search Tool can be of great use in getting the email addresses of people working in any company. With this tool, you can quickly build up a list of potential contacts, making it easy to catch in touch with the people you need to reach. Just enter the company's Domain Name, and Domain Search will search the Internet for all email addresses connected with that domain. So whether you're looking to connect with a potential customer or collaborator, Domain Search Tool can help you get the information you need.
Use of email Verifier:
Verifying the accuracy of an email address is known as email verification. There are several ways to verify an email address, but the most common method is to use a tool like Artesmis Email Verifier. This tool will automatically check the validity of an email address using a variety of methods, including checking for typos, checking the domain name, and checking for known bouncing addresses. Once an email address has been verified, it can be added to a mailing list or used to send important messages. Email verification is a crucial part of keeping your list of contacts up-to-date and accurate, and it can protect you a lot of time and hassle you in the long run.
Pros and Cons of useArtemis:
Pros:
Users have access to a massive database with 500 million leads.
useArtemis can search for leads by industry keyword, making it easy to find potential customers.
The platform provides filters to narrow search results by name or location.
useArtemis is constantly adding new features, such as cold emailing software, that is more valuable for sales and marketing professionals.
They are genuinely dedicated to ensuring their fantastic customer support.
The dashboard is easy to navigate. The info comes out clean, and the support is fantastic.
Cons:
It keeps track of hundreds of potential contacts, which is painful.
The tool completely rules out the problem of co-opting new companies into services as it would take a lot of time.
FAQ of useArtemis
1. What are the major features of useArtemis?
The major features that useArtemis has to offer:
The Linkedin Chrome Extension
The Linkedin import
Prospecting
Bulk enrichment
Domain Search Tool
2. Is there any free version available on useArtemis?
useArtemis does not have a free version
3. Is there a restriction on how many people I can add to my lists?
No, there is no restriction on how many people you can include in your lists.
4. How long does it take to complete bulk enrichment?
Depending on how many contacts you are enriching, the turnaround time for bulk enrichment varies.
Pricing Plan of useArtemis:
useArtemis offers three different pricing plans to fit the business's needs best.
Prospecting Plan: 29 USD/month
Outreach Plan: 49 USD /month
Unlimited plan: 99 USD /month
Appsumo is currently offering a deal on useArtemis. It's available on Appsumo for a limited time at a discounted price;
useArtemis is now available for just 69 USD
Final Words
Overall, Artemis is an excellent tool for sales and marketing professionals. It is user-friendly, affordable, and packed with features. The customer service is also top-notch, and the Facebook community is beneficial. So if you're looking for a powerful contact information scraping tool that can help you find and connect with your target prospects, Artemis is worth considering.