Reoon Email Verifier
Simplify the email verification process with a few simple steps and clear invalid, temporary, and harmful email addresses.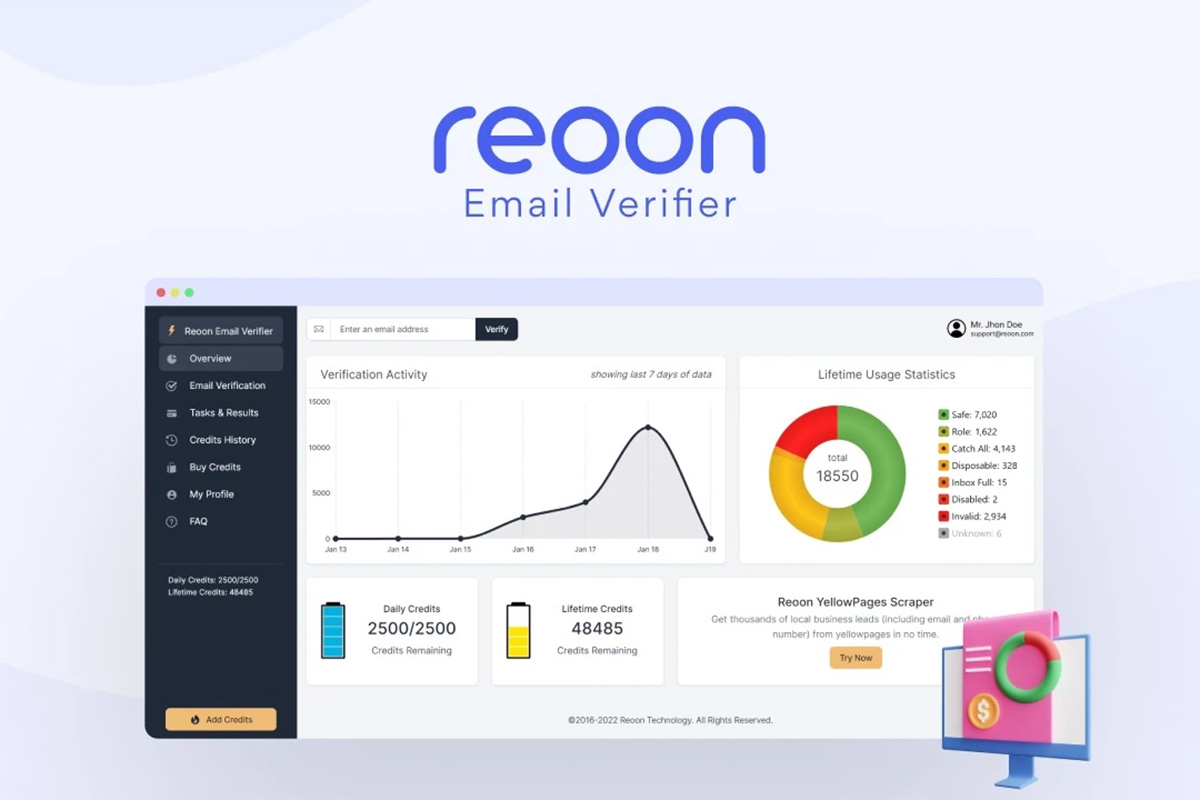 Reoon Email verification solution that supports businesses validate email lists, domains, SMTP, and more on a unified interface. Marketing teams verify the quality of their data. In addition, it is used to prevent bad leads from entering your contact list.
Bulk email address verification has never been easier. This tool saves businesses time and money while getting better campaign results. Reoon Email Verifier Tool generates an easy verification email list without emailing.
Marketers use this tool to clean up their email list. Businesses should verify their customers' emails during registration to prevent the use of invalid or temporary emails. Gmail, Microsoft, Yahoo, and almost all other custom domain emails may be validated using the email verifier without any trouble.
Reoon Email Verifier is offering a lifetime deal through Appsumo. This incredible deal will save you money in the long run. And best of all, it's available through Appsumo for just $79.
Reoon is the most accurate email validation service that cleans invalid, temporary & unsafe email addresses. So don't hesitate – head to Appsumo and grab the deal while it lasts.
Meet Reoon Email Verifier
TL;DR
You can verify the email addresses with a unique intelligent verification system.
Alternatives to: NeverBounce, ZeroBounce.
Your email lists are cleaned up within minutes with verification service.
Best for: Marketers, Marketing agencies, Small businesses.
Key Features of Reoon Email Verifier
API
Activity Dashboard
Bulk Email Verification
Campaign Segmentation
Contact Database
Data Verification
Domain Check
Syntax Check
Features included in All Plans
Duplicate Detection
Real-Time Analytics
Recipient Validation
Reporting & Statistics
Single Email Verification
Catch-all Server Detection
Disposable Email Detection