If you're looking for the best online writing platform, you may be trying to decide between Jasper and Wordhero. Comparing these two platforms can be difficult since they offer different features and benefits. A comprehensive comparison of Jasper vs Wordhero can help make the decision easier by allowing you to evaluate both tools from a cost/benefit perspective. This article will help you in making a quick decesion that which tool should be your top priority.
What is Jasper?
Jasper is a modern AI writing assistant tool. It is designed to help copywriting in creating engaging content such as social media posts, tweets, blog posts, and short stories. This writing tool doesn't simply produce generic text, it follows instructions from the user to create high-quality content quickly and accurately. By utilizing natural language processing, it can analyze your text and provide intelligent recommendations.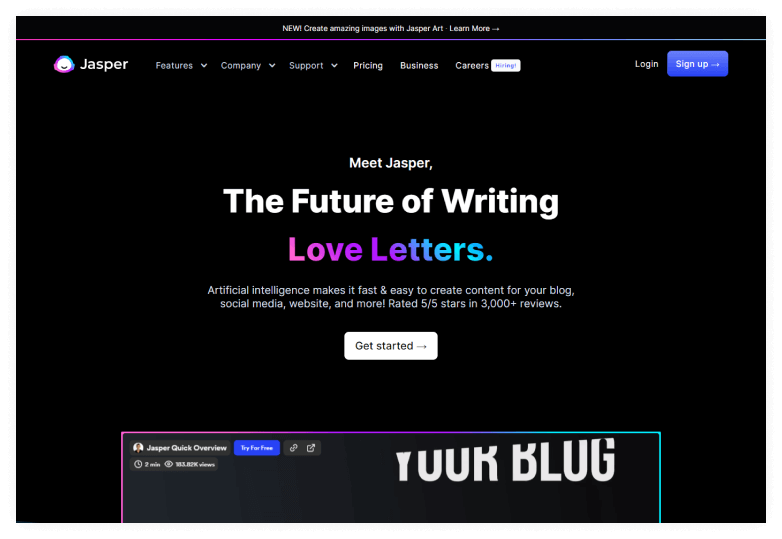 However, Jasper ai provides a wide range of features to enhance your writing experience. This platform is commonly used for creating SEO-friendly blog content, generating effective advertising copy, improving email marketing efforts, and enhancing existing content. For these wide applications, it is popular among bloggers and marketers.
What is WordHero?
WordHero is one of the sophisticated AI writing assistants that eases the process of creating unique, SEO-friendly, and high-quality articles. It helps writers in creating various types of content such as articles, blog posts, product descriptions, and more. This AI content generator has more than 60 writing templates and support for over 100 languages that can help writers to create content across a range of topics and languages.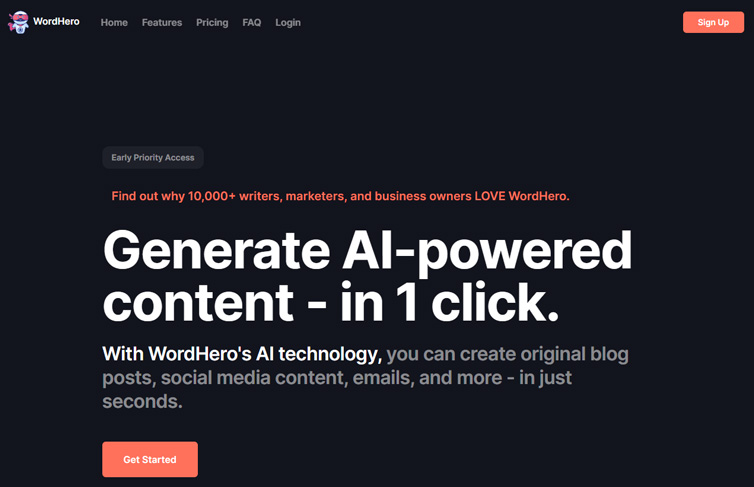 Moreover, With WordHero, you can effortlessly generate attention-grabbing headlines, develop compelling arguments, and powerful sentences. The AI writing tool also enables you to create a range of content formats such as blog posts, landing pages, social media posts, and even eBooks. It uses advanced algorithms and natural language processing (NLP) technology to analyze and optimize content for SEO, readability, and engagement.
Benefits of Using Jasper
Jasper AI offers numerous benefits to users looking to improve their content writing process. Here are some of the key advantages of using Jasper:
Increased Efficiency
Jasper AI can provide intelligent recommendations and generate new content for you. This can save your time and effort, allowing you to focus on other aspects of your business.
Improved Quality
This AI writing software uses natural language processing (NLP) technology. It analyzes your text and ensures that it is optimized for SEO, readability, and engagement. This can improve the quality of your content and make it more effective to reach your target audience.
Cost-Effective
By automating certain aspects of the content creation process, Jasper AI can reduce the costs of creating high-quality content. This is particularly beneficial for small businesses and startups with limited resources.
Multi-Channel Support
This AI content writing is capable of generating content for blog posts, social media updates, advertising copy, email marketing, and more. This can help businesses maintain a consistent voice across multiple platforms and reach a wider audience.
Collaboration
Jasper AI's collaboration features, making this platform easier for teams to work together on content creation projects. As a result it can improve communication, reduce errors, and streamline the content creation process.
Top Recommeded Post for you:
👉 Copyai vs WordHero: Which AI Writing Tool Is Right for You?
👉 WordHero vs Rytr: A Comprehensive Comparison
👉 7 Alternatives to WordHero: The Best Tools for Writing Better Content
Benefits of using WordHero
WordHero is one of the most well-known AI content writing tools because of its advantages. We'll explore here the benefits of utilizing WordHero for content production.
Make Your Writing Better
One of the exceptional benefits of utilizing WordHero is its ability to enhance your writing skills. Its AI assistant provides immediate feedback and suggestions for improving your composition.
Plagiarism-Free Content
With WordHero, you can produce content that is free of plagiarism. The platform offers a broad range of various types of content that make the writing process both fast and straightforward.
Get More Traffic
This AI content generator tool can also help increase traffic to your website.
Versatility
WordHero is a versatile content creation tool. It helps with various content types, making it easy to create content for multiple platforms and channels.
Grammatically Correct Content
WordHero can help you in creating grammatically correct content, which is one of its best features. The AI writing software helps to enhance your writing skills.
Supports multiple languages
WordHero supports over 100 languages that help businesses to create content for a global audience.
Features of Jasper AI
Generator Mode
Jaspers word generation capabilities vary depending on your subscription level. You can provide some prompts, such as titles, headings, or a few sentences, and simply click a button to see what the software produces. It is capable of generating AI blog content, long-form AI content, and even social media captions.
Easy to use interface
Jasper AI interface is suitable for both novice and experienced users, and its navigation is effortless. The app offers a range of features that assist in creating top-notch content. The main menu is located on the left side of the interface and includes templates, documents, and access to profile information. Billing information and word usage can be found under the profile tab.
Languages supported section
This AI writing software can generate content in over 25 languages. It includes English, Spanish, French, German, and more. This feature ensures that the message is accurately conveyed to the target audience, driving engagement, and enhancing the business's online presence.
Editor Mode
Content editing is an essential feature of Jasper AI, as it allows users to refine and modify the content generated according to their specific requirements. The tool offers various options for editing and proofreading the content, ensuring that the final output is of the highest quality.
Boss Mode
Jasper AI's Boss Mode is a powerful feature that empowers you to have more control over the writing process. By designing a custom template for Jasper to utilize as a guide when generating the content, you can specify the tone, style, and voice you want for your content. This feature enables you to refine the output and guarantee that it meets your specific preferences and standards.
Jasper chat
Jasper Chat is an AI-powered chatbot that enables users to have natural and human-like conversations with artificial intelligence. Using this feature, users can easily generate ideas, revise content, and receive suggestions for improvement. By simply conversing with your amiable AI chatbot, you can request it generate ideas, revise your content, or entertain you with a good laugh.
Features of Wordhero
Generator Mode
WordHero's Generator Mode provides an efficient and effortless solution for creating content. With an extensive collection of over 40 writing tools, it provides everything necessary to produce blog posts, social media captions, emails, ads, sales pitches, product descriptions, and more. Additionally, new tools are added on a weekly basis, ensuring your content remains dynamic and captivating.
Easy to use interface
The primary advantage of WordHero is its user-friendly interface, which is both intuitive and easy to use. With a visually appealing design, users can easily navigate and access all functions with just a few clicks. The interface is well-organized, making it effortless for users to find and utilize the different tools efficiently.
Languages supported section
With this AI writing tool you can easily create marketing copy, book descriptions, emails, blog posts, social media content, and more in multiple languages. Its user-friendly interface allows you to translate your content into over 100 languages. Whether you need to create content in English, Spanish, French, or any other language, WordHero makes it simple and efficient.
Editor Mode
By just clicking a few times, Editor Mode can create fantastic content that is ten times faster. This powerful tool enables you to generate longer content in the document editor and simultaneously utilize templates. As a result, the process of content creation becomes more efficient and optimized.
Keyword Assistant
The Keyword Assistant tool can help you in continuously incorporating your target keywords into your content. Simply input the desired keywords, and the Assistant will automatically include them in your text. This feature can significantly enhance your SEO by ensuring that your keywords are accurately represented in your content. Moreover, the Assistant can monitor the effectiveness of the keywords you have used.
Pricing list Jasper vs WordHero
Pricing plan of Jasper:
Annually
Starter: $40/month
Boss Mode: $82/month
Business: Contact for pricing
Monthly
Starter: $49/month
Boss Mode: $99/month
Business: Contact for pricing
Pricing plan of WordHero:
On Appsumo: WordHero is now available on Appsumo. They offer 3 categories of pricing plans.
Plan 1: One-time purchase of $89
Plan 2: One-time purchase of $178
Plan 3: One-time purchase of $267
On website:
Monthly Price: $49 per month
Annually Price: $348 per year
Pros and Cons of Jasper and WordHero
Jasper pros:
Generates content ideas automatically
Assists with grammar, style, and clarity editing
Offers suggestions for enhancing your writing
Detects plagiarism in your content
Aids in optimizing your content for SEO
Provides access to a supportive community of bloggers and article writers with similar interests.
Jasper cons:
May come with a high cost
May encounter difficulties in maintaining focus on a single topic for long-form articles.
WordHero pros:
Facilitates finding appropriate language for your content
Provides synonym recommendations to enhance your writing
Verifies your spelling and grammar
Incorporates a thesaurus feature to assist with broadening your vocabulary.
WordHero Cons:
Certain features are exclusive to the paid version
May experience greater difficulty with long-form articles, even more so than Jasper AI
Offers fewer features than Jasper AI
Does not possess an online community.

Frequently Asked Questions
What is Jasper AI Boss Mode?
Jasper AI Boss Mode is an effective tool to improve your writing experience. By activating it, you can accelerate your writing speed by five times and access the content you require at lightning speed. Also, you can access the AI-generated content, resulting in a smooth workflow without any obstacles. Moreover, Boss Mode doesn't just help with creating blog posts or short statements. You can efficiently utilize Jasper AI to write an entire book.
What specialties make Jasper exceptional?
Jasper AI stands out for its remarkable features, which have helped it maintain its position as a leading performer. Here are some of the features that make Jasper exceptional.
With Jasper, you can expect content optimized for SEO that can boost your rankings.
You can accelerate your work up to five times faster with Jasper's Boss Mode.
Jasper AI generates original content without any plagiarism, meaning that any keywords provided will result in freshly crafted content.
Jasper AI's content improver is an exceptional feature that enables you to rephrase or rewrite particular content.
This AI writing software supports writing in over 25 languages, eliminating the need to rely on Google Translate for assistance.
Is WordHero better than other AI tools?
When comparing WordHero to other AI tools such as Jasper, Jasper outweighs WordHero. Jasper is more feature-rich and flexible compared to WordHero, which may result in less time spent on manual work for content generating. However, if you prefer a simpler tool, WordHero's basic functionality makes it easier to use.
Final Words of Jasper vs WordHero
Both Jasper AI vs Wordhero offer unique benefits including their own strengths and weaknesses. We hope this comparison review of Jasper AI vs Wordhero has helped you in selecting the best tool. It is recommended that you choose the tool that aligns with your needs and budget.