RADAAR is one of the best social management platforms that allows businesses to connect with their customers through social media. RADAAR provides businesses with the tools they need to manage their social media presence, including a social media management system, a content management system, and a customer relationship management system. RADAAR also offers a suite of features businesses can use to engage with their customers, including a newsfeed, a blog, and a forum. In this blog post, we will discuss the RADAAR Review – #1 Social Media Management Platform
What are the benefits of using RADAAR
The benefits of using RADAAR are listed below:
RADAAR provides users with everything they need to effectively manage their social media presence.
It's publishing tools make it easy for users to schedule and publish content on their social media channels.
The social media inbox gives users a centralized place to view and respond to all of their incoming social media messages.
It has a social media monitoring features that allow users to track mention of their brand across the web.
The analytics platform provides users with insights into their social media performance.
RADAAR's platform is very user-friendly and easy to navigate.
RADAAR is a very affordable social media management platform compared to other similar platforms on the market.
It offers excellent customer support in case users have any questions or problems.
Radaar regularly releases new features and updates to help users effectively manage their social media presence.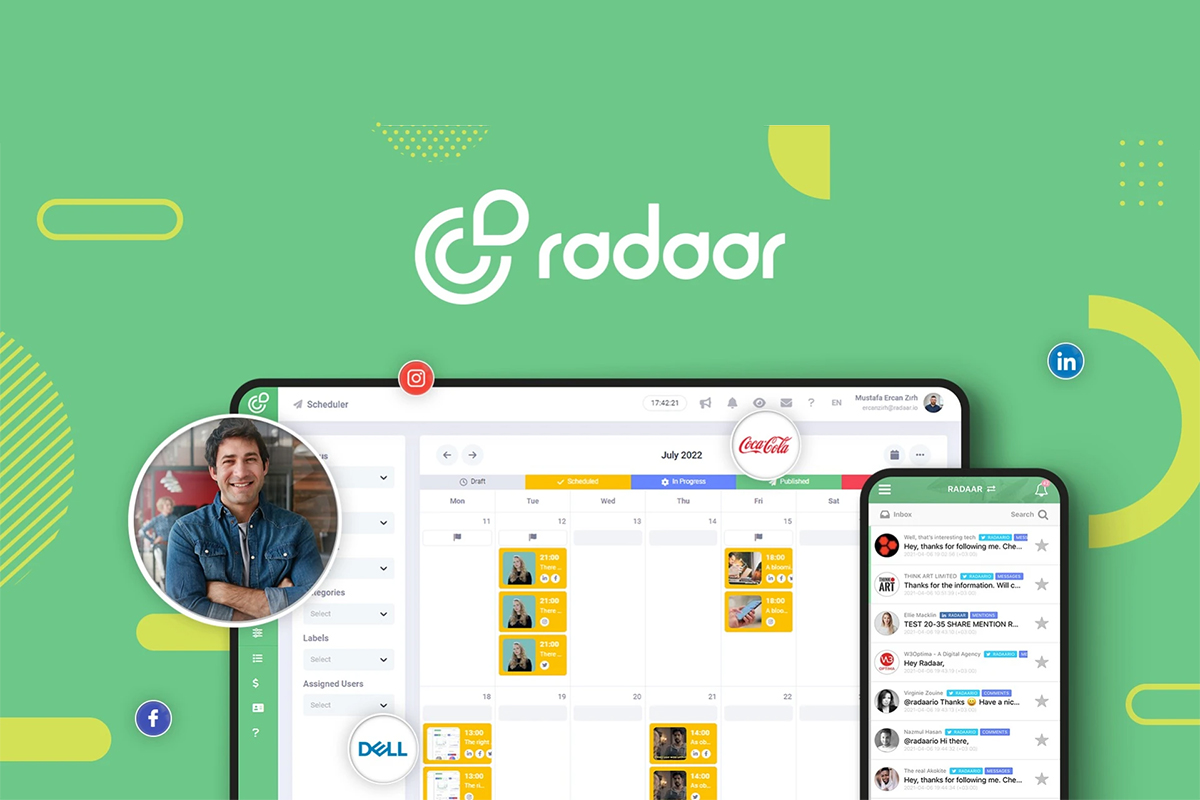 Feature List of RADAAR
RADAAR is a social media management platform that allows you to dynamically organize your content, automatically post it, interact with followers, and get reports in collaboration with your clients and team. All of the features you need to integrate your social media activities across all networks are available. In addition, the RADAAR platform also allows you to schedule and publish content automatically, as well as engagement tools to help you grow your following and measure your success. Some of the key features of RADAAR are given below:
Scheduler

A scheduler will allow you to create and schedule all of your content in advance so that you don't have to spend time every day publishing new posts. This feature can also help to ensure that your content is consistent and high-quality. In addition, a scheduler can help you better monitor and analyze your social media performance so that you can make your time on social media.
Social Media Inbox
Social media has become an essential platform for businesses to connect with their audiences. However, to build a close relationship with your audience, responding to their inquiries and comments on time is necessary. Social media inboxes can help you keep track of all the messages and comments that mention your business, making it easy to reply quickly.
Social Media Monitoring

Social Media Monitoring tracks vital industry terms and competitors across social media platforms to improve your strategy. You can quickly identify new trends and opportunities and direct threats to your business by monitoring social media. In addition, social media monitoring can help you improve your customer service by identifying negative sentiment and addressing it quickly.
Analytics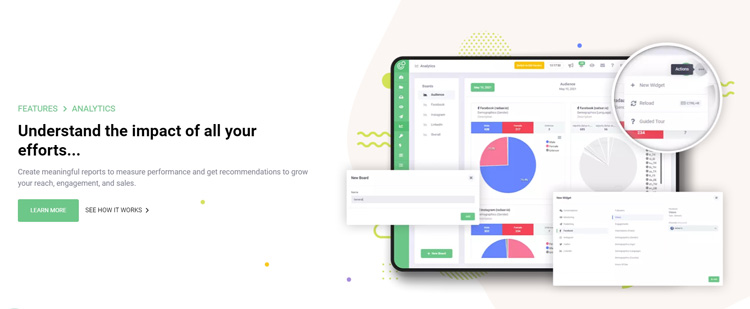 Analytics is a tool that can help businesses to realize what is working and what is not. By tracking key performance indicators, companies can identify areas that need improving their bottom line. You also need to be able to create meaningful reports that will help you understand the data and make better decisions.
Password Manager

Password managers are software programs that help users securely store and organize their passwords. Password managers can help users generate strong passwords and keep track of which passwords belong to which accounts. In addition, a password manager of RADAAR can help team members collaborate without compromising security by storing passwords in a single, secure location.
Task Manager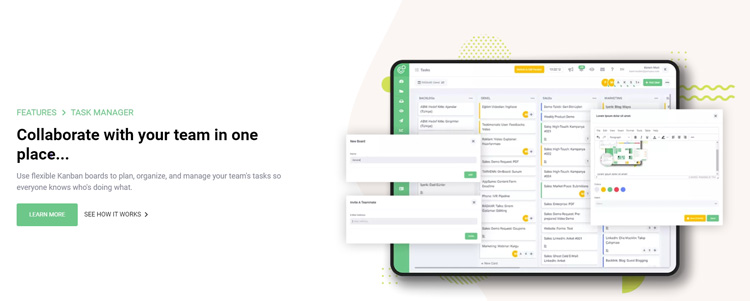 Task Manager is an excellent tool for busy professionals. It allows you to visualize your task list, see how active your colleagues are, and track your progress toward your goals. Not only does this make it easy to keep on top of your work, but it also helps improve your productivity and efficiency.
URL Shortener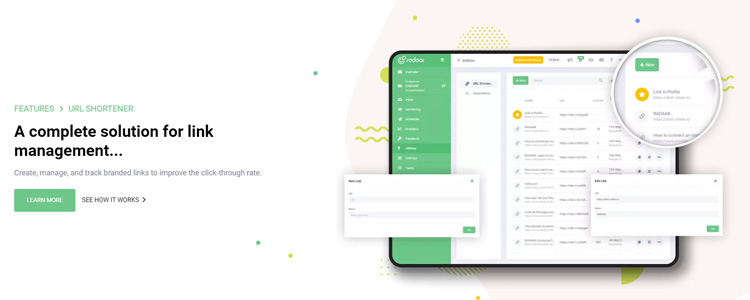 The URL Shortener of RADAAR allows you to generate shortened and unique URL's for your website. This feature is beneficial for several reasons, including improved SEO and social media engagement. URL Shortener also allows you to track clicks and analytics, so you can see which links are being clicked on the most. URL Shortener is a valuable feature that can help improve your website's performance.
Landing Pages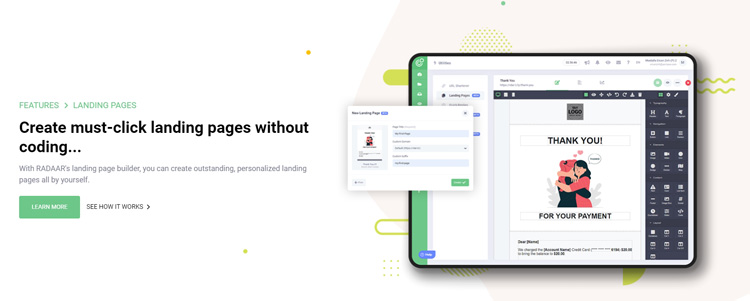 Landing pages are one of the essential elements of a successful website. They are often the first thing a potential customer sees after clicking on an ad or search engine result, and they play a crucial role in determining whether or not that person will become a paying customer. Therefore, landing pages need to be well-designed and relevant to the products or services being offered. They also are easy to navigate and include a clear call to action.
Hashtag Manager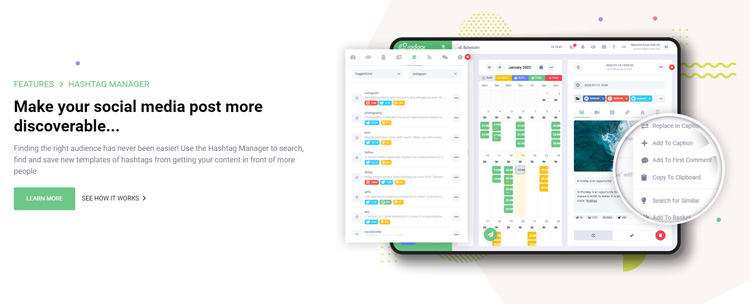 The hashtag manager of RADAAR is an important feature in staying up-to-date on the latest social media trends. Hashtags are a labeling system that helps users quickly find content on a specific topic. This feature is commonly used on platforms such as Twitter and Instagram.
Collaboration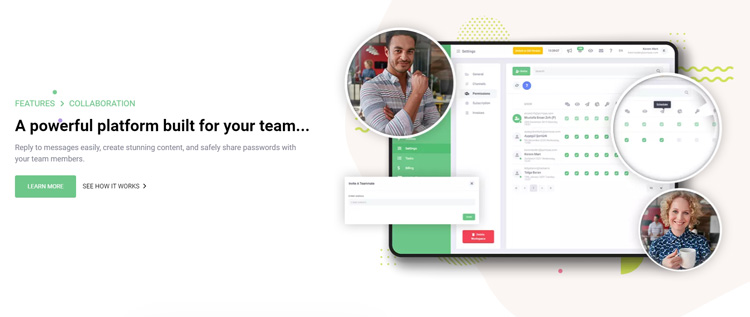 RADAAR is a collaboration tool that makes it easy to reply to messages, create stunning content, and safely share passwords with your team members. With RADAAR, you can quickly and easily get the information you need from your team without hassle. RADAAR makes collaboration easier than ever before, and with its powerful features, You may be assured that your team will be able to collaborate more successfully and efficiently.
Subscriptions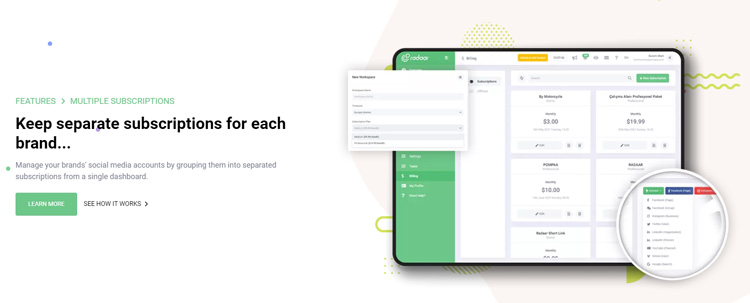 The Subscription feature of RADAAR is a great way to keep track of your brands' social media accounts. By keeping separate subscriptions for each brand, you can manage your brands' social media accounts from a single dashboard. This feature ensures you never miss a post or update from any of your brands.
Price:
On Website:
RADAAR has two types of pricing categories based on 3 pricing plans. Monthly and yearly pricing categories for our products, so you can see what features are included in each tier.
Monthly package:
RADAAR offers 3 plans in this package:
Basic: $9.99/Month
Premium: $19.99/Month
Professional: $59.99/Month
Yearly package:
RADAAR offers 3 plans in this package:
Basic: $7.99/Month
Premium: $15.99/Month
Professional: $47.99/Month
On Appsumo:
RADAAR has a one-time purchase of $59 on Appsumo.
Pros and Cons of RADAAR
Pros
RADAAR provides users with a comprehensive set of tools for managing their social media accounts.
This Social media management platform is easy to use and provides a user-friendly interface..
The platform helps businesses to save time by automating tasks such as publishing and social media monitoring.
RADAAR provides detailed analytics that can help businesses to track their progress and identify areas for improvement.
The social media inbox feature helps businesses to easily manage customer queries and complaints.
RADAAR offers free 14-day trial so that businesses can try out the platform before committing to a subscription.
Cons
RADAAR has a lot of useful features but not all features are available in the free trial.
The automation features may not be suitable for small businesses that require a high degree of control over their social media accounts
Some of the features are only available for premium and professional plan use, which is expensive for small retailers or business owners.
FAQ
What does RADAAR actually do?
RADAAR is designed to help businesses better manage their social media presence. The platform provides users with tools for scheduling and publishing content and analyzing engagement and reach.
Why should I use RADAAR?
There are many benefits of using RADAAR, including the ability to streamline workflows, simplify social media management, and save time. With features like bulk publishing, reporting, and team collaboration, RADAAR is the all-in-one solution for your social media management needs.
What kinds of channels support RADAAR?
RADAAR is such a great social media management tool. It supports various channels, including Facebook, Twitter, Instagram, and YouTube. This means you can ensure that your brand is accessible on all the major platforms, giving you a chance to reach your target audience.
Can I publish to social media automatically?
Yes, the Social Media Auto Publish accepts you represent automatically post your blog to social media networks such as Facebook, Twitter, Instagram, Tumblr, and LinkedIn. Compose your post in WordPress, and the Social Media Auto Publish will take care of the rest.
Is there any limit to use?
No, there is no limit.
Final Word
After discussing the RADAAR review, we can say that RADAAR is the perfect social media management platform for brands, agencies, startups, and individuals who want to engage their followers, publish unique content, and measure performance. With this platform, you can easily schedule and publish content, track engagement and follower growth, and measure your performance with comprehensive analytics. So whether you're looking to build a following from scratch or take your social media business to the next level, RADAAR is your platform.