Are you looking for an SEO tool that provides on-site content analysis? Then, Seodity is precisely what you need. Seodity is a powerful tool that helps to promote website competition, measure SERP, and analyze the quality of content on any webpages. Additionally, Seodity offers technical SEO elements to help users plan better strategies for better range and SEO optimization. If you're looking for an all-in-one SEO solution, look no further than Seodity. In this blog post we will describe Seodity In-depth Review.
Seodity In-depth Review overview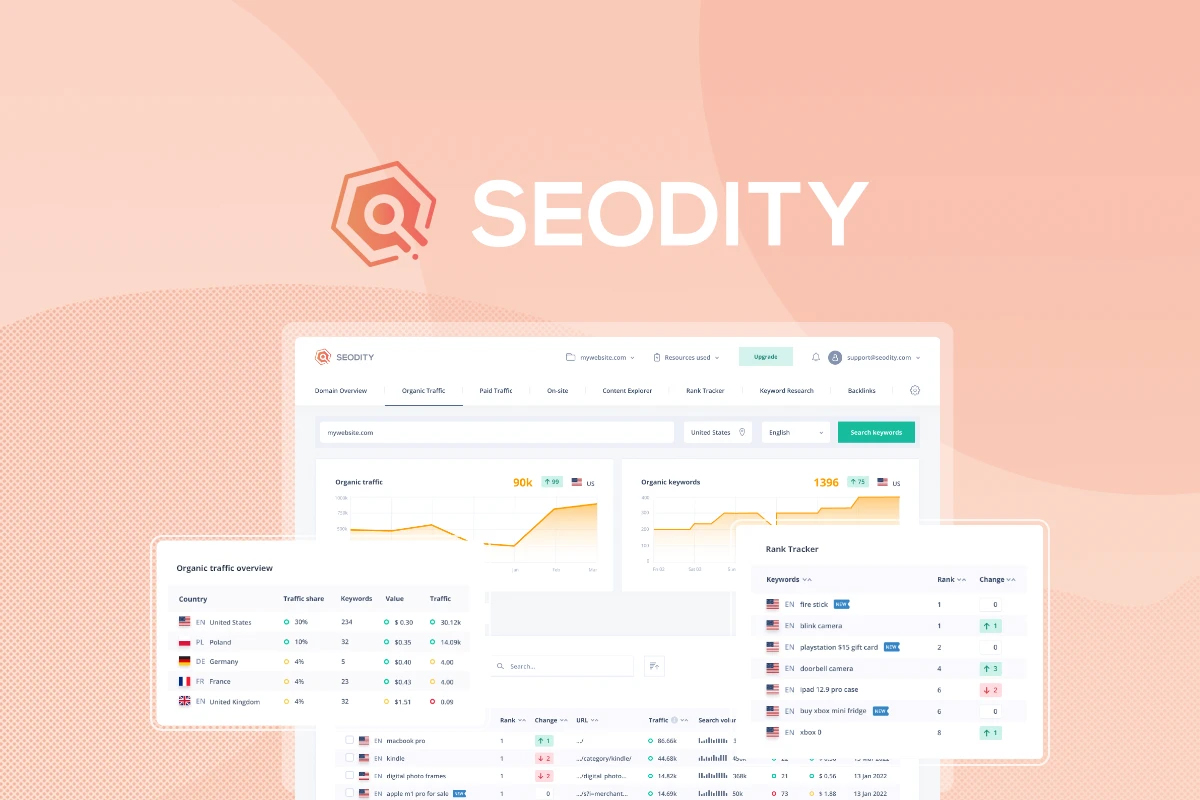 Seodity is data-driven, so it can help you optimize your SEO strategy for Google. In addition, Seodity provides keyword research, both organic and paid. This keyword research lets you track your website's performance on the search engine. It is easy to use and has a user-friendly interface. Seodity also integrates with other marketing platforms, so you can easily track your results.
Benefits of using Seodity
The benefits of Seodity are listed below:
Provides paid keyword research
Backlink tracker to analyze the backlinks
Track accurate SERP ranking
Weekly keyword analysis
SSL certificate status
Duplicate title checker
Accurate historical data
Feature List of Seodity:
Keyword Research
Keyword research is a process businesses use to find, evaluate, and select the best keywords to target in their marketing and SEO campaigns. Seodity Keyword Tool also provides detailed information about the cost per click for each keyword, so you can choose the most cost-effective keywords to target in your campaigns.
Enter your domain name, and Seodity will discover all of the keywords for which your website is currently ranking on Google's Search Engine Results Page. You can then search for related keywords and check the Google Ads rate to find the most cost-effective keywords for your business. Seodity's Keyword Research is a great way to get an edge on your competition by finding the most profitable keywords for your business.
Content Explorer
Seodity Content Explorer is a great way to keep track of popular web pages and content. With Content Explorer, you can quickly sort and filter the results to find the most popular content on the internet. You can also save your favorite web pages to your favorites for easy access later. Seodity Content Explorer is an excellent tool for content marketers and bloggers who want to stay up-to-date with the latest trends and information.
On-site and Data Explorer
Seodity is a powerful on-site SEO tool that offers users a comprehensive analysis of their website. On-site issues found on Seodity are now easily resolvable with clear and concise instructions. It automatically analyzes the content quality of any webpage.
Seodity's Data Explorer provides users with an in-depth look at their website's backlink profile, social media mentions, and more. It also offers a fast and simple content analysis tool that can help users optimize their website for better Google rankings.
It's error analysis feature helps users identify and fix website issues that may be holding them back from better search engine visibility. With this tool, users can get exact instructions on how to fix site errors and boost their web traffic. Seodity is the perfect tool for any user looking to improve their website's SEO.
Rank Tracker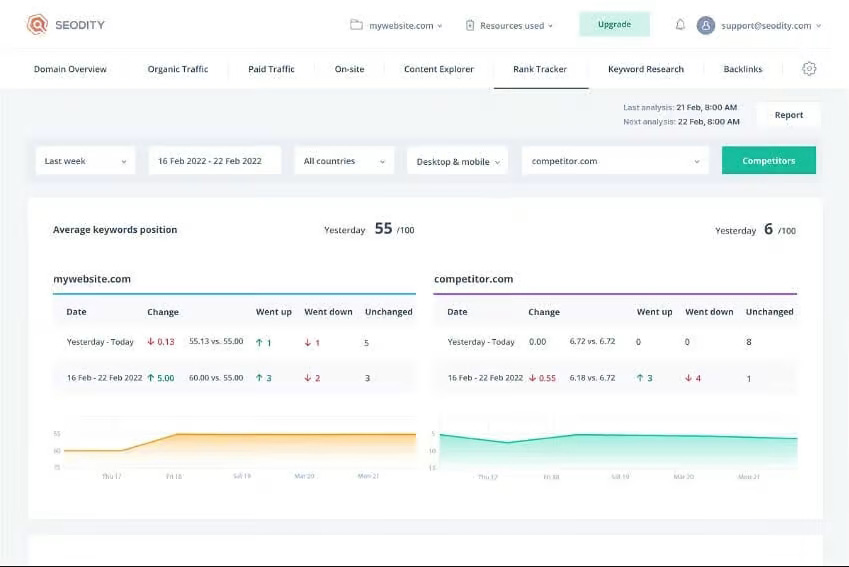 Seodity Rank Tracker is the most accurate SERP tracker on the market. It allows you to track keyword positions across multiple devices, so you can see how your ranking varies depending on where your search traffic is coming from.
Seodity also enables you to monitor your competitor's SERP positions and provides SERP position history, so you can track your progress over time and ensure that your SEO efforts are paying off. With Seodity, there's no need to worry about inaccurate SERP data.
So, you can trust Seodity to provide accurate, up-to-date ranking information for any location in the world.
Backlinks
Backlinks are one of the essential factors in SEO, and Seodity's easy-to-use charts make it quick and easy to see your website's backlinks. You can also sort and filter by status, type, date added, and more. Additionally, It provides valuable insights into which anchor text is leading to your website and the source domain of your website visitors.
Seodity Backlinks also allow you to view the backlinks of your competitors. This is a valuable feature for any webmaster or SEO professional. You can also save your favorite backlinks for easy access later.
Performance
Performance is one of the most important aspects of a website. A slow website can lead to lost traffic and customers and lower search engine rankings. Google Lighthouse is an automated tool included in the Seodity platform to make it easier for its users to improve their web page performance.
In addition, Lighthouse is constantly being updated with new performance best practices so users can be confident they are always using the latest and most remarkable techniques.
Organic traffic
One of the essential tools that Seodity offers is the Organic Traffic History tool. This tool helps you to understand how your organic traffic has increased over time. By understanding this information, you can make better decisions about how to market your website in the future.
In addition to the Organic Traffic History tool, Seodity offers a detailed list of rank keywords, competitor organic traffic analysis, advanced results filtering, and email notification. 
The List of SEO tools Seodity use
Backlink checker
A backlink checker is a tool that reveals all of the incoming backlinks for any given website. You can enter any web address into a backlink checker, showing you all the other websites linking to that site. Backlinks are vital because they help improve a website's search engine ranking.
Keyword Generator
Keyword Generator is one of many keyword research tools that can help surface relevant and popular keywords. Keyword Generator allows you to explore search engine data to find out what people are searching for. It also provides keyword suggestions that include related and matching keyword ideas.
SEO Checker
SEO Checker is a website checker that can help monitor your site performance and fix on-page SEO issues. SEO checkers are available in both free and paid versions. SEO Checker will provide a detailed report of your website's SEO health, including an analysis of your website's title, description, keywords, backlinks, and more.
Website Ranking
Website ranking is vital for anyone with an online presence. It helps you discover how your website stands up against your competitors. Additionally, checking your website's ranking can give insights into what kind of content attracts visitors to your field or industry. Website ranking is affected by various factors, including the quality and quantity of your content, design, and how well you promote your site.
Rank tracker
Rank tracker is a software that allows you to track your website's performance in search engine results pages (SERPs). It provides you with data on your existing rankings and enables you to analyze the impact of your optimization campaigns. The rank tracker can help fix problems with your website's SEO and track your progress over time.
Competitor Analysis
Seodity is a marketing platform that provides a comprehensive Competitor Analysis tool. This feature allows users to track, monitor, and analyze their competitor's online activity. Additionally, Seodity's Competitor Analysis tool allows users to spy on their competitor's ads and see what keywords they are targeting. This is an invaluable tool for any online marketer who wants to stay ahead of the competition.
Seodity pricing:
On Website:
Seodity offers the following pricing plans-
Bronze Plan – $89 per month
Silver Plan – $149 per month
Gold Plan – $299 per month
Agency Plan – $399 per month
On Appsumo:
Seodity's lifetime deal through Appsumo is an incredible opportunity. Seodity offers all its products for a one-time purchase of just $79.
FAQ:
1. How can I increase my website's traffic with Seodity?
Seodity is a great way to increase your website's traffic. It is a social media marketing tool that allows you to share your content across your social media channels with just a few clicks. Accordingly. Seodity is a way to reach new audiences and grow your website's traffic.
2. How do I increase traffic to my backlinks?
Seodity is a great way to increase traffic to your backlinks. It allows you to submit your website to directories and provides backlink checker tools to help you monitor your link popularity. With Seodity, you can quickly increase your backlink traffic and get more exposure for your website.
3. How to use Seodity
To start using Seodity, choose a plan and enter your website's URL. You can then add keywords manually or by choosing from the suggested ones. Once you have added the keyword, Seodity will begin tracking it. You will see your domain overview, key metrics, and a general domain overview. Seodity also allows you to dive deeper into specific metrics using the menu at the top of the page.
4. Is it possible to view Google Analytics keywords that were not provided?
Yes, it is possible to view Google Analytics keywords not provided by Seodity.
5. Can I use content ideas from organic traffic?
Yes, At Seodity, you can use content ideas from organic traffic.
Final Words
After all, Seodity In-depth Review can help you identify and fix on-page SEO issues, track your progress over time, and compare your site's performance to that of your competitors. Seodity is a powerful tool that can help you Optimize your SEO strategy for Google. With this tool, you can easily track and outrank your competitors. This platform provides an easy way to keep track of your progress and optimize your strategy for the best results. At Seodity, you can focus on what matters most – ranking high in search results and driving traffic to your website.