Suppose you are looking for a WordPress support ticket plugin that offers an abundance of functionalities and options. In that case, Support Genix is a support ticket plugin option for you. In this blog post, we will discuss Support Genix. A robust support ticket system that allows businesses of all sizes to manage customer support tickets quickly.
In addition, it offers various features that make it an essential tool for businesses of all sizes. For example, with Support Genix, you can create unlimited support ticket types, set up auto-responses, manage ticket priorities, and more.
Support Genix Review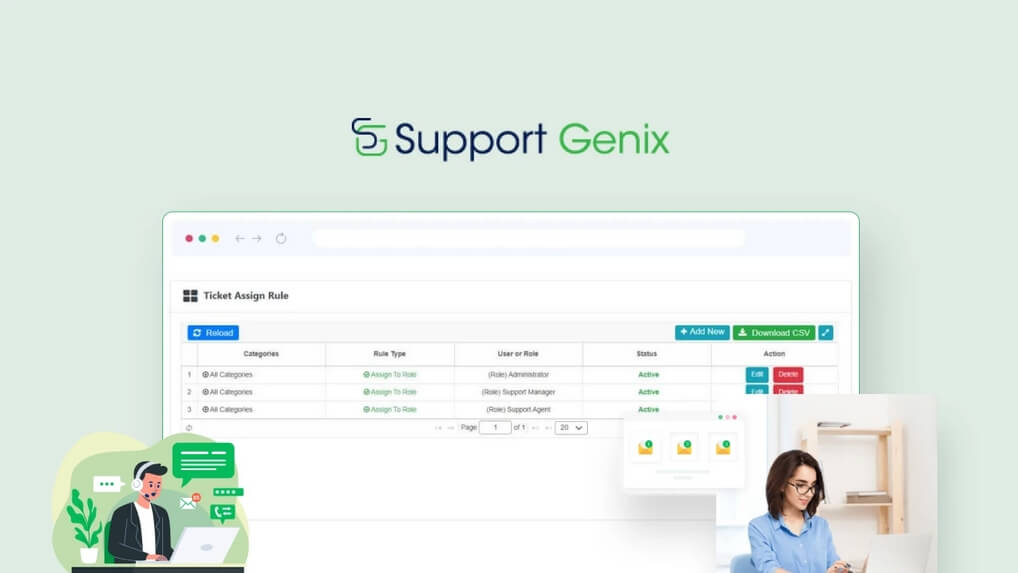 With its intuitive interface and powerful features, this Support ticket plugin makes it easy to manage your website and keep it running smoothly. In this Support Genix review, we'll take a closer look at what this plugin offers, how to install Suppor Genix, and how it can benefit your website.
How to Start With Support Genix
Once you have purchased Support Genix, you can download the support ticket WordPress plugin from the website's download page.
Go to your WordPress Dashboard > Plugins > Add New
Click on the "Upload Plugin" button
Choose the file and click on the "Install Now" button.
Activate the plugin.
You will need to add the license key that you can find on the license page.
Features List of Support Genix
Unlimited Tickets
If you're looking for a way to manage an unlimited number of tickets for your business, Support Genix is the perfect solution. With this support ticket plugin, you can create and collect as many tickets as you need without limitations. In addition, this makes it easy to keep track of all customer's inquiries, requests, and comments.
Unlimited Agents
Unlimited Agents is the perfect solution for businesses with many agents available to help manage customers. By signing up for Unlimited Agents, you'll have unlimited access to agents who can help you resolve customer issues quickly and efficiently.

Unlimited Customers
With Support Genix, there are no limits on the number of customers you can support. This makes it the ideal solution for businesses with a large customer base or overgrowing.
Tickets on Behalf of Users
Tickets are created when an agent responds to a user's request for assistance. The agent can view the user's problem and, if necessary, create a ticket on behalf of the user. Tickets can also be created manually by an agent.
By making a ticket on behalf of the user, agents can provide a more comprehensive response and ensure that the user's issue is resolved as quickly as possible. So, by responding to user requests and creating tickets, agents can help solve problems and improve service.
Agent Control
Agent Control makes it easy to manage your agent's capabilities. You can view or provide support from the Agent Control panel. This also allows you to control the access of your agents to your customer's information.
Transfer Ticket
The Transfer Ticket tool is a quick and easy way to send a question or concern to another agent without taking up any of their valuable time. With just a few clicks, you can effortlessly transfer your ticket to another agent, ensuring that your issue is resolved on time.
Email Popping
Email Popping is the process of automatically importing Email into your ticket system. It's a great way to help from a team of experts because you don't have to manually forward Email messages to create tickets. With the Support Genix Email Popping plugin, you can easily set up Email Popping for an email address.
Envato Integration
Envato is a digital marketplace that sells creative assets like website themes, graphics, and videos. In addition, you can connect your account with support Genix to verify purchase codes if you're an Envato author.
This helps ensure that only legitimate customers can access your support services. In addition, Envato integration with support Genix helps to streamline your customer support process, making it easier for you to provide the best possible service.
View full documentation about Envato Integration
Elite Licenser Integration
Elite Licenser is a robust license management tool that easily tracks all your licenses in one place. In addition, the Elite Licenser integration with support Genix makes it even easier to keep track of your support requests and ensure that all your license codes are up to date. With the Elite Licenser integration, you can easily add new support requests and verify existing ones with just a few clicks.
View full documentation about Elite Licenser Integration
Saved Message
The Support Genix Plugin is a handy tool that saves time for busy customer service agents. The plugin allows agents to create and save common responses to customer inquiries. So you can quickly and easily provide accurate information to your customers.

File Upload Settings
The File Upload Settings feature in the customer support ticket plugin is essential to increase system security. Customers may only upload files of a particular type, which helps to prevent malware and other malicious software from being installed on your system. In addition, this feature lets you easily track and manage your clients' support requests.
Email Notification
Email notifications are a great way to track various events on your WordPress website. For example, you can receive email notifications when a new ticket is created or updated. Email notifications for customers can be customized so that you can deliver quick and effective customer service. In addition, email notifications can be set to manage ticket creation, response, and closure. This helps to keep your WordPress site organized and running smoothly.
Benefits of Using Support Genix
The benefits of Support Genix are listed below:
It offers all essential functionality that a support ticket plugin needs.
It also offer to manage unlimited tickets, users, and agents.
Provides email piping, which imports email for a specific email address into the support ticket system.
Envato and Webhook integration are available.
Efficiently manage customer support requests in one place.
Get notified of new tickets via Email or SMS.
Respond to tickets directly from your email inbox.
Keep track of all your support requests in one place.
Prioritize and assign tickets to team members.
Set up automated ticket responses.
Integrate with your existing help desk or CRM system.
Frequently Ask Questions
Support Genix is committed to providing the best possible customer service experience. To that end, a list of Frequently Asked Questions (FAQs) to help you get the most out of their products and services. If you need help understanding the answer to your question below, feel free to inform us, and we will be happy to assist you.
How can Support Genix help me?
Helps you manage your support tickets quickly and easily for businesses that give excellent customer service.
What are the main benefits of using this support ticket plugin?
The Support Genix WordPress support ticket plugin makes it easy to manage customer support requests and allows you to track all your client requests in one location.
How much does Support Genix cost?
The price of this support ticket tool starts at $59.
How can I contact Support Genix?
If you have any queries to ask or need any help with customer support. You have to fill out the contact form from the Contact page and then sign in to Support Genix by clicking Create a Ticket button.
Pros and Cons of Support Genix
Pros:
SupportGenix makes managing customer support requests a breeze for keeping on customers happy
This support ticket plugin for WordPress allows you to track all your client requests in one location.
The WordPress helpdesk plugin attaches the comprehensive support ticket system.
It is simple to use and installation
It is available in a free and premium versions.
Support Genix is a way to get help from your WordPress site.
Cons:
All Support Genix features do not available on the free version. You have to upgrade to the premium version to use them.
The pricing plan of Support Genix
Support Genix offers three different pricing plans with 2 categories.
Yearly Plan:
Personal: $59/month for 1 website
Developer: $99/month for 5 website
Agency: $149/month 100 website
Lifetime Plan:
Personal: $99/month for 1 website
Developer: $199/month for 5 website
Agency: $399/month for 100 website
Appsumo is currently offering a deal on Support Genix. It is available at a discounted price on Appsumo. Support Genix is now available for just $59.
Final Word
If you want an efficient way to manage customer support tickets, look no further than Support Genix. This plugin is a great way to handle customer service from your WordPress site. The support ticket system is easy to use and provides quick and efficient customer service. In addition, the plugin makes it easy to keep track of customer service requests and to provide responses on time. This plugin is an excellent way to simplify your support process and provide better customer service. Hopefully, the Support Genix review will help you make an informed decision about whether this WordPress support plugin is the right choice for your website.