If you're aiming to increase your website's traffic, Ahrefs Backlink Checker is the ultimate solution to take a step forward. By inputting a domain, you can see a list of referring domains linking to that website as well as the anchor texts of those links. This level of insight into backlinks allows SEO professionals to benchmark their backlink acquisition strategies against the competition and uncover new opportunities for earning high-quality backlinks.
What is Ahrefs?
Ahrefs is a search engine optimization (SEO) tool developed to assist individuals in achieving top rankings on Google. This comprehensive software package includes a range of tools for conducting keyword research, building links, performing competitor analysis, tracking ranks, and auditing websites. The majority of the features integrated into Ahrefs are for marketing experts.

Moreover, Ahrefs is mostly known for its backlink checker, which boasts one of the most extensive databases of live links available. Also, it helps in enhancing your understanding of your site by allowing you to optimize it for search engine ranking. Plus Ahrefs gives you new ideas for link-building and content analysis.
What is Ahrefs Backlink Checker?
The Ahrefs Backlink Checker is the best tool for checking backlinks because it has a big link index that can store a lot of data. It is the largest backlink collection to date, with 212 billion pages in its database. The data is sourced from the internet and is refreshed every 15–30 minutes, with 4.1 million pages being crawled every minute.
By utilizing the Backlinks Report Site Explorer, you can view which other websites are linking to a particular web page or website. Additionally, you can see the backlinks of your competitors by visiting their websites.
What benefits does Ahrefs Backlink Checker bring to SEO campaigns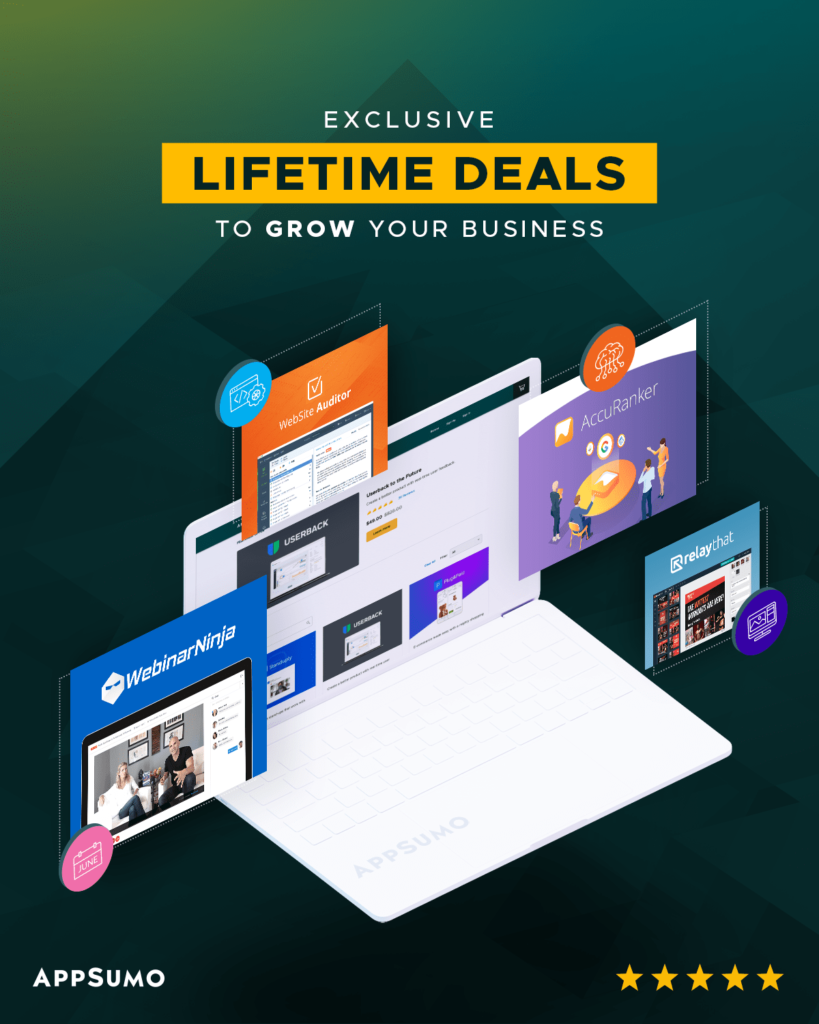 Ahrefs Backlink Checker is a versatile tool that can handle virtually any backlink research task with ease. It is committed to regularly improving their tool and including valuable features and data to assist SEO professionals. The benefits provided by Ahrefs are outlined below:
See followed and unfollowed links
The number of high-quality followed backlinks a site has directly influences its perceived trustworthiness in the eyes of Google. Ahrefs offers a comprehensive overview of followed versus unfollowed links for any target.
Backlink anchor text
Utilize anchor text analysis to examine how your competitors are optimizing their backlink profiles. This analysis can also assist in detecting potential negative SEO attacks against your website.
Disavow link spam
If any suspicious backlink activity is found, users can add spammy links from the Backlink Checker. Importing this file into Google's Disavow Tool is a quick process requiring only a few clicks.
Export to PDF and CSV
If you require a report of your findings or download data for further analysis, it is simple to export your reports and data to a PDF or CSV file.
Inbuilt filters, in every report
Concentrate on the data that matters to you and disregard everything else.
A step-by-step guide: How to use the Ahrefs Backlink Checker tool to increase SEO success
Using Ahrefs Backlink Checker tools can help website owners in monitoring their website's search engine ranking. Here are the 10 easy steps that can assist you in utilizing Ahrefs Backlink Checker tools to enhance your SEO success.
Log in to your Ahrefs account and go to the Site Explorer tool.
Enter the URL of the website you want to analyze in the search bar and click on the search icon.
Once the analysis is complete, click on the "Backlinks" tab to see a list of all the backlinks pointing to your website.
Use the filters to refine your search and find the most relevant backlinks for your website.
Analyze the backlinks to determine their quality and relevance to your website.
Identify any toxic or spammy backlinks and create a disavow file to remove them from your backlink profile.
Use the "Broken" filter to find any broken backlinks pointing to your website and redirect them to relevant pages on your website.
Use the "New" filter to keep track of any new backlinks that are added to your website's backlink profile.
Analyze your competitors' backlink profiles and identify any high-quality backlinks that you can replicate for your own website.
Use the Ahrefs "Link Intersect" tool to identify any websites that are linking to your competitors but not to your website, and reach out to those websites to request backlinks.
The importance of monitoring backlinks and how it affects SEO rankings
While backlinks from reputable and authoritative websites can enhance your website's ranking, not all backlinks are beneficial. In fact, certain backlinks can harm your website's performance. Therefore, it's crucial to keep monitor backlinks.
Backlinks from authoritative websites are seen as a positive signal by search engines, indicating that the website is reputable and trustworthy. Here are a few typical results caused by monitoring backlinks:
By monitoring backlinks, website owners can identify and remove any bad links that could be negatively impacting their SEO rankings. This involves regularly checking the quality and relevance of the websites linking to their site and taking action to address any issues.
Ahrefs site audit tool removes harmful backlinks that can improve a website's rankings by eliminating any negative signals. It also ensures that the website is not associated with any spammy or irrelevant websites, which can harm its reputation.
Monitoring backlinks can also help website owners identify new link building opportunities. By analyzing the backlinks of their competitors or similar websites in their niche, improving their overall backlink profile and SEO rankings.
Tips for Increasing Your SEO Performance with the Ahrefs Backlink Checker
Here we will provide you with effective strategies that Ahrefs has implemented to boost SEO performance throughout the years. The tactics are straightforward and applicable for everyone. This article provides a brief overview of seven commonly used tactics.
Regular monitor on backlink profile:
Keep a close eye on your backlink profile and regularly check for new backlinks whether any spammy backlinks that may harm your website's ranking.
Analyze competitors' backlink profiles:
Use the Ahrefs Backlink Checker to analyze your competitors' backlink profiles. As a result you can identify any high-quality backlinks that you can replicate for your own website.
Focus on quality over quantity:
Rather than focusing on acquiring a large number of backlinks, focus on acquiring high-quality backlinks from authoritative websites in your industry.
Use the disavow tool
If you find any toxic or spammy backlinks in your backlink profile, use the Ahrefs disavow tool.  This tool will remove them and protect your website's ranking.
Keep track of your progress:
Use the Ahrefs Backlink Checker to monitor your progress. Also, using this tool you can track any improvements in your website's backlink profile and search engine ranking over time.
Use the Link Intersect tool:
Use the Ahrefs Link Intersect tool to identify any websites that are linking to your competitors but not to your website. By doing so you can reach out to those websites to request backlinks.

Pricing Plan of Ahrefs
Ahrefs offers a range of pricing plans to suit various business needs. The plans offer five pricing categories ranging from free to $999. Please review the following list to choose the pricing option that would work best for your company.
Ahrefs Webmaster Tools (Free)
These tools comprise the Site Audit and Site Explorer tools, both of which are accessible to website owners at no cost.
Lite ($99.00Per Month)
This plan is beneficial for small enterprises and personal endeavors.
Standard ($199.00Per Month)
Ideal for internal marketers and SEO experts.
Advanced ($399.00Per Month)
It will require essential tools and increased data allowances for your business growth.
Enterprise (Starting at $999.00Per Month)
Ideal for large businesses and agencies.
Some Alternatives SEO tools of Ahrefs
Smrush
Semrush, a reliable SEO tool, offers a wide range of features including keyword research, competitor analysis, SEO auditing of blogs, and backlinking opportunities. It is highly trusted by internet marketers globally and is utilized by businesses of varying sizes. The SEO site audit tool integrated into Semrush is highly effective and regarded as one of the best available due to its user-friendly interface.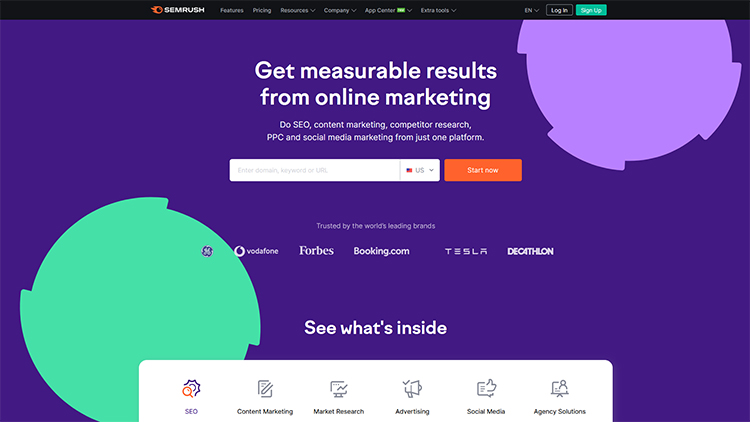 Key Features:
Keyword Research
On-page SEO
Competitor analysis
Content marketing
Local SEO
Content creation and distribution
Content optimization
Market analysis
Website monetization
Link Building
Price: One time purchase of $119
Labrika
Labrika is a comprehensive SEO tool powered by AI, that can examine over 200 important ranking criteria. It provides actionable recommendations that can significantly boost traffic. This makes it easy to improve your website's ranking and visibility in search engines. It is also constantly updated with the latest Google algorithm changes, so you can be confident that your website is always compliant and up-to-date.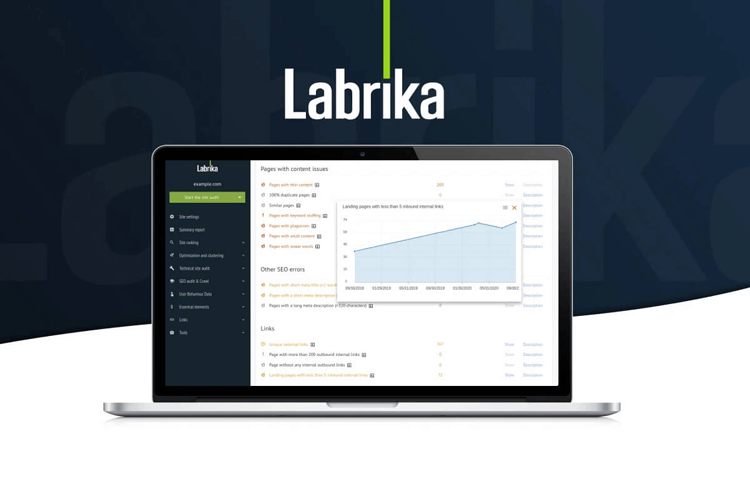 Key features:
AI-led SEO Auditor
Interactive Content Optimizer
Advanced Rank Checker
Price: One-time purchase of $69
SherSEO
SheerSEO is a comprehensive SEO platform designed to analyze and refine your keyword and backlink strategies while keeping track of your website's health. This platform's standout feature is its automated rank tracking, which allows you to effortlessly monitor your website's search result rankings on Google, Bing, and YouTube. Additionally, the platform offers historical data for your keywords, search volume, average cost-per-click (CPC), and other valuable insights.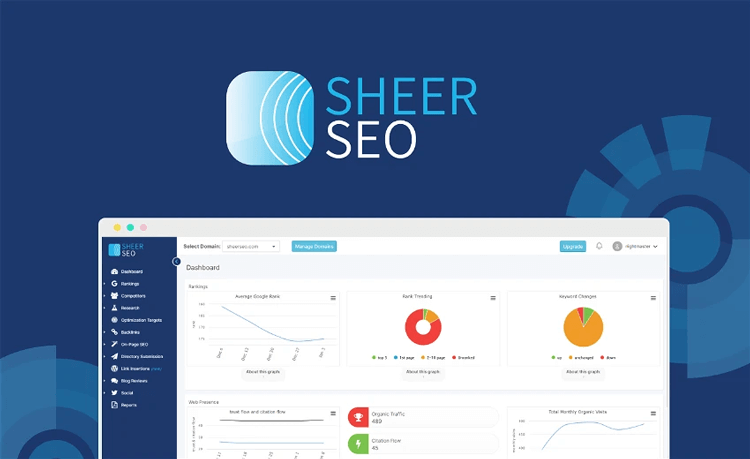 Key features:
CSV and PDF reports
Traffic estimation
Competitor analysis
Google Search Console integration
Guarded backlinks
Backlinks explorer
Link building with directories and blogs
Content analysis
Price: One-time purchase of $49
Linkly
Linkly is an efficient backlink marketplace that facilitates hassle-free link exchange and guest blogging. It also enables the creation of high-quality backlinks quickly and inexpensively. The platform aims to simplify and streamline the link-building process for website owners, reducing the time and money invested in building backlinks while maintaining high standards of quality.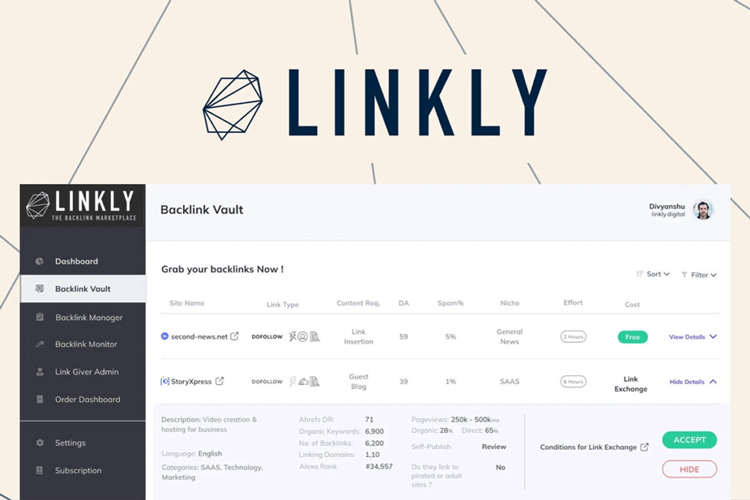 Key features:
Completely White Hat
Save Time & Money
Trustworthy Curated Sites
Free, Paid & Link Exchange
Optimized efforts
100% Permanent Links
Price: One-time purchase of $59
Frequently Ask Questions
What are Backlinks in SEO?
Backlinks are links on a website that lead to another website. Google and other search engines view backlinks as references. When you link to another site, you are essentially supporting it. Here are some of the ways in which backlinks play a crucial role in improving SEO:
Enhance search engine rankings
Increase your credibility
Assist Google in discovering new pages
Drive referral traffic to your website
What are important features of Ahrefs?
Ahrefs is a renowned provider of SEO tools that prides itself on having the world's most extensive live backlink index. This software comprises six primary features, which include:
Site Explorer
Content Explorer
Keywords Explorer
Rank Tracker
Site Audit
Alerts
Does Ahref have Free Backlink Checker tools?
Ahrefs offers an excellent Backlink checker tool, with a free version that enables monitoring of numerous backlinks and up to two domains per request. For those looking for more extensive features, a paid membership starting at $99 per month is available, offering even greater functionality.
How do I search for keywords in Ahref?
We are here to help you if you're not familiar with how to search for keywords using Ahref. Simply enter the URLs you want into the tool and it will produce a list for you. By utilizing Ahrefs' Keyword generator tool, you can uncover numerous exclusive keywords that you can aim for. Just enter one or more seed keywords into the search box and receive thousands of appropriate keyword recommendations.
How long does it take to find backlinks on Ahrefs?
Ahrefs updates its backlink database every 15-30 minutes, which means you can find new backlinks to your website within just a few minutes. However, the time it takes to find all of the backlinks to your website may vary depending on the size of your website and the number of backlinks pointing to it. Generally, it shouldn't take more than a few hours for Ahrefs to discover and index all of the backlinks to your website.
Final Thoughts
Ahrefs Backlink Checker is an invaluable resource for SEO professionals. It can give you valuable insights into the effectiveness of your SEO efforts and help you improve your website's backlink profile. With its powerful features, you can easily optimize your website to get the best results from search engine rankings. Use Ahrefs Backlink Checker today and see just how effective it can be in improving your website's visibility!