SheerSEO
A powerful toolkit for SEO that assists with analyzing and enhancing your strategies for keywords and backlinks, as well as monitoring the health of your website.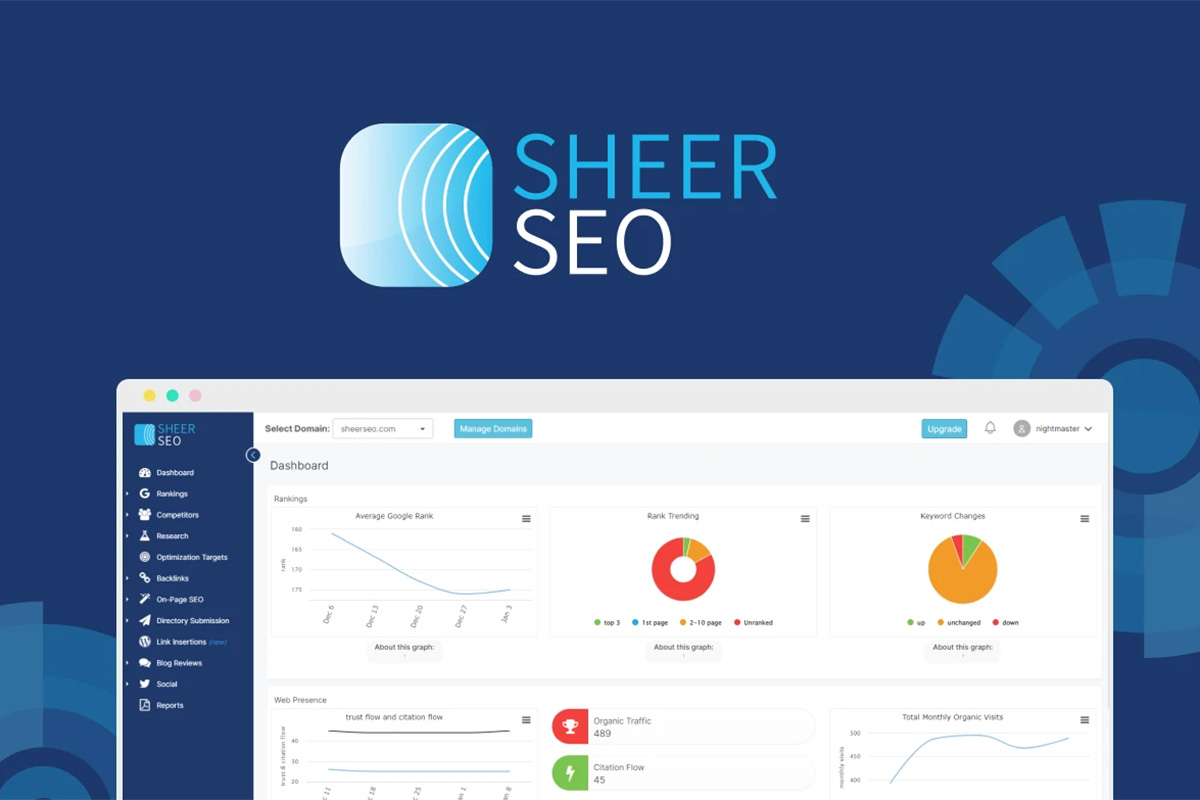 SheerSEO is an SEO Optimization tool that enables you to optimize your backlink and keyword strategies and track your website's health status. In addition, with the SEO tool's automated rank tracking, you can conveniently monitor your search result rankings on Google, Bing, and YouTube.
It supports localization for most countries, allowing you to customize your search results based on location. You can even drill down to the city, zip code, and neighborhood level. Additionally, you can export your data as white-labeled PDFs and CSV reports, either manually or automatically.
SheerSEO's database of rankings and keywords is extensive, allowing you to identify the most traffic-generating keywords and which ones your competitors rank for effortlessly. In addition, this tool enables you to audit your site for on-page SEO issues and compare it against leading results.
Plus, keyword research is at the core of SEO, and SheerSEO recognizes this. With the keyword explorer feature, you can estimate the value and difficulty of potential keywords and obtain insights and suggestions from sites in your niche and related keywords.
Moreover, SheerSEO helps you evaluate the quality of your backlinks using metrics such as citation, trust flow, and the number of outbound links. You can also spot toxic backlinks that hurt your rankings and monitor your most valuable ones with real-time alerts.
Furthermore, the platform aids in identifying link opportunities relevant to your keywords, generating new backlinks from active blogs. You can master your SEO strategy by investing lifetime access to SheerSEO today.
So, don't miss out on the opportunity to utilize all of its features immediately. You can now obtain lifetime access to an otherwise costly platform for just $49, but this is a limited-time offer. To take advantage of this amazing deal, act fast and purchase it immediately.
Meet SheerSEO
TL;DR
Track, analyze, and report your search result rankings on Google, Bing, and YouTube
Alternatives to: Ahrefs, SEMrush.
Keep tabs on your competitors' SEO performance, including backlinks and keyword research.
Best for: Small businesses, Web design agencies, Web designers.
Key Features of SheerSEO
Rank Tracking
Keyword Explorer
Estimate Traffic
SEO Audit
Analyze Backlinks
Directory Submission
Page Optimization
Backlink Checker
White label
Features included in All Plans
CSV and PDF reports
Traffic estimation
Competitor analysis
Google Search Console integration
Guarded backlinks
Backlinks explorer
Link building with directories and blogs
Content analysis