Linkly
Create high-quality backlinks promptly and inexpensively by utilizing effortless link exchange and guest blogging.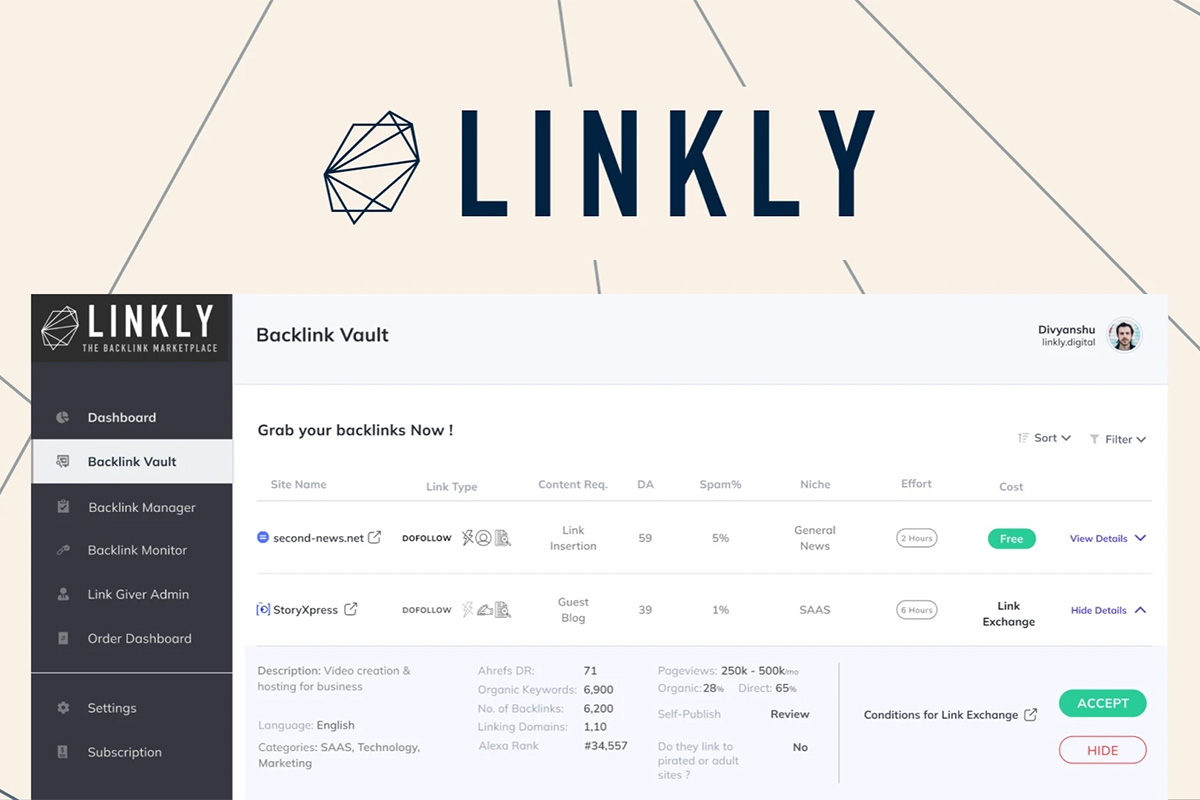 Linkly is a backlink marketplace created to make your link-building efforts more efficient. This platform is designed to assist website owners in streamlining their link-building procedures. Also, it helps them reduce the time and money spent on building backlinks.
It offers extensive handpicked link-building opportunities that website owners can access from a single dashboard. The opportunities are categorized into free guest blogging, link exchange, and paid backlink opportunities.
Using Linkly, only reliable and respectable websites are permitted to participate in the link-building chances. Furthermore, the platform strictly prohibits spammy, adult, or pirated sites, ensuring website owners can acquire backlinks from reputable websites.
Additionally, Linkly's goal is to manage building backlinks faster and less expensive, making it the perfect tool for new and seasoned website owners. It offers a streamlined link-building procedure that frees website owners to concentrate on their core businesses while successfully boosting their search engine rankings.
Plus, this platform is a dependable and effective backlink marketplace that makes establishing a solid online presence easier and more economical, so hundreds of SEO marketers, agency owners, and entrepreneurs of all sizes are already benefiting from it.
So, if your objective is to reduce the time and money required to establish backlinks, Linkly would be your great selection. Appsumo is currently offering a lifetime deal at a discounted price of $59. You can take advantage of this offer through Appsumo. Grab the Deal.
Meet Linkly
TL;DR
Generate high-quality new backlinks for your website on a regular basis, without breaking the bank and within a short period.
Alternatives to: Ahrefs, Buzzstream.
Collaborate with other website owners, share access with your team or virtual assistants, and enjoy various other communication options.
Best for: Marketers, Marketing agencies, Small businesses.
Key Features of Linkly
Save Time & Money
Trustworthy Curated Sites
Completely White Hat
Free, Paid & Link Exchange
Optimized efforts
100% Permanent Links
Features included in All Plans
Ideal for Low DA/DR site owners
Build backlinks with Link Exchange (Give Link, Get Link)
Access to Link Exchange Sites
Database – All sites visible, DR ≤ 25
Send Link Exchange Requests through Linkly – 55 /month
Accept incoming link exchange requests = UNLIMITED
Verified Domains & Link Exchange Posts = UNLIMITED
Build backlinks with Free Guest Blog (Give Content, Get Link)
Access to Free Guest Blog Sites Database – UNLIMITED
Users allowed in a workspace – 3
Link monitoring – All links made with Linkly
Manage link-building campaigns