As a small business owner, providing exceptional customer support is crucial for building a loyal customer base and driving growth. However, managing customer inquiries and resolving issues can be challenging without the right tools in place.
That's where customer service software comes in. In this post, we will introduce you to ten top-notch customer service software options specifically designed to streamline customer support operations for small businesses.
What is customer service software?
Customer service software includes a variety of tools or packages that give businesses the ability to interact with, keep track of, and manage client interactions. By streamlining workflows and enhancing query tracking, it empowers your team to operate more efficiently. Additionally, it enables you to deliver highly contextual and timely responses, thereby providing exceptional customer service.
This software effectively manages and tracks support issues and promptly responds to customer inquiries. It specifically refers to Customer Relationship Management (CRM) systems that focus on tracking detailed customer interactions.
Key capabilities for every customer service software
Self-Service Portal
Customer service platforms provide integrated self-service portals that empower customers to take charge of their support needs. Within these portals, customers can independently create support tickets, access the knowledge base for solutions, and manage their accounts.
Knowledge Management
Knowledge management within customer service software enables companies to efficiently organize and publish information related to their product's specific segments.
Multi-Channel Support
Multi-channel support functionality caters to diverse customer requirements, providing assistance through telephone, chat, email, social media, and discussion forums. Customer service solutions equipped with multi-channel support streamline incoming requests by consolidating them into a centralized hub.
Reporting and Analytics
Bridging the gap requires leveraging the reporting and analytics capabilities within your chosen solution. Whether it's analyzing communication volume post-product launches, addressing recurring customer concerns, or monitoring support staff performance, these tools offer invaluable insights into the inner workings of different departments.
Intelligent Routing
Intelligent routing not only optimizes the customer's time but also streamlines the support staff's efforts by automatically directing communications to the right personnel. This smart approach ensures a seamless and effective customer support experience for both parties involved.
Case Management
The case management feature empowers businesses to dispatch the resolution of customer issues and concerns by efficiently assigning, managing, and routing support cases.
The Key factor in choosing the right customer service software
Goals and Strategy
Understanding your business goals and strategy will guide you in choosing the right customer service software that aligns perfectly with your business needs and objectives.
Ease of Use
The purpose of customer service software is to simplify your job. A user-friendly customer service software should offer a streamlined workflow, making it easy to follow and helping you avoid errors.
Scalability
When selecting customer service software, it's crucial to consider future growth and how the chosen solution will impact it. A best customer support software should not only accommodate growth but actively aid in achieving it, making scaling up easier.
Flexibility
Opting for a cloud-based customer service solution enables remote work capabilities. It allows users to access data from their mobile devices and handle business matters while traveling or attending conferences.
Cost of Customer Support Software
Undoubtedly, cost is a vital factor for any business. It's essential to thoroughly compare the costs and benefits offered by different customer service software options to determine the most suitable fit for your long-term needs.
Training & Technical Support
A well-structured training program ensures your employees can seamlessly start using the software, avoiding any operational delays. Equally important is access to reliable technical support in case you need assistance in the future.
Integration with Current Processes
When exploring new customer service software, carefully assess how it will integrate with your existing business processes and tools. If you utilize financial management, helpdesk, or eCommerce software, consider how these new additions complement or potentially hinder their functionalities.
10 Best Customer Service Software
Support Genix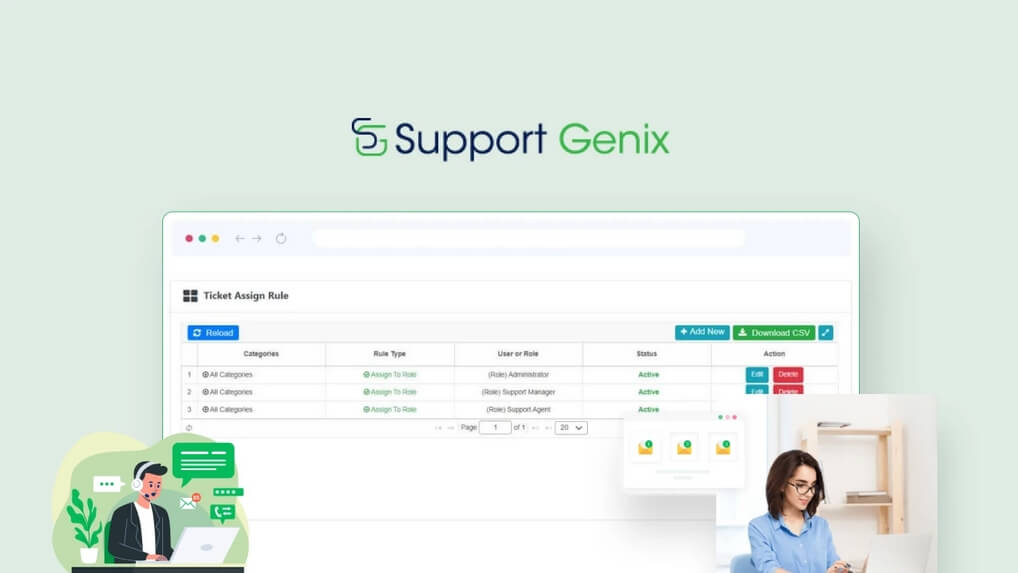 Support Genix is a powerful and professional WordPress Support Ticket Plugin that is developed to promote seamless interaction between you and your clients. As a comprehensive support ticket system and helpdesk plugin for WordPress sites, it empowers users to effortlessly submit tickets and receive timely assistance directly from your website. The user-friendly WordPress helpdesk interface makes it an ideal choice for businesses of all sizes aiming to elevate their online customer support experience.
With SupportGenix, you can effortlessly create support tickets, monitor their progress, unlimited Agents, transfer tickets, emails popping up, etc. Stay informed about the status and complete history of your tickets conveniently through this tool. The best part is that it is available as a free WordPress support ticket plugin, providing valuable support without any additional cost.
Key features:
Unlimited Tickets
Unlimited Agents
Unlimited Customers
Tickets on Behalf of Users
Agent Control
Transfer Ticket
Email popping
Email notification
Pros and cons of Support Genix:
Pros:
SupportGenix offers a user-friendly interface that streamlines support ticket management and ensures swift and effortless handling.
It facilitates seamless ticket submission for customers while enabling efficient tracking and timely responses.
With SupportGenix, effortlessly manage customer support requests, ensuring utmost customer satisfaction.
Cons:
SupportGenix exclusively operates as a WordPress Support Ticket Plugin. If your website doesn't run on WordPress, this plugin won't be compatible or suitable for your needs.
The plugin offers some advanced features exclusively in its premium version. Upgrading to the premium version is necessary to access the full range of functionalities.
Price:
Lifetime:
Personal (1 website): $99 /Lifetime for 1 Website
Developer (5 websites): $199 /Lifetime for 5 Websites
Agency (100 websites): $399 /Lifetime for Unlimited Websites
Yearly:
Personal (1 website): $59 /Year for 1 Website
Developer (5 websites): $99 /Year for 5 Websites
Agency (100 websites): $149 /Year for unlimited Websites
Zendesk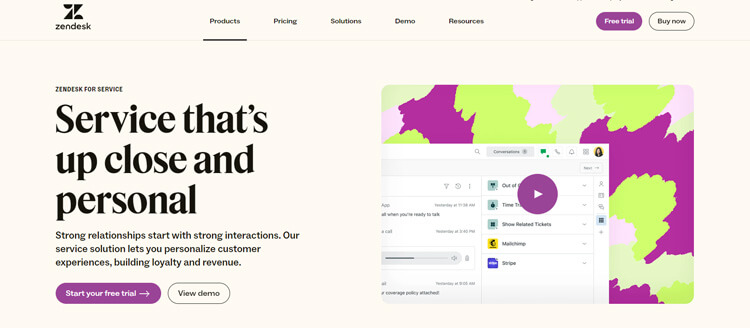 Zendesk is a leading customer service software platform that empowers businesses to provide exceptional customer support experiences. This platform enables businesses to centralize their support operations by integrating various data sources into a single location. It consolidates and manages customer support across multiple channels.
With Zendesk's Single Sign-On feature, users can bid farewell to the inconvenience of logging in multiple times to access their WordPress support tickets or community forums. Building and maintaining strong customer relationships becomes a breeze with the powerful partnership of Zendesk and WordPress!
Key features:
Account management
Sales tracking
Automation and activity tracking
Sales engagement tools
Call Center and chat support
Collaboration
API, apps, and integrations
Reporting and analytics
Pros and cons of Zendesk:
Pros:
Unified Workspace
Omnichannel Support
Ticketing and Routing
Agent Support
Offers abundant customization options.
Boasts extensive and powerful reporting and analytics capabilities
Cons:
The software's pricing plans are high cost.
Limited integration with popular ecommerce platforms.
The most advanced support features are exclusive to higher-priced tiers.
Not the ideal ticket management system for small businesses and ecommerce operations.
The user interface lacks intuitiveness and customization options.
Price:
Zendesk Suite Service plans for 1 website:
Monthly:
Suite Team: $69/month
Suite Growth: $115/month
Suite Professional: $149/month
Suite Enterprise: Contact with them
Annual:
Suite Team: $55/month
Suite Growth: $89/month
Suite Professional: $115/month
Suite Enterprise: Contact with them
Helpscout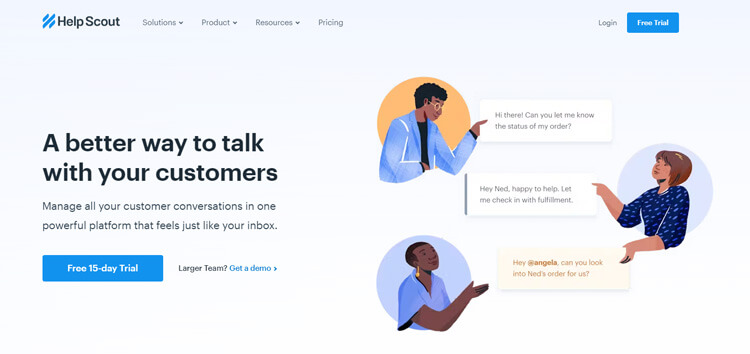 Help Scout stands out as a popular cloud-based help desk software that empowers you to effortlessly create and manage support tickets directly from your WordPress website. With its robust support ticketing solution, handling customer inquiries becomes a breeze. The support ticket plugin centralizes customer support requests, allowing seamless ticket submission and efficient tracking and responses.
It harmoniously integrates with WordPress, enabling efficient support ticket management right from your WordPress dashboard. The plugin is budget-friendly and provides outstanding customer support. With HelpScout, you'll have a top-notch WordPress support ticket solution at your fingertips, ensuring your customers receive the best assistance possible.
Key features:
Shared Inbox
Knowledge Base
In-app Messaging
Customer Management
Reporting
Live Chat
Integrations
Pros and cons:
Pros:
Customer-Centric
Ease of use & Set up
Support Tickets and Chats
Cons:
Lack of integrations
Limited customization options
Overpriced messaging feature
Price:
Monthly:
Standard: $25 /month
Plus: $50 /month
Pro: Contact with them
Annual:
Standard: $20 /month
Plus: $40 /month
Pro: $65 /month
Zoho Desk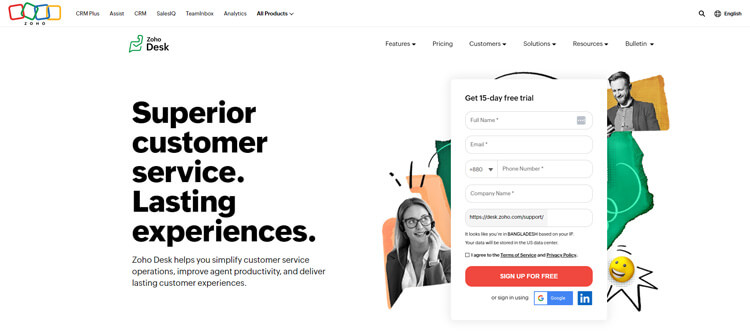 Zoho Desk is a cloud-based customer support solution that offers a comprehensive suite of tools for various business functions. With this tool, you can effortlessly establish a ticketing system that seamlessly spans multiple communication channels such as phone, chat, social media, and email.
By integrating with Zoho's customer relationship management (CRM) software, Zoho Desk enriches ticket information with customer data. It offers tailored solutions for customer service agents, managers, and customers alike. Furthermore, users have the flexibility to make custom changes to the system.
Key features:
Ticket Management
Self-Service
Agent Productivity
Automation
Extensibility
Insights and Impact
Customization
Security
Pros and cons:
Pros:
Seamless integration with other products
Huge list of features
Highly configurable
Excellent price
Cons:
Access to advanced features available at higher pricing tiers.
The user interface may be perceived as outdated or lacking in modern design elements.
The software can be somewhat challenging to navigate and customize due to its complexity.
Price:
Monthly:
Standard: $20 / month
Professional: $35 / month
Enterprise: $50 / month
Yearly:
Standard: $14 / month
Professional: $23 / month
Enterprise: $40 / month
Live Agent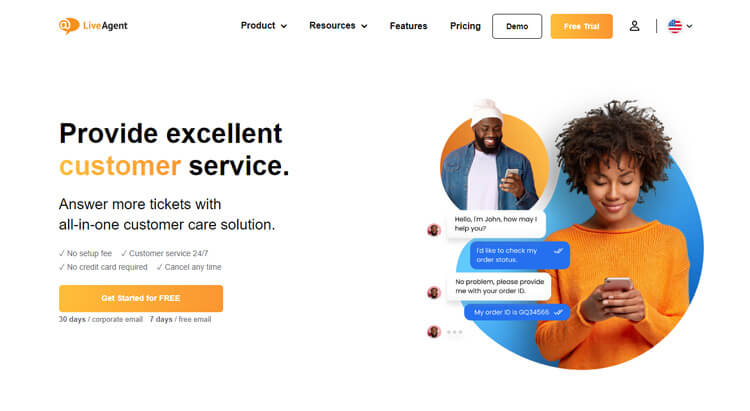 LiveAgent is a versatile and feature-rich helpdesk support application that stands out as a leading solution in the market. Designed to simplify and streamline customer communication, it brings together multiple channels into a single compact package.
Designed with simplicity and intuitiveness in mind, LiveAgent offers an easy learning curve, allowing users to become proficient in utilizing the software in a short span. The interface elements are thoughtfully arranged and easily accessible, facilitating efficient mastery of the system.
Key features:
Ticketing system
Live chat
Call center
Social media help desk
Customer service reporting
Gamification in customer service
Multi-Language
Customer Portal
Help desk security
Web contact cards
Integrations
Pros and cons:
Pros:
Implementing the software is effortless, making it suitable for large teams as well.
It provides the option to self-host behind the firewall, ensuring enhanced security.
It offers extensive customization.
It features an API for seamless development integration.
The self-service setup proves to be exceptionally beneficial for users.
Cons:
The mobile app's interface may use some improvements.
The software should consider supporting more integrations with various business systems to enhance its effectiveness and user-friendliness.
Price:
Small business: $9/agent per month
Medium business: $29/agent per month
Large business: $49/agent per month
Enterprise: $69/agent per month
LiveChat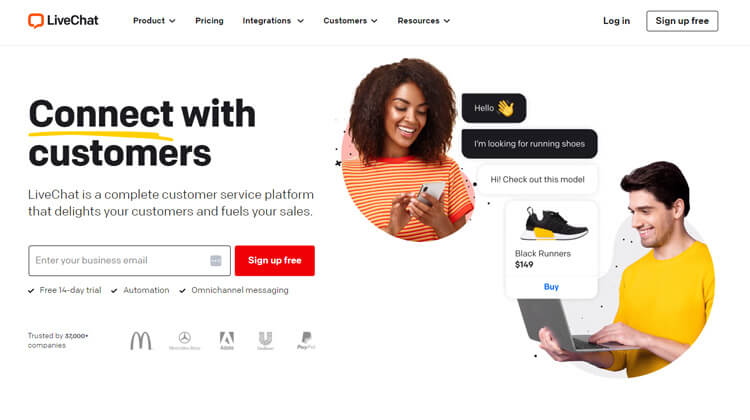 LiveChat is a strong and popular customer service technology that makes it easier for companies to connect with website visitors or customers in real time. It enables online businesses to engage with users directly through live chat windows, providing instant support, assistance, and information.
The incorporation of live chat enhances the overall customer journey on your website, ensuring that their needs are promptly addressed. By analyzing the interactions through this tool, you can gain insights into the type of customers visiting your website.
Key features:
Chat tools
Messaging channels
Chat widget customization
Reports & analytics
Sales & ecommerce
Customer engagement
Team management
Security
Pros and cons:
Pros:
Immediate Access for Customers
Efficient Use of Employee Time
Live Customer Chat is Affordable for Businesses
Improves Brand Image
Cons:
Incompatibility with Mobile Platforms
Time Zone Challenges
Price:
Starter: $20/month
Team: $41/month
Business: $59/month
Deskero
Deskero is a cloud-based help software designed to streamline and simplify customer support by integrating requests and inquiries from various channels. The software aims to bring order and coherence to the complexities of modern customer care, establishing a new level of engagement with customers.
This business content management software can communicate with their clients in a straightforward and smart manner. By leveraging social media networks and other communication channels, the application offers companies simple yet highly effective tools to enhance the speed, ease, and modernity of their customer support.
Key features:
Multi-Channel support
Email Import
Right from your website
Mobile support, fast and approachable
One Click Reply
Personalized filters for a custom workspace
Pros and cons:
Pros:
Unified Customer Support
Enhanced Customer Engagement
Simplified Assistance Management
Cloud-Based Convenience
Cons:
Limited Advanced Customization
Integration Complexity
Feature Set Limitations
Price:
Monthly:
Grow: $12 per agent/month
Business: $30 per agent/month
Premium: $120 per agent/month
Annually:
Grow: $9 per agent/month
Business: $25 per agent/month
Premium: $90 per agent/month
Hiver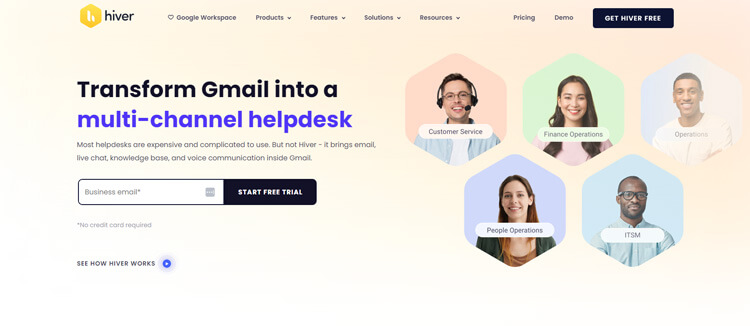 Hiver is the inbox management app designed exclusively for Gmail users that enables teams to create shared inboxes for seamless collaboration. With the help of this platform, teams can easily cooperate on a wide range of tasks, such as answering customer support tickets, managing sales CRM, developing new products, and much more.
Setting up a shared inbox with Hiver is a breeze. Collaborators are added to the shared inbox through their individual Gmail accounts, instantly providing them with a unified and synchronized platform for communication and collaboration. This integration encourages prompt and efficient problem-solving, task assignment, and follow-up without the hassles of navigating through multiple channels.
Key features:
Email Management
Collaboration
Analytics and Reporting
Automation
Multi-channel Support
Integrations
Pros and cons of Hiver:
Pros:
Shared Mailbox
Excellent Customer Support
Improved Transparency in Email Management
Internal Communication and Task Alerts
Cons:
Limitation on Support Ticket Creation
Costly and Inaccessible to All
Lack of Plan Flexibility
Price:
Monthly:
Lite: $19 /user/month
Pro: $49 /user/month
Elite: $69 /user/month
Yearly:
Lite: $15 /user/month
Pro: $39 /user/month
Elite: $59 /user/month
FreshWork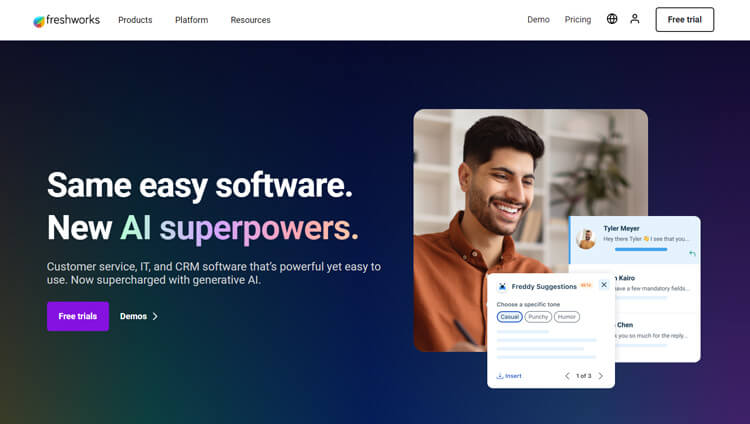 FreshWork provides customer support software that caters to the needs of businesses and organizations of all sizes. Their suite of products includes Customer Service Suite, Freshservice, Freshdesk, and Freshchat. Each software is designed to offer efficient and effective customer support solutions.
Freshdesk, a cornerstone of this suite, offers streamlined ticket management, automation, and insightful analytics, enabling companies to efficiently address customer inquiries and enhance their support processes. Freshservice focuses on IT service management, ensuring seamless technical support and efficient asset management for enhanced operational efficiency.
And Freshchat offers modern messaging capabilities for real-time customer engagement across various channels. Together, these software solutions under the Customer Service Suite umbrella equip businesses with the means to enhance support workflows, drive customer satisfaction, and forge lasting connections.
Key features:
Customer Service & Support
IT Service Management
Conversational Engagement
Marketing Automation
Enterprise Service Management
Sales Automation
Customer Relationship Management
Pros and cons of FreshWork:
Pros:
User-Friendly Interface
Wide Range of Features
Customization and Flexibility
Excellent Customer service management software
Cons:
Limited Third-Party Integrations
Complexity for Larger Enterprises
Price:
Starter: $19/agent/ month
Growth: $49/agent/ month
Pro: $95/agent/ month
Enterprise: $119/agent/ month
HelpDocs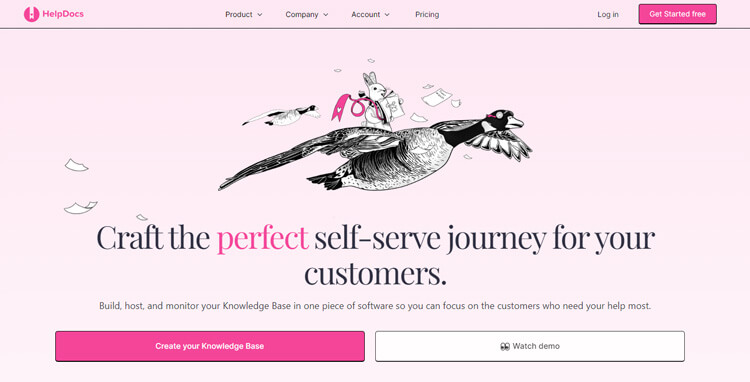 HelpDocs is a reliable knowledge base solution that empowers users to create a searchable archive of documents related to their goods or services. Its primary goal is to ensure teams can deliver effective and continuous assistance and support, regardless of their workload or geographic location.
HelpDocs enables you to effortlessly craft informative help articles, granting your customers easy access to product or service-related information. The solution offers comprehensive tools for authoring, modifying, organizing, and publishing help documents.
Moreover, you have the option to optimize these articles for better search engine visibility and seamless comprehension across different languages used by your customers.
Key features:
Knowledgebase
Search
Analytics
Native integrations
Widget API
Audit trail
Team accounts
Native integrations
Pros and cons of HelpDocs :
Pros:
Develop Knowledge Base
Help Articles Creation
Collaborate Teams
Extend Knowledge Base
Cons:
Limited Advanced Customization
Lack of In-depth Analytics
Price:
Monthly:
Start: $69 /month
Build: $139 /month
Grow: $279 /month
Annual:
Start: $55 /month
Build: $109 /month
Grow: $219 /month
Frequently Asked Questions
What features should I look for when selecting customer service software for my small business?
Choosing the most appropriate customer service software is a critical decision. To assist you in this process, we have compiled a list of essential features that you should consider when evaluating different software options.
1. Multi-channel support
2. Automation and integration
3. Reporting and analytics
4. Collaboration and communication
5. Scalability and security
Why is customer service software important for small businesses?
Customer service software has a wide range of uses and many benefits for your small business. The following are some advantages of using this software:
1. Better customer service
2. Increased sales
3. Improved customer retention
4. Centralized database of information
5. Improved customer segmentation
6. Automated sales reports
Is customer service software suitable for small businesses with limited budgets?
Yes, customer service software can be highly suitable for small businesses with limited budgets. In fact, many customer service software providers offer plans tailored specifically for small businesses, making it affordable and accessible.
Should I integrate customer service software with CRM?
CRM and customer service software integration can be quite advantageous for your company. It gives you a comprehensive picture of all of your customer's interactions with you and their experiences. It also helps you to better comprehend their requirements and journey.
Is there a limit to the number of customer service tools I can have?
There is no limit to the number of customer service tools you can have. You can adopt multiple tools to meet different customer service needs and optimize various aspects of your support operations.
Final Word
Choosing the right customer service software tools can profoundly influence your business's success. Effective integration of the chosen software into your customer service team can be a game-changer. In this article, you've gained valuable insights into the essential factors to consider before making a decision. By taking these elements into account, you can select the best customer service software for your small business, setting it on a path toward success.