Live chat software has become increasingly popular in recent years, providing an effective solution for businesses to improve customer experience. With real-time interactions and personalized support, live chat software has revolutionized customer service for online businesses.
However, there are lots of live chat apps available, so picking the best one might be difficult. That's why we've put together a list of the 6 best live chat software for websites, each with its own unique features and benefits to help you better connect with your customers and enhance their overall experience. Read on to discover which live chat software can take your customer service to the next level.

What is Live Chat Software?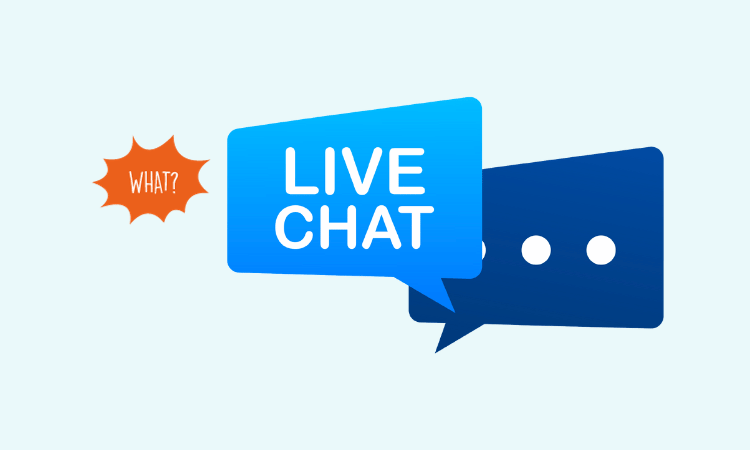 Live chat software is a tool that allows businesses to provide instant customer service and support online. This software is designed to facilitate real-time communication between a business and its customers, offering a convenient and streamlined way for customers to get their questions answered, issues resolved, or simply connect with a representative.
Live chat programs usually come with functions like automatic chat routing, pre-written messages, sharing files, and data analysis. These tools are designed to assist businesses in enhancing their customer support. With the rise of eCommerce and online transactions, live chat software has become an essential part of any customer-focused business.
Important of using Live Chat Software
Using live chat software is essential for businesses of all sizes. Here are some reasons why:
Instant Communication: Live chat allows businesses to communicate with their customers in real time. It provides a quick and efficient way to address customer inquiries, issues, and concerns. This instant communication helps improve customer satisfaction and enhances the overall customer experience.
Increased Sales and Conversions: Live chat software enables businesses to engage with website visitors proactively. By offering assistance and personalized recommendations, businesses can guide visitors through the buying process, leading to increased sales and conversions.
Cost-Effective Customer Support: It is a cost-effective customer support solution compared to traditional phone support or email. With live chat, customer service representatives can handle multiple chat conversations simultaneously, reducing the need for additional staff and minimizing costs.
Improved Customer Engagement: It allows businesses to engage with customers in a more interactive and personalized manner. Through chat, businesses can understand customer needs, provide tailored solutions, and build strong relationships with customers.
Competitive Advantage: Offering live chat support gives businesses a competitive edge over their competitors. It demonstrates a commitment to exceptional customer service and sets businesses apart in a crowded marketplace.
Analytics and Insights: Most live chat software provides analytics and reporting features that offer valuable insights into customer behavior, preferences, and pain points. This data helps businesses make informed decisions to improve their products, services, and customer support strategies.
24/7 Availability: Live chat software enables businesses to provide round-the-clock customer support. Customers can reach out for assistance at any time, regardless of their geographical location or time zone. This availability helps businesses cater to the needs of a global customer base.
Why live chat software is crucial for websites
As the number of businesses moving online increases at a remarkable rate, it is becoming more complicated for companies to differentiate themselves from their competitors. That's where live support software comes in. In today's digital landscape, live chat software has become an essential tool for businesses to connect with their clients in real time.
Live chat software is crucial for websites due to the following reasons:
Real-Time Convenience to Customers:
Live chat provides instant communication and support to website visitors, offering them convenience and immediate access to assistance.
Cost Savings:
Implementing live chat software can save businesses money compared to traditional customer support channels like phone support. It allows customer support representatives to handle multiple chat conversations simultaneously, reducing the need for additional staff.
Competitive Advantage:
Offering live chat support gives websites a competitive edge by providing a superior customer experience. It demonstrates a commitment to prompt and personalized assistance, which can differentiate a business from its competitors.
Increased Conversions and Sales:
Live chat software allows businesses to engage with potential customers in real time, addressing their queries and concerns promptly. This personalized interaction can lead to increased conversions and sales, as customers receive immediate assistance and guidance during the buying process.
Improved Customer Service:
Live chat enables businesses to provide efficient and effective customer service. It allows customer service teams to connect with customers quickly, resolve issues in real time, and build strong customer relationships.
Analytics and Insights:
Many live chat software solutions offer analytics and reporting features that provide valuable information on customer behavior, preferences, and pain points. These insights can help businesses optimize their website, improve products or services, and enhance customer support strategies.
Time and Efficiency:
It allows for faster issue resolution compared to other support channels. Customers don't have to wait on hold or send emails and can receive immediate assistance, saving time for both customers and support teams.
Customer Confidence:
This software instills confidence in customers, as it provides a direct line of communication with businesses. Customers feel assured that their queries and concerns will be addressed promptly, leading to increased trust and loyalty.
Multitasking Capability:
This software allows customer service representatives to handle multiple chat conversations simultaneously. This multitasking capability boosts efficiency and ensures that customers receive timely responses, even during peak hours.
Customer Satisfaction:
The combination of instant communication, personalized support, and efficient issue resolution contributes to higher customer satisfaction levels. Satisfied customers are more likely to become repeat customers and recommend the business to others.
6 Best Live Chat Software for Websites
LiveChat
If you're looking for a way to improve your eCommerce business's customer service, then LiveChat may be the solution you're looking for. This live chat software for websites offers 24/7 support, ensuring that you can get the help you need at any time of the day. Beyond just offering support, LiveChat is customizable, efficient, and secure due to its various security features.
Additionally, it boasts a wide range of integrations, making it easy for businesses to connect with their customers. However, one of the biggest benefits of LiveChat is its ability to increase sales and engagement through features such as automated greetings, a sales tracker, proactive chats, and mobile chat windows. With LiveChat, you can take your customer service to the next level and improve your eCommerce business's success.
Key Features
Chat Tools
Messaging channels
Reports and Analytics
Chat widget customization
Pricing Plan:
Starter: $20/month
Team: $41/month
Business: $59/month
Enterprise: Request a call
Zendesk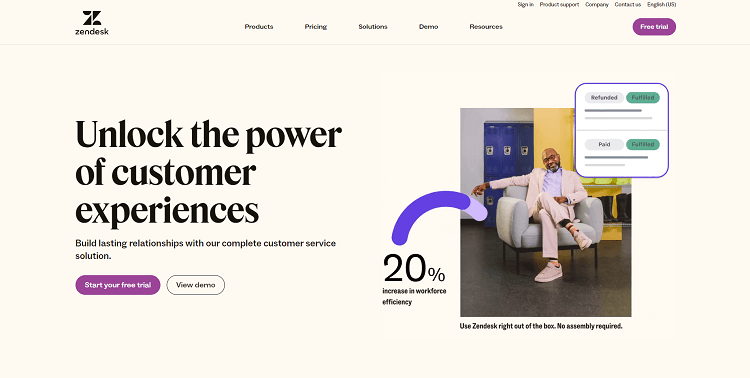 For businesses looking to provide top-notch customer support on their websites, Zendesk's live chat software offers a comprehensive solution. But it's not just the product itself that sets Zendesk apart. The company goes above and beyond to ensure that visitors have access to the resources and support they need to make the most out of their investment.
From onboarding and adoption guidance to access to over 1,000 apps and integrations, businesses can feel confident that they have everything they need to provide excellent customer support through live chat. With online support from the Zendesk team just a few clicks away, users can rest assured that their inquiries will always be responded promptly and efficiently.
Key Features
Zendesk Support
Zendesk Support Suite
Zendesk Chat
Zendesk Explore
Zendesk Guide
Zendesk Sell
Zendesk Gather
Zendesk Sales Suite
Pricing Plan:
Annual
Suite Team: $55 per agent/month
Suite Growth: $89 per agent/month
Suite Professional: $115 per agent/month
Suite Enterprise
Monthly
Suite Team: $69 per agent/month
Suite Growth: $115 per agent/month
Suite Professional: $149 per agent/month
Suite Enterprise
Live Agent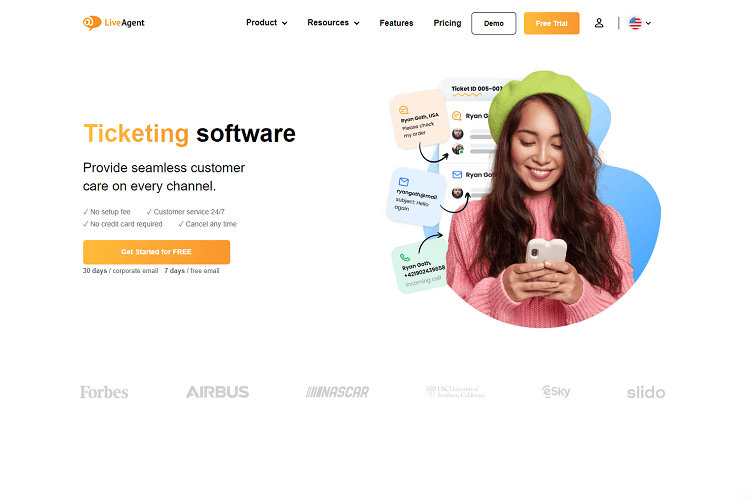 If you're looking for a user-friendly solution to manage your customer support inquiries, look no further than LiveAgent. With its suite of sophisticated software solutions, LiveAgent provides an impressive range of features that can help improve the customer service process. From ticketing to CRM, accounting to social networking, LiveAgent has covered you.
With its intuitive interface, even team members with little technical expertise can utilize this powerful tool. Plus, with its live chat software for website integration, you can connect with your customers in real time, answering their questions and resolving their issues quickly and efficiently.
With LiveAgent, you can ensure that your customer support team has the resources they need to perform at their best.
Key Features
Agent Collision Detection
Agent Ranking
Automated Ticket Distribution
Canned Message
Contact Form Gallery
Email Forwarding
Pricing
Free: $0
Small: $9/agent
Medium: $29/agent
Large: $49/agent
Free: $0/agent
Enterprise: $69/agent
Zoho Desk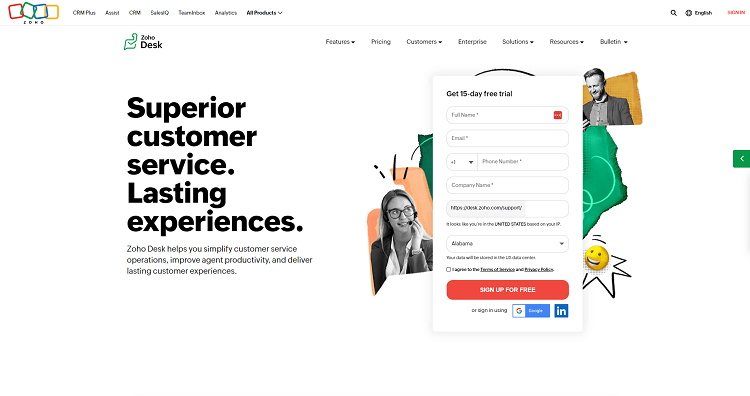 In today's fast-paced business environment, having reliable customer service software is crucial for maintaining customer satisfaction and loyalty. Zoho Desk stands out as a leader in this space, offering a comprehensive suite of tools designed to improve customer support. One such feature is its powerful live chat software for the website, which enables real-time communication between customers and support representatives.
This efficient communication platform enables businesses to promptly attend to customer inquiries and swiftly resolve any issues they may have. Additionally, Zoho Desk's knowledge base allows businesses to create a wealth of information resources for their customers, reducing the need for support tickets and improving overall customer satisfaction.
Overall, Zoho Desk is a top choice for businesses looking to enlarge their customer service operations with reliable and efficient software.
Key Features
Ticket Management
Agent Productivity
Automation
Extensibility
Security
Auto Tag Tickets
Pricing
Yearly-
Standard: $14/user/month billed annually
Professional: $23/user/month billed annually
Enterprise: $40/user/month billed annually
Monthly-
Standard: $20/user/month billed monthly
Professional: $35/user/month billed monthly
Enterprise: $50/user/month billed monthly
Freshchat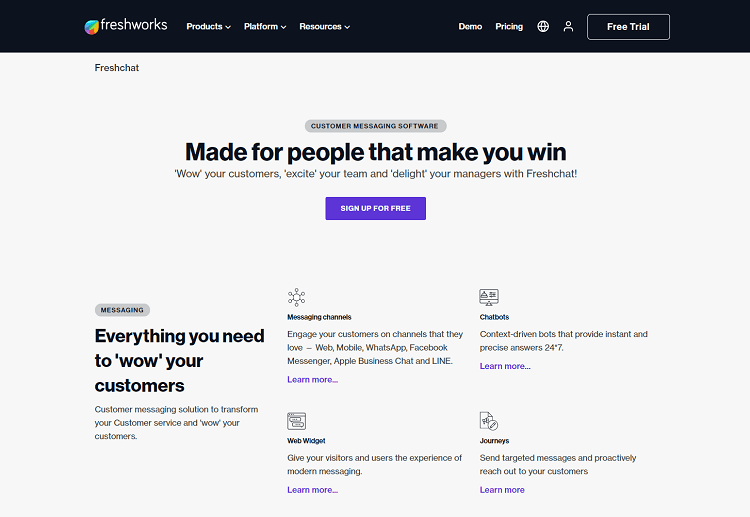 Freshchat offers live web chat software for websites that can help businesses of any size engage their customers seamlessly. With Freshchat, you can deliver a top-notch customer experience across any channel, from messaging and live chat to email and voice. Your customers can get quick self-service on their preferred channels, while you can use AI-driven bots to scale your support efforts.
Freshchat's live chat software makes it easy to create and deploy bots that can assist your customers on your website and native app, as well as messaging platforms. With this tool, you can give your customers the personalized support they deserve and ensure that their needs are addressed promptly and efficiently.
Key Features
Chatbots
Messaging channels
Web widget
Multilingual Support
Pricing:
Free: Free
Growth: $19
Pro: $49
Enterprise: $79
Tidio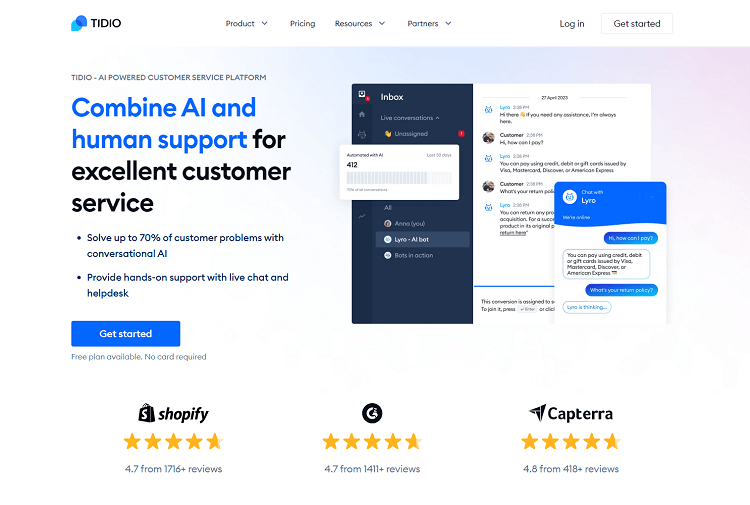 Tidio live chat software for websites is more than just a customer service tool. It's a complete solution designed to help businesses engage with their prospects and customers in a personalized, proactive, and efficient way. With features such as automation and AI, you can boost your conversions and answer questions in real time, 24/7. 
But that's not all. Tidio also lets you treat every website visitor like a VIP by tailoring your messages and discounts to their browsing history to improve customer retention. And when it comes to product recommendations, Tidio has you covered, too. You can see what products your website visitors are looking at in real time and start conversations through the chat widget to make recommendations at optimal moments.
Get started with Tidio today and win your customers' hearts with exceptional service.
Key Features:
Live chat
Multichannel
Visitors list view preview
Chatbots
Pricing:
Standard Plans:
Free: Free
Starter: $29
Communicator: $25
Chatbots: $29
Bundle Solution:
Chatbots & Communicator: $29+$25
How does free live chat software compare to paid options in terms of functionality and performance?
Free live chat software and paid options differ in terms of functionality and performance. While free options often provide basic chat features, they may lack advanced functionalities and customization options.
On the other hand, Paid options typically offer a broader range of features such as detailed analytics, integrations with other tools, and enhanced customization to align with specific business needs.
Additionally, paid software often provides better performance, including faster response times and improved reliability, ensuring a more seamless and professional customer experience. Ultimately, the choice between free and paid live chat software depends on the specific requirements and priorities of the user or business.
Frequently Asked Questions
Can I integrate live chat software with my existing CRM or helpdesk system?
Yes, you can integrate live chat software with your existing CRM or helpdesk system. By integrating live chat with CRM or helpdesk software, you can enhance customer engagement, streamline communication, and improve the efficiency of your customer support processes.
Is there any free life chat software available? Give some examples
Yes, there are several free live chat software options available. Here are some free live chat software examples: HubSpot, Crisp Chat, Tawk.to, etc.
Is live chat software suitable for small businesses?
Yes, live chat software is suitable for small businesses. It can provide numerous benefits for small businesses, including improved customer support, increased customer engagement, and enhanced efficiency.
Is it possible to automate responses and use chatbots with live chat software?
Absolutely! Live chat software often supports automation through chatbots. These bots can handle routine queries, provide information, and even assist in basic problem-solving. By automating responses, businesses can enhance efficiency, provide 24/7 support, and free up human agents to handle more complex issues. It's a win-win, combining the speed of automation with the personal touch of live chat.
Final Word on Best Live Chat Software
Finding the ideal live chat software for your website can be an overwhelming proposition as there are numerous options available in the market today. Whether you are looking for an all-in-one solution or a more specialized tool, the right software can aid in improving customer experience, engagement, and satisfaction.
After careful research and evaluation, our team has come to the conclusion that these live chat software for websites are among the best in the industry. Each of these tools offers important features that cater to different business needs. With the help of this software, your website can transform into an efficient customer support hub that delivers a great user experience.