Are you looking for Canva alternatives? This comprehensive guide explores the best options for design enthusiasts and professionals alike. From free tools to premium software, we cover everything you need to know to find the perfect design platform for your needs.
Overview of Canva and its Popularity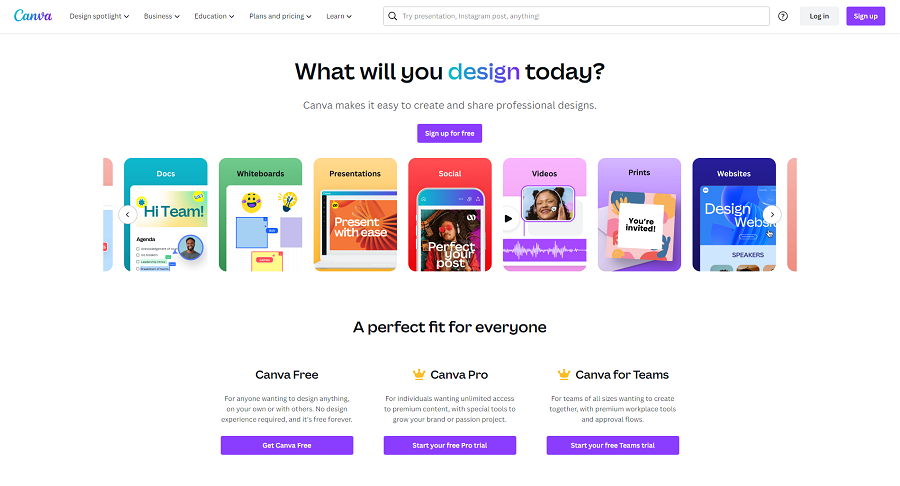 Canva is a powerful graphic design platform that caters to both professional designers and individuals without design expertise. With its intuitive drag-and-drop interface and extensive template library, Canva simplifies the design process and eliminates the need to start from scratch.
Its collaborative features also enable designers and non-designers to collaborate efficiently, streamlining workflows and ensuring brand consistency. The ability to share templates, assign different access levels, and centralize resources makes it a valuable tool for companies of all sizes.
Furthermore, the platform regularly updates its template library, adds new design elements, and introduces innovative features to meet the evolving needs of its users. This adaptability and responsiveness have played a significant role in Canva's widespread adoption and continued growth.
Canva has gained immense popularity since its launch due to several reasons. Its user-friendly interface and simplified design process have attracted a broad user base, ranging from individuals to professionals in need of efficient design solutions.
By offering a wide array of design options and templates suitable for diverse purposes, Canva has become a preferred tool for both designers and non-designers.
Importance of finding the right design platform
Visual Communication: Effective visual communication is essential to convey messages, ideas, and information. A suitable design platform provides the tools and features necessary to create visually appealing and engaging content that effectively communicates the intended message.
Branding Consistency: For businesses, maintaining consistent branding across all marketing materials is crucial. The right design platform offers features like branding kits, customizable templates, and access to brand assets, ensuring that design elements align with the brand guidelines and create a cohesive visual identity.
Time and Cost Efficiency: A well-designed platform streamlines the design process, making it faster and more efficient. It eliminates the need to start from scratch, provides ready-made templates, and offers intuitive editing tools, enabling users to create professional designs without investing excessive time or resources.
Versatility and Flexibility: A versatile design platform accommodates various design needs, from social media graphics to presentations, posters, documents, and more. This flexibility allows users to meet their specific design requirements without needing multiple tools or platforms.
User-Friendly Interface: Ease of use and a friendly interface are crucial aspects of a design platform. Intuitive navigation, drag-and-drop functionality, and clear instructions enable users of all skill levels to create professional-looking designs without significant learning curves.
Support and Learning Resources: The availability of support and learning resources is valuable when using a design platform. Responsive customer support, comprehensive documentation, tutorials, and community forums can help users overcome challenges, learn new techniques, and maximize the platform's features.
Free Tools for Canva Alternatives
Figma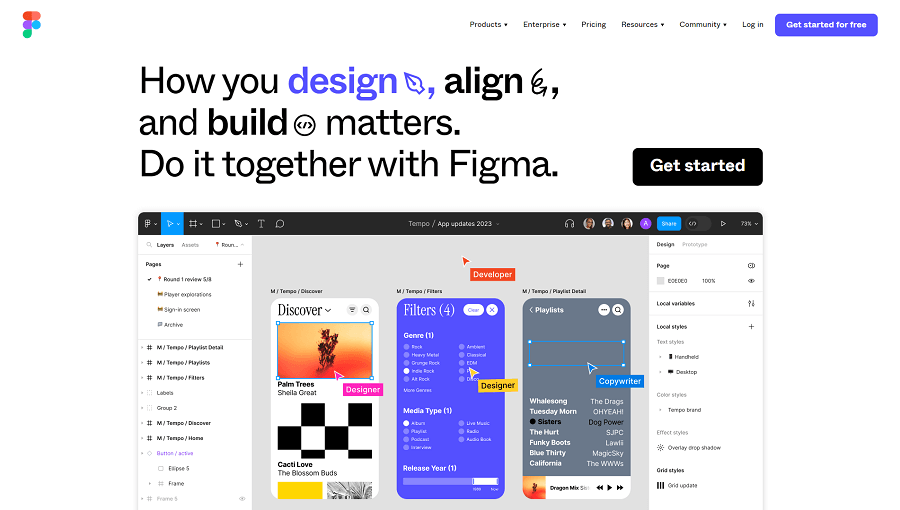 Figma is a powerful and versatile collaborative interface design tool that has revolutionized design and prototyping. It is entirely browser-based, eliminating the need for platform-specific installations.
With its real-time collaboration capability, multiple users can work simultaneously on the same design file across different locations. The platform's cloud-based nature allows designers to store and access their design files online, eliminating concerns about data loss or version control.
Moreover, designers can easily share their work by generating simple links to the design files, ensuring a hassle-free exchange of ideas with stakeholders and clients.
Key Features
Real-time Collaboration
Prototyping
Design Libraries
Team Collaboration and Sharing
Diagramming
Benefits of Figma
Collaborative Design: Figma excels at collaborative design by allowing multiple creators to work on designs simultaneously. This collaborative environment fosters efficient teamwork and ensures everyone is on the same page throughout the design process.
Web Based Accessibility: This tool is web based and is accessed from any device with an internet connection. It eliminates software installation and enables designers to work seamlessly across different operating systems.
Design System and Component Libraries: Figma empowers designers to establish and oversee design systems and component libraries, fostering visual harmony and streamlined project elements. Through component reuse and updates, it ensures a unified design language across diverse endeavors.
Prototyping and Interactions: It offers robust prototyping capabilities, allowing designers to create interactive and animated prototypes. Designers can define interactions, transitions, and user flows to showcase their designs' functionality and user experience.
Responsive Design: Figma provides powerful features for responsive design, allowing designers to create adaptive layouts that cater to different screen sizes and orientations.
Continuous Improvements and Updates: Figma is known for its active development and regular updates, introducing new features and enhancements based on user feedback and industry trends.
Cons of Figma
No Version Control
Limited Customization Options
Pixlr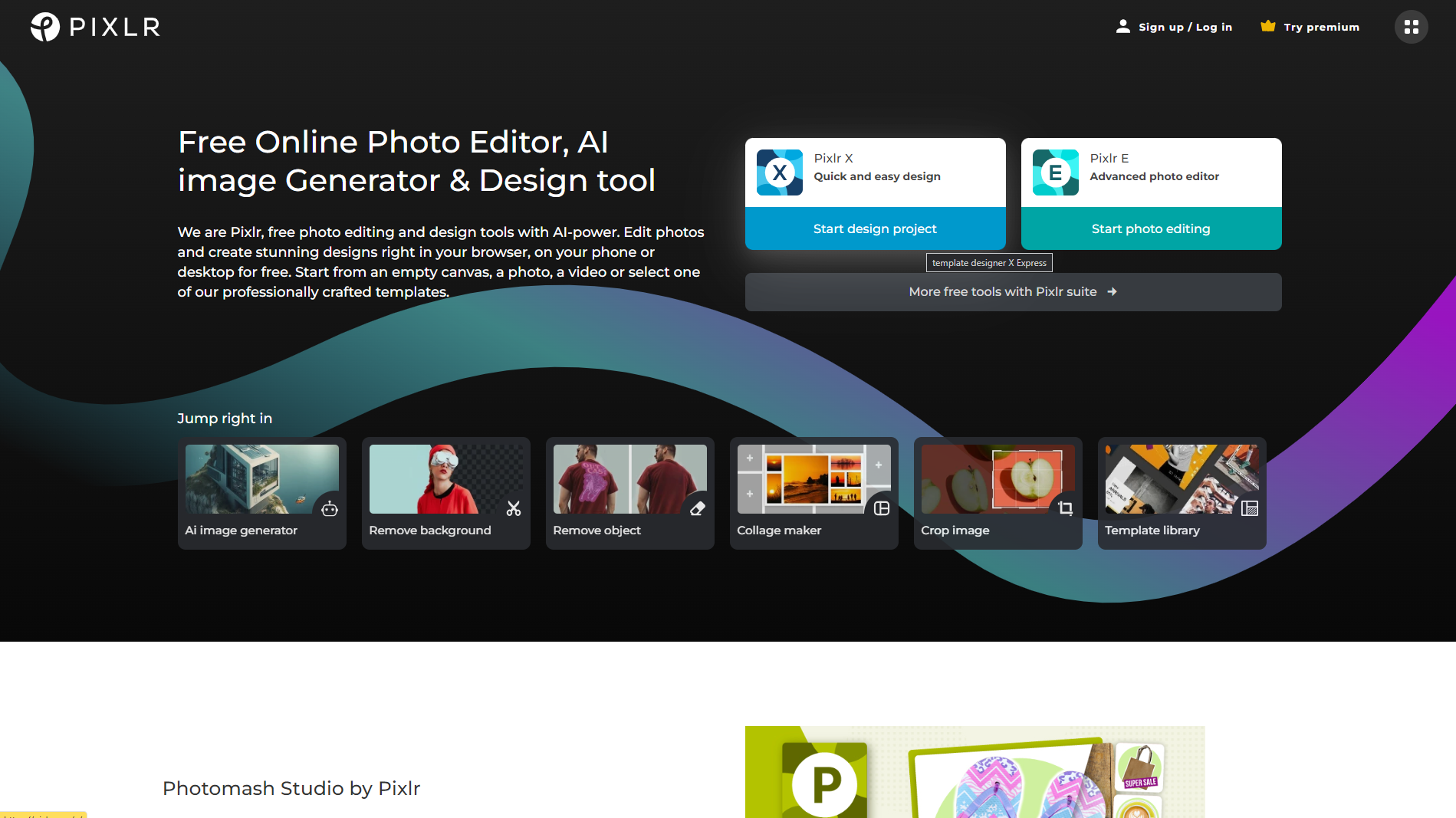 Pixlr is another alternative for Canva free. It is a popular photo editor that serves as an essential tool for users who engage in extensive photo editing or require a cost-effective editing solution. It has a variety of features and capabilities that are suitable for beginners as well as professionals.
With its accessibility and flexibility in importing photos, users can easily upload images from their computers or directly pull photos from online sources through URLs.
It also provides a comprehensive suite of editing tools reminiscent of those found in professional-grade software like Photoshop. Users can access various adjustments, filters, layers, and other tools to enhance and manipulate their images according to their creative vision.
Key Features
Photomash Studio by Pixlr
Animations
Design templates
Remove background
Collage maker
Filters and effects
Benefits of Pixlr
Accessibility: With Pixlr being an online tool, it can access from any internet-connected device, enabling them to work on any project conveniently from anywhere.
User-Friendly Interface: It boasts a simple interface complemented by a wealth of tutorials and resources, empowering users to learn how to utilize the tool effectively and efficiently.
Abundance of Features: This tool offers an impressive array of features, encompassing pre-designed templates, text and shape addition tools, as well as a diverse selection of filters and effects.
Layer Functionality: The inclusion of layer support within Pixlr empowers users to incorporate different elements into their designs and effortlessly rearrange them as needed.
Cost-Effective Solution: Being free to use, Pixlr eliminates the financial burden for customers, sparing them from purchasing expensive software or subscribing to costly services.
Collaborative Environment: It fosters collaboration by enabling multiple users to work on a design simultaneously.
File Compatibility: This tool supports a wide range of file types, including JPG, PNG, and GIF, ensuring easy saving and sharing of students' designs in various formats.
Customization Options: Pixlr extends numerous customization possibilities, granting students the freedom to upload custom images and fonts.
Cons of of Pixlr
Flash Requirement
Potential Replacement in the Near Future
Presence of Distracting Ads
Crello(VistaCreate)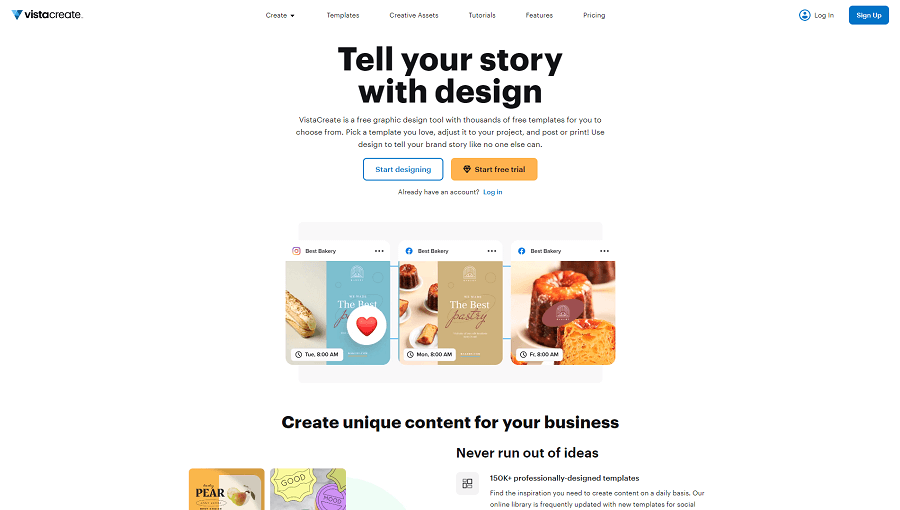 VistaCreate is a versatile graphic design software that empowers users to create captivating projects for various industries and occasions, regardless of their design skills. With its graphical elements, you can dive into the design world without any prior experience.
This graphic design tool offers a vast collection of over 150,000 professionally designed templates. These templates are preformatted and customizable, providing a convenient starting point for your projects. It also allows you to edit video content as well.
Add a new dimension to your visuals by easily editing videos and incorporating music into your creations. VistaCreate provides a comprehensive library of over 70 million royalty-free creative assets to enhance your designs further.
Key Features
Remove backgrounds
Photo grid
Picture outline maker
Change color styles
Add frames to photo
Flip images
Add text to photo
Photo filters
Rotate images
Resize images
Transparency and layers
Crop images
Benefits of VistaCreate
User-Friendly interface: VistaCreate provides a user-friendly interface, making it accessible to individuals with varying levels of design experience.
Extensive Template Collection: With over 150,000 professionally designed templates, it offers a wide array of options for various industries and occasions.
Versatility with Video Editing: Unlike many graphic design software, VistaCreate includes video editing capabilities. Users can edit videos, add music, and create dynamic visual content, expanding their creative possibilities beyond static graphics.
Rich Library of Creative Assets: VistaCreate provides access to a vast library of over 70 million royalty-free creative assets, including high-quality images, videos, and vectors.
Brand Consistency: The Brand Kit functionality of this tool enables users to maintain brand consistency across their designs. Users can create a cohesive visual identity that aligns with their brand's aesthetics by incorporating brand elements such as logos, colors, and fonts.
Accessibility and Convenience: It is an online-based platform that allows users to access their designs and work on them from any device with an internet connection.
Cost-Effective Solution: This graphic editor offers a cost-effective solution for graphic design needs. Users can access a wide range of design resources, templates, and editing tools at an affordable price.
Support and Community: VistaCreate provides support resources, tutorials, and a community forum where users can seek assistance, share ideas, and gain inspiration. This supportive environment increases social media engagement, collaboration, and creativity among users.
Cons of VistaCreate
Limited Customization Options
Learning Curve for Advanced Features
Dependency on Templates
Fotor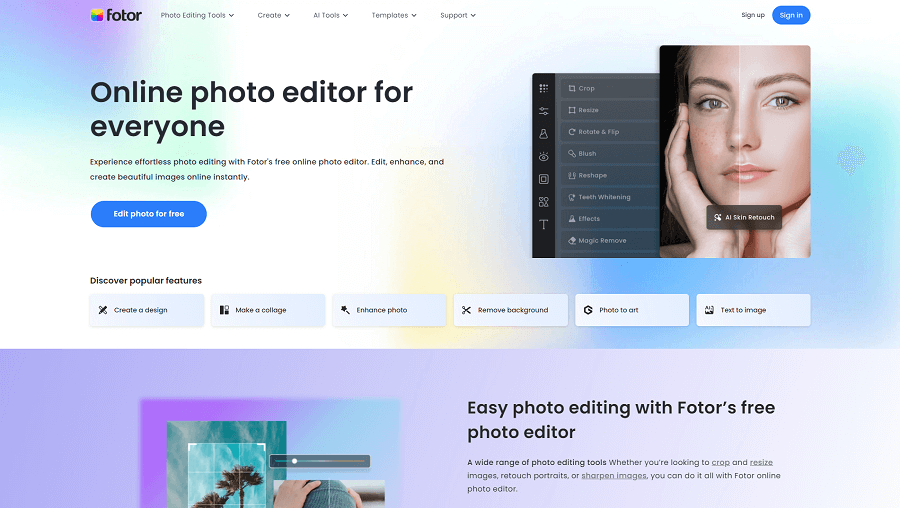 Among the photo editing tools, Fotor is one of the most powerful ones. Its comprehensive platform empowers users to unleash their creativity and enhance their images. It offers three main functions: Edit, Collage, and Design.
Users can precisely change their photographs using a variety of editing tools and capabilities offered by the Edit function. The Collage function is a fantastic tool for creating visually appealing photo collages. And the design function provides graphical elements that enable users to create impressive graphic designs.
Furthermore, Fotor offers a range of additional features, such as batch editing, which saves time by applying edits to multiple photos simultaneously.
This graphics design tool also includes special enhancement features like red-eye removal, teeth whitening, and wrinkle removal, allowing users to enhance their portraits effortlessly.
Key Features
Crop & resize images
Background remover
Photo enhancer
Collage maker
Remove objects
Amazing photo effects
Benefits of Fotor
Powerful Editing Tools: Fotor provides a wide range of powerful editing tools that allow you to enhance and transform your photos with ease.
User-Friendly Interface: It offers a user-friendly interface that makes it easy for both beginners and experienced users to navigate and edit their photos.
Versatile Platform: Fotor is available on multiple platforms, including online, iOS, Android, and desktop (Windows and Mac).
Free to Use: Fotor offers a free version of its photo editor that provides access to a wide range of editing tools and features.
Photo Collage Templates: Fotor offers a variety of photo collage templates that allow you to create stunning compositions by combining multiple photos.
Photo Enhancement Features: In addition to traditional editing tools, Fotor also offers specialized features for photo enhancement. These include red-eye removal, teeth whitening, wrinkle removal, and more, allowing you to enhance portraits and selfies effortlessly.
Integration with Social Media: This tool allows you to easily share your edited photos directly to popular social media platforms like Facebook, Instagram, and Twitter.
Cons of Fotor
Fotor's deep image retouching capabilities could be improved to use effectively.
Creating images from scratch is not possible within Fotor's functionalities.
Premium Canva Alternatives
Sketch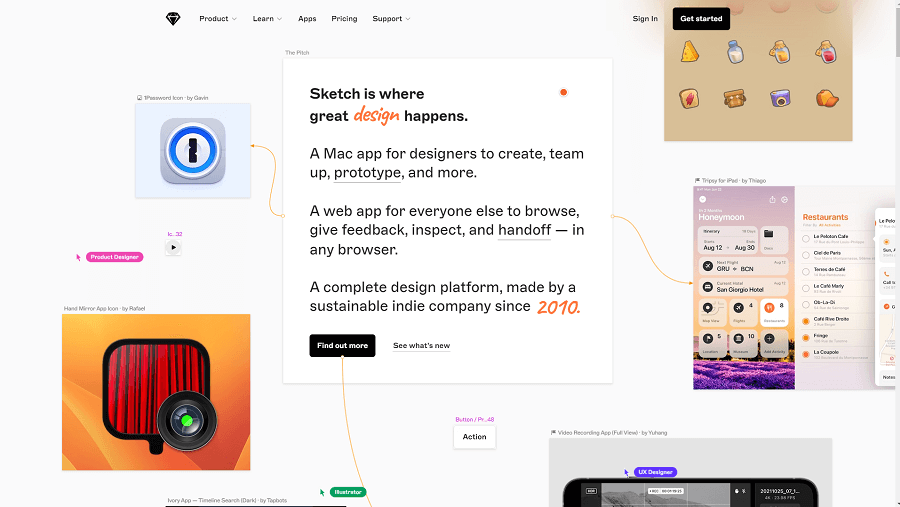 Sketch is a highly regarded vector graphics application that serves as a versatile tool for both professional designers and casual artists. Web designers commonly use it to create concept pages, icons, and various web elements.
This feature-rich application provides a wide range of powerful vector editing tools and boolean operations, catering to the diverse needs of designers. Its native macOS app caters to Mac users, while non-Mac users can access the web app, ensuring accessibility across platforms.
Key Features:
Powerful vector editing
Easy, intuitive prototyping
Shared Libraries, styles, and components
Control over color profiles
Variable and OpenType font support
Reusable design templates
Customizable shortcuts
Benefits of Sketch:
User-Friendly Interface: Sketch is renowned for its simple and intuitive interface, allowing users to quickly grasp its features and tools, making the design process efficient and enjoyable.
Responsive Design: It enables designers to create designs that adapt seamlessly to various devices, including desktops, laptops, tablets, and smartphones, ensuring a consistent user experience across platforms.
Real-Time Collaboration: Sketch facilitates smooth collaboration among team members through features like Sketch Cloud, enabling seamless sharing, commenting, and version control, streamlining the design workflow.
Powerful Prototyping: With built-in prototyping tools and third-party plugins, Sketch empowers designers to create interactive prototypes and dynamic animations to showcase their ideas effectively.
Symbol and Style Libraries: Sketch's symbol and style libraries enable designers to maintain consistency across designs, making it easier to manage and update elements throughout the entire project.
Vector Editing: Being a vector-based design tool, Sketch offers precise control over shapes and elements, ensuring high-quality graphical elements that can be scaled without any loss of resolution
Integration with Design Systems: It seamlessly integrates with design systems, making it an ideal choice for teams working on complex projects that require consistent graphical elements and patterns.
Cons of Sketch:
Sketch is exclusively available for macOS, which limits its accessibility for users who work on other operating systems, such as Windows or Linux.
Sketch is primarily focused on 2D vector graphics and lacks extensive 3D design capabilities.
Price: Sketch Has 3 pricing plan
Standard plan: $10/ Month billed Yearly
Business plan: $20/ Month billed Yearly
Mac-only license: $120/ license
PicMonkey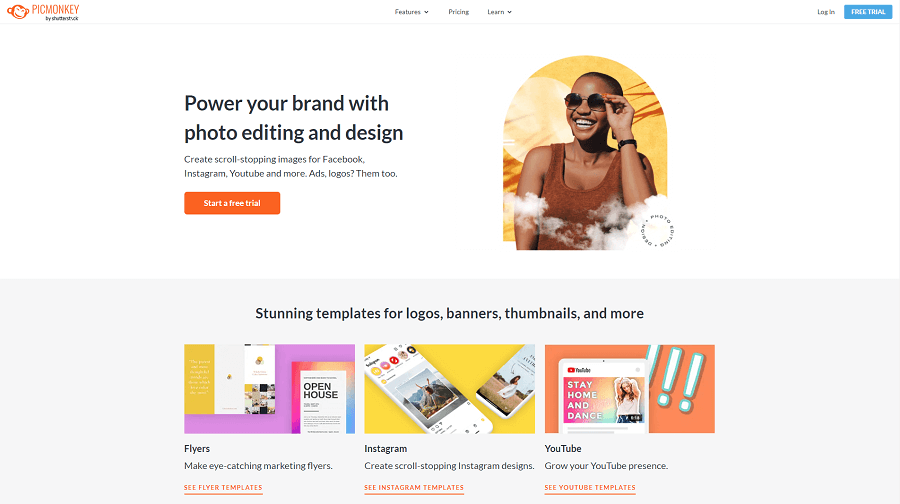 PicMonkey is an online photo editing tool empowering users to modify images by incorporating text, filters, and other relevant effects. The tool also provides functions for retouching, creating collages, and generating print graphics.
With its easy-to-use filters, basic editing functions, and an assortment of touch-up tools, users can enhance their images. As a result, more visually appealing pictures are likely to garner increased likes on social media platforms.
Whether you're using it for personal use or professional blogging, PicMonkey's offerings can elevate the quality of your visual content.
Key Features:
Photo Editor
Design tools
Touch up
Facebook design
YouTube design
Instagram design
Templates
Graphics
Branding
Benefits of PicMonkey:
Intuitive and User-Friendly Interface: One of the key benefits of PicMonkey is its intuitive and user-friendly interface. Whether you're a seasoned graphic designer or a complete beginner, the application's easy-to-navigate layout makes it accessible to everyone.
Versatile Editing Options: It offers a wide range of editing options, making it a valuable tool for various purposes. From basic adjustments like cropping and resizing to advanced image enhancements, users have the flexibility to fine-tune their visuals according to their specific needs.
Extensive Collection of Graphics and Templates: Another significant benefit is the extensive collection of graphics and templates. Users can choose from a diverse array of pre-designed templates, allowing them to create professional-looking visuals effortlessly. Additionally, the vast library of graphics and overlays provides creative elements that can enhance the visual appeal of any project.
Access to Unlimited Stock Photos: This tool provides access to a vast library of stock photos, eliminating the need for users to source images from external websites. This feature not only saves time but also ensures that users have access to high-quality images.
Time-Saving Presets: PicMonkey offers a variety of time-saving presets. These allow users to apply predefined styles and effects to their images with just a few clicks, streamlining the editing process.
Cons of PicMonkey:
PicMonkey lacks an automatic image size auto-fix feature, setting it apart from other software options.
While the tool offers free usage, downloading the finished image requires a subscription.
Price: PicMonkey has 3 categories Pricing plan
Basic Plan: $72.00 (Yearly)
Pro Plan: $120.00 (Yearly)
Business Plan: $228.00 (Yearly)
Corel Vector
Corel Vector is an advanced graphic design application that stands at the forefront of the creative industry. Its versatility feature makes it a valuable tool for designers across various domains. It provides an unmatched creative playground to bring your visions to life.
The precision and flexibility offered by its vector tools enable users to create intricate and detailed artwork. Corel Vector enables users to channel their creativity with unrivaled precision, from crafting elegant illustrations to designing captivating logos.
It also offers a wide array of features to aid in photo editing. Users can enhance their images with filters, apply lighting adjustments, and experiment with blending effects to create captivating visuals.
Key Features:
Powerful vector editing
Text and typography
Image editing
Compatibility and files
Intuitive user interface
Effects and adjustments
Benefits of Corel Vector:
Comprehensive Template Library: Corel Vector offers a vast collection of curated templates, providing users with a head start for their creative projects. These templates cover various design categories, making it easier for users to find the perfect starting point for their artwork.
Intuitive and User-Friendly Interface: It has a user-friendly interface, enabling beginners and experienced designers to navigate the platform easily. The tools and features are thoughtfully organized, ensuring a smooth learning curve and an efficient workflow.
Versatile and Powerful Tools: With Corel Vector, users can access a wide array of flexible and powerful design tools. These tools allow for precise control over vector graphics, enabling users to create stunning illustrations, logos, and graphics with exceptional clarity and scalability.
Cost-Effective Solution: This tool offers an affordable option for creative professionals and enthusiasts alike. Despite its rich set of features and capabilities, the platform remains budget-friendly, making it an excellent choice for individuals and businesses looking for cost-effective design solutions.
Seamless Cloud Integration: One of the standout benefits of Corel Vector is its seamless cloud integration. The platform provides unlimited cloud storage, ensuring that users can securely store and access their design projects from any device with an internet connection.
Cons of Corel Vector:
Corel Vector can be complex for beginners due to its extensive features and tools.
It has shifted to a subscription-based model, which might not suit users who prefer one-time purchases.
Price: $69.99
Frequently Asked Questions
Why should I look for Canva alternatives?
Looking for Canva alternatives can be beneficial for several reasons:
– Expanded Features and Functionality
– Enhanced Value for Your Projects
– Workflow Integration
– Unique Design Styles and Templates
– Personalized Branding and Brand Kits
– Customer Support and Community
Do these Canva alternatives offer similar features to Canva?
No, these Canva alternatives present a wide array of features that go beyond what Canva offers. Additionally, they provide powerful editing capabilities, allowing you to modify images on posters and apply various filters to enhance their visual appeal.
Can I use these Canva alternatives on mobile devices?
Yes, you can use these Canva alternatives on mobile devices. Many of these platforms offer mobile applications that allow you to access and use their features on smartphones and tablets, ensuring you can create and edit your content on the go. Simply download their respective apps from the app stores and start exploring their mobile-friendly capabilities.
Are Figma and Canva the same?
Certainly, no, Figma and Canva are not the same. Figma is primarily a browser-based design tool focused on user interface (UI) design, prototyping, and collaboration. It offers comprehensive features for designing interactive prototypes, wireframes, and user flows. 
On the other hand, Canva is a web-based graphic design tool emphasizing ease of use and versatility. It provides a wide range of pre-designed templates and graphical elements for creating marketing materials, social media posts, presentations, and more.
Final Thoughts of Canva Alternatives
It's crucial to have a variety of online editors at your disposal if you find yourself in the positions of a marketer, an owner of an internet business, or a content writer.
Canva is excellent, but exploring alternatives to Canva can lead to exciting discoveries and potentially uncovering tools. This blog post provides a detailed comparison of several Canva alternatives, aiming to assist you in identifying the most suitable option for your needs. Additionally, you'll also investigate which Canva alternatives, free and premium versions are available.