When it comes to online writing tools, Frase and WriterZen are two of the most popular options. Both offer a wide range of features, but which one is the best for you? In this article, we will compare Frase and WriterZen in terms of pricing, ease of use, features, and customer support. We will also give our verdict on which tool is better overall.
Frase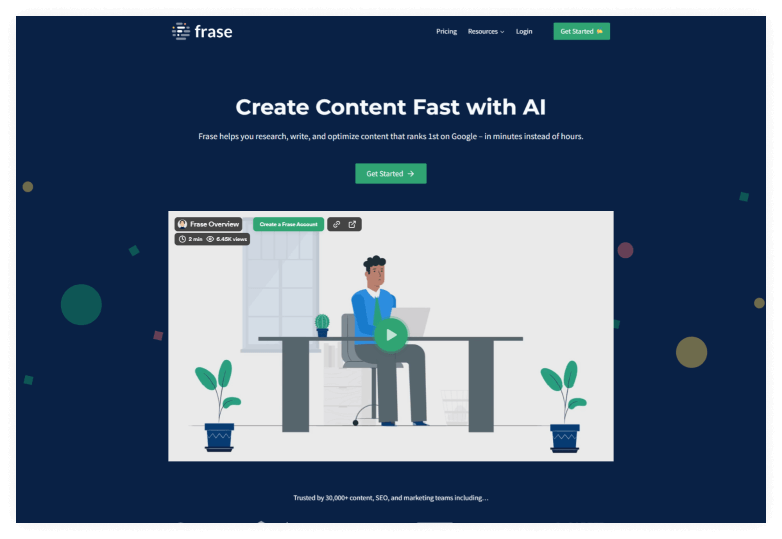 A content writing tool called Frase assists in finding and classifying content opportunities based on search results. To plan content and optimize it for SEO, take advantage of the tool. Of course, Frase also comes with an integrated AI writing tool that can produce unique content for you. So, if you're too lazy to write your own articles or if you're just not feeling particularly creative, Frase might be the perfect solution for you. Simply enter a keyword and let the AI do its thing. Create content in just a few minutes, you'll have a well-written article that's sure to please your readers
Frase Features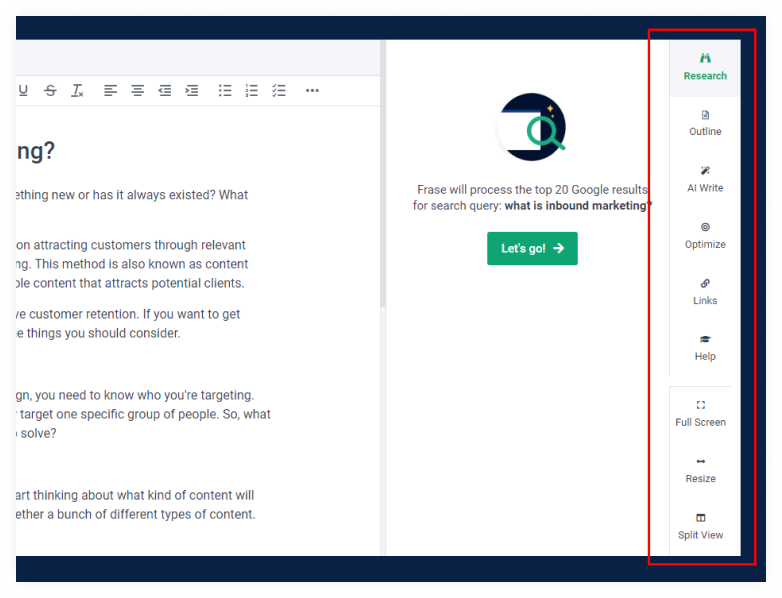 Research
If you're a content creator or strategist, you know the pain of keywords and topic research. However, choosing the best topics and keywords for your content might require much effort. Frase is a content writing software that uses AI to generate relevant content summaries efficiently. With Frase, you can quickly identify and categorize content opportunities based on search engine optimization results, plan your content, and optimize it for SEO.
Outline
This handy artificial intelligence tool uses AI to help you quickly create content and build an outline for your blog post, so you can spend less time brainstorming and more time writing. Simply enter your topic, and the Frase Outline Builder will generate a list of potential subtopics for you to choose from. Once you've selected your subtopics, the tool will insert them into a template, complete with placeholder text to help guide your writing.
AI Write
If you're looking for a company that can help you with all your AI needs, looks no further than Frase. They've developed some amazing AI Writing templates that can assist you with everything from SEO to marketing to content creation. And their output is simply amazing. Whatever you require, it can assist you in doing it promptly and effectively.
Optimize
Content optimization is a process of making your content more effective for search engine ranking and for engaging your audience. And with Frase, it's easy to do both! The keyword optimization tool ensures that your content is focused on the right keywords for maximum SEO impact. And with our editing suggestions, you can fine-tune your content for maximum readability and engagement.
Pros and Cons
Pros
It saves content writers who must conduct research time.
Aids in content optimization for writers.
In just a few minutes, analyze and generate well-researched topic briefs.
Very friendly to users.
Cons
Tutorials are not very useful.
With no wizard features
No live chat assistance
The trial version of Frase is not free.
Frase Pricing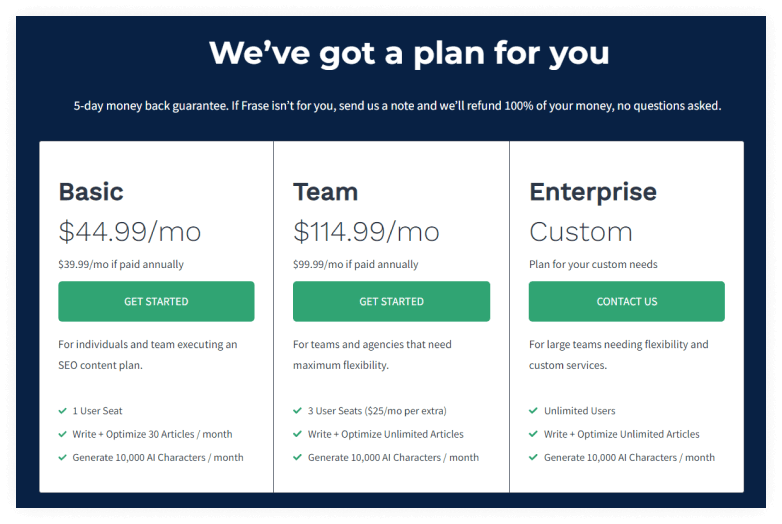 Frase has three plans available:
Basic: $44.99 per month ($39.99 per month when paid annually).
Basic plans include:
1 user
Generated 10,000 AI Characters per month
Unlimited Document Sharing
Write 30 Articles/month
Optimize 30 Articles/month
Automatic Content Briefs
Team: $114.99 per month ($99.99 per month when paid annually)
The Team plan includes:
3 users ($25/mo per extra)
Unlimited Document Sharing
Google Docs Integration
WordPress Integration
Optimize Unlimited articles
Generated 10,000 AI Characters per month
Enterprise: Custom quote
This plan includes:
Unlimited Users
Unlimited AI Documents
Unlimited Document Sharing
API Access
Custom Onboarding
Google Docs Plugin
WriterZen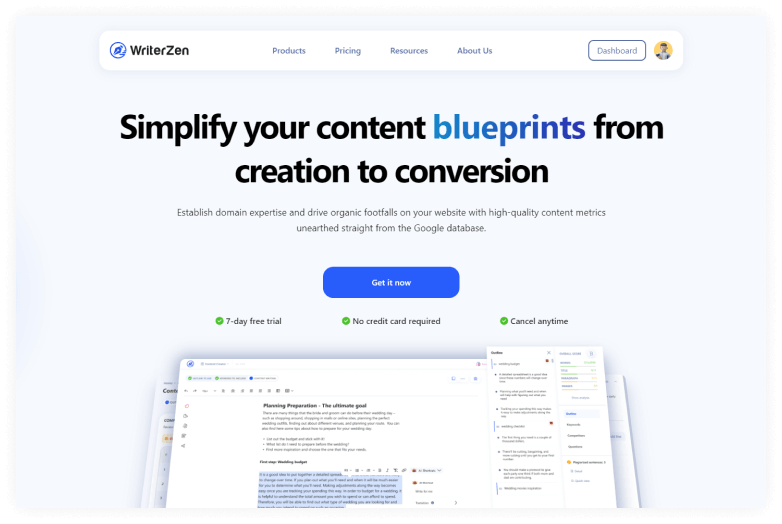 WriterZen is a cloud-based SEO management tool designed to help organizations create, evaluate and optimize website content. In addition to developing a structured knowledgebase or content architecture with different themes, managers can access the web's top news stories or topics.
For every business looking to improve its website's SEO, WriterZen is the ideal solution. You can store relevant keywords, themes, or titles in a database as well as explore topic clusters in a mindmap view. You can also filter content ideas to develop appropriate strategies. Additionally, you can track search engine optimization with actionable analytics.
WriterZen Features
Keyword Golden Ration
KGR, or the Keyword Golden Ratio, is a crucial metric for SEO success. It's the ratio between All in title and Search Volume which determines how difficult it will be to rank for a given keyword. A lower KGR ratio means fewer websites compete for the keyword and thus a better chance of ranking high.
Any ratio below 25 is considered good, meaning few competitors use that same keyword. Therefore, when targeting keywords, it's essential to focus on those with high search volume but low All-in title numbers. As a result, you can rank higher than most websites by targeting these keywords, giving you a competitive edge in the SEO race.
Keyword Explorer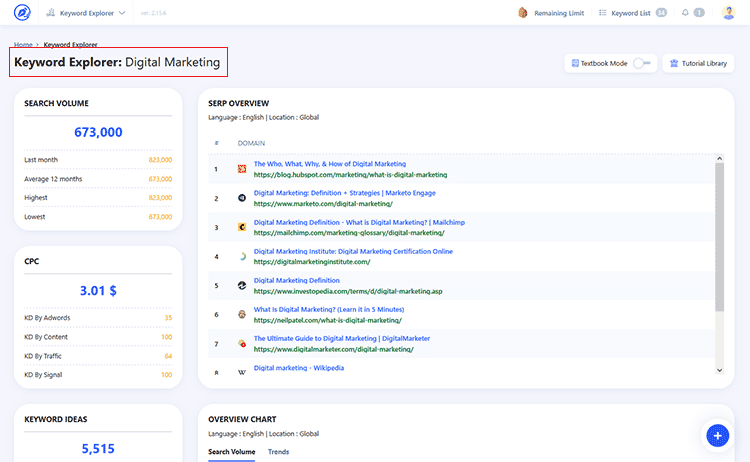 WriterZen SEO tool's Keyword Explorer is a nifty feature that can save you a lot of time and energy in your keyword research. Just enter a topic or phrase, and the keyword explorer will generate a list of keywords for you. You can also filter the results by relevance, difficulty, or word count to find the perfect keyword for your needs. So why waste time researching keywords when WriterZen's Keyword Explorer can do it for you?
Keyword Clustering
WriterZen is a revolutionary new tool that helps you write better articles by providing you with keyword clusters. WriterZen scans multiple google pages to check how the pages rank that use the keyword and different keywords that help the social media pages rank higher. Then, it compiles all of this data and aids you in choosing various keywords to include in your post. The result is articles that are more keyword-rich and more likely to rank high in search engines.
Plagiarism Checker
WriterZen is an artificial intelligence platform that takes plagiarism seriously. With the WriterZen Plagiarism Checker, you can be sure that your work is original and not copied from another source. Unfortunately, the WriterZen Plagiarism Checker tool is average.
It warns you about plagiarism because many terms are plagiarized from other articles. However, plagiarism is not detected if some words and a few sentences are changed. Therefore, one of the best platforms to use to prevent plagiarism is still WriterZen.
Pros and Cons
Pros
User-friendly interface
Allintitle and KGR are two outstanding features that can boost our rankings and give us new topics and ideas.
Generates content that is search engine friendly.
Generous credit limits.
Exceptional costs
Cons
Less reliable plagiarism detection tools.
Backlinks are not allowed.
No competitor analysis.
WriterZen Pricing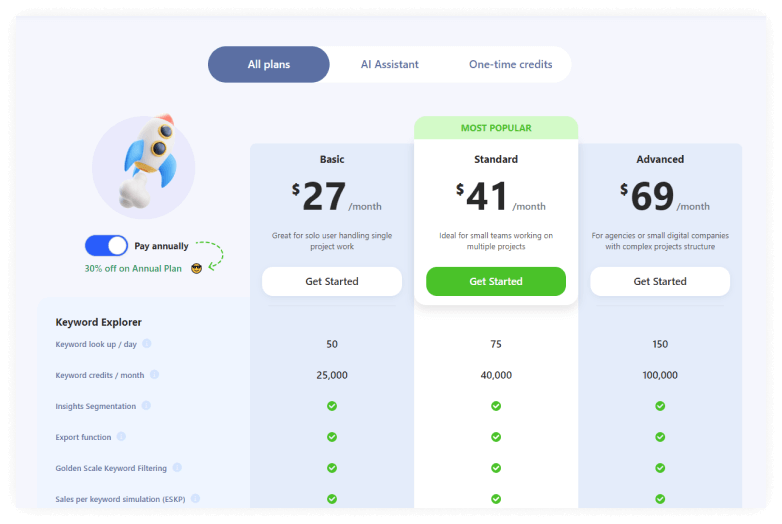 WriterZen comes with three packages, each of which has a different price.
Basic Plan for $27/month in Annual plan
50 Keywords lookup
25000 Keyword credits
50 Content briefs
5000 AI writing words
20 Keyword list
Standard Plan for $41/month in Annual plan
75 Keyword lookup
40000 Keyword credits
70 Content briefs
8000 AI writing words
50 Keyword list
Advanced Plan for $69/month in Annual plan
150 Keyword lookup
100,000 Keyword credits
150 Content briefs
15000 AI writing words
100 Keyword list
Who Might Benefit From Each Tool?
Anyone who needs help with SEO can benefit from using WriterZen or Frase. These tools can help you to optimize your website for Google and other search engines, making it easier for people to find your site.
They can also help you to improve your website's content, making it more engaging and informative. Whether you're a small business owner who wants to attract more customers or a large corporation that wants to improve your online visibility, WriterZen and Frase can help you achieve your goals.
Which is better? Frase or WriterZen?
There's no question that Frase and WriterZen are both top-notch artificial intelligence writing tools. They both have pros and cons, but at the end of the day, it comes down to personal preference. If you're looking for a tool that will help you quickly organize your thoughts and get your ideas down on paper, Frase is definitely the way to go.
However, if you're looking for a tool that will give you more control over the final product and help you edit and polish your work, WriterZen is the better option. Ultimately, the best writing tool is the one that works best for you.
Comparison Table
Frase
WriterZen
Basic Plan for:
$44.99 per month
($39.99 per month when paid annually).
Basic Plan for:
$27/month in Annual plan
Team Plan for:
$114.99 per month
($99.99 per month when paid annually)
Standard Plan for:
$41/month in Annual plan
Enterprise: Custom quote
Advanced Plan for:
$69/month in Annual plan
Comparison Table of Frase vs WriterZen
Final Thoughts
When it comes to SEO tools, there are a lot of options out there. And while some of them are definitely better than others, there is no one perfect solution for everyone. Instead, the best SEO tool is the one that works best for your specific needs. So take some time to experiment with different tools and see which ones help you achieve your goals.