Andromo
Create professional Mobile Apps without writing code,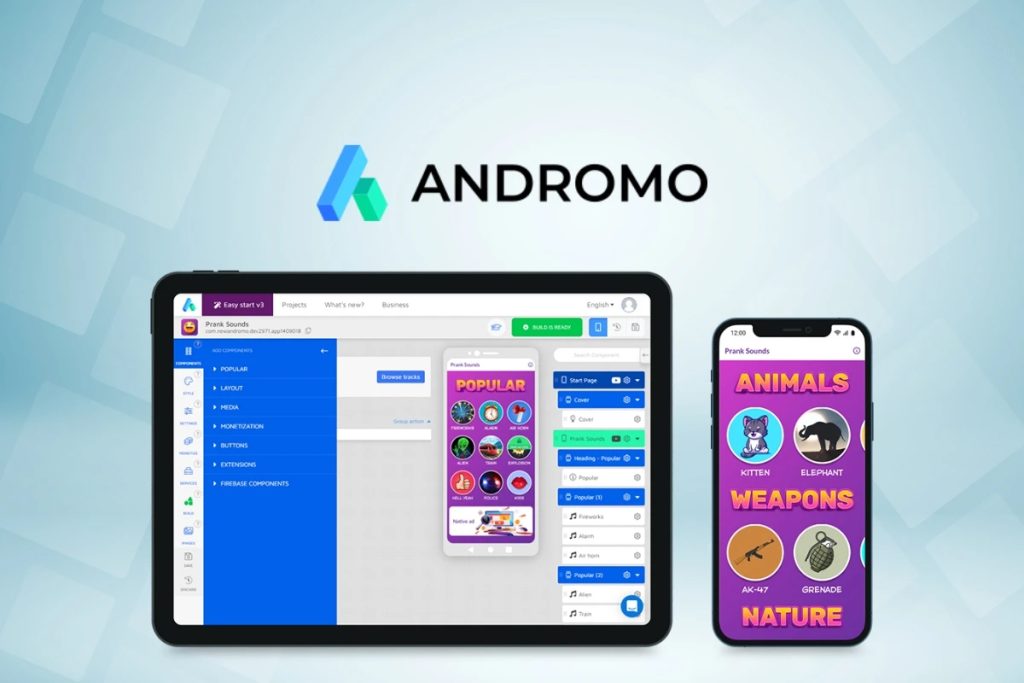 Andromo is the most recognized mobile app development service online that makes it easy to create and monetize Android apps. No need to learn code using this app development tool. If you need an idea for an app, and Andromo will take care of the rest.
This app development tool also provides a wide range of features to help you build your mobile app, including a drag-and-drop interface, templates, icons, and more. You can also use Andromo to design your app's user interface and add ads to monetize your app.
You can use Andromo to monetize your app with ads, in-app purchases, and subscriptions. With Andromo, you can effortlessly turn your hobby into a business or develop a new revenue stream for an existing company. In addition, Andromo makes adding ads to your app easy, so you can start generating revenue immediately.
Andromo takes care of all the paperwork and technical details for you, so you can focus on developing great apps. So if you're looking for a way to turn your passion for app development into a viable business, Andromo is the solution you've been searching for.
Andromo Appsumo has an attractive offer that of lifetime deals that include unlimited app creration and monetization for a low price. So get it now before it's gone.
Meet Andromo
TL;DR
Select a template, add your content, and Andromo will generate a professional-quality app that you can publish to Google Play.
Alternative to: Appy Pie, BuildFire.
You can build an unlimited app, monetize content apps with top ad networks, and create an online store app
Best for: Content creators, Developers, Solopreneur
Key Features:
Design Templates
Drag & Drop
Feature Library
No-Code
Pre-built Templates
Prototype Creation
Testing Management
Visual Modeling
Project Management
Mobile Development
Book Library
Features included in All Plans
Build Android and iOS apps
Unlimited projects
Publish on Google Play, Apple App Store, and Amazon
Custom package names
No Andromo logo on the "About" screen
Free photo stock access
Standard monetization
Dashboard card
Dashboard spacer
Action buttons
Multiple dashboards
QR code reader and scanner