Mastera
A complete learning management system that includes a wide range of features necessary for hosting and effectively managing your learning activities.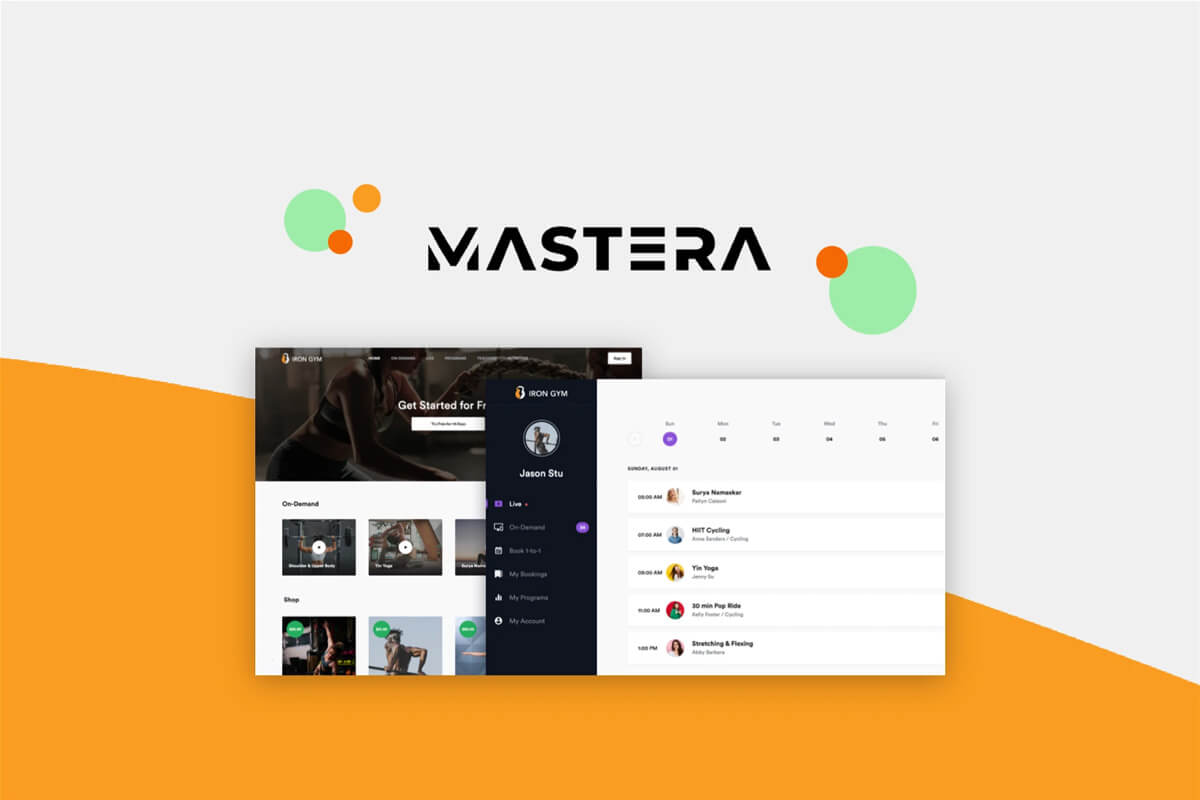 Mastera is a comprehensive teaching platform designed to empower educators and facilitate effective online teaching experiences. With a wide range of features and tools, it provides everything you need to host and manage your classes, videos, programs, subscriptions, customers, and even your website.
With this platform, you are able to conduct live classes online. Whether you're an individual instructor or a teaching organization, you can seamlessly teach and interact with your customers through the platform. From booking classes to delivering content, the platform consolidates the entire process in one place.
Also, Mastera integrates seamlessly with Zoom allowing you to run virtual classes with automatic synchronization of links effortlessly. This integration ensures a smooth experience for both instructors and participants, enhancing the overall teaching and learning experience.
Additionally, to create a personalized and professional touch, Mastera offers the option to design your own branded, white-labeled website. Furthermore, this tool provides embeddable widgets that can be incorporated into your website. These widgets include a class calendar, an on-demand video library, and appointment scheduling features.
Plus, when it comes to managing payments, Mastera's robust payments module offers flexibility and customization. Also, with express checkout functionality, it simplifies the purchasing process for your customers by allowing them to make purchases without the need to repeatedly enter their payment information.
Mastera's numerous features enable instructors to deliver impactful and engaging educational experiences to their students. For a limited time, Appsumo is offering this outstanding deal for $89. Take advantage of this platform right away.
Meet Mastera
TL;DR
Seamlessly integrate with Zoom, allowing for smooth and efficient virtual class sessions.
Alternatives to: Kajabi, Teachable, Thinkific.
Personalize your teaching experience by creating your own branded and white-labeled website.
Best for: Content creators, Educators, Online Coaches.
Key Features of Mastera
Class Bookings & Waitlist
1-to-1 Calendar Bookings
Hosted Page or Website
No Booking Fee
Customer Engagement
Mobile & TV Apps
Features included in All Plans
Unlimited Classes & Content
Full Website
White Label – Your Domain
Sell Products
500 monthly recurring subscriptions
Sell Courses and Programs
Premium plan
2000 emails
50 teachers
Unlimited contacts