SwiftReply
With a single click, you can create, manage, and share canned responses.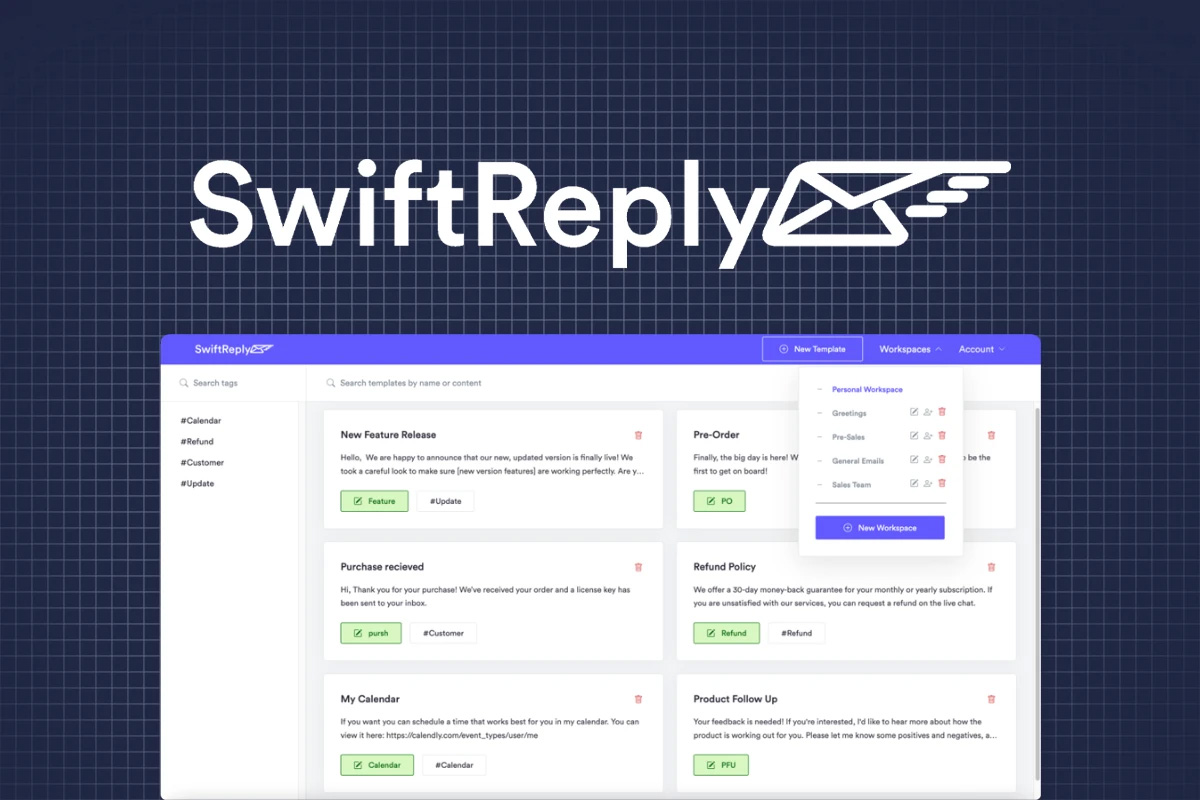 SwiftReply is the perfect tool for customer service teams who want to provide fast, consistent responses. This means that your team can instantly reply to any customer or lead without having to compose a new message each time.
SwiftReply is suitable for customer service, sales, and support teams who need to respond quickly and efficiently to a high volume of inquiries. It is also great for individuals who want to save time by pre-written responses to common questions.
This tool lets you customize your responses to include the customer's name, company, and other relevant information. And because SwiftReply is integrated with your email, CRM, and social media platforms, you can use it to respond to customers from any channel quickly.
By giving sales teams quick access to saved responses, SwiftReply helps them to save time and increase efficiency. This tool also lets you add unlimited team members to workspaces and share templates designed to boost response times.
Whether you're sending a quote, proposal, or email, SwiftReply makes it easy to get your message across. It also embedded your messages with HTML and CSS, giving you complete control over the look and feel of your emails.
SwiftReply is recently available on Appsumo. Appsumo is currently offering this tool as a lifetime deal for a one-time purchase of just $59. This is an incredible offer, so don't wait – grab this deal while you can.
Meet SwiftReply
TL;DR
You can now provide the same high level of service regardless of how many inquiries you receive.
Alternatives to: PhraseExpress, TextExpander, Truework, Benepass.
This makes it easy to stand out from the competition and convey your message clearly and effectively.
Best for: Customer support, eCommerce, and Sales managers.
Key Features of SwiftReply
Insert text templates quickly with keyboard shortcuts.
Create and customize templates.
Insert text with one keyboard click.
Create or choose templates from the list.
Create multiple workspaces and share them with your team.
Add unlimited team members.
Insert templates easily on websites you already use.
Features included in All Plans
Embed unlimited videos
Insert unlimited images and tables
Fully customizable canned responses
Personal workspace
Insert canned response with one Hotkey
Chrome extension
iOS and Android app
Compatible with eCommerce and social media sites
Add a toggle button to enable/disable SwiftReply
Embed emails or any HTML inside canned responses