If you want to enhance the usability of your website and optimize your SEO strategies, using the list of the 6 best SERP rank tracker tools could be a crucial step. These tools not only save your time but also provide valuable insights into your website's search engine rankings.
In this article, we will explore the key features, pricing, and benefits of the 6 Best SERP rank tracker tools, helping you make an informed decision in selecting the exact tool for your SEO tracking needs.
What Is the SERP Rank Tracking Tool?
SERP tracking tool is a software program that can help you keep track of your website's search engine rankings. It allows you to evaluate the impact of your SEO efforts by monitoring your rankings for specific keywords and phrases over time. You can also use SERP tracking tools to obtain data on your website's visibility, average ranking position, and the number of keywords that it ranks for.
Why do you need rank tracking?
Rank tracking tools are essential for all website owners and business owners. Here, its significance is described in five angles.
Tracking Search Engine Rankings
Rank tracking tools offer real-time monitoring of a google search engine rankings for particular keywords and phrases. This helps businesses to stay on top of their SEO performance.
Gain Valuable Insights
Rank tracking tools display a website's current position on search engine results pages (SERPs) and how it has progressed over time.
Identify Optimization Opportunities
By tracking keyword rankings, businesses can identify opportunities for optimization and adjust their SEO strategies accordingly.
Stay Ahead of Competitors
Rank tracking tools allow businesses to keep an eye on their competitors' search engine rankings. These tools also adjust their SEO strategies accordingly to stay ahead in the game.
Keyword Research and Reporting
These tools often come with keyword research and reporting features. As a result it makes them essential for businesses looking to improve their online visibility and drive more website traffic.
6 Best SERP Rank Tracker Tools
Ahrefs
Ahrefs is a powerful SEO and digital marketing platform that offers a broad range of features to help businesses improve their online presence. Its comprehensive suite of features includes site audit, keyword research, backlink analysis, content explorer, SERP tracking and more. Another feature Site Explorer, is a useful tool for conducting competitive research that offers users perceptions into the SEO profile of a website.

Moreover, Ahrefs rank tracker  offers an in-depth analysis of a website's technical SEO factors such as crawlability, indexability, HTTPS setup, and more. The Keyword Research feature helps businesses identify relevant keywords and phrases that their target audience is using to find products and services online.
Another tool Backlink Analysis helps users analyze their website's backlink profile and monitor the progress of their link-building campaigns. Wide range of features make Ahrefs SERP checker tool top choice for digital marketers and SEO professionals.
Key features:
SEO Dashboard
Site Explorer
Keywords Explorer
Site Audit
Rank Tracker
Alerts
Pricing:
Monthly:
Lite: $99/month
Standard: $199/month
Advanced: $399/month
Enterprise: $999/month(Contact with them)
Annually:
Lite: $83 /month
Standard: $166 /month
Advanced: $333 /month
Enterprise: $833 /month

👉 Check Support Genix Review- Features, Price, Pros, and cons
Semrush
Semrush is an SEO tool that helps online advertisers improve Google Ads, analyze competitors, and optimize websites for better organic search traffic. With its all-in-one marketing reporting software, it allows users to compare their performance against their competitors and make data-driven decisions on keyword targeting.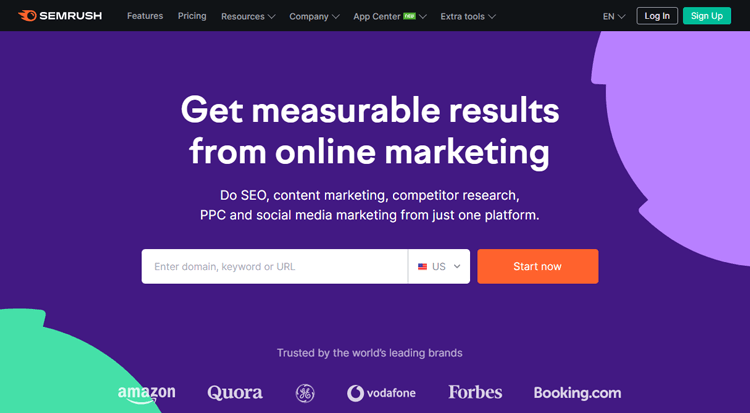 This tool is highly regarded for its keyword research capabilities that provide valuable insights into competitor keyword usage and ranking. With Semrush's wealth of data, staying ahead of the competition and keeping up with the latest trends is made easier.
Additionally, this platform is easy to navigate, and even those with limited experience can easily understand SEO concepts with Semrush's user-friendly interface.
Key features:
Rank Tracking
Dashboards and Reporting
SEO Auditing
Link Building
Keyword Research
SERP Rank Tracking
Localization
Competitor Analysis
Data Visualization
Custom Reports
Pricing:
Monthly:
Free: $0.00/month
Pro: $119.95/month
Guru: $229.95/month
Business: $449.95/month
Annually:
Pro: $99.95/month
Guru: $191.62/month
Business: $374.95/month
👉 View Seodity In-depth Review: The Ultimate SEO Tool for On-Site Content Analysis
Moz Pro
Moz is a SERP tracking software platform that assists businesses in enhancing their online traffic, search ranking, and visibility. The software offers various essential features, including site audits, rank tracking, backlink analysis, and keyword search tools.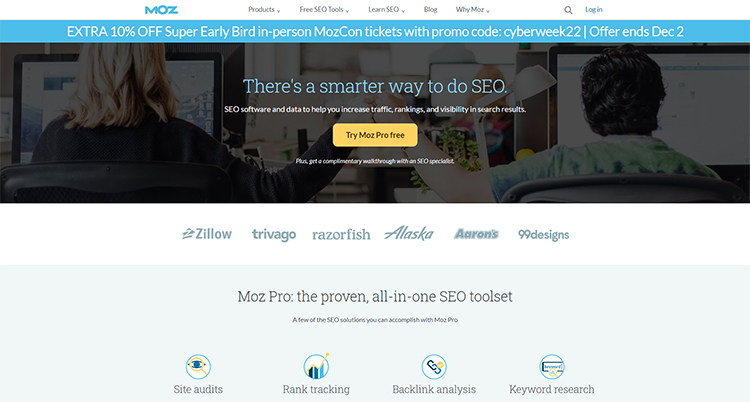 With Moz, users can efficiently categorize, compare, and prioritize keywords and phrases to optimize their content and marketing strategies. By utilizing an extensive online database with updated SERP data, the platform also provides intuitive keyword suggestions tools.
Moz helps businesses address technical SEO problems that may hinder their site's visibility, traffic, and ranking quality. Furthermore, it allows them to monitor their competitors' progress on the SERP, providing valuable insights into competitive advantages that may assist them in achieving top positions. Moz's automated weekly checks feature keeps administrators informed about any issues, enabling them to quickly rectify them.
Key Features:
Understand your visitors
Track your rankings
Crawl and audit your sites
Optimize your pages
Find link opportunities

Pricing:
Monthly:
Standard: $99/month
Medium: $179/month
Large: $299/month
Premium: $599/month

Annually(Save 20%):
Standard: $79/month
Medium: $143/month
Large: $239/month
Premium: $479/month
👉 Read SEOCrawl vs SEMrush: Which SEO Tool is Better for Your Business
SE Ranking
SE Ranking is a complete SEO software solution for businesses and agencies. Its SEO tools includes a keyword rank tracker, website audit, on-page SEO analysis, backlink tracking, and keyword research and planning tools. Keyword rank tracker allows users to upload a list of keywords and monitor their position and SERP performance over time.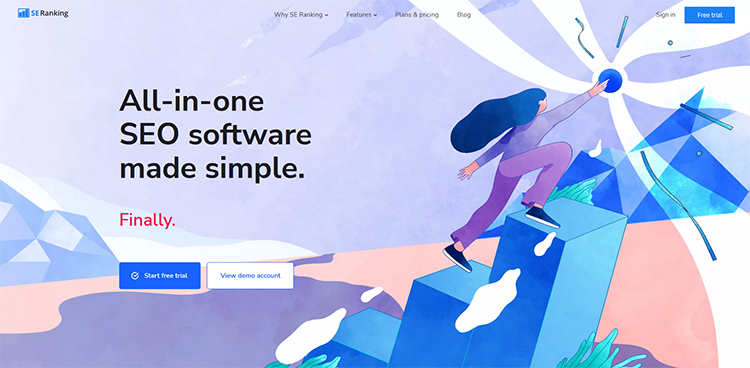 Moreover, this software has a user-friendly interface and a range of useful SEO tools that can be quickly and easily set up and used. It is a fantastic product for them who are searching for a dependable and simple solution for basic SEO tools and SERP tracking features.
Key features:
Observe the SERP's features, search results, and advertisements.
Monitor the activities of up to 20 competitors.
Enjoy access to B2B services such as white labeling, API access, and collaborative projects.
Get a comprehensive view of performance across all major search engines.
Pricing:
Monthly:
Essential: $39.00/month
Pro: $89.00/month
Business: $189.00/month
Annually:
Essential: $31.20/month
Pro: $71.20/month
Business: $151.20/month
👉 Learn Ahrefs Backlink Checker- A Comprehensive Guide to SEO Success
Rank Tracker
Ranktracker is an SEO tool that primarily focuses on tracking keyword rankings. It also offers other features such as keyword research, website audit, project management, and SERP checker. Its keyword research tool is easy to use and provides a variety of ideas that might be useful for SEO optimization.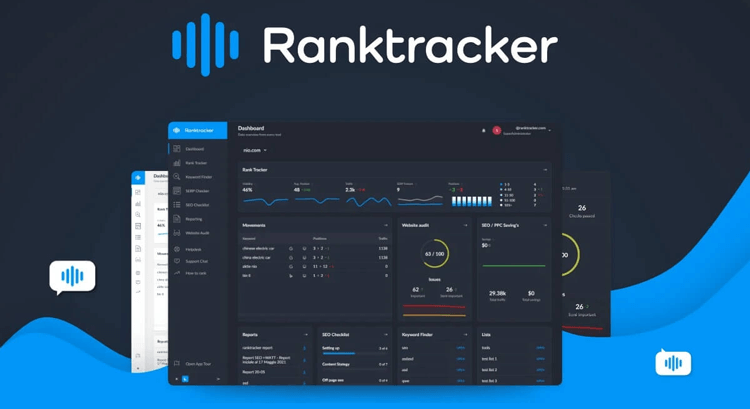 The SERP checker feature is a simple tool that can help you determine if it's worth competing for a given keyword.
Daily email alerts and white label reports are two standout features of Ranktracker. Daily email reports keep you informed without requiring you to manually check your rankings all the time. White label reports are perfect for agencies looking to add a professional touch to their reports.
Key features:
Rank Tracker
Keyword finder
SERP checker
Web Audit
Backlink Monitor
Pricing:
Monthly:
Starter: $24/month
Double Data: $59/month
Quad Data: $109/month
Hex Data: $209/month
Annually:
Starter: $19.20/month
Double Data: $47.20/month
Quad Data: $87.20/month
Hex Data: $167.20/month
👉 Explore 10 Best RankTracker Alternatives SEO Tools for Beginners Used by Experts
Advanced Web Ranking
Advanced Web Ranking (AWR) is a highly specialized SEO tool that excels at keyword rank tracking. It offers advanced reporting and competitor analysis that makes it a powerful tool for benchmarking and analyzing rank tracking data.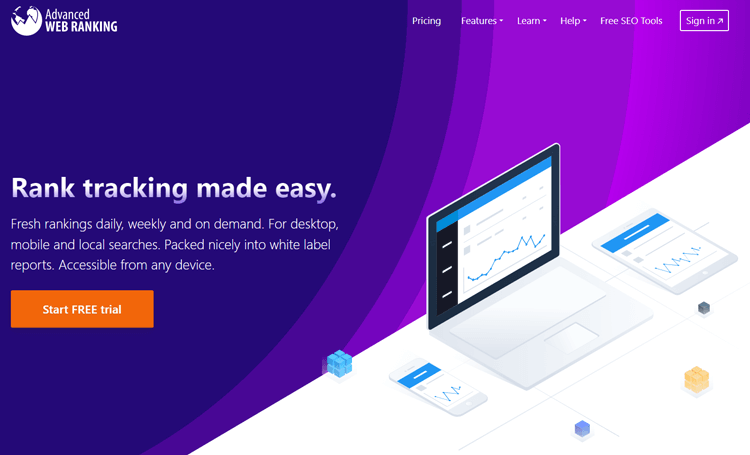 One of AWR's standout features is its exceptional rank tracking capabilities. Its tracking is highly accurate and offers a comprehensive view of a website's search engine ranking performance.
In addition to rank tracking, AWR offers advanced reporting and competitor analysis features. These tools enable users to compare the performance of their website to that of its rivals and gain understanding of the variables affecting their ranking performance.
Key features:
SEO Auditing & Monitoring
SERP Rank Tracking
Content Insights
Custom Reports
Competitor Analysis
Pricing:
Monthly Plan:
Pro: $99/month
Agency: $199/month
Enterprise: $499/month
Custom: $700/month
Annual Plan:
Pro: $89/month
Agency: $179/month
Enterprise: $499/month
Custom: $630/month

Frequently Asked Questions
What is SERP ranking in SEO?
Websites place significant emphasis on SEO as the ranking of their pages on SERPs plays a critical role in their success. A low SERP ranking can lead to reduced exposure, fewer clicks, less traffic, and decreased revenue. Therefore, it is imperative for businesses to invest significant effort in improving their SEO.
How accurate is SERP rank tracker Software?
If you want to accurately measure progress in your SEO strategy, a SERP rank tracking software is an optimal solution. It enables you to monitor all keywords and track SEO campaigns while providing a comprehensive view of search volume data. Below are the features that ensure the accuracy of the best SERP rank tracker software:
You can track your campaign keywords rankings
You can track your competitor's SERP rankings
You can identify if your current SEO strategy is paying off
You can monitor the performance of the keywords you are trying to optimize for
You can provide client reports to better drive results
Are there any free SERP rank tracker tools available?
Certainly, you can utilize the SERP rank tracker tools to examine your SERP position without any cost. It's crucial to select the appropriate free tools that align with your business needs. Below are some advantageous free SERP rank tracker tools:
Seobase
Semrush
Ahrefs
Sitechecker
What are the benefits of using SERP rank tracker tools for SEO?
Using SERP rank tracker tools in SEO can not only increase the visibility of your website, but it can also improve its ranking, resulting in greater returns on investment for your digital marketing efforts. Here are some important advantages:
Increases Traffic
Improves Crawling
Builds Credibility
Increases User Contact Points
Improves Domain Authority and Backlinks
Final Words
Throughout our detailed discussion, we have covered the 6 best SERP rank tracker tools, enabling you to compare them comprehensively. However, selecting the best SEO optimization platform ultimately depends on your unique needs and preferences. If you still feel overcrowded by the options available, there are many of these services that provide free trials. By taking advantage of these trial periods, you can see for yourself how much your SEO efforts have improved. This allows you to make an informed decision and choose the right platform.