AirDeck
Securely share and track the performance of documents or presentations through a comprehensive narration system.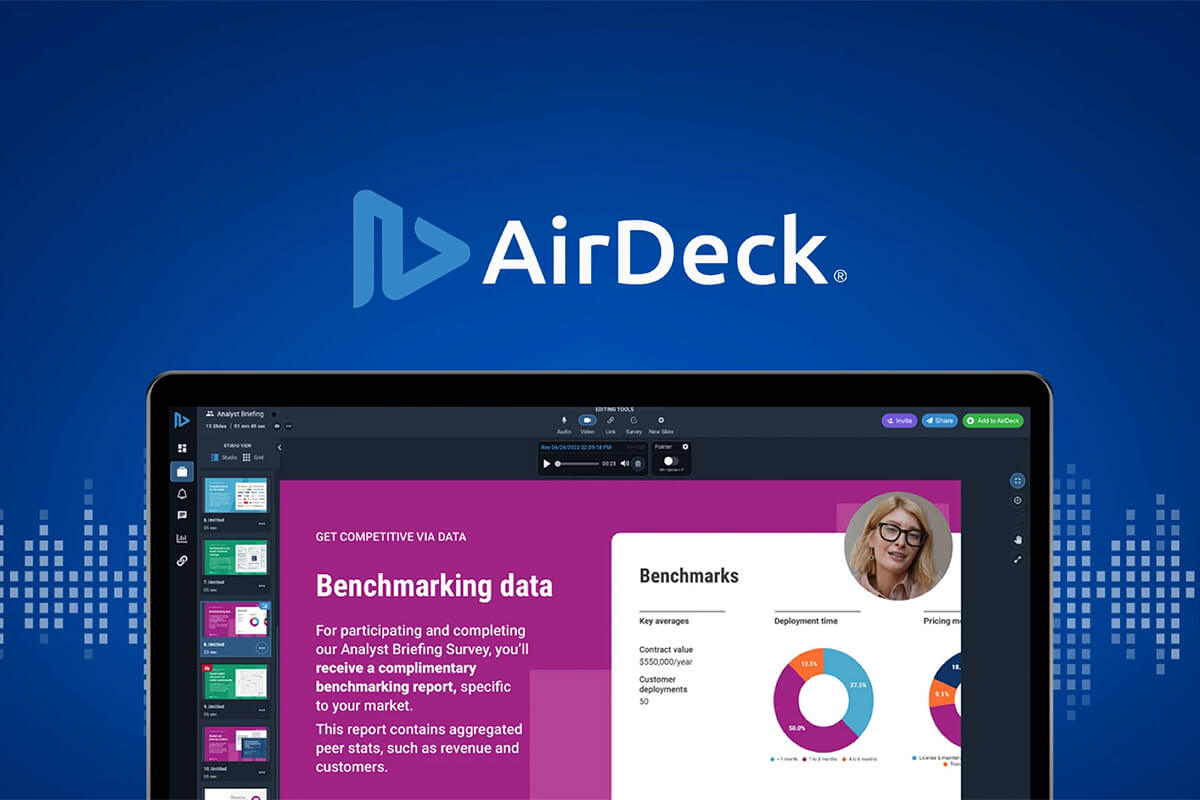 AirDeck is a comprehensive platform for document sharing. It provides an enhanced level of engagement by incorporating audio and video elements into your PDFs or presentations. With this platform, you have the ability to seamlessly narrate your documents and presentations using audio or video.
The platform offers convenient options for recording narrations directly onto each slide, enabling a quick and efficient process. Alternatively, you can upload pre-recorded files, giving you greater control over the production value. To further enhance your presentations, AirDeck allows you to include a laser pointer in your recordings.
In addition to its narration capabilities, AirDeck simplifies the sharing process by integrating with your email and social media accounts. For added security, it provides the option to create custom links for sharing your documents. These links can be protected with features, ensuring that your content remains secure.
Moreover, this platform offers the flexibility to display your content on various platforms such as websites, blogs, or learning management systems (LMS). Simply copy and paste a unique embed code to seamlessly integrate your presentations wherever you desire.
Furthermore, keeping track of your document's performance is made easy with AirDeck's real-time analytics. Slide-by-slide and overall analytics, including view time and heatmaps, provide valuable insights into how your audience engages with your content. With geolocation support, it enables you to personalize your content and enhance the relevance and impact of your presentations.
Plus, this software goes beyond its core functionalities by integrating with a wide range of popular apps and tools. This allows you to create captivating content that resonates with your target audience. Supporting more than 100 file types, including videos, audio, images, and documents, AirDeck provides you with ample creative possibilities to make your presentations stand out.
Take your presentations to the next level with the incredible capabilities of this platform. Secure lifetime access to AirDeck for just $49 through Appsumo. Don't miss out on this opportunity to acquire the solution you've been searching for and proactively enhance your presentations.
Meet AirDeck
TL;DR
It is the most affordable solution for businesses looking to protect their data.
Alternatives to: Dehashed.com, Idagent.com, Webz.io
It includes a dark web scan feature that gives customers a comprehensive view of their digital attack surface.
Best for: C-suite, Consultants, Small businesses.
Key Features of AirDeck
Narrate
Custom email shares
Deck collaboration
Team library and analytics
Unlimited decks
Track
Features included in All Plans
100+ document upload types supported
Unlimited audio and video recording uploads
Basic and advanced viewer analytics
Surveys and forms
Media and content library
Slide sorter
Move slides
Notifications (in-app, Slack, MS Teams, email)
Daily and weekly report notifications
Deck merging and deck transfers
Folders
User and team management with roles and permissions