Textmetrics SME
Use this powerful AI writing aid that can support multiple languages ​​to increase the quality and impact of your written work.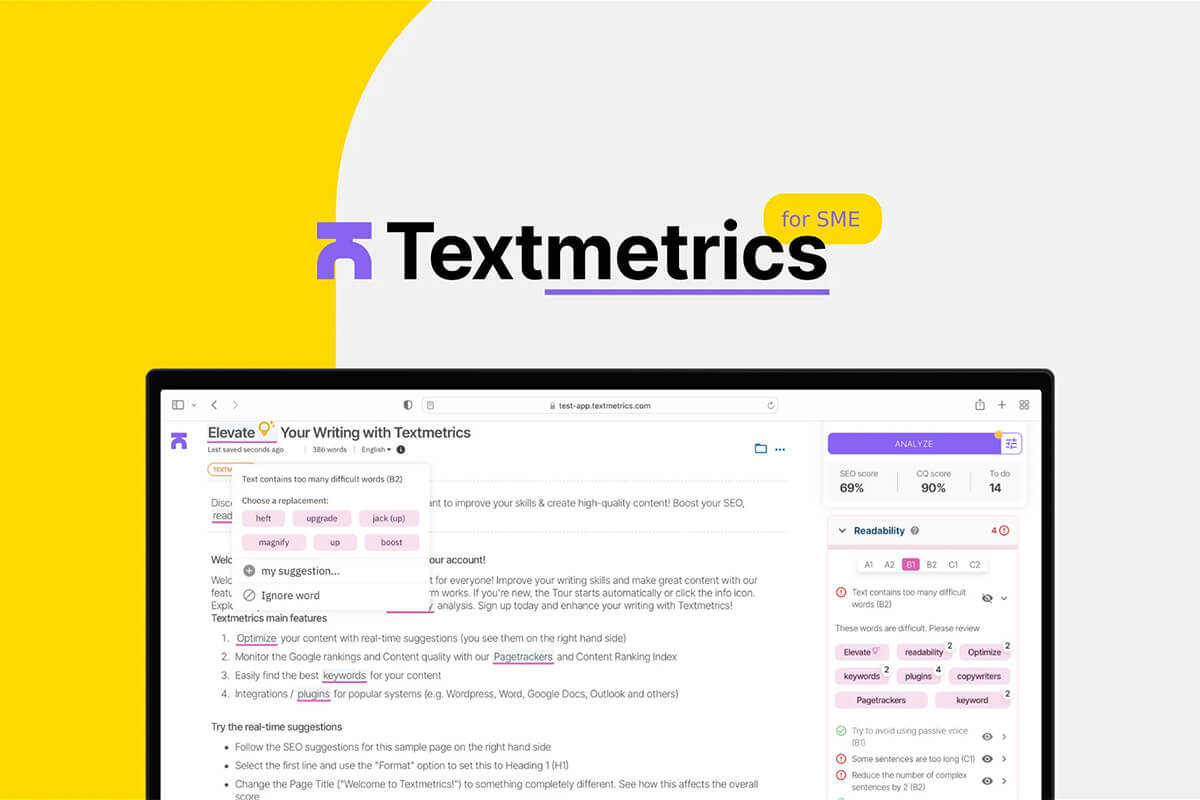 Textmetrics SME is an innovative and intelligent writing assistant designed to improve the quality and significance of your written content. This tool offers multilingual support and assists in optimizing your content for both readability and Search Engine Optimization (SEO).
With Textmetrics SME, you can effortlessly improve your written materials' effectiveness and search ranking. By integrating this tool with popular content management systems like Microsoft Word, Google Docs, and WordPress, you gain seamless access to its powerful features.
One of the standout features of this tool is its ability to analyze the readability of your content. It ensures that your writing aligns with your target audience's reading level and demographics. It also identifies areas that need improvement and provides suggestions to simplify, expand, or rephrase your text.
In addition, Textmetrics SME goes beyond content improvement and also includes built-in SEO tools. You can optimize your content for search engines by analyzing its performance and identifying areas that require enhancement. With valuable keyword insights and optimization suggestions, you can maximize the visibility of your content.
Moreover, this tool has multilingual capability. You can optimize your content in different languages, making it suitable for global audiences. The content analysis, AI assistant, and SEO tools are all available in multiple languages, allowing you to communicate and engage with diverse audiences worldwide effectively.
Don't miss out on the opportunity to take benefits of AI-powered content optimization with Textmetrics SME, available at just $49. Take action now and secure a lifetime deal for this invaluable tool on Appsumo. Start enhancing your content today!
Meet Textmetrics SME
TL;DR
Elevate the readability and optimize the SEO of your copy by utilizing an AI writing assistant.
Alternatives to: Grammarly.
Seamlessly integrate with your preferred content management systems, such as Microsoft Word, Google Docs, and WordPress, to streamline your workflow.
Best for: Bloggers, Content creators, Marketers.
Key Features of Textmetrics SME
Inclusive writing
AI powered assistant
Understandable writing
Work in teams
Features included in All Plans
Content quality module
B1 language analysis
Full SEO rules
Plugins for Google Docs, Word, Outlook, WordPress, Dupal Joomla, Craft, and Umbraco
Export your content
Import your content
Content ranking index
Page versioning