Blogely
Craft and publish original content that ranks with a complete content marketing app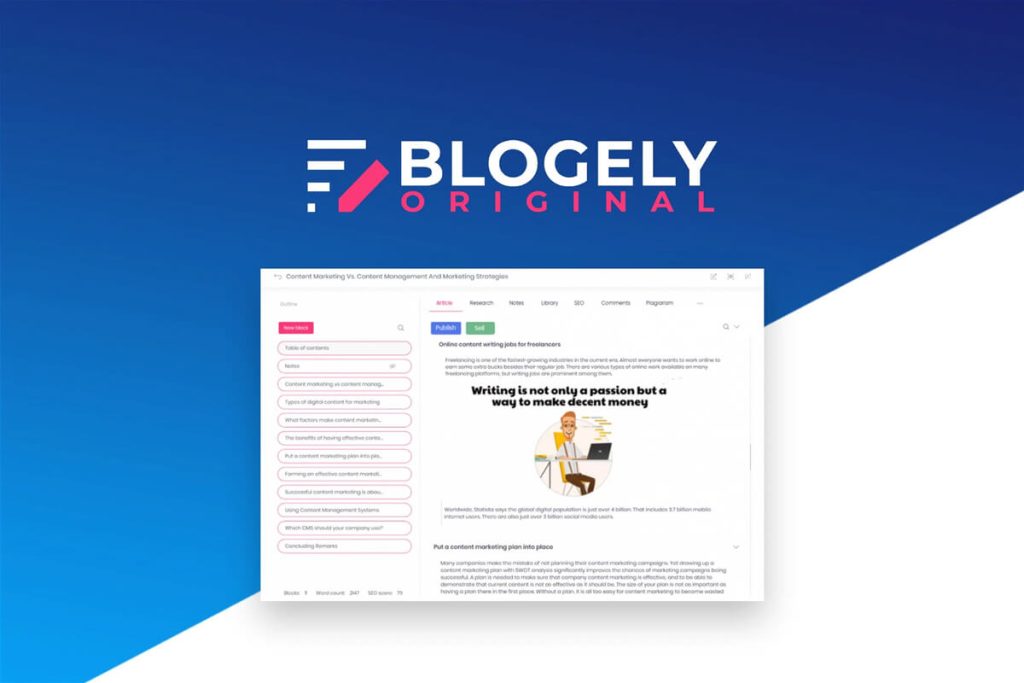 Blogely is one of the most effective tools available to help you manage your blog content and assure that it reaches the most possible audience. It provides intelligent insights into your audience's needs and preferences so that you can create content that resonates with them.
It is about comprehensive research, seamless writing experience, all-inclusive organization of complete content, simple on-page SEO for non-techies, convenient access to a plagiarism scanner, and easy one-click publishing on your CMS. Or create great SEO-optimized content, deliver ready-to-publish masterpieces to your clients and grow your business.
This tool makes it easy to produce high-quality, original content that will help you attract more visitors to your site and improve your search engine ranking. With this tool, there's no need to hire a separate SEO expert or copywriter – everything you need is at your fingertips.
For bloggers, writers, copywriters, authors, or any like-minded people who want to become better performers in what they do, Blogely is the best solution they have been looking for. It makes creating and managing content accessible, so they can focus on what they do best in writing.
With Blogely, you can easily access your information anywhere, anytime, and on any device. It is the essential tool for anyone who wants to improve their workflow and performance.
Meet Blogely
TL;DR
Provides an infrastructure to produce, manage, market, sell, buy, and distribute digital content with an exceptional focus on content originality.
Alternative to: Contently and Upwork
Simple to use and highly flexible. Get a description, optimization, plagiarism report, and information for each article
With Blogely, you can manage your blog posts, ideas, notes, and research in one place.
Key Features of Blogely
Customized Branding
App Templates
Workflow Management
Data Control
Platform Compatibility
Lifecycle Management
Community Forum
Customer Ideation
Wiki Documentation
Features Included in All Plans
Work Capacity
Task Ranking
Custom Workflows
Release Forecasting
Time Tracking
Mass Updates
Task Prioritization