Missinglettr
Using AI, transform your existing material into social media posts and streamline scheduling across several platforms.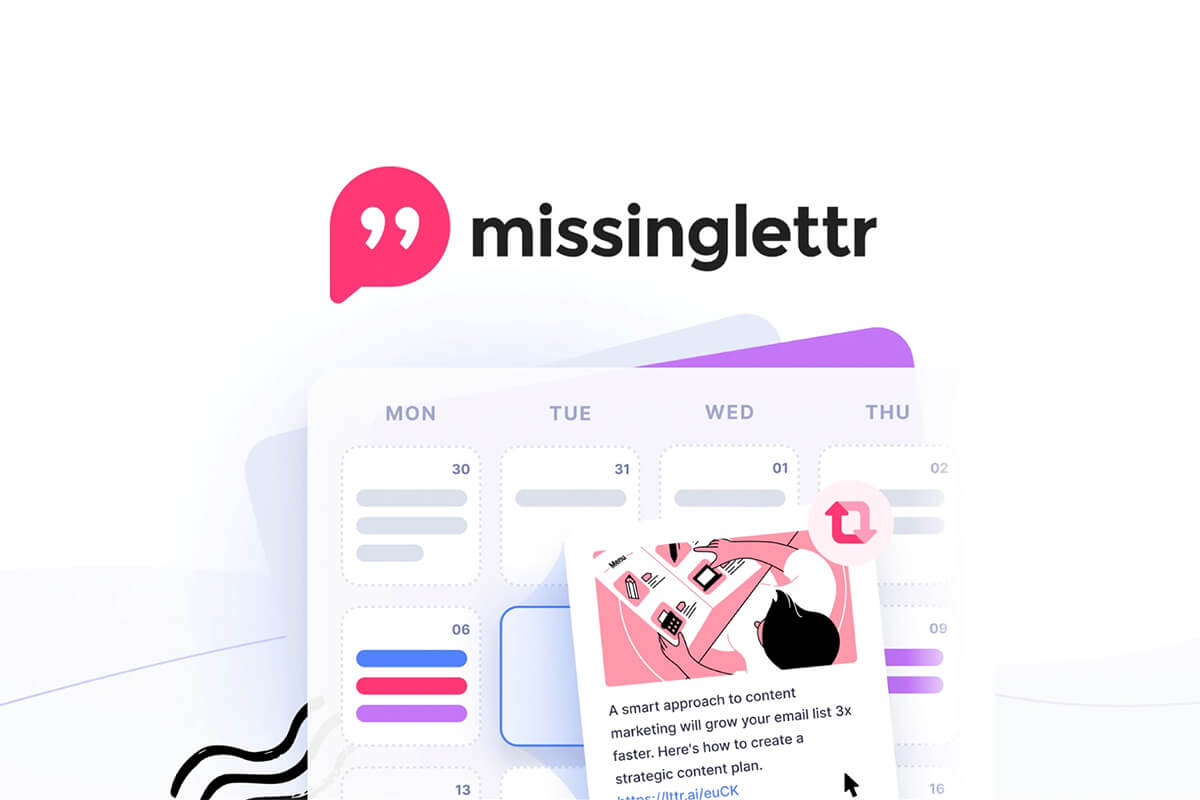 Missinglettr is a social marketing tool that is changing the way businesses and content providers interact with their social media audiences. This technology streamlines and accelerates the social media marketing process, making it easier than ever to generate and schedule engaging messages across several platforms.
This tool also simplifies the process of transforming your content into captivating social media posts. With its artificial intelligence (AI), this technology is used to extract relevant quotes and images from your content automatically.
Moreover, Missinglettr goes a step further by analyzing the context of your content. This means that the platform generates posts that not only look great but also resonate with your target audience. With Missinglettr, you can create a seamless and cohesive social media strategy that keeps your followers engaged and returning for more.
Furthermore, the platform offers a comprehensive calendar feature, allowing you to plan and organize your social media campaigns with ease. This feature is particularly beneficial for teams, as it allows for collaboration and easy communication through comments and suggestions on each post.
In addition, when it comes to content ideation, Missinglettr's Curate feature is a game changer. Instead of spending hours manually curating content, the platform provides you with a curated list of content ideas tailored to your industry. This includes not only blog posts and articles but also a variety of multimedia content to diversify your social media strategy.
Plus it also offers built-in analytics that provide valuable insights into the performance of your social media posts across different platforms. With detailed charts and metrics, you can make data-driven decisions to optimize your future content and posting schedule. It automates the process, allowing you to transform your existing content into engaging social media posts and schedule them effortlessly.
In essence, Missinglettr is your partner in growing your brand on autopilot. It empowers you to save time, enhance engagement, and maintain a strong social media presence. With a lifetime deal on Missinglettr, you can get this tool on Appsumo. Purchase it for $49 and ensure the success of your company in the digital landscape.
Meet Missinglettr
TL;DR
Utilize AI to transform your current content into tailored social media posts automatically.
Alternatives to: Buffer, Hootsuite, Sprout Social.
Initiate automated social media drip campaigns for efficient, large-scale content promotion.
Best for: Bloggers, Marketers, Marketing agencies.
Key Features of Missinglettr
Automated drip campaign creation
Client dashboard
Branded reports
Full control of scheduling
Curate Social Media Content
Free Image Library
Analytics
Features included in All Plans
Unlimited additional users
10 monthly curated posts
Inclusive drip campaigns for YouTube and Wistia
Collaborative sharing of curated content
Complete access to Curate (sharing and promotion)
Access to a library of stock images
Customizable quote bubbles and branding
Direct scheduling for posts
Capability to post videos
Personalized font options
Templates for custom drip campaign posts
Comprehensive analytics features
Support for multiple content sources
Automated reposting to Medium