Brandy
An excellent tool for creating and sharing brand assets.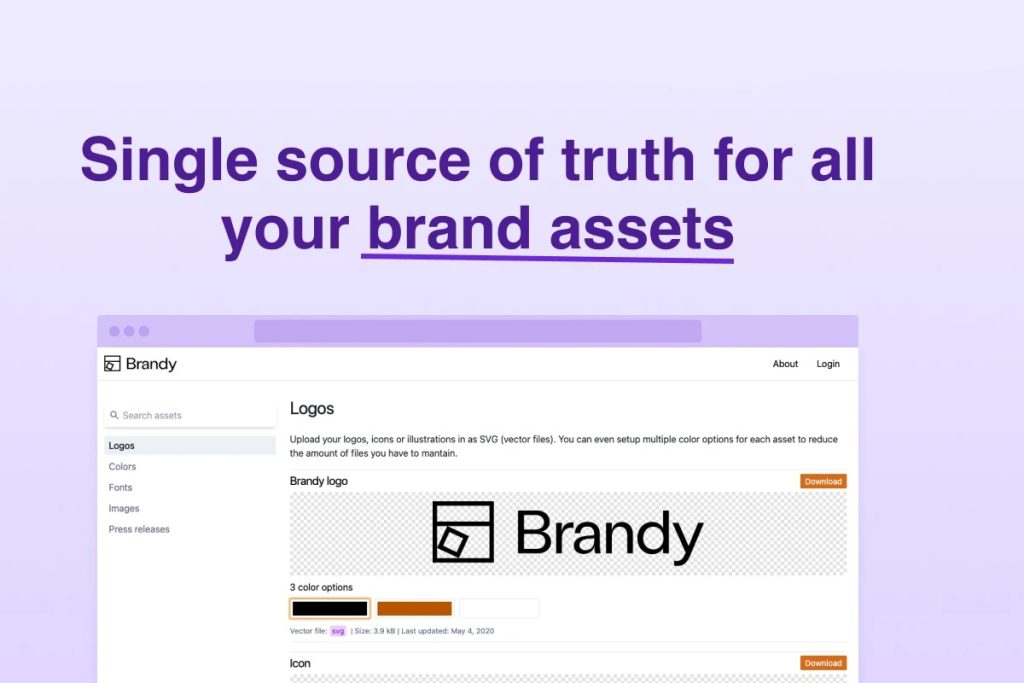 Brandy is a streamlined platform that facilitates the swift creation and sharing of comprehensive brand asset directories. Within just five minutes, users can establish a dedicated brand space, tailor the folder structure to their specific needs, upload files, and generate a readily shareable link. Beyond this, this tool offers the capability to incorporate color palettes, videos, markdown documentation, and more.
With this tool, you can easily create and share a directory of all your brand assets in just a few minutes. Create your brand space, customize the folder structure, upload your files, and get your shareable link. Brandy makes it easy to keep your branding consistent and cohesive.
You can replace the default branding with your own, make brand spaces private, and invite an unlimited number of users. In addition, it is easy to keep track of all your branding projects in one place, so you always sure that your clients see the latest versions of your work.
In addition, it's powerful search engine makes it easy to find the right asset for any project, saving your time and effort. Brandy is the perfect tool if you want a comprehensive branding solution.
And right now, Brandy is available on the Appsumo lifetime deal. This tool comes with tons of features at an unbeatable price with an Appsumo lifetime deal. So act fast and take advantage of this incredible offer before it expires.
Meet Brandy
TL;DR
You can export files in the right size, color combination, and file format without generating and maintaining hundreds of file variants.
Alternative Brandy: Bynder, Brandfolder
It supports various file formats, so users can Export their files in the form they need.
Best for: Graphic designers, Marketing agencies, Web design agencies.
Key Features of Brandy
Color palettes
Private brand spaces
Full-text search
Access Control
Markdown support
Search (Filter)
User Roles
Cloud sync
Brand tracking
Asset Management
Features included in All Plans
Connect unlimited Facebook Groups
Attach Google Sheet With Your Group
Attach Your Email Marketing Software
Group Collector Auto Approval
Zapier Not Required. Directly Connect with Autoresponders Onboarding and set up.
Approve unlimited Facebook Group members
Save Facebook Group members' data to Google Sheet