In today's fast-paced and competitive business world, optimizing Workflow is essential. While Zapier is a popular automation tool, it can be costly for those on a tight budget or looking for an alternative. Fortunately, there are many robust Zapier alternatives available that streamline Workflow and help businesses save time and money.
Whether you're a small business or a large enterprise, there is a Zapier alternative out there to help you get the job done efficiently. In this article, we'll explore 6 of the best Zapier alternatives and break down their key features so that you can choose the right tool that fits your needs.
What is Zapier?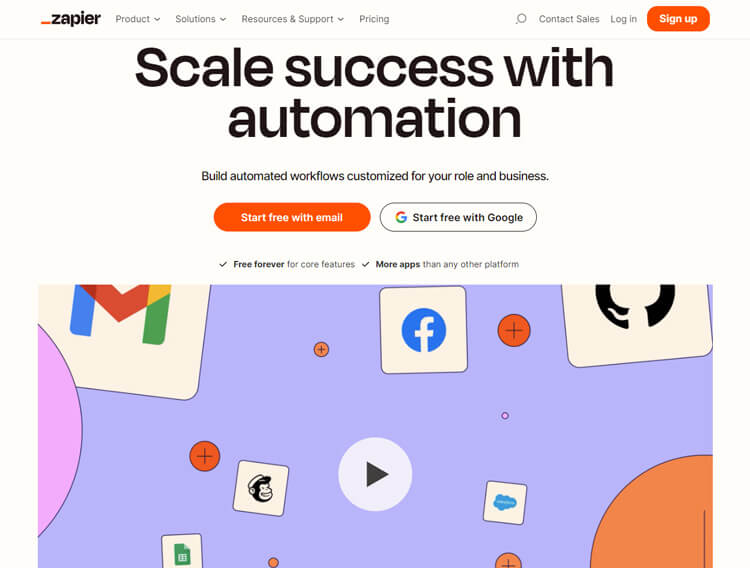 Zapier is a tool that automates tasks and connects web applications without requiring coding knowledge. It acts as a bridge that facilitates the integration of different apps, allowing them to work together and exchange data seamlessly.
With this tool, you can create custom workflows known as "Zaps" to automate processes. Each Zap consists of a trigger event in one app, which then sets off one or more actions in another connected app. These actions are executed automatically based on predefined conditions and rules that you set up.
The user-friendly interface and intuitive "if/then" logic system make it easy for anyone to set up automations without the need for extensive technical expertise. Zapier also offers pre-built automation templates, so you can quickly deploy common workflows or customize them to fit your specific needs.
Benefits of using Zapier
Using Zapier offers a plethora of benefits that significantly enhance your Workflow and productivity. Some of the key advantages of using Zapier include:
Automated Efficiency: Zapier enables you to automate repetitive tasks, saving time and reducing manual effort. This automation simplifies your workflow, enabling you to focus on essential tasks.
Seamless Integration: With over 5000 supported app integrations, this tool connects your favorite applications, ensuring smooth data flow between them. This integration is seamless, eliminating manual data entry and reducing errors.
User-Friendly Interface: It's intuitive interface makes it accessible to users of all technical backgrounds. You don't need to be a developer to set up Zaps and automate processes.
Customizable Workflows: Create personalized workflows tailored to your specific needs using Zapier's "if/then" logic. You can define rules and conditions that dictate how data moves between applications.
Pre-Built Automation Templates: Save time with pre-built automation templates that cover common use cases. You can quickly deploy these templates and adapt them to suit your requirements.
Multi-Step Zaps: Execute complex workflows with multi-step Zaps. One Zap can trigger multiple actions across different apps, enhancing the scope of automation.
Increased Productivity: By automating tasks, you can increase your productivity and focus on strategic initiatives that contribute to your personal or business growth.
Data Management Made Easy: Zapier Transfer allows you to move data in bulk between applications, simplifying data migration and organization.
Webhooks Integration: Advanced users can leverage webhooks to interact with external services, adding even more flexibility and power to their automations.
Cost-Effective Solution: It's automation capabilities help save money by reducing the need for manual labor or hiring developers for custom integrations.
Enhanced Collaboration: Zapier enables teams to collaborate more efficiently by automating processes and ensuring data is shared effortlessly across various platforms.
Feature list of Zapier
Automate tasks without the need for a developer
Effortlessly establish automation using simple "if and then" conditions.
Customize automation based on your specific logic and rules.
Construct multi-step Zaps to accomplish more complex workflows.
Utilize pre-designed Workflow and automation templates for quick and easy setup.
Create powerful automation without the necessity of writing code or managing servers.
Pros and Cons of Zapier
Pros:
Enables automatic interactions between different online services.
Extensive app integration support.
Allows for the creation of multi-step automations that can handle complex tasks.
User-friendly interface with advanced functionality.
Offers a free service tier.
Cons:
Lacks mobile applications.
Does not provide compatibility with Smart Home devices.
Pricing Plan of Zapier
Monthly:
Free: $0/month(100 tasks/mo)
Starter: $29.99/month(750 tasks/mo)
Professional: $73.50/month(2k tasks/mo)
Team: $103.50/month(2k tasks/mo)
Company: Connect with an expert for pricing information.
Yearly:
Free: $0/month(100 tasks/mo)
Starter: $19.99/month(750 tasks/mo)
Professional: $49/month (2k tasks/mo)
Team: $69/month(2k tasks/mo)
Company: Connect with an expert for pricing information.
6 Best Zapier Alternatives and its Comparison
IFTTT

IFTTT is a remarkable application that enables you to establish automation sequences connecting different apps. With this functionality, specific events can trigger a chain of subsequent events automatically. This capability significantly enhances your productivity, as you can accomplish multiple tasks by initiating a single starter action that sets off a sequence of actions.
Features list of IFTTT
Task Automation
Wide App Integration
Pre-Made Applets
Multi-App Actions
Cross-Platform Support
App Security and Privacy
Multiple Triggers and Actions
Comparison to Zapier
Approach to Automation:
IFTTT: IFTTT manages various applets, which are simple one-to-one connections between a trigger and an action. It emphasizes ease of use and offers a more user-friendly, low-code approach, making it suitable for beginners and non-technical users.
Zapier: Uses Zaps, which are more complex workflows with multiple triggers and actions, allowing for more sophisticated automation scenarios. Zapier is more suited for users with some technical knowledge and those seeking advanced customization options.
Integration Library:
IFTTT: It provides integration with over 700 services, which is quite impressive and covers a broad range of apps and devices.
Zapier: It offers integrations with over 2,000 apps, making it the winner in terms of the sheer number of supported services. This extensive library makes it ideal for users with diverse application needs.
Customization:
IFTTT: IT focuses on simplicity and ease of use, offering limited customization options. Users can connect apps and services quickly but have fewer options for customizing workflows.
Zapier: It offers more extensive customization features, enabling users to create complex multi-step workflows with conditional logic. This level of customization appeals to power users and businesses with specific automation requirements.
Target Audience:
IFTTT: IFTTT primarily caters to individuals, smaller businesses, and non-technical users who seek straightforward automation for personal use or basic business tasks.
Zapier: Zapier targets a broader audience, including individuals, businesses of all sizes, and developers. Its advanced features and extensive integrations attract a wide range of users with varying automation needs.
Cost Structure:
IFTTT: IFTTT offers a free plan with limitations and a premium plan with additional features.
Zapier: Zapier provides a free plan with basic features, but more advanced functionality and integrations are available on their paid plans, which cater to different user requirements.
Pros and cons of IFTTT
Pros:
Simplifies automation
Saves time
Wide-ranging support
Ready-made applets
Free to use
Cons:
No multi-step support
No enterprise-level support
Limited triggers and actions
Pricing Plan of IFTTT:
Free Plan: Free forever
Pro Plan: $280/month
Pro + Plan: $550/month
Tray.io

Tray.io offers an in-depth review of the tools that simplify integration management. With its intuitive drag and drop workflow builder, users can design and manage workflows seamlessly without the need for any coding expertise.
The platform offers a user-friendly dashboard overview, providing a clear visual representation of workflows and their performance. This allows users to monitor and optimize their integrations with ease.
Additionally, the undo/redo functionality provides a safety net, enabling users to revert or reapply changes as needed, ensuring precision and confidence during the workflow creation process.
Comparison to Zapier
Target Audience:
Tray.io: Tray.io is specifically aimed at "Citizen Automators," which typically refers to users who require more advanced automation capabilities. Particularly for teams in marketing, sales, and customer service, it is perfect for medium-sized businesses and large corporations.
Zapier: Zapier is targeted at busy individuals who want to automate tasks between popular online services and tools. It is user-friendly and caters to a wide range of users, including individual professionals and small to medium-sized businesses.
Complexity and Flexibility:
Tray.io: Tray.io is known for its advanced automation capabilities, making it suitable for intricate and dynamic workflows. It provides extensive customization options, including scripting and logic operations, enabling users to build highly tailored and sophisticated automation.
Zapier: Zapier excels at providing simple and easy-to-use automation solutions. It offers a wide array of pre-built integrations (Zaps) that can be set up quickly without any coding knowledge. However, its flexibility might be limited for highly complex workflows.
Workflow Design:
Tray.io: Tray.io offers a more flexible and configurable workflow design. Users can create complex workflows with conditional logic, loops, and error handling, enabling them to achieve more comprehensive automation scenarios.
Zapier: Zapier follows a trigger-action model, where users define a trigger event (e.g., receiving an email) that sets off an action (e.g., creating a new task in a project management tool). This design is relatively straightforward and easy to grasp.
Integration Options:
Tray.io: Tray.io also supports a wide range of integrations, but its focus on serving larger enterprises and more specific use cases means it may have integrations tailored to more industry-specific needs.
Zapier: Zapier boasts an extensive library of pre-built integrations with over 2,000 apps and services, making it easier to connect with popular platforms quickly.
Data Processing and Transformation:
Tray.io: Tray.io shines in data manipulation, transformation, and data enrichment, making it a powerful tool for data-centric workflows and ETL (Extract, Transform, Load) operations.
Zapier: While Zapier can transfer data between applications, its data processing and transformation capabilities are somewhat limited compared to Tray.io.
Pros and cons of Tray.io
Pros:
Tray's interface is ideal for individuals without extensive development experience, enabling them to start building immediately.
Launching workflows is incredibly simple and can be accomplished within minutes, providing significant time savings for you and your company, particularly with repetitive tasks.
From onboarding to day-to-day management, Tray's customer support team is dedicated to assisting you. They are readily available to address any issues you encounter, working closely with their product teams to provide solutions.
Cons:
Users who work with large amounts of data have complained about processing problems, with long processing times being a prevalent worry.
Beyond merely tagging management, there is space for improvement in organizing complex workflows as a whole.
Pricing Plan of Tray.io:
Standard: $595/mo
Standard Plus: $1450/mo
Professional: $2450/mon
Custom: Contact with them
Outfunnel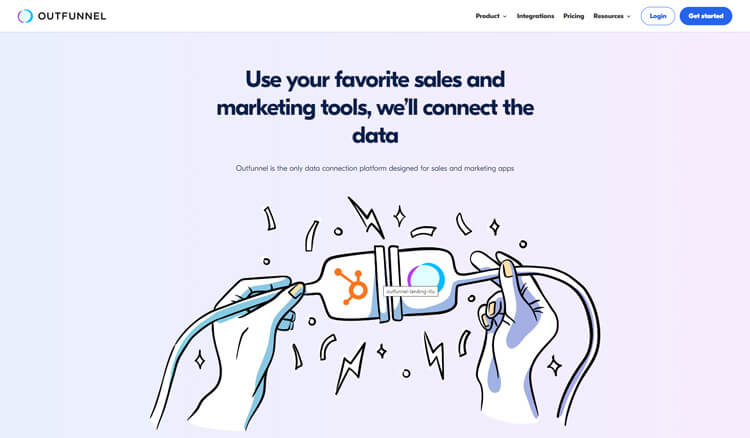 Outfunnel serves as a comprehensive sales and marketing workflow platform, seamlessly integrating data from various tools. It empowers you to efficiently score your leads and strategize your next actions with precision. You can also track the pages your leads visit on your website, and this valuable data is logged within your CRM. This tracking capability provides deeper insights into lead interests and behaviors.
Outfunnel facilitates seamless integration between your CRM and web forms. When leads submit forms on your website, their information is automatically synced to your CRM. It eliminates manual data entry and ensures data accuracy.
Comparison to Zapier
Focus and Functionality:
Outfunnel: Outfunnel specializes in bridging the gap between sales and marketing tools and CRM systems. It primarily focuses on providing sync and backup between different cloud apps, with a strong emphasis on keeping contact lists and marketing engagement data updated in real time.
Zapier: Zapier offers a vast range of integrations across various applications and platforms. Its main objective is to create seamless connections and automate data transfers between thousands of different apps, covering a wide array of use cases.
Supported Integrations:
Outfunnel: This tool provides easy app connector creation for popular CRMs such as Salesforce, Pipedrive, Airtable, Hubspot, and Copper. While its integration list might not be as extensive as Zapier's, it caters specifically to sales and marketing workflows.
Zapier: It is known for its extensive library of integrations that span across multiple categories. Moreover, this tool provides a range of options to automate tasks, integrating different apps, services, and tools.
Automation and Customization:
Outfunnel: Outfunnel offers automation features specific to marketing and sales, including automatic campaign setup based on the latest CRM data changes. However, it might provide a different level of workflow customization than Zapier.
Zapier: It stands out for its high degree of customization and flexibility. Users can create complex automation workflows by setting up triggers, actions, and filters to meet their unique requirements precisely.
Marketing and CRM Focus:
Outfunnel: It is tailored towards enhancing marketing and sales efforts by keeping data relevant and ensuring seamless CRM integration. It is well-suited for businesses seeking targeted sales and marketing automation solutions.
Zapier: It offers a broader scope, appealing to users across various industries and departments due to its wide array of app integrations, making it an all-encompassing automation platform.
User Interface and Ease of Use:
Outfunnel: Outfunnel is Known for its user-friendly interface, designed specifically for marketing and sales professionals to set up and manage automated campaigns and data synchronization easily.
Zapier: Offers an intuitive visual editor that allows users to create and manage automation workflows without requiring complex coding skills.
Pros and cons of Outfunnel
Pros:
Seamless Data Integration
Lead Scoring
Automated Campaigns
Web Form Integration
Email Engagement Tracking
Cons:
Limited Integrations
Narrow Focus
Scheduling Limitations
Pricing Plan of Outfunnel
Basic: $59 / month
Professional: $119 / month
Scale: Contact with them
Workato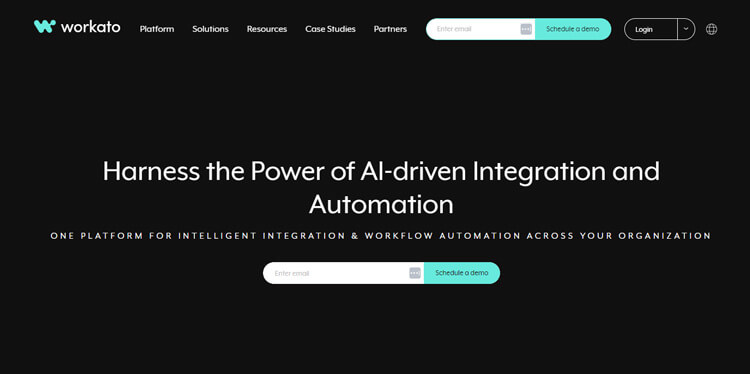 Workato is an integration platform as a service (iPaaS) focusing on business intelligence that empowers enterprises of all sizes to create automated workflows. Integration Platform as a Service leverages cloud integration technology to seamlessly connect different cloud applications. This results in automatic data and information transfer between applications, leading to streamlined and automated workflows.
By delegating repetitive tasks to bots, Workato eliminates the need for manual labor and helps businesses enhance efficiency. With this platform, users have the ability to set triggers and actions that automate diverse processes. Moreover, The platform offers a wide range of integrations with popular business apps and tools, facilitating efficient management and monitoring of automation.
Comparison to Zapier
Target Audience:
Workato: Workato primarily targets enterprise-level users and larger organizations with complex integration requirements. It is designed to handle more intricate workflows and offers robust capabilities suitable for business-scale automation.
Zapier: On the other hand, This tool caters to a broader audience, including individuals, small to medium-sized businesses, and developers. Its user-friendly interface makes it accessible to users with varying levels of technical expertise.
Customization and Complexity:
Workato: Excels in handling complex integrations with its extensive features and capabilities. It allows users to create more sophisticated workflows with advanced conditional logic, data mapping, and transformation.
Zapier: Offers a user-friendly interface and simple workflows, making it an excellent choice for those who need quick and straightforward automation. However, it may not be as well-suited for highly intricate and multi-step processes compared to Workato.
App and Connector Library:
Workato: It provides an impressive range of over 1,000 connectors, including support for SaaS apps, databases, APIs, AI services, and more. It is well-suited for users who require connections with diverse and niche applications.
Zapier: It boasts over 2,000 app integrations, making it the leader in terms of the sheer number of supported services. This extensive library caters to a wide range of user needs.
Built-in Features:
Workato: Workato offers a powerful connector SDK that allows users to build custom recipes with advanced functionalities, ensuring more tailored and exclusive automation.
Zapier: It provides a simple and intuitive recipe setup with basic features, suitable for users who need quick automation without extensive customization.
Security and Governance:
Workato: Workato is known for its industry-leading security and governance features, making it a preferred choice for enterprises and organizations that handle sensitive data.
Zapier: This tool also maintains robust security measures but may not offer the same level of governance features as Workato.
Documentation and Support:
Workato: Provides comprehensive documentation and support to guide users through complex integrations and features.
Zapier: Offers user-friendly documentation and customer support, suitable for users who require assistance with simpler workflows.
Pros and cons of Workato
Pros:
Flexibility
Integration with popular apps
User-Friendly
Robust feature set
Cons:
Complexity
Cost
Reliability
Limited integrations
Limited customization
Limited support
Pricing plan of Workato
Premium Plan: $99/month (billed annually)
Professional Plan: $499/month (billed annually)
Enterprise Plan: $1999/month (billed annually)
Pabbly Connect
Pabbly Connect is a cloud-based business automation tool designed to simplify workflow automation for small businesses. It's a multi-step workflow that automates complex processes by combining triggers, actions, and filters. Also, it can seamlessly integrate with over 500 popular apps, including CRMs, marketing automation tools, eCommerce platforms, and more.
Pabbly Connect allows users to create an unlimited number of workflows, enabling them to automate as many tasks as required without any restrictions. Set up custom webhooks to trigger workflows based on specific events, such as form submissions or button clicks, providing greater flexibility and control.
Comparison to Zapier
Focus and Functionality:
Pabbly Connect: Pabbly Connect offers a user-friendly automation platform with a focus on seamless integration between various apps and services. It emphasizes unlimited internal tasks, making it ideal for users who require extensive automation without additional costs.
Zapier: It is known for its vast library of supported apps and services. This tool aims to connect thousands of different applications across various categories, making it a versatile choice for general-purpose automation needs.
Workflow Limitations:
Pabbly Connect: It allows users to create an unlimited number of automation workflows with one-time payment plans. There are no restrictions on the number of workflows you can set up.
Zapier: The number of automation workflows is limited for different plans, which may restrict users' overall number of available Zaps.
Routers and Depth:
Pabbly Connect: Provides unlimited depth for routers, allowing users to move routers to any level without restrictions, making it highly flexible for complex automation scenarios.
Zapier: Limits routers to a maximum of 3 levels deep, which may impose constraints on certain intricate automation workflows.
Schedule Triggers:
Pabbly Connect: Offers more frequent schedule triggers, enabling automation to run every 1 minute. This feature is particularly useful when data needs to be pulled from a source at very short intervals.
Zapier: Sets a minimum limit of 10 minutes for recurring schedule triggers, making it less suitable for ultra-frequent automation needs.
Schedule Trigger Frequency:
Pabbly Connect: Allows users to set recurring triggers with no limits, offering the flexibility to schedule automation every 45 days, every 6 months, or even every 1 year.
Zapier: Limits recurring schedule triggers to a maximum of once a month, which may not meet the needs of users requiring longer intervals.
File Sharing:
Pabbly Connect: Enables specific file sharing from Google Drive to designated email addresses, ensuring privacy and selective sharing options.
Zapier: Limits file sharing options to within the organization email or publicly accessible to all users, potentially compromising data privacy.
Delay Module:
Pabbly Connect: Provides a delay module without limitations on the maximum allowed delay, allowing users to set extended delays as needed.
Zapier: Imposes a maximum delay of up to 30 days, which may restrict certain time-sensitive automation scenarios.
Pros and cons of Pabbly Connect
Pros:
Wide Range of Supported Apps
Exceptional Discounted Plans
Unique One-Time Plans
Extensive App Access
Well-Structured Features
100% Refund Policy
Cons:
Complex Workflow Creation
No Real-Time Triggers
Limited Task Automation on Free Plan
Pricing Plan of Pabbly Connect
Monthly:
Free: $0/month
Standard: $19/month
Pro: $39/month
Ultimate: $79/month
Yearly:
Free: $0/month
Standard: $16/month
Pro: $33/month
Ultimate: $67 / month
CloudHQ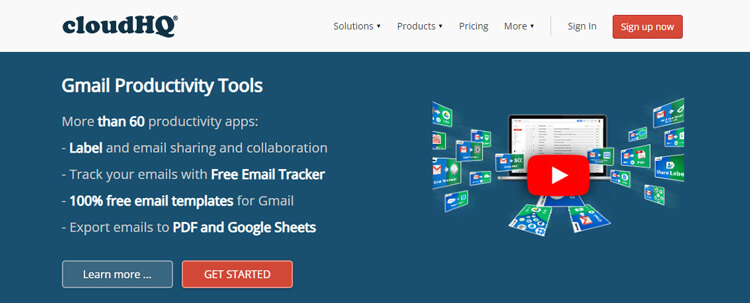 CloudHQ is a cloud-to-cloud management service primarily focused on facilitating synchronization and backup between various cloud applications. By connecting cloud services to cloudHQ, users can establish either one-way or two-way syncing. One-way sync is utilized for data migration or backup purposes, whereas two-way sync ensures that files in both services remain identical.
It also offers continuous sync and lacks the option to schedule syncing. While continuous sync is beneficial for ongoing backup needs, some users may find the absence of fine control and customization options problematic.
Comparison to Zapier
Focus and Functionality
CloudHQ: Specializes in Gmail Productivity Tools and integration services, with a strong emphasis on enhancing productivity within Gmail and other cloud applications. Its primary goal is to streamline email-related tasks and data management.
Zapier: A comprehensive, general-purpose automation platform that connects thousands of apps and services across different categories. Zapier aims to automate workflows and data transfers between a wide range of apps, making it a versatile tool for various integration needs.
Gmail Integration:
CloudHQ: It offers over 30 Gmail Productivity Tools specifically designed to improve collaboration, email management, and productivity within Gmail. Its features are tailored to enhance Gmail users' experiences.
Zapier: It offers a wide range of integrations with various apps and services, including Gmail integration. Additionally, it can connect Gmail to many non-email-specific tools.
Data Protection and Backups:
CloudHQ: It provides real-time data protection and backups of all data in the cloud. It ensures that users' valuable information is safe and retrievable at any time.
Zapier: While it enables data transfers between applications, Zapier does not primarily focus on data protection or backups. Users may need to rely on the backup features offered by the individual connected apps.
Platform Integrations:
CloudHQ: Focuses on integrating cloud applications, ensuring seamless synchronization between different platforms and services.
Zapier: Boasts a vast library of supported apps and services, including cloud-based, web-based, and even non-tech tools.
Security:
CloudHQ: Encrypts communications with SSL and utilizes OAuth password-less authorization protocol when connecting to certain apps, ensuring data security and privacy.
Zapier: Implements secure authentication methods, but the level of encryption and security measures may vary depending on the connected applications.
Pros and cons of CloudHQ
Pros:
Attractive free subscription option
Support for one-way & two-way synchronization
Two-factor authentication for added security
Cons:
High-priced
Lacks desktop & mobile applications
Absence of search functionality or file previews
Pricing Plan of CloudHQ
Monthly:
Free: $0 / month
Premium: $49 / month for single user
Business: $159 / month for 3 users
Enterprise: Contact with them
Annually:
Free: $0 / month
Premium: $149 / year for single user
Business: $399 / year for 3 users
Enterprise: Contact with them
Frequently Asked Questions:
What are the Zapier alternatives' Free Tools?
For those seeking a direct Zapier alternatives' free tools, can select from the following list:
1. n8n
2. Make
3. Pipedream
4. Power Automate
5. Tray
What free plans does Zapier offer?
Zapier provides a free trial of service, which does come with certain limitations. With this account, you can execute up to 100 tasks per month, but you are restricted to having only five active Zaps simultaneously. To elaborate, a task refers to a completed action within a Zap.
How can I use Zapier for productivity?
Zapier serves as a no-code automation tool that streamlines repetitive tasks between two or more apps effortlessly. By detecting events in one app, Zapier can trigger specific actions in another app, effectively automating your workflows without the need for coding. Here are some examples of how you can use Zapier for productivity:
1. Task Automation
2. Data Synchronization
3. Social Media Automation
4. Form Submissions and Data Entry
5. Email Management
What features should I look for when searching for an automation tool like Zapier?
When searching for an automation tool like Zapier, consider the following features to ensure it meets your needs:
1. App Integration tools
2. Triggers and Actions
3. Ease of Use
4. Customization Options
5. Multi-step Zaps
6. Reliability and Performance
7. Data Security
Conclusion
Exploring into the best Zapier alternatives empowers you to make a well-informed decision with certainty. These alternatives offer a diverse array of additional features that make them compelling contenders for your consideration. The 6 Zapier options all are presented here in an informative way, so you might be more likely to select one of them in order to speed your integration procedures and take advantage of their remarkable features.