InPrivy
With co-workers, share sensitive information simply and securely.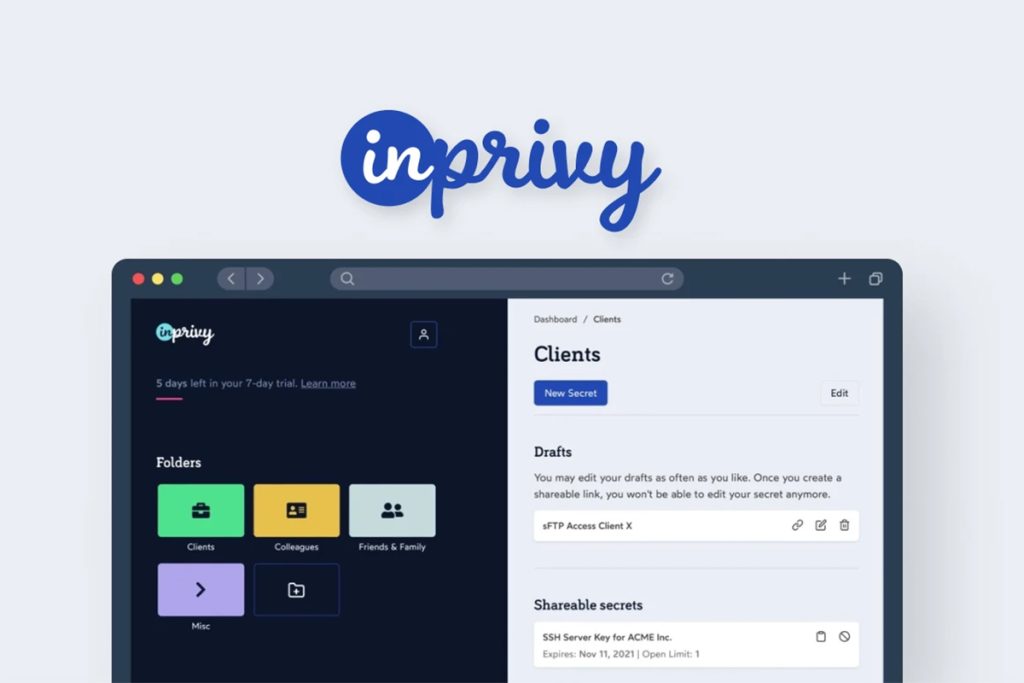 InPrivy is the perfect way to securely share information and files with coworkers, clients, friends, and family. With this tool, you can control who has entries in your files and what they can do with them.
In today's digital world, we often have to share sensitive information like passwords and other sensitive information with others. However, sending this information via email or text is not secure; It protects your confidential details from being fully visible in chats or conversations without putting them at risk.
InPrivy provides a secure and convenient platform for users to share confidential information with others on their network or worldwide. It is committed to protecting the privacy of its users and their data.
InPrivy encrypts your data and generates a secure link that, once accessed by the receiver, will be invalid. It also allows you to set a time limit for how long your data is visible. Thus, you can be sure that your information is only accessible for a certain period of time.
In addition, InPrivy provides a secure, encrypted connection between you and the people you're sharing with, so you can be sure that your information is safe. InPrivy is also incredibly easy to use, so you'll be up and running in no time.
InPrivy is excited to offer a lifetime deal through AppSumo. InPrivy includes a robust email capture feature that lets you create a secure link quickly and easily. InPrivy is an essential tool for any online business, and the Appsumo lifetime deal offers an incredible discount Price. Don't miss out on this incredible opportunity.
Meet InPrivy
TL;DR
You can create a secure link that expires once it's been opened, so you never have to worry about someone accessing your information without your permission.
Alternatives to: 1Password, Securenote
Create a secure link that, once clicked, will no longer work.
Best for: Accountants, IT/security agencies, Small businesses
Key Features:
A/B Testing
Custom Design
Own Domain
Notifications
Drag and Drop
Lead Capture
Auto-Responders
Pop-ups
Features included in All Plans
Discount Management
Email List Management
Coupon Management
Email Marketing
Unlimited Secrets and Folders
File Attachments
Own Public Sharing URL
Password Protected Links
Custom Translations / Custom Texts