Lara, Google Analytics Widget
Integrates a Google Analytics dashboard widget for your WordPress admin interface.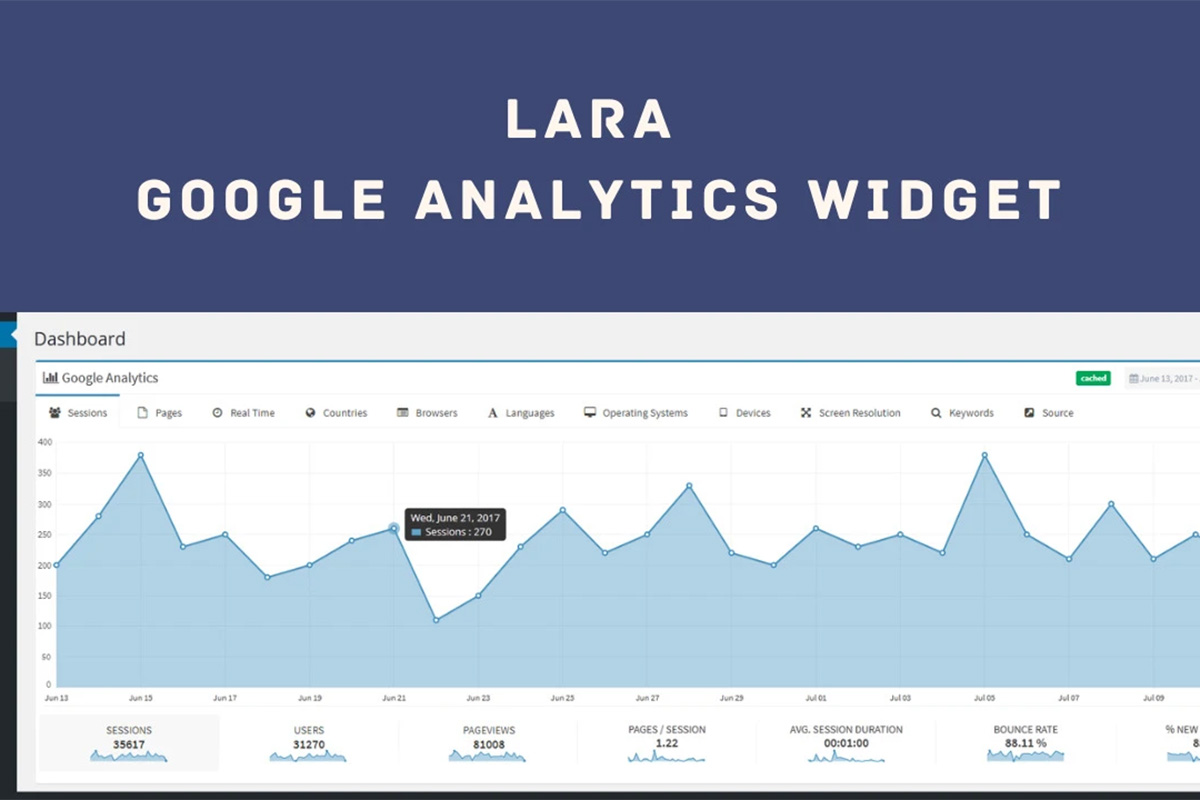 The Lara Google Analytics Widget makes monitoring your website activity easier than ever by providing Google Analytics tracking code for all pages and a full-width Google Analytics dashboard widget integrated into the WordPress admin interface.
It added visibility of Google Analytics data ensures website owners can gain a comprehensive understanding of how their content is performing. With the data these widgets provide, webmasters can take action to optimize their website's performance and ensure visitors are getting the experience they deserve.
Including in the Lara premium version Explore the complete set of features, along with Google Analytics integration, by checking out the fully functional demo available at Google Analytics Dashboard Widget Demo.
With this widget, you can access detailed data on visitor's countries, browsers, languages, operating systems, and screen resolutions. Take advantage of our advanced permission system, which is illustrated in the accompanying image, to customize your monitoring preferences and ensure that your website runs smoothly.
Moreover, It provides real-time monitoring of your shop's visitors and essential insights and analytics on traffic sources, top-performing pages, and keyword performance.
Plus, Furthermore, at Lara, we strive to provide high-quality service to our customers, and their feedback demonstrates our dedication. Join our community today and experience our exceptional features for yourself.
Lara's Google Analytics Widget is now available on Appsumo, empowering users to easily and swiftly view their data through Google Analytics in Lara. For a limited time only, you can get lifetime access with Lara – a usually expensive platform – for just $74.99.
Don't hesitate to benefit from Lara and all its features straight away. Act fast and purchase it now to reap the rewards of this great deal.
Meet Lara
TL;DR
With this plugin, you can easily access both Google Analytics metrics and WooCommerce orders on the same graph directly from your WordPress dashboard.
Alternatives to: Google Analytics
It provides complete access to the key Google Analytics metrics that matter most.
Best for: Bloggers, Content creators, and Marketing agencies.
Key Features of Lara
Agency license (install on your clients' sites)
Developer license
Unlimited websites
Unlimited domains
Lifetime support and updates
Features included in All Plans
Full Access to session Analytics
Easy & fast setup
Beautiful Graph at full width
Pages visited on your site
Browsers used to view your website
Languages are spoken by your website visitors
Operating Systems used by your website visitors
Screen Resolutions used to view your website
Device Types used by your website visitors