Stackable
New addition to the WordPress Block Editor offering allows users to create outstanding websites faster.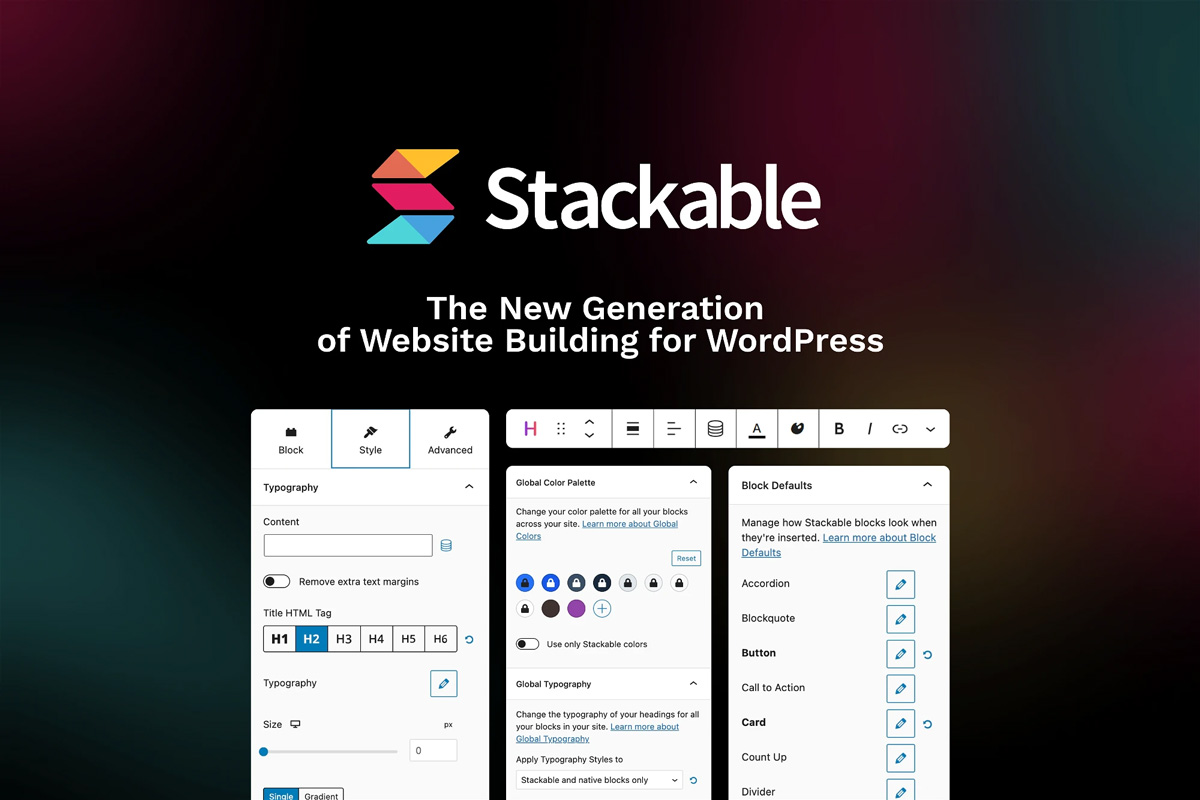 With Stackable, you can build top-notch webpages without spending hours coding or manually setting up elements, giving you more time to focus on content creation and other aspects of website building.
Stackable offers limitless possibilities for website building, customize page layouts, add attractive animations, and choose from an extensive library of premade blocks and styles does it all in one place.
This website builder enables web design professionals to quickly create fast, efficient, and aesthetically stunning websites. Stackable's visual style editor provides a new way to develop pages with unprecedented mounting speed, inspiring design confidence in users who need quality and timely work delivered.
Not only can this tool help speed up production time, but it also features global settings, which make deployment faster and easier. In addition, it's dynamic content capability, powerful tools, and libraries can be used quickly and efficiently to ensure that projects no longer have to be dreaded due to long timelines.
Furthermore, Stackable offers an extensive library of premade block templates designed by professional graphic designers to quickly produce an aesthetically pleasing website for any business or organization.
Stackable's lifetime deal on Appsumo is unbeatable at just $59. It is a highly popular and versatile page builder, offering an affordable lifetime subscription to its users to customize their websites with ease. So don't wait a minute and grab Stackable's lifetime subscription from Appsumo today!
Meet Stackable
TL;DR
It provides an intuitive page-building experience, making it easy to customize content and enhance the website in just a few clicks.
Alternatives to: Elementor, Kadence, Greenshift.
This will help build cutting-edge modern sites, perfect for any digital needs.
Best for: Bloggers, Developers, Web designers.
Key Features:
Basic hover animation
Column adjustments
Clickable containers
Blog post layouts options
Enable or disable blocks
Page builder-like design options
Dynamic content functionalities
Motion and hover effects
Agency tools: user role manager and CSS customizer
Features included in All Plans
Global Settings
Live responsive editing
Ultra fast page speed
Advanced and flexible design controls
Font Awesome integration included
All current and future integrations: Toolset, JetEngine, ACF, Metabox, and more