Pin Generator
Simplify your Pinterest marketing efforts by creating and planning pins automatically using any URL.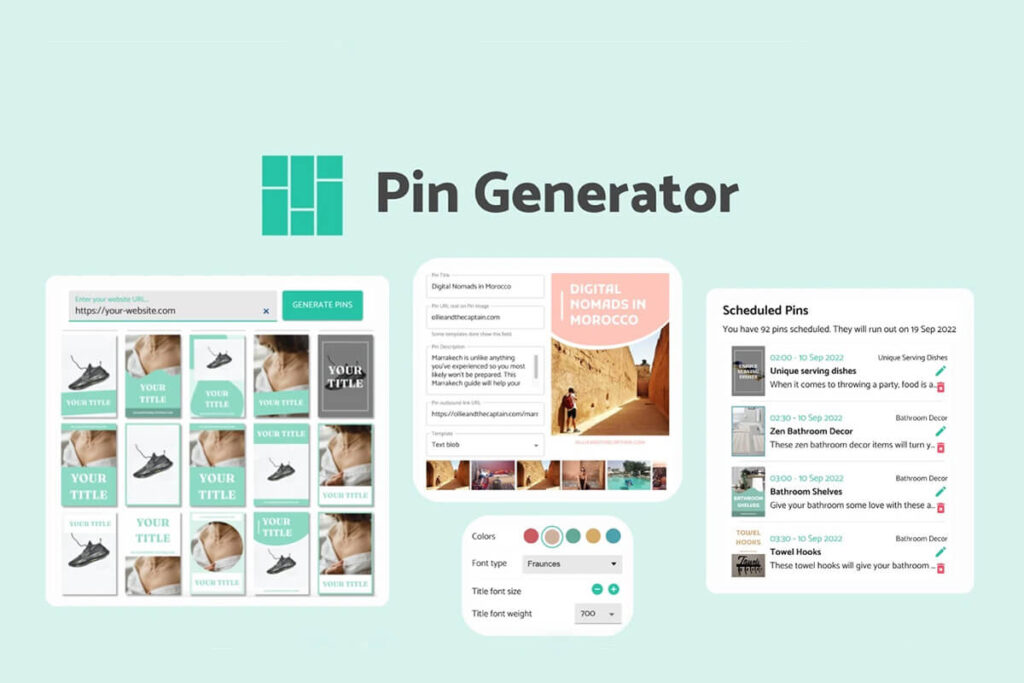 Pin Generator is an advanced automated Pinterest marketing tool that makes easy the process of creating and scheduling Pinterest pins. Using the feature of this tool makes it easy for businesses and individuals to boost their Pinterest marketing campaigns and drive traffic to their websites
Additionally, Pin Generator can generate and schedule multiple pins from any URL. With this you can quickly and easily create pins based on the content of your website or other online sources. Also, it offers a range of pin templates to choose from, and you can also create your own dynamic templates to suit your branding and design preferences.
Another key feature of this tool is its use of AI technology to remix your pin titles and descriptions. This helps to improve the visibility of your pins in search results and makes them more engaging and appealing to Pinterest users. Pin Generator also allows you to upload your own images and videos, choose fonts and colors, and even import stock video to enhance the visual appeal of your pins.
Furthermore, it enhances revenue. Increased traffic results in increased revenue, and Pin Generator helps drive traffic to your eCommerce store or website. As a result, you can develop a vast-scale Pinterest marketing campaign in minutes.
Plus, Pin Generator provides speed features such as bulk editing, bulk scheduling, and a smart pin scheduler. By using it, you can reduce your design time and enable you to get a successful Pinterest marketing strategy.
To enhance your Pinterest marketing campaign and optimize your time, the Pin Generator tool can help you create high-quality pins quickly and easily. This tool is now available on Appsumo lifetime deals which offer a one-time purchase for $99 for a limited time. So, Don't Wait. Grab the deals.
Meet Pin Generator
TL;DR
Create hundreds of Pinterest pins instantly with just one click using Pin Generator.
Alternatives to: Google, Pinterest, and Bannerbear.
It is the quickest method to design Pinterest pins for your e-commerce merchandise.
Best for: Content creators, Marketing agencies, Social media marketers.
Key Features of Pin Generator
Generate Pins FAST
Boost Engagement
Bulk schedule pins
Stay Consistent
AI assistant
Templates on Tap
Features included in All Plans
600 pin credits per month
Unlimited linked Pinterest profiles
AI rewriter
Amazon integration
Shopify integration
Etsy integration
WordPress Integration
Stack 2 codes:
2000 pin credits per month
Stack 3 codes:
3000 pin credits per month – Lifetime access