Publitio
By using a cloud-based media management software, you can ensure secure distribution of your photos, movies and audio data.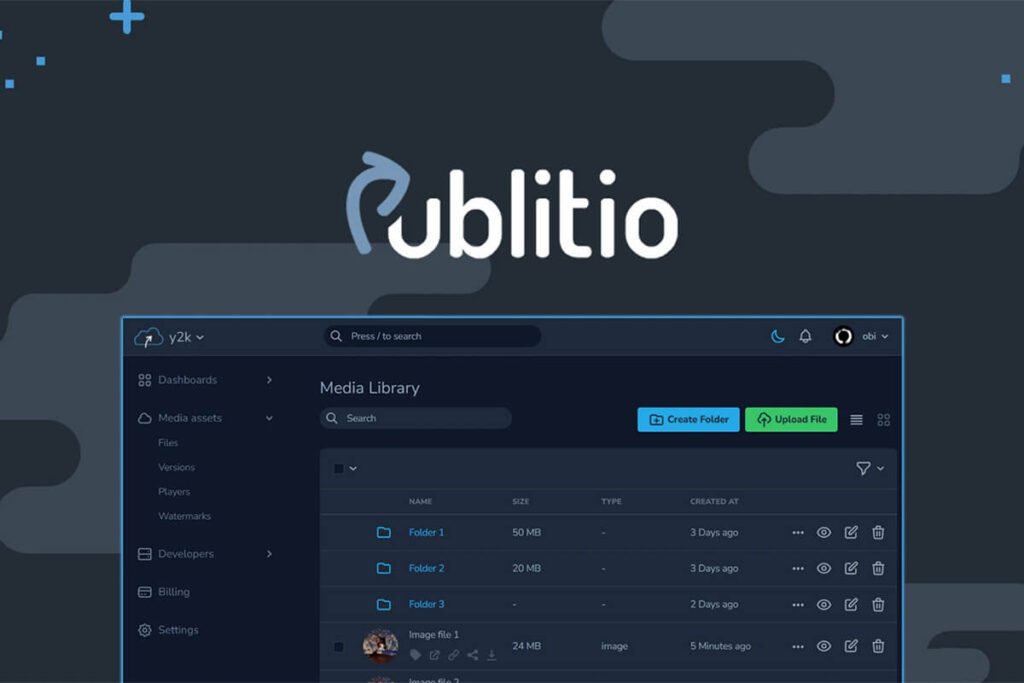 Publitio is a cloud-based media organizing software that can store, deliver, and protect your video and image files. Because of its strong worldwide CDN infrastructure, you may swiftly and securely host and transport media files.
With Publitio, it's simple to share your photos and videos since you can place them on your website or send a direct link. You may also get data for each media file that include the number of views, top visitor nations, frequently used devices, and thorough video play information.
Using HLS video encryption of Publitio, all known downloading extensions are blocked. It helps to prevent unlawful downloading. You can control which websites can access your photographs and videos by applying for domain-level protection. Additionally, media files can have dynamic watermarks created and updated with just a few clicks.
Additionally, it offers a customizable media player that supports high-definition (1080p) video. Also, you can upload subtitles to your videos to reach a global audience. Plus, Google IMA and VAST support allows you to run ads on your videos and generate additional income.
Furthermore, Publitio's URL-based API allows your files to be dynamically cropped, resized, scaled, and even converted to multiple formats. The best part is that media files load rapidly for all site visitors, regardless of where they browse.
So, don't compromise on security while sharing your media files. Instead, now secure your media files online with Publitio and have lifetime access at only $79.
Meet Publitio
TL;DR
It is the most affordable solution for businesses looking to protect their data.
Alternatives to: Dehashed.com, Idagent.com, Webz.io
It includes a dark web scan feature that gives customers a comprehensive view of their digital attack surface.
Best for: C-suite, Consultants, Small businesses.
Key Features of Publitio
HLS Streaming
Video Processing
Image & Video Watermarking
Image & Video CDN
Analytics
GPU Video Conversion
Video On Demand
Free Video API
Features included in All Plans
100 GB storage
500 GB monthly bandwidth
10 players
10 add tags
10 watermarks
Domain level protection
HLS video encryption
Analytics