Shopper.com
A tool for Scaling up the management, monetization, and analysis of your affiliate product promotions.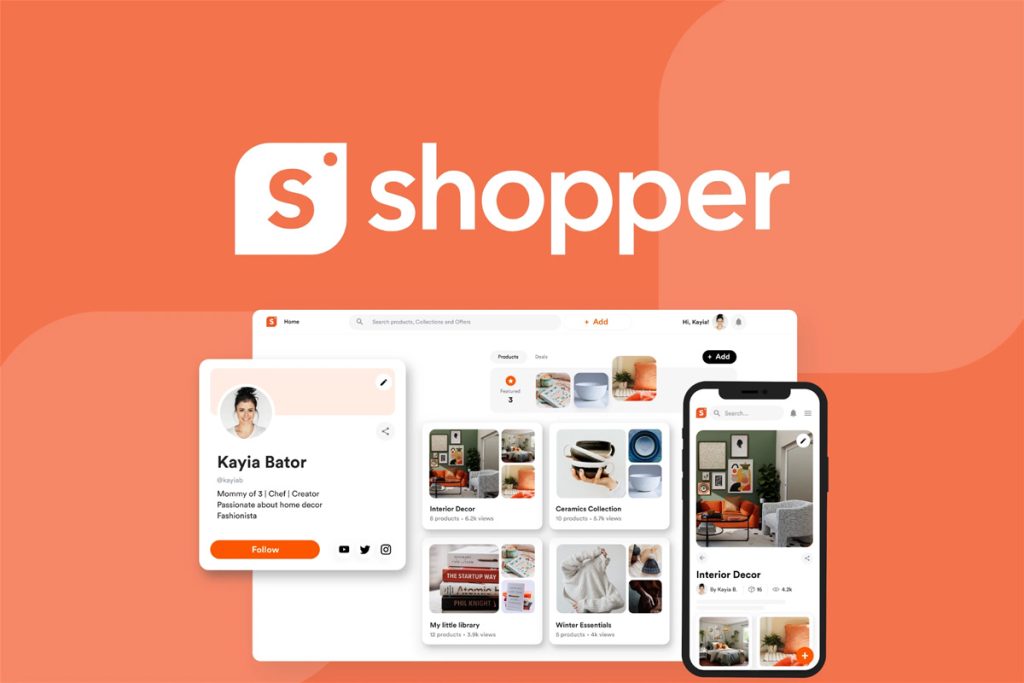 Shopper is an online store that provides a one-stop solution for creators, publishers, or marketers who want to manage and monetize affiliate product promotions at scale. It offers a wide range of products from popular brands and has a user-friendly interface that creates it easy to find the right product for your needs.
This tool lets you view the product, store and link in each notification, so you can be notified when a product or affiliate link breaks or expires. It also allows you to manage and track all product URLs that are shared across multiple channels on the same platform.
In addition, it's mobile-first stores are customizable, so you can use a branded URL with your custom domain to drive SEO, trigger repeat purchases and increase engagement. Shopper also integrates with Google Analytics and Facebook to track pixels.
It also provides a complete history of approved, pending, or declined transactions, as well as data on total clicks, sales, revenue, and earnings per transaction. This information is available through the Shopper Earnings Dashboard. Merchants can use this information to track their cash flow and monitor their performance.
With this tool, you can easily manage your promotions, track your conversions, and analyze your results at any time. It also makes it easy to monetize your promotions with a variety of options for payment and delivery. And best of all, Shopper is entirely free to use.
Whether you're selling fashion products, educational courses, or fitness memberships, this tool makes it easy to display your products on a single-store landing page. Plus, Shopper's built-in recommendations engine ensures that your followers and audiences always find the items they're looking for.
With Shopper, you can customize your store's layouts, colors, and branding to match your brand. It provides users with an easy-to-use drag-and-drop interface that makes it simple to design beautiful stores. This tool makes it easy to create a mobile-first store tailored to your brand.
By tracking pixels from Google Analytics and Facebook, Shopper provides valuable insights into your affiliate campaigns. Shopper also allows you to measure conversions in real-time, so you can quickly adjust your campaigns to maximize.
As a retailer, keeping tabs on your earnings and where they're coming from is essential. That's where the earnings dashboard comes in handy. This way, you can better understand your cash flow and ensure everything runs smoothly. So next time you're wondering how your business is doing, check out the earnings dashboard for all the latest information.
It's an essential tool for any serious shopper and is available at an incredible price through Appsumo. For a limited time, you can get Shopper for just $79. That's an excellent price for a Store. So don't wait, and take advantage of this once-in-a-lifetime offer.
Meet Shopper
TL;DR
By keeping track of this data, you can make changes to your store or website to improve the shopper experience.
Alternatives to: KitCart, Partage Marketplace, DigitalPharmacy.io, Seshhub.
Plus, you can see up-to-date data on total clicks, sales, revenue, and earnings per transaction from your earnings dashboard.
Best for: Bloggers, Content creators, Influencers.
Key Features of Shopper
Link Break Alert
SEO Ready
Real-time Analytics
Custom Theme
Free SSL
API Access
25k+ stores
In-depth analytics
Features included in All Plans
Custom colors and logo
Zapier integration
Unlimited link alerts
Broken product and affiliate link alerts
Auto affiliate monetization
Google Analytics integration
Facebook Pixel integration
Built-in ToS and Privacy Policy
Two-factor authentication