Team-GPT
Acquire knowledge, cooperate, and achieve mastery in ChatGPT within a unified workspace.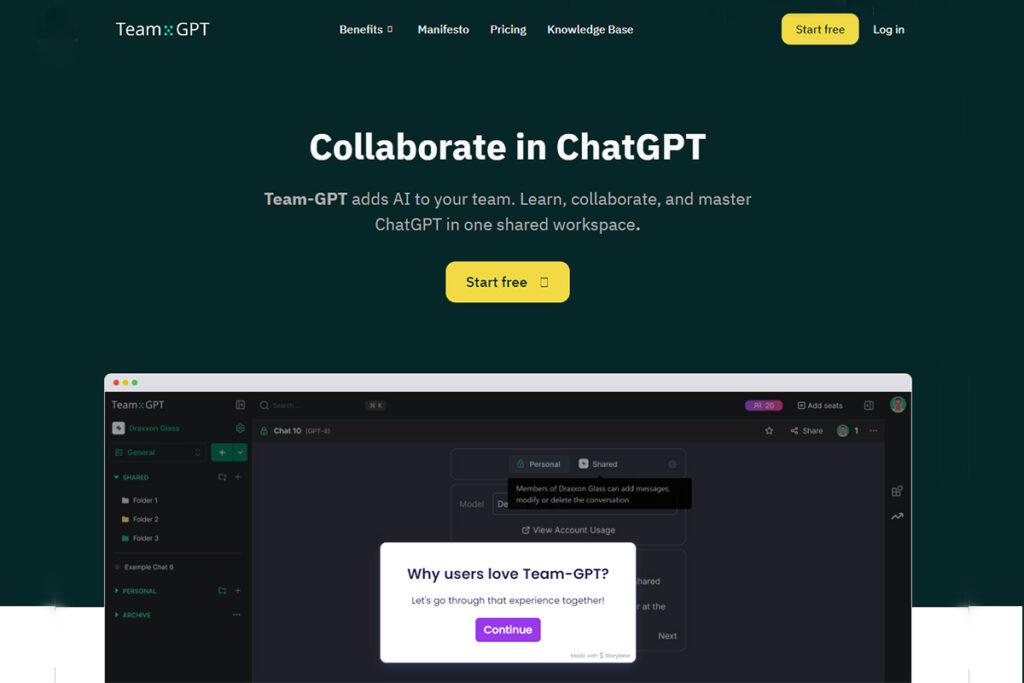 Team-GPT represents a groundbreaking advancement in collaborative AI learning and teamwork. This platform allows teams to not only interact but also collectively learn, grow, and innovate by leveraging the power of AI, notably ChatGPT. Its capability to provide comprehensive AI education empowers teams to enhance their AI skills collaboratively.
Also, its collection of ready-to-use prompt templates covers diverse domains such as marketing, sales, coding, and more. It allows teams to kickstart conversations effortlessly. By selecting a template tailored to the discussion's context, teams can initiate meaningful exchanges with ChatGPT, making the process both efficient and insightful.
Furthermore, Team-GPT introduces the concept of forking conversations. This feature encourages parallel teamwork by enabling team members to work on different facets of a project simultaneously. By branching out from a central conversation, teams can explore various perspectives and generate creative solutions collaboratively.
Plus, the platform's emphasis on sharing and collaboration extends to prompt templates as well. Team members can easily share these templates, harnessing proven approaches. It also fosters a collaborative environment where the collective knowledge of the team contributes to more effective AI interactions.
Unleash ChatGPT's full potential and embrace the future of AI-powered teamwork. Don't skip up Appsumo's lifetime offer of $49. Purchase it now to increase your chances of using AI as a driver for creativity, efficiency, and collaborative growth in today's fast-paced digital landscape.
Meet Team-GPT
TL;DR
Empowering teams with collaborative AI, fostering learning, cooperation, and informed decision-making.
Alternatives to: Zeplin, TeamsPro, Work Insights.
Utilize group conversations, pre-designed prompt templates, and safeguarded chat outcomes to amplify teamwork, innovation, and productivity.
Best for: C-suite, Remote teams, Small businesses.
Key Features of Team-GPT
Collaborative AI Learning
Group Chats
Prompt Templates
Secure Chat Results
Efficiency and Creativity
Seamless Sharing
AI-Powered Decision-Making
Features included in All Plans
Pay-per-use of OpenAI API (via your own API Key)
Collaborate in shared workspaces
Folder and subfolder organization
Both personal and shared conversations
User roles and access levels
Search in chats
Edit and delete the context
100+ ready-to-use prompt templates and all future additions
50+ tips and tricks
Unlimited workspaces
Unlimited chat history
Unlimited custom templates