SheetMagic
Utilize ChatGPT within Google Sheets to generate extensive AI content at scale and streamline your AI tasks through automation.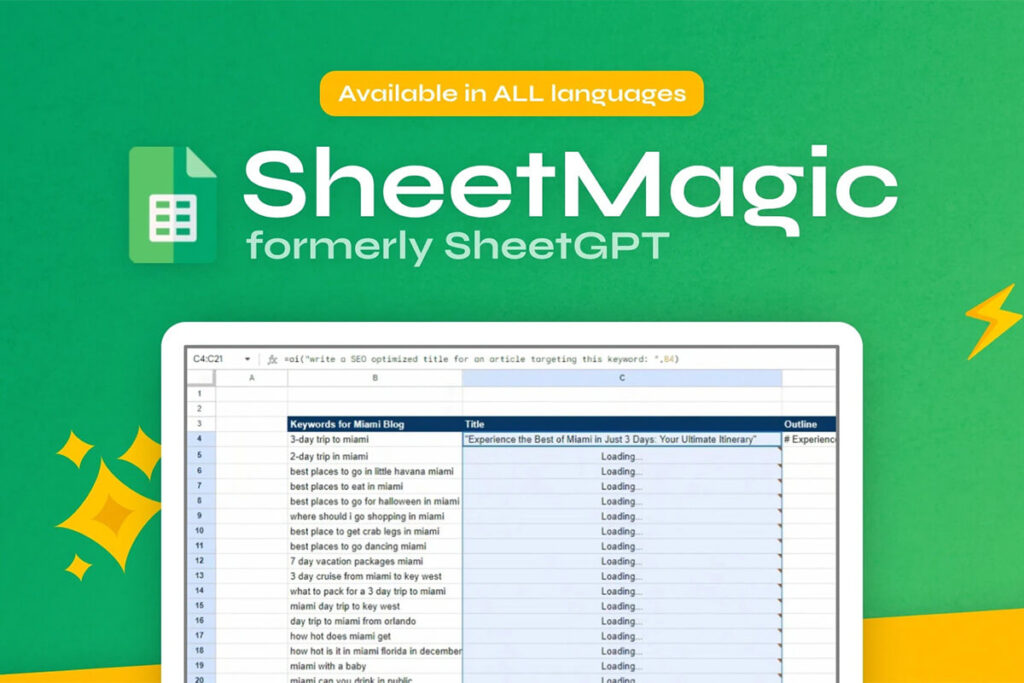 SheetMagic is an innovative tool that seamlessly integrates the power of AI into your everyday tasks within Google Sheets. With this platform, you can experience the ease of creating substantial AI-driven content, connecting with your Google Sheets data, and optimizing your workflow.
SheetMagic also equips you with the ability to fetch live data right into your sheets, empowering you with insights for better decision-making. You don't have to be a technical expert to use SheetMagic. Its intuitive, user-friendly interface ensures that individuals from all backgrounds can tap into its capabilities.
With SheetMagic, you can transform extracted data into organized tables. It also simplifies your analysis and reporting tasks. Whether you're looking to scrape headings for a quick overview or delve deep into meta content for in-depth analysis, you have the flexibility to customize the data extraction to suit your specific needs.
In addition, it empowers you to harness the full potential of AI and web scraping, all within the familiar environment of Google Sheets. This does more than just create material, it streamlines the entire process. After you've created the material, it'll be simply prepared in CSV and ready for easy integration into your website, blog, or any platform.
Furthermore, this tool enables you to create dynamic workflows, saving you time and effort. For instance, if you have a list of keywords and need unique articles for each, SheetMagic allows you to generate prompts in a single cell and apply them across your sheet to create content for every keyword instantly.
Unleash the potential of AI-powered data extraction and analysis. SheetMagic is available on Appsumo lifetime deals for $49. Take the benefits of this lifetime deal and see how it changes your workflow. Your data adventures are about to get a significant boost.
Meet SheetMagic
TL;DR
Leverage the capabilities of artificial intelligence within Google Sheets.
Alternatives to: Copy.ai, Google Sheets, Jasper.
Utilize ChatGPT for generating content in large quantities.
Best for: Bloggers, Marketers, Solopreneurs.
Key Features of SheetMagic
Works in all languages
Browse the web
Combine cells
No markups
Unlimited usage
Built for teams
Simple to use
Prompt Library
Blazing fast
Features included in All Plans
GPT-4 access
Create unlimited AI content in bulk from Google Sheets
Attach your own OpenAI API key for unlimited usage
Connect prompts together from different Google Sheets cells
Prompt library with popular prompts & ideas on how to use the tool