Writecream
Your secret weapon for SEO, sales & marketing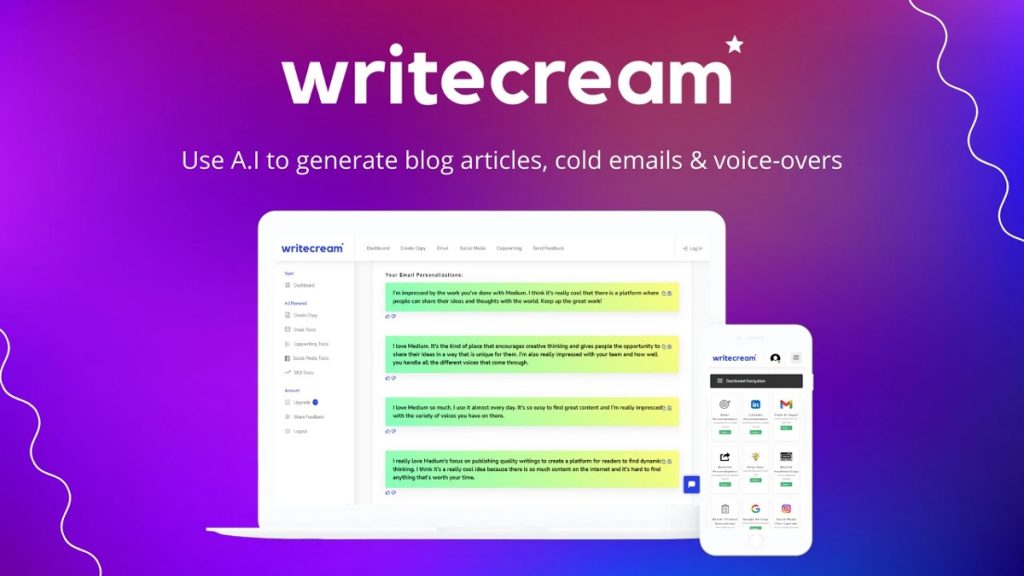 If you're looking for a writing tool that will help you be more productive and save time, Writecream is the answer. Bloggers and copywriters love it because it helps them churn out content quickly and easily. And since it can be used in your language, there's no need to worry about translations or understanding complex grammar rules.
This AI writer tool helps you generate personalized cold emails and import and export CSV. It also provides access to 40+ tools and all upcoming features. It is a great way to get more out of your LinkedIn outreach, and it's also great for generating blog articles.
In addition, It helps you to personalize your backlink outreach. With Writecream, you can easily get more than 200 credits per month. This is a great way to get started with online marketing, and it's also a great way to improve your existing online marketing campaigns.
So whether you're writing for your website or creating marketing materials, Writecream will help you get the job done faster and easier.
Meet Writecream
TL;DR
Allows you quickly go from a product name to a blog post, YouTube video, and podcast.
Alternative to: Clari, Dooly, HubSpot Sales Hub.
Automate your marketing and sales.
Voice-overs with a human accent for podcasts and videos on YouTube.
Key Features Writecream
Generate personalized cold emails.
Import and export CSV.
Browser Extension
75+ Languages
Human-sounding voice-overs
Google & Facebook Ads.
Features included in All Plans
Chat & Email Support
Access to the newest features
AI Copywriter's Community
Every content template