OpenMyLink
In this marketing toolkit, a variety of tools are provided, including Bio Pages, QR codes, a URL shortener, and numerous more features.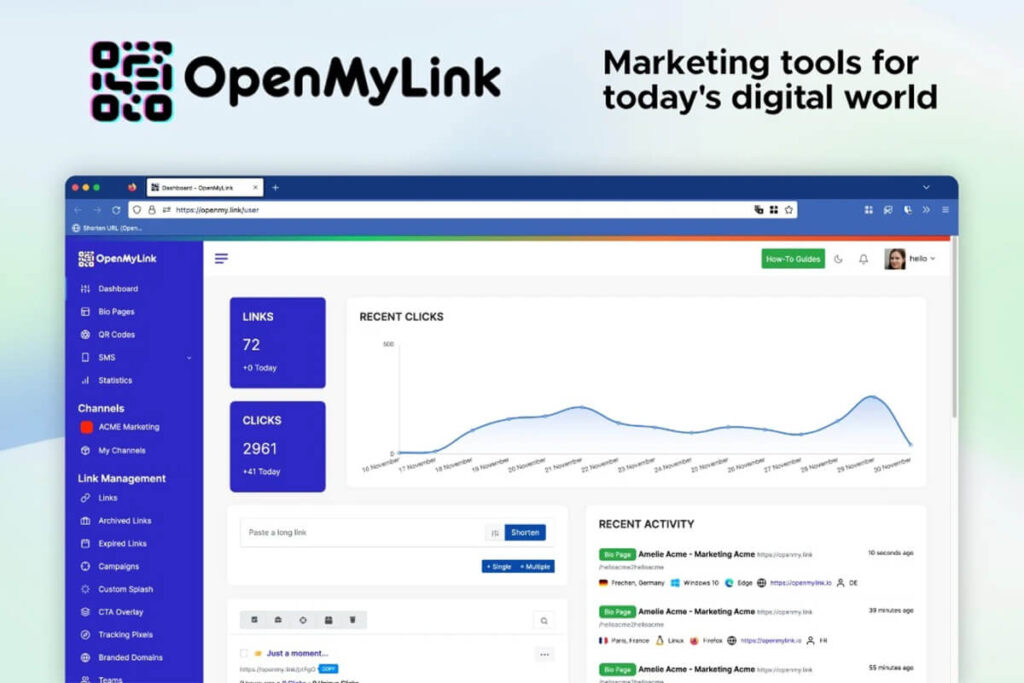 OpenMyLink is a top SaaS software that delivers a comprehensive digital marketing platform. It is carefully designed to give businesses the marketing tools they need to succeed in the digital environment. It offers features including a bio profile page builder, a professional QR code generator and manager, and a state-of-the-art URL shortener.
A bio page enables you to establish a personalized and trackable landing page, where you can incorporate links to your various social network profiles. It serves as a digital representation of an individual's identity, found on a website or within a mobile application.
Another feature URL shortening is a handy technique that generates short identities, commonly known as "short links," for lengthy URLs or Bio Links. These short links seamlessly redirect users to the original, longer URL. There are many benefits to using short connections, especially when it comes to saving space.
In addition, with the powerful dashboard provided by OpenMyLink you can take control of your campaigns and track your success. With real-time analytics and actionable insights, you can make data-driven decisions to optimize your marketing strategies and drive better results.
Furthermore, OpenMyLink's intuitive interface and seamless integration with other marketing tools, you can effortlessly manage and organize your links and track your campaigns. Also, using it you can boost your brand's visibility, increase click-through rates, and maximize the potential of your online marketing efforts.
Unlock the power of effective link management and become a part of the thriving OpenMyLink community today! Appsumo is offering a lifetime contract for this tool. For a limited time, you can get a special lifetime deal of this tool at only $49. With Appsumo platform, you can enjoy this incredible offer and take your link management to the next level.
Meet OpenMyLink
TL;DR
Unlock a diverse range of marketing tools with OpenMyLink's extensive collection including Bio Pages and QR codes to a powerful URL shortener and more
Alternatives to: Bitly, Linktree.
Includes a powerful dashboard, custom domains, splash & overlay pages, bundles & link rotator, etc.
Best for: Marketers, Marketing agencies, Social media marketers.
Key Features of OpenMyLink
Beautiful Profile Generator
Link Customization
Advanced QR Codes
Integrations
Features included in All Plans
1 unlimited account
Unlimited URLs allowed
Unlimited clicks per month
Unlimited bio profiles
Unlimited QR codes
Unlimited custom splash & CTA overlay pages
Unlimited event tracking
Unlimited team members
Unlimited branded domains
Unlimited Pixel integrations
Short URL custom aliases
Geotargeting & device targeting
Channels
Campaigns & link rotator
Multiple domains
Custom parameters & URL customization
Export data & forever data retention
Developer API
Advertisement-free