Finding the right Saas lifetime deals for your business doesn't have to be challenging, but it does require some effort. With so many options available today, it can be difficult to decide which ones are best suited to help you achieve success.
But when done properly, SaaS (software as a service) lifetime deals can offer great value and provide your business with the tools and technology needed to take productivity and performance up a notch.
In this blog post, we'll look at 8 of the best SaaS lifetime deals that give you access to cutting-edge solutions without breaking the bank – allowing you to unlock new levels of success and profitability in no time!
What is SaaS Lifetime Deals
The concept of SaaS lifetime deals is that you can purchase a lifetime Saas Product at a very low cost on it, which means discounts on particular items and tools, whereby the user pays a one-time fee and keeps using the tool forever.
With these packages, the recurrent fees that are often incurred each month by these instruments can be significantly reduced. It gives customers unrestricted use of your tool or product for as long as it is still in operation and available.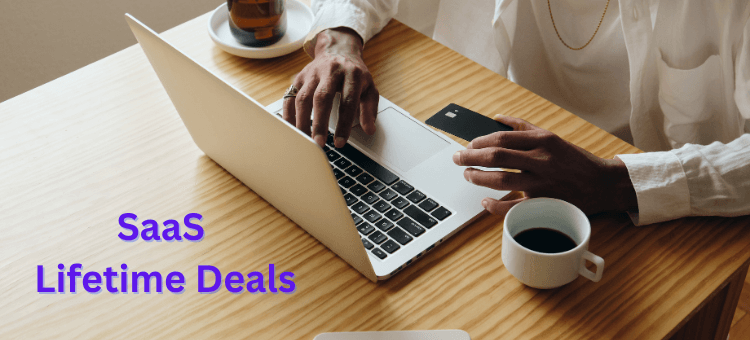 Nonetheless, it is crucial to conduct thorough research prior to investing in SaaS lifetime deals, as certain enterprises have been recognized to cease operations or stop supplying their offerings after a few years. These deals may present a fantastic opportunity to acquire top-notch software at a reasonable cost, yet it's essential to understand the potential risks before committing to a purchase.
Benefits of SaaS Lifetime Deals
The lifetime deals of SaaS products can be beneficial for both the customer and the company. Those benefits are given below:

Cost Savings: Instead of paying a monthly subscription charge, customers can save money by paying a one-time fee for lifetime access to the good or service.
Access to premium features: The Saas Lifetime deals come with access to Pro features which may not be available to those customers who are on monthly or annual subscriptions.
No recurring fees: With a lifetime deal, customers don't have to worry about recurring subscription fees or price increases, which can provide peace of mind and help with budgeting.
Risk-free trial: Lifetime deals often come with a money-back guarantee, allowing customers to try a product risk-free and get a refund if they're not satisfied.
Predictable Revenue: SaaS companies have the potential to bring in significant amounts of money upfront which may be used to pay for product development, marketing, and other operational costs.
Increased User Base: A lifetime deal can enhance sales and the user base of the product by luring more clients.
Feedback and User Engagement: Engaging lifetime deal consumers can also contribute to the growth of a devoted user base and improve client happiness.
Limited Time Offers: Lifelong discounts are frequently provided for a brief period of time, which engenders a sense of urgency and scarcity that may persuade clients to act and make a purchase.
Tips for finding the right SaaS Lifetime Deals
Finding the right SaaS Lifetime Deals can be tricky, given the sheer range of options and features available. However, with a few well-defined steps, it is possible to arrive at an informed choice. Here are some crucial starting points that should put anyone on the path to finding the perfect SaaS Lifetime Deal.
Do Research and Check Reviews: The secret to securing better deals is research and analysis. You can learn about consumer opinions of the product by conducting web research about the software developer and company.
Compare Features: Always remember to examine the version and features offered by a SAAS product before purchasing. Purchasing a product with few features is pointless.
Can The Product Be Updated: The product you purchase should be upgradeable to current versions. Investing in such a deal would be risky in that scenario.
Analyze Customer Service: In the future, if you have any complaints, contact customer service first. Thus, it's crucial to look at the company's customer service procedures and willingness to offer answers.
The Product's Need: Software purchases that are not now necessary are pointless. Software that is designated as shelfware expires on the shelf without being utilized.
Analyze Terms And Conditions: Read the terms and conditions in their entirety including license, usage, customer support, and troubleshooting. Go through the legal pages on the SAAS website if there are any.
Refund Policy: A refund policy outlines the conditions under which you can request a return for a product that has certain flaws. Make sure you are aware of the terms and conditions for refunds.

8 best SaaS lifetime deals
The majority of digital entrepreneurs invest hundreds or even thousands of dollars in tools and software each month. In that case, you ought to benefit from lifetime discounts. Many lifetime deal sites exist that can meet your digital needs. Among them, we have discussed here the 8 best SaaS lifetime deals. We have covered all you need to know in order to familiarize you with all available tools and software.
Support Genix
Support Genix is a WordPress support ticket plugin which provides an infinite number of tickets, users, and agents. With the help of its sophisticated ticketing system, you can easily create and manage tickets on behalf of users, assign tickets to other team members, and add private or shared internal notes.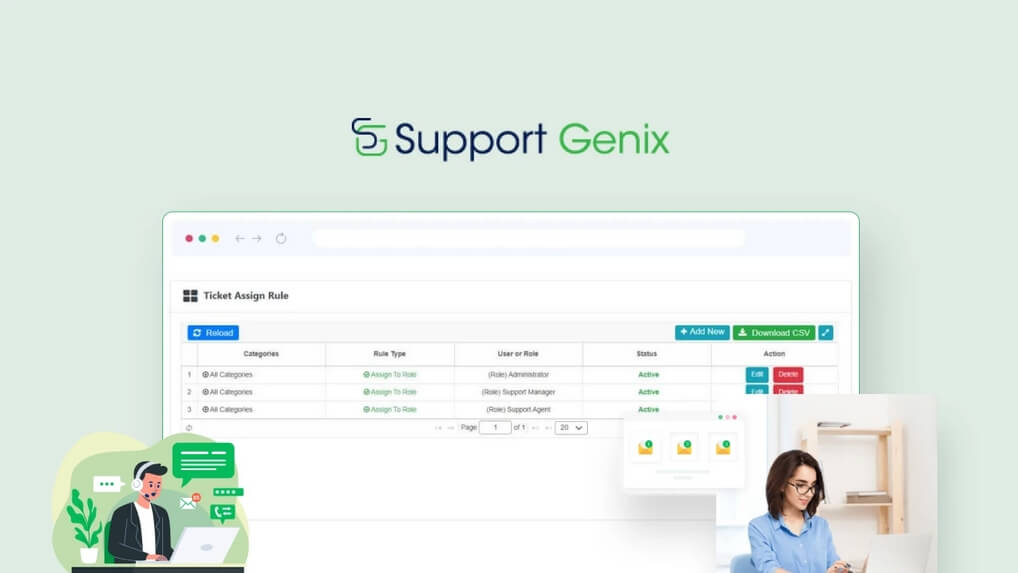 In addition, with the help of this powerful support ticket software, you can manage an unlimited number of business email accounts and inboxes, as well as track and handle support tickets. Using this user-friendly tool you can maintain the smooth operation of your organization
Features:
Lifetime Access for 5 Websites. (Developer License)
Get Access to all of the features listed on the website.
Manage unlimited users, support agents, and tickets.
Manage unlimited Mailboxes.
Saved replies, Email Piping, and Email Notifications
Easy Agent Control
Price: One time purchase of $59
👉 Learn How to Use Support Genix for WordPress: A Comprehensive Guide
FindNiche
FindNiche is a powerful dropshipping niche finder that boasts the largest eCommerce intelligence database available. With access to over 20 million AliExpress products and 10 million Shopify products, FindNiche offers a daily renewal of 3 million products with hourly updates.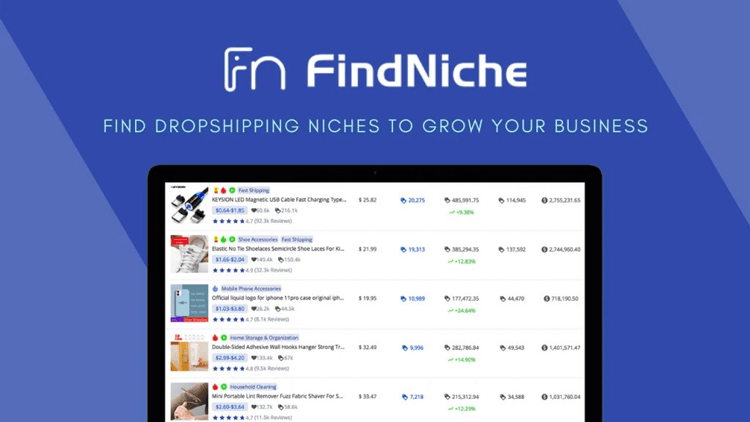 In addition, the platform has a massive advertising database, containing over 80 million ad creatives from Facebook, Instagram, and YouTube ads. FindNiche's 'AD SPY' feature is a game-changer, allowing users to track the ad performance of their competitors to find winning products.
With the ability to monitor the products your competitors are advertising, you can dig down to analyze their ad performance and audience engagement.
Features:
Access to AliExpress
Access to Top Chart
Access to Shopify Database
Access to Shopify Store
Access to Ad Spy
Access to Niches
Niche Product: 100 Daily
Product Tracking: Up to 800
Online Support
Price: One time purchase of $199
👉 Do you know Copyai vs WordHero: Which AI Writing Tool Is Right for You?
TidyCal
TidyCal simplifies calendar management and enhances booking capabilities. Its scheduling solution is equipped with various features that optimize the scheduling processes through its API and Zapier integrations. Also, it allows you to share your booking pages through links or embeddable widgets that you can place right on your website.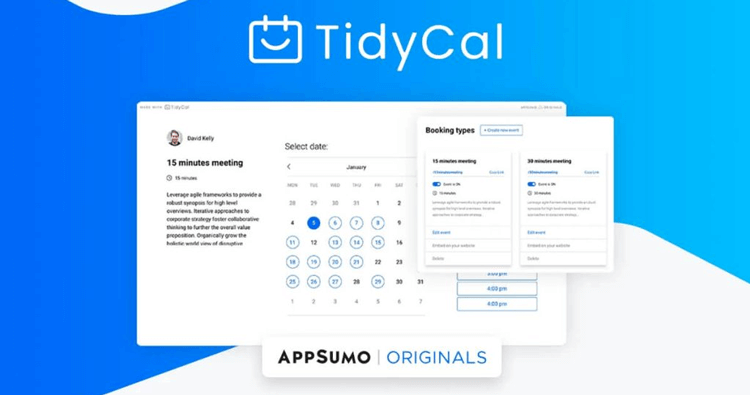 The integration features of TidyCal enable automated calendar synchronization and automation across numerous platforms, including Google, Apple, and Microsoft Office. It generates individual meeting links automatically through the integrations with Zoom and Google Meet, simplifying communication with attendees.
Additionally, TidyCal allows you to set up both one-on-one and group meetings, recognizing that business meetings come in all shapes and sizes.
Features:
10 calendar connections
Free & paid meetings
Reduced branding
Group bookings
Pro integrations: Zoom, Google Meet, Zapier, API
Custom redirect URL
Price: One time purchase of $29
👉 Check 10 Best RankTracker Alternatives SEO Tools for Beginners Used by Experts
Agiled
Agiled is a comprehensive business management platform that caters to various business needs such as client and lead management, financial tracking, project management, task management, and employee management. You can effortlessly add clients and leads using the in-built CRM or import them quickly via Agiled's integrations with other CRMs.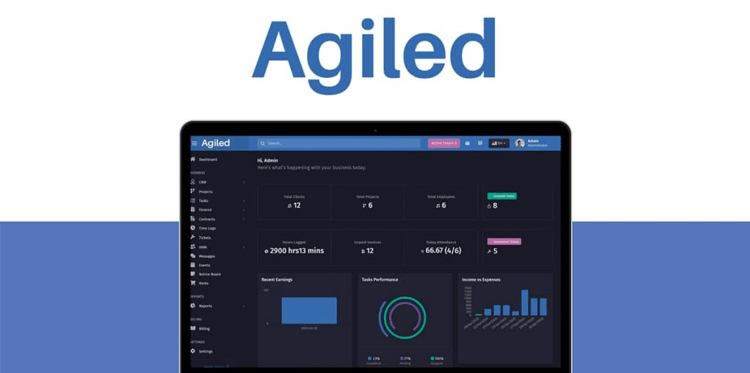 Agiled works harmoniously with various tools, including HubSpot, SendFox, Asana, Plutio, Active Campaign, Freedcamp, Freshbooks, Xero, Quickbooks, Zoom, and Mailshake. Additionally, the platform provides Zapier, custom webhooks and API, and Integromat integration, as well as unlimited custom fields for accounts and contacts to centralize all your lead data in one place.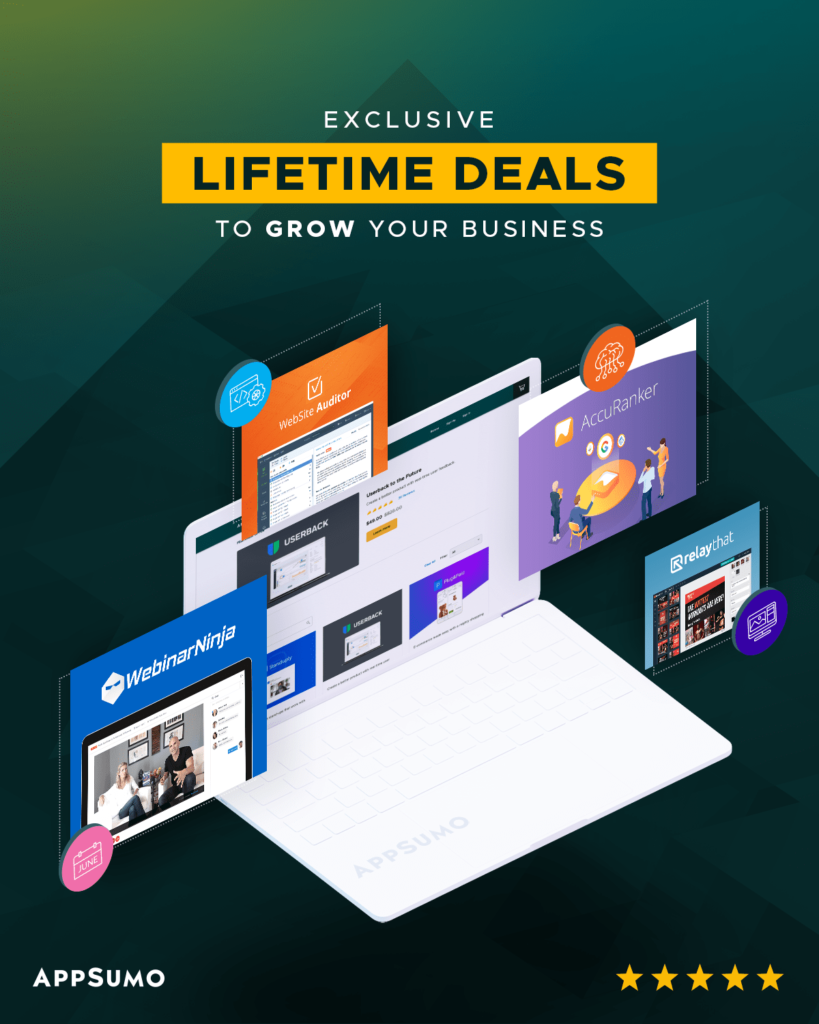 Features:
Unlimited leads
Unlimited clients
Unlimited integrations
Finance
Employees
Tasks & projects
Time tracker
Proposal
Contracts
CRM
File management
Quickbooks & Xero integrations
Automations
Sales pipeline
Subscriptions for clients
Email integration
Price: One time purchase of $69
👉 Learn How to sell Product on Appsumo: Step-by-step Guideline
Wordhero
Wordhero is an AI powered tool that enables you to quickly and easily create high-quality blog posts, social media captions, emails, advertising, sales copy, product/SEO descriptions, marketing concepts, and even poetry and music lyrics. It offers a comprehensive collection of more than 70 writing tools, and more are always being added.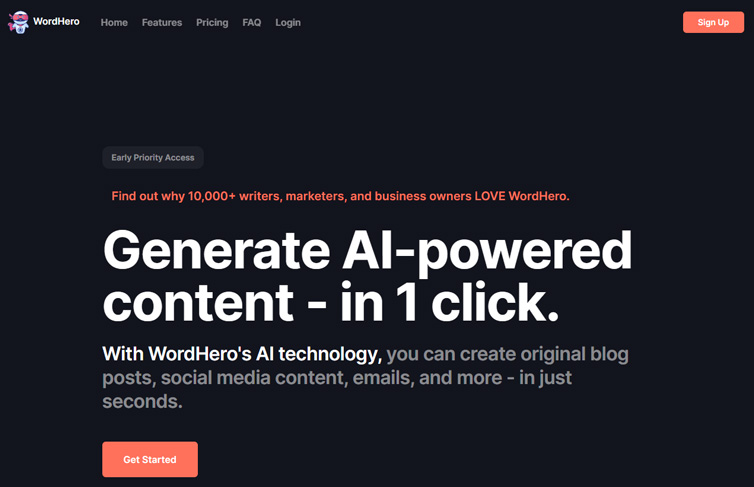 WordHero is an all-in-one writing solution that you can't afford to miss out on. Whether you're a professional writer or a novice, WordHero is an essential tool for anyone looking to create compelling content. To create high-quality articles this tool is the best solution.
Features:
Access to all future writing tools/templates
Discover topic ideas & write engaging blog content
Write sales & marketing emails that sell
Generate catchy captions for social media
Write memorable product titles & descriptions
Brainstorm viral marketing & startup ideas
Price: One time purchase of $89
👉 Learn How to Use WordHero AI Writing Tool: The Ultimate Guide
Switchy
Switchy provides a complete remedy for customizing, managing, and tracking retargeting links to enhance your conversion rates. It acknowledges the importance of your posts and guarantees that they are presented in the most optimal manner.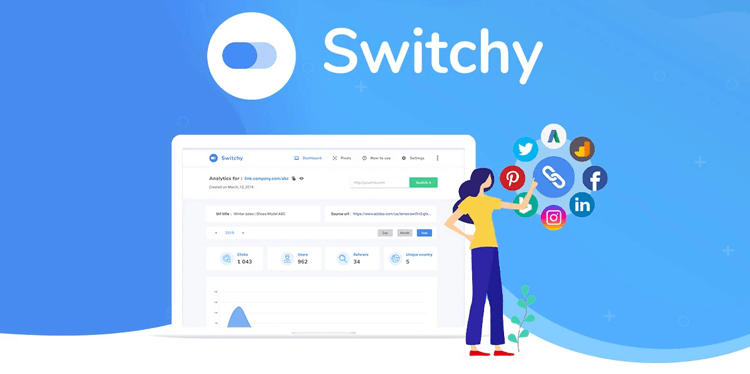 Moreover, Switchy provides you with the ability to add retargeting pixels, UTMs, tags, geo-redirect, A/B testing, or even activate deep links using over 30 advanced options to maximize your conversions.
In addition, you can drive your users to the most effective channels by employing smart deep links from more than 150 integrated platforms, directing your audience to specific pages on each platform or device.
Features:
GDPR popup
404 redirection
Direct sharing
Tags management
Link rotator
Geo Redirection
Full tracking – analytics features
Multiple workspaces option
Price: One time purchase of $39
👉 Explore CRM Lifetime deals – The Best 5 Deals With Exclusive Offers
Sparrow plus
Sparrow plus enables you to keep tabs on a variety of marketing operations, such as data synchronization and campaign updates, without constantly logging into different accounts.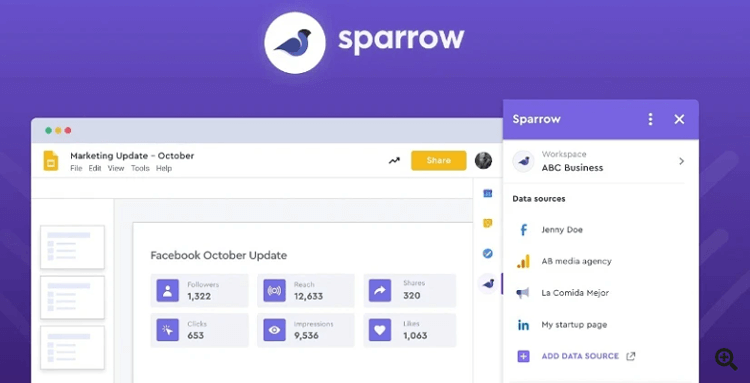 You can manage multiple brands by creating different workspaces and save time by automating your reporting process with templates.
Additionally, Sparrow offers a visual representation of data through charts and graphs, available on the consolidated dashboard accessible via the web application.
Features:
Unlimited workspaces
Unlimited templates
Unlimited daily, weekly, or monthly data refresh schedules
Team functionality
Price: One time purchase of $59
SiteGuru
SiteGuru conducts a website audit that provides you with an actionable to-do list to enhance your website's rankings and increase traffic. Unlike other audits that present lengthy lists of issues, their to-do list is designed to provide clear guidance.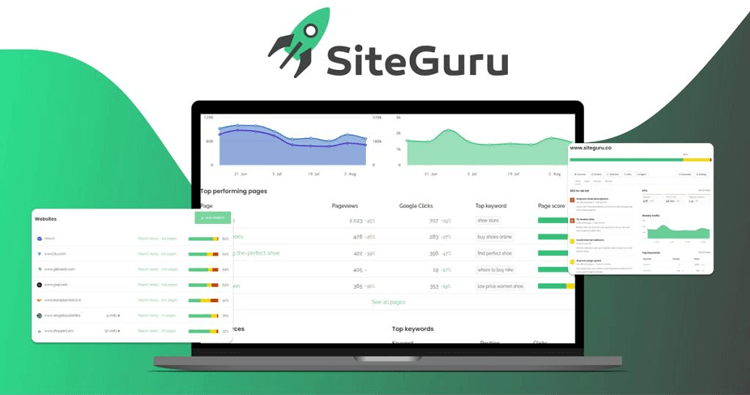 Moreover, SiteGuru uses data from Google Search Console and Google Analytics to track your SEO progress, updating you on Google's improved click-through rates, dropped pages, and ranked keywords.
With the help of this information, it can pinpoint the keywords that your website can rank for, inform you of any pages that have fallen in the search results, and offer suggestions for raising your Google click-through rate.
Features:
Export all reports to CSV
Download Word reports
Unlimited users – invite clients and colleagues
Price: One time purchase of $69
👉 Explore 5 Best Appsumo Alternatives – You Must Know
Frequently Asked Questions
Q1: What is lifetime deal software?
A lifetime deal software is a unique offering for customers, typically associated with lifetime subscriptions to SaaS products. It enables indefinite access to a product or tool as long as it remains functional and available.
Lifetime deals are typically offered at a discounted price compared to the pay monthly option to incentivize purchases. Implementing a lifetime deal as part of a customer retention strategy can encourage long-term client relationships.
Q2: Where can I find lifetime SaaS deals?
There are numerous online marketplaces, including Appsumo, StackSocial, SaaS mantra, and others, that are exclusively dedicated to providing customers with high-quality SaaS lifetime deals, often at discounted prices.
Multiple bloggers and websites provide information regarding the top SaaS Lifetime deals available, some of which offer exclusive discounts. Moreover, keep an eye out for exclusive sales and promotions on social media and other online venues.
Q3: Can I transfer a SaaS lifetime deal to another person?
Reselling AppSumo Lifetime software deals are strictly prohibited and a clear violation of their Terms of Use. It's also against our Rules of Use to purchase an AppSumo lifetime deal from any other source. It's crucial to remember that AppSumo is the only approved supplier of these fantastic discounts. Hence, it is best for you to think about something before buying.
Q4: How do I get a refund for a SaaS lifetime deal?
For refundable deals such as software, WP Plugins, and Chrome Extensions, they provide a 60-day money-back guarantee to all customers. In your partner dashboard, you can locate refunded codes and sales information.
To access a list of refunded and redeemed codes, download a CSV file from the sales table at the bottom of the dashboard. To maintain optimal performance, it is recommended to revoke refunded codes on a weekly basis.
👉 Evaluate Support Genix Review- Features, Price, Pros, and cons
Final Word
In summary, we have selected the greatest SaaS Lifetime Deals for bloggers and marketers. There are numerous websites that offer marketers and corporations free lifetime deals. If you are uncertain which best SaaS lifetime feals then investigate the software and equipment and search for similar options. As these deals are in high demand, act quickly to access online tools and products that suit your needs, and enjoy lifetime access to them at a fraction of the regular cost.