FindNiche
The most effective eCommerce intelligence database finder is a potent dropshipping niche finder.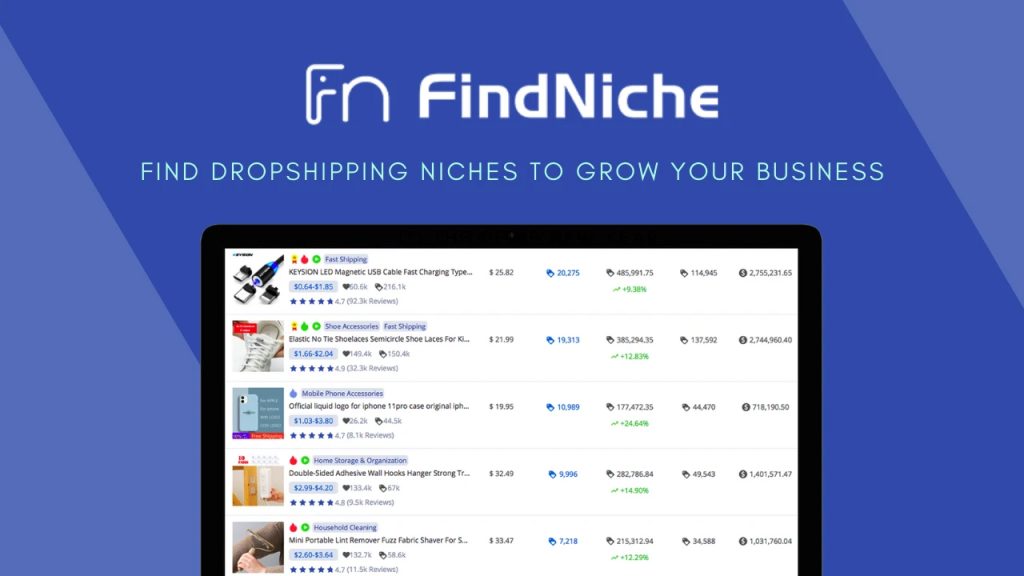 FindNiche is one of the largest eCommerce intelligent databases for e-commerce businesses of all sizes. With its ability to analyze over 20 million AliExpress and 10 million Shopify products, it can help businesses keep their product catalogs up-to-date and relevant to their customers.
It helps to find the best dropshipping by providing detailed data and analysis on over two million products. It offers a comprehensive suite of tools to help with product research, including product trend data, keyword research, and competitor analysis.
With this tool, you can find the most valuable and unexplored niches for your drop shipping business. There are more than 80 million ad creatives from Facebook, Instagram, and Youtube in FindNiche's enormous advertising database.
It also offers a comprehensive and up-to-date database of products, suppliers, and manufacturers. It also provides a wide range of filters and search options to help you find the right tool for your store. FindNiche offers a free trial, so you can test the tool before committing to a paid plan.
FindNiche is an excellent tool for finding the best dropshipping products for your store.
Meet FindNiche
TL;DR
An online platform provides a wealth of information on choosing products, building brands, and running ads.
Alternatives to: Hanzo, Funnel, Reveal
Find out winning products by tracking what are advertised by your competitors
Best For finding the Shopify/AliExpress best sellers and tracking competitors' display ads for dropshippers.
Key Features of FindNiche
API
Activity Tracking
Ad hoc Reporting
Data Extraction
Data Import/Export
Data Visualization
Forecasting
Search/Filter
Trend Analysis
Visual Discovery
Features included in All Plans
Self-Service Data Preparation
Data Capture and Transfer
Reporting & Statistics
Predictive Analytics
Real-Time Analytics
Access to Shopify Database
Access to Shopify Store
Niche Product: 100 Daily
Tracking: Up to 800