Email marketing is a crucial element of any online business. By sending regular updates and keeping customers informed about the latest developments, businesses can stay relevant and top-of-mind in the eyes of their audience. With so many email marketing platforms out there, it can be difficult to choose the best one for your business.
Two options that stand out are Mailchimp and TinyEmail. Both offer a wide range of email marketing services with distinct features, capabilities, and pricing. Deciding which one is the right fit for you can be a challenge. In this article, we'll compare Mailchimp vs TinyEmail in detail so that you can make an informed decision.
Overview of MailChimp vs Tinyemail
Mailchimp and TinyEmail are both email marketing platforms that enable users to create and send emails to their subscribers. Mailchimp is a comprehensive marketing platform that includes features such as email campaigns, automations, landing pages, and social media integration. It offers more advanced tools and functionalities than TinyEmail, but it also comes with a higher price tag.
On the other hand, TinyEmail is an innovative email marketing software designed to help businesses launch interactive email campaigns. With its AI-powered subject line generator, businesses can quickly create unique and attention-grabbing headlines for their marketing emails. In this article, we will explore an extensive comparison of MailChimp vs TinyEmail.
What is Mailchimp?
Mailchimp is a cloud-based email marketing platform. It provides a wide range of tools and features to manage email marketing campaigns of all sizes of businesses. It also offers email marketing automation, allowing users to target customers based on behavior, preferences, and previous sales.

Mailchimp's features include email templates, connection to eCommerce stores, targeted analytics, and in-suite apps. It integrates with all major eCommerce providers, and offers advanced reporting features that can be accessed anywhere via mobile capabilities. Mailchimp is used by businesses to create, send, and track email campaigns, newsletters, and automated messages, and to build audience segments for targeted marketing.
What is Tinyemail?
TinyEmail is an email marketing tool that offers a variety of features to help grow your brand quickly. It provides data-backed email templates that can be customized with interactive elements such as countdown timers, image sliders, and coupons to boost conversions. Using AI, personalized emails can be generated to align with your brand and stand out in a crowded inbox.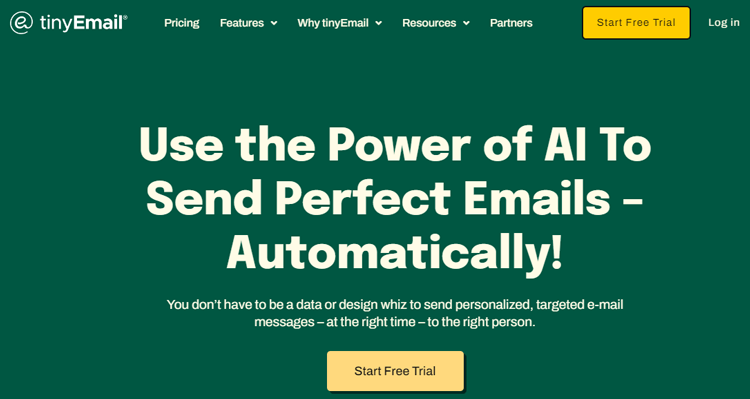 TinyEmail also helps businesses build robust email marketing lists. With intelligent algorithms, the software effortlessly segments customers based on their behavior and interests that enables businesses to target their campaigns. Furthermore, this tool provides comprehensive analytics and reporting capabilities. By tracking audience behavior and engagement rates, businesses gain valuable insights to optimize their email marketing strategies.
Feature Comparison of Mailchimp vs Tinyemail
Mailchimp and Tinyemail both are two popular email marketing platforms. In order to better understand how they compete with each other, we will compare the features of each platform.
Features of Mailchimp
Dashboard: The dashboard provides a concise overview of your marketing activities through a feed. It also prominently displays your contact count and presents key performance indicators through informative reports.
Segmentation: Mailchimp's platform offers a robust set of segmentation tools that empower you to create targeted customer segments based on the data stored within the system.
A/B testing: A/B testing tool designed to help you optimize your emails and subject lines. With this tool, you can create multiple versions of your email, and Mailchimp will automatically send each version to a segment of your customers.
Marketing Automation: Mailchimp's Customer Journey feature provides you with the capability to set up drip campaigns that deliver a series of automated messages to your customers.
Analytics and reporting: It provides a comprehensive suite of tools that enable you to monitor performance, enhance deliverability, and gain actionable insights to drive the growth of your business.
Integrations: Mailchimp boasts a vast selection of over 250 pre-built integrations with various third-party software.
Email Builder: It offers a comprehensive email editor that empowers users to create customized and professional emails. It helps you to efficiently manage your online presence.
Recommended Blog for You:
👉 Top AI Writer Lifetime Deals: Boost Your Content Creation Skills
👉 Klaviyo vs TinyEmail: Choose the Best email marketing tool
👉 SEOCrawl vs SEMrush: Which SEO Tool is Better for Your Business
Features of TinyEmail
Unlimited Senders and Subscribers: It provides unlimited senders, enabling businesses to have multiple team members managing email campaigns. Additionally, the platform allows automated campaigns to reach an unlimited number of subscribers, effortlessly expand their audience reach and potentially increase conversions.
Marketing automation platform: With a library of pre-made automations designed to increase sales and conversions, TinyEmail offers Shopify integration. Using this shopify email marketing app businesses can utilize it to enhance their marketing campaigns.
Segmentation and personalization: With tinyEmail, businesses can segment their customers based on their behavior and interests, which makes it easier to create more personalized and targeted campaigns. This feature increases the relevance of marketing messages and improves the chances of conversions.
Integration, Data & Analytics: TinyEmail provides deep integration and analytics, enabling businesses to track their email marketing performance and gain valuable insights into their campaigns. With its ability to integrate with various third-party services and apps, analyzing and optimizing campaigns becomes easy.
AI subject line generator: By utilizing tinyEmail's AI subject line generator, users can save time and create attention-grabbing headlines for their marketing emails. This feature eliminates the guesswork and enables businesses to increase their email open rates.
Automations for Shopify: With tinyEmail, businesses can benefit from a library of pre-built automations specifically designed for Shopify, aimed at increasing sales and conversions. The platform enables easy integration with Shopify stores, providing businesses with the tools they need to enhance their marketing campaigns.
Forms and pop-ups: Using this platform, businesses can easily create forms and pop-ups to capture leads and contact information. This feature can help businesses grow their email list and expand their reach, making it a valuable tool for any marketing campaign.

Pricing Comparison
When it comes to choosing an email marketing tool, pricing is a critical factor. In this comparison, we will explore the pricing models of these platforms to help you make an informed decision about which platform is the most cost-effective for your business needs.
Mailchimp pricing
Free: $0/month
Premium: $350/month
Standard: $20/month (free for one month)
Essentials: $13/month (free for one month)

TinyEmail pricing
Free: $0/month
Standard: $15/month
Pro: $65/month
Enterprise: Custom
Pros and cons of Mailchimp vs Tinyemail
Pros and cons play a crucial role in choosing the platform that is right for your business. Here are some key points to consider that can help you gain a better understanding.
Pros and cons of Mailchimp
Pros of Mailchimp:
Free-forever plan (up to 500 contacts)
Easy to build and customize campaigns
Clear reporting that helps optimize future sends
Integrates with hundreds of software platforms
Cons of Mailchimp:
Expensive for extensive contact lists (over 150k subscribers).
Very limited phone support
Not designed for advanced marketing teams
Pros and cons of TinyEmail:
Pros of TinyEmail:
AI subject line generator
Customer segmentation and personalization
AI-powered email campaigns
Deep integration and analytics
Forms and pop-ups
Detailed campaign insights
Ready-made automations for Shopify
Cons of TinyEmail:
limited social media platform integrations.
There is only a 7-day free trial available with access to all features.
Frequently Asked Question
Which email marketing platform is better suited for small businesses?
Choosing the correct email marketing service for your small business can significantly impact the success of your marketing campaign. Below are the seven most outstanding email marketing services accessible for small businesses.
Constant Contact
Brevo (Formerly Sendinblue)
HubSpot
Omnisend
Drip
AWeber
Moosend
ConvertKit
Mailchimp
Is Mailchimp's online store available in any country?
Mailchimp stores that serve domestic sales and shipments, are currently only available to users with businesses based in the United States or the United Kingdom. To publish a store or website on a custom domain, a paid Websites & Commerce plan is required.
Which platform offers better automation tools: MailChimp or TinyEmail?
Between them MailChimp offers a better automation tool. Mailchimp's success as an email marketing platform can be attributed to its user-friendly automation features. With its automation triggers, you can easily map out the entire customer journey and customize the user experience according to your business needs. In addition to marketing emails, you can also set up automation for transactional emails, social media ads, postcards, and coupons.
Why is MailChimp good for email marketing?
To develop a successful email marketing campaign, numerous components and actions are required. However, Mailchimp can enable you to create a carefully planned email marketing strategy with a favorable return on investment. In this regard, the following criteria explain why Mailchimp is more popular than other marketing tools.
Hassle-Free Campaign Designing and Launching.
Develop a Custom Template with Unique Coding.
Email Automation for Better Customer Experience.
Customer Journey Builder.
Preview and Test the Email before Launch.
Use Geotargeting for Localized Email Campaigns.
Create and Execute Marketing Campaigns on the Go.
Does TinyEmail integrate with Shopify? and how?
TinyEmail is a shopify email marketing tool. It integrates easily with your Shopify store and enhances your audience messaging. By following the given steps you can quickly connect Shopify with TinyEmail.
Click Add section.
Click Newsletter, then click Add.
You can specify a heading for your newsletter signup, such as "Subscribe to Our Newsletter".
In the subheading field, you can provide a brief description of what your customers will receive by subscribing to your newsletter.
Click Save.
Final Word
By analyzing the comparison of Mailchimp vs TinyEmail, it helps you to choose the email marketing platform that is best suited for your business needs. If you are an ecommerce business, Mailchimp may be the ideal choice due to its wide range of features tailored to such businesses.
However, If you are searching for a MailChimp alternative then TinyEmail is the ideal option. Using the Tiny Email shopify email marketing app, Shopify merchants can be benefitted. Additionally, It's important to keep up-to-date with the latest information and features of each platform in order to select the most appropriate one.