SEOCrawl and SEMrush are two of the most popular SEO tools available in the market. If you're looking to optimize your website for search engines, you might be wondering which tool is the best fit for your business. In this article, we'll compare SEOCrawl vs SEMrush to help you decide which one is right for your needs.
Overview of SEOCrawl
SEOcrawl is a powerful data warehouse that analyzes historical data from both Search Console google and search console Google Analytics. With a simple setup that hooks up your Search Console and Google Analytics accounts, this SEO tool suite generates actionable insights. It automatically creates keyword and URL clusters. Furthermore, you can build more than 20 different SEO dashboards tailored to your business's specific needs.
With SEOcrawl, you have everything you need to monitor unlimited keywords, core keywords, and brand-related keywords. It also offers lifetime access and is regularly updated to keep up with changes in search engine algorithms, ensuring users stay one step ahead of the competition.
What is SEOCrawl?
SEOcrawl is a comprehensive tool that elevates your SEO management to a whole new level. As a web crawler and auditing tool, it assists website owners and SEO professionals in examining and enhancing a website's search engine performance. With its advanced features, you can analyze and improve your website's ranking in search engine results. With analysis, tracking, reporting, and automation capabilities, progress can be easily monitored.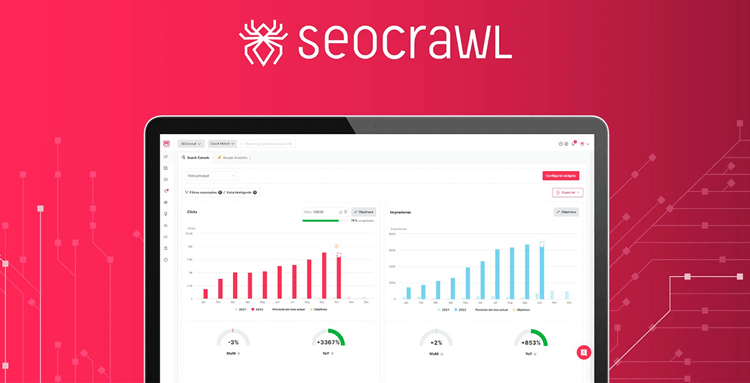 Key features of SEOCrawl?
Customizable Dashboard
Task organizer
Automated crawl
Keyword research
Competitor analysis
Rank tracker
Site audit
SEO monitor
Link Analysis
Technical SEO
SEO extension for Google Chrome
Keyword, URL, and folder rank tracker

Benefits of Using SEOCrawl?
Using SEOcrawl might be a wise choice for online marketers or website owners. Outlined below are some benefits of using this tool and how it can be advantageous for users.
Improved search engine rankings:
With SEOcrawl you can make your website more appealing to search engines. This can help to boost your search engine rankings and increase visibility and traffic to your site.
Increased traffic:
Higher search engine rankings can attract more traffic to your website. This platform can be beneficial if you run an e-commerce site or need to generate leads for your business.
Enhanced user experience:
SEOcrawl can identify and fix issues that may be affecting the user experience on your website.
Competitive advantage:
By using SEOcrawl to analyze and optimize your website, you can gain a competitive edge over other websites. I
Time-saving:
Automating the process of analyzing and optimizing your website with SEOcrawl saves time. This allows you to focus on other essential tasks such as creating new content or engaging with customers.
Pricing List of SEOCrawl
Monthly :
Starter: $9/month
Business: $29/month
Elite: $49/month
Enterprise: Custom
Yearly :
Starter: $72/year
Business: $232/year
Elite: $392/year
Enterprise: Custom
Top Recommended Blog for You
👉 Seodity In-depth Review: The Ultimate SEO Tool for On-Site Content Analysis
👉 10 Best RankTracker Alternatives SEO Tools for Beginners Used by Experts
👉 Ahrefs Backlink Checker- A Comprehensive Guide to SEO Success
Overview of Semrush
Semrush is a search marketing software that enables marketers to boost their website traffic through both organic and paid methods. With Semrush, marketers can perform keyword research and analyze metrics. It can also show the backlinks that are linking to your competitors' websites, but not to yours, through the Backlink Gap feature.
To perform a website audit, Semrush's site audit feature reveals both off-page and on-page SEO errors that need fixing to increase traffic. The software also monitors your keyword ranking and sends a warning if there's a drop. Moreover for creating SEO-friendly content, it provides tools like the SEO Content Template and SEO Writing Assistant. Besides search marketing, Semrush is also useful for social media marketing.
What is Semrush
Semrush is a full-featured toolkit that helps increase web presence and discover insightful marketing data. This tool enables users to conduct SEO and SEM audits for a webpage and its competitors using various tools. Its primary function is to monitor organic search rankings, but it also offers features to enhance PPC campaigns, social media management, content, and optimize URLs.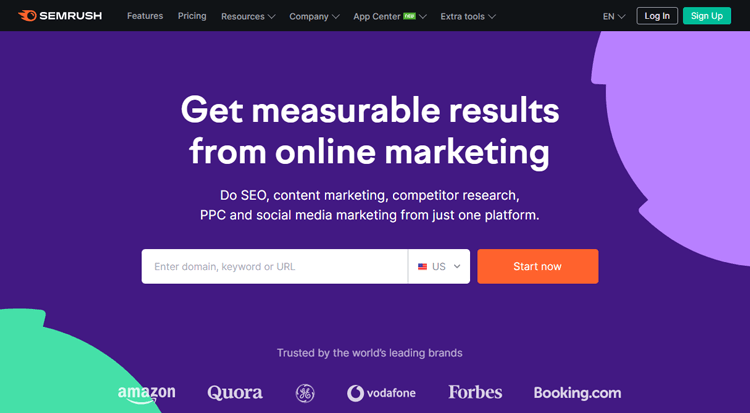 Key features of Semrush
Domain Overview
Traffic Analytics
Organic Research
Keyword Research
Backlink Analytics
Link Building Tool
Site Audit
On-page SEO Checker
Benefits of using Semrush
SEMrush is a versatile digital marketing tool that offers benefits for both businesses and agencies. The standout benefits that contribute to SEMrush's widespread popularity are discussed here.
Better marketing strategy:
SEMrush allows you to gain insights into your competitors' marketing strategies. Additionally, you can compare your online presence with theirs to evaluate the effectiveness of your strategy with just a click of a button.
Keyword research:
By analyzing client behavior, SEMrush can suggest related keywords associated with specific root words that allow you to reach your target audience more effectively.
Keeping track of rankings:
To evaluate the effectiveness of your marketing strategy, it's crucial to keep track of your Google rankings. Luckily, SEMrush enables you to monitor your rankings continuously.
Advertising benefits of using SEMrush:
SEMrush is an excellent tool for finding businesses and companies that are easily affiliated with the moving industry through keyword research and studying pay-per-click ads. In this way SEMrush can help you identify potential affiliate partners quickly.
Backlink Analysis:
Managing inbound links is a crucial aspect of building an online presence. With SEMrush, you can monitor other companies' backlinks and evaluate their value.
Guest Blogging:
Guest blogging is an effective approach to online marketing, particularly when you produce high-quality content. However, it can be challenging to identify worthwhile websites among the many available options. Fortunately, SEMrush can assist with this task by providing research tools to determine the value of potential blogging sites.
Pricing List of Semrush
Below are 3 various paid plans offered by Semrush:
Pro Plan – $119.95/month
Guru Plan – $229.95/month.
Business Plan – $449.95/month.
Pros and Cons of SEOCrawl Vs Semrush
Pros of SEOCrawl:
The tool provides comprehensive and practical insights.
The user interface is intuitive and straightforward to navigate.
Dashboards can be tailored to suit individual needs.
The tool allows for the analysis of historical data.
The tool includes features for conducting keyword research.
Cons of SEOCrawl:
Beginners may find some features overwhelming.
A basic understanding of SEO is necessary to comprehend some of the data provided.
Pros of Semrush:
Huge databases
Broad feature set
Extensive backlink and keyword metrics
Powerful link-building features
Great value for money
Cons of Semrush:
Traffic analytics data isn't always accurate
Data only covers Google
The UI is a little cluttered
Unlock opportunities by learning these:
👉 Best Lifetime Software Deals: Save Hundreds of Dollars on the Top Software Programs
👉 7 Alternatives to WordHero: The Best Tools for Writing Better Content
👉 5 Best Appsumo Alternatives – You Must Know
SEOCrawl vs SEMrush: Which SEO Tool is Better for Your Business
If you're searching for the best SEO software to improve your business, it's essential to understand the significant distinctions of SEOCrawl vs SEMrush. SEMrush provides a broader range of features that contains social media management, advertising research, and content marketing tools. However, SEOCrawl focuses more on SEO-specific features like site speed analysis and technical SEO optimizations.
In terms of refunds, SEOCrawl's Pro version has a 14-day money-back guarantee, whereas SEMrush's Pro version has a 7-day money-back guarantee. In that case SEMRush stands out as the preferred choice due to its extensive features and advanced functionalities. With its broad range of integrations and complex interface, SEMrush is well-suited for larger businesses. On the other hand, SEOCrawl may be suitable for users who prioritize technical SEO optimizations and straightforward reporting.

Frequently Asked Questions
What are the Free SEO tools?
We have compiled a list of the top 10 free SEO tools that can help you drive traffic to your website.
MozBar SEO toolbar
Bing Webmaster Tools
Ahrefs
SEO Review Tools
SEMRush
AnswerThePublic
WordStream by Local IQ Free Keyword Research Tool
Keyword Tool
Seed Keywords by Red Evolution
Ubersuggest free keyword suggestions
Which tool is better for keyword research: SEOCrawl or SEMrush?
SEMrush's keyword research tool offers a more extensive range of features, such as the ability to discover long-tail keywords and track keyword performance over time. In contrast, SEOCrawl's tool provides users with a more straightforward experience by offering keyword suggestions and search volume data. As a result, SEMrush is considered to be the preferred choice for keyword research.
Do SEOCrawl and Semrush have free trials?
Free trials are provided by both SEO tools. SEOCrawl provides a 7-day free trial of its Pro version, while SEMrush offers both a free plan with limited features and a 7-day free trial of its Pro version. However, SEMrush's free plan has more restrictions compared to SEOCrawl, with limitations on keyword tracking and site audits.
What is SEOCrawl best for?
SEOCrawl is best for users who prioritize technical SEO optimizations and straightforward reporting. It is an excellent option for small to medium-sized businesses that need to perform technical SEO tasks.
Which tool is more affordable: SEOCrawl or SEMrush?
SEOCrawl is a more affordable seo tool compared to SEMrush. SEOCrawl's pricing plans start at $29 per month for the Basic plan and go up to $299 per month for the Agency plan. In contrast, SEMrush's pricing plans start at $119.95 per month for the Pro plan and go up to $449.95 per month for the Business plan.
Final Word of SEOCrawl vs SEMrush
SEOCrawl and SEMrush both are great SEO tools for optimizing websites for search engines. Based on the comparison of SEOCrawl vs SEMrush, it is evident that these tools differ based on a few criteria. Though SEMrush stands out with its unique features, the choice of the best tool ultimately depends on the specific needs of the business or individual as well as their available budget.