tinyEmail
Send interactive, precisely targeted emails using TinyEmail's email marketing platform to enable your brand to grow quickly.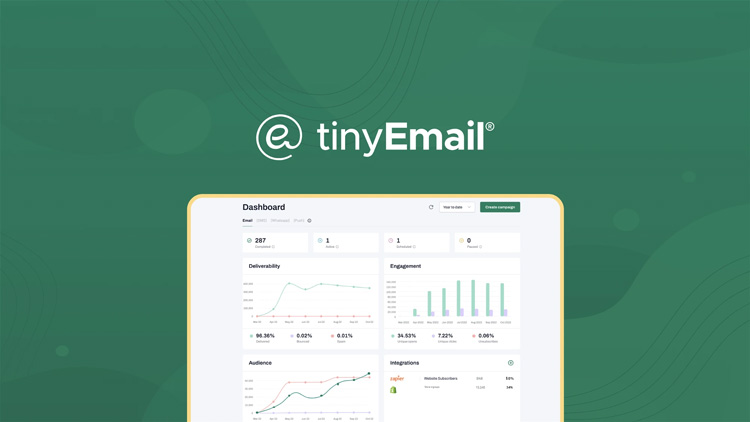 tinyEmail is revolutionizing the way businesses send emails to customers. With tinyEmail's AI-driven platform, users can generate personalized emails for each of their customers and add dynamic content like countdown timers, image sliders, and coupons for a more interactive experience.
Customers are also able to connect tinyEmail with their CRM and payment gateway services which makes managing customer communication and transactions easier. Moreover, it simplifies website development by offering the ability to add interactive popups and forms in order to capture leads without writing a single line of code.
It is a powerful marketing tool designed to help you maximize your efforts and boost sales. With this tool, you get access to predefined and custom audience segmentation that allows you to personalize emails. It also enables you to analyze the behavior of your audience so that you can create segments most suited to your goals.
It also takes the guesswork out of email automation – with only one click, it'll set up trigger emails for welcoming new subscribers, confirming purchases, and nudging customers. So, tinyEmail makes it easier than ever for eCommerce businesses like yours to automate their marketing strategy and drive more sales.
It has revolutionized the way businesses organize their email marketing campaigns. It integrates with over 5,000 apps, allowing you to streamline everyday workflows, capture perfect leads and launch powerful campaigns with ease.
With a one-time purchase of just $49 through AppSumo's lifetime deal, tinyemail gives you all the tools you need to give your business an extra boost. So, make this tool for mass emails and streamline your email workflow today!
Meet tinyEmail
TL;DR
Launch high-capturing emails with high conversion rates using industry standard AI and templates.
Alternatives to: Klaviyo, Mailchimp, Omnisend.
You can add interactive popups and forms to your website or storefront to collect leads.
Best for: eCommerce, Marketers, Small businesses.
Key Features of tinyEmail:
Email marketing
Automations for Shopify
12,000 emails per month
Features included in All Plans
Unlimited subscribers
Unlimited senders
Email marketing
Segmentation and personalization
Integrations and reporting
AI subject line generator
Automations for Shopify
Forms and pop-ups