Article Ninja
An AI-powered content generator that helps to write high-quality articles.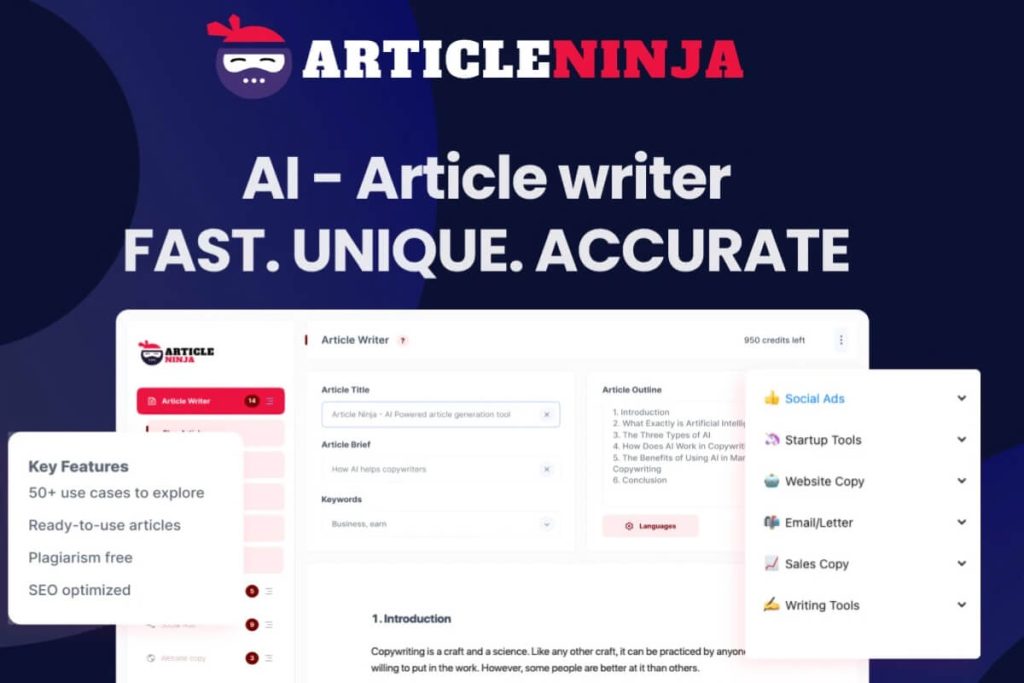 Article Ninja is an AI-powered content generator that allows you to create high-quality articles with a simple click. It uses cutting-edge technology to understand your topic's context and generates informative, accurate, and well-written reports.
Plus, It offers a wide range of customization options, so you can create articles that are perfect for your blog or website. With this tool, there's no need to hire a professional writer – simply click a button and let the AI do the work for you.
In addition, this tool can help you improve your writing skills by providing feedback on your articles. It is an essential tool for any content creator who wants to save time and boost productivity.
Best of all, ArticleNinja is entirely free to use. Simply enter a topic into the interface and click "generate." In just seconds, you'll have a well-written article that you can publish on your website or blog.
Article Ninja uses a natural language processing (NLP) algorithm to analyze a user's input and create an article accordingly. The generated report is then checked for grammar and spelling mistakes before being published.
Article Ninja also allows users to customize the generated article's style, tone, and voice. It's AI engine constantly learns new information and improves its Quality Score.
Meet ArticleNinja
TL;DR
It is designed to help you get your ideas down quickly without worrying about grammar or style.
It also includes a built-in spell checker, so you can be sure that your articles are error-free.
This allows you to focus on the content of your paper rather than the structure.
Provides a platform that helps businesses create and distribute engaging articles.
Key Features of Article Ninja
Writing process faster and simpler
Ninja Mode (Writing Assistant)
Multiple Writing Styles
Inspiration Ideas
Easily generate articles, and blog posts
Create hundreds of unique versions
Automatically submitted
Features included in All Plans
Unlimited short-content
Multiple User Seats
Professional Editor
customer support
Social media content
Ad copy
Website copy
eCommerce copy