Create animated advertisements for your marketing campaigns and social media in just a few minutes, without any coding skills.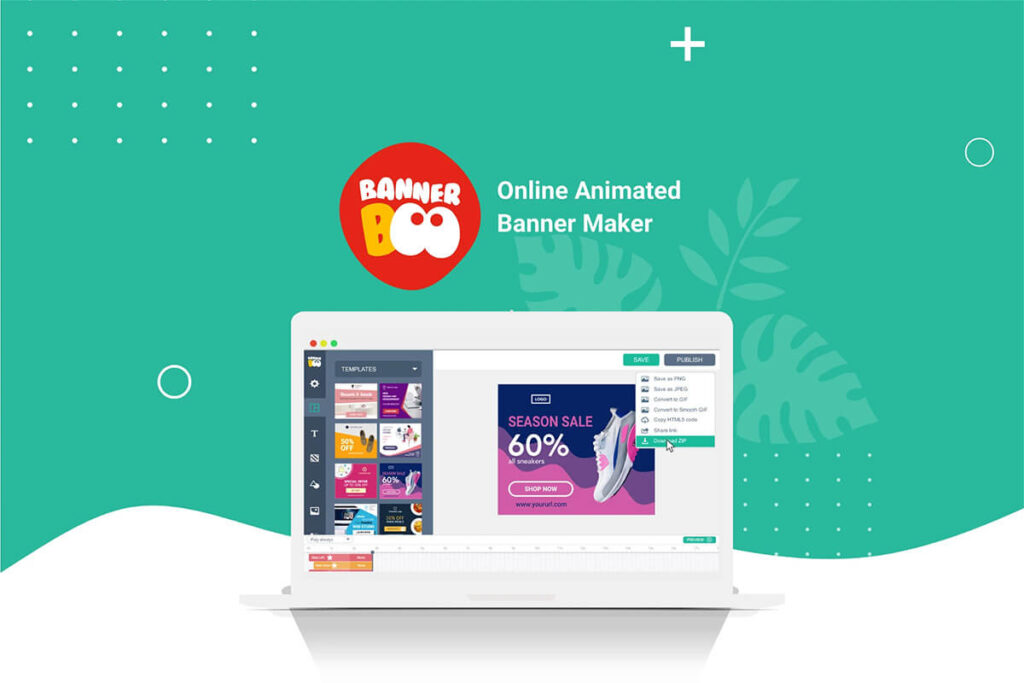 BannerBoo is a platform that enables you to generate and organize animated ads on social media and advertising platforms. With this tool, you can quickly create and optimize animated HTML5 and AMP HTML ads, and export them as animated GIFs or MP4 videos.
Utilizing BannerBoo you can simply drag and drop objects onto the stage, design your ad, and hit the "Smart Animation" button to align and animate your layers automatically. Additionally, it provides a timeline feature for more precise control over your animation and the ability to add transition effects.
With BannerBoo, removing backgrounds from your photographs is simple and reduces the need for challenging Photoshop instructions. In addition, you can easily share your ad previews with others using the Branded Share URL (СNAME) feature, allowing for quick feedback and adjustments.
Moreover, to create your own campaigns, this platform will automatically resize your banners to meet the chosen size. Plus, with access to millions of photos, videos, clip-arts, and vector icons from integrated libraries, you'll never run out of creative options.
Furthermore, BannerBoo makes it simple to create and publish animated ads on any advertising network or social media platform. It also offers customizable workspaces for individual brands, custom templates and enhances your creative processes.
BannerBoo offers all the essential tools for generating exceptional ads, whether you are part of an agency or an in-house marketing team. Start creating unique ads in no time by purchasing lifetime access to BannerBoo from Appsumo for just $49.
Meet BannerBoo
TL;DR
Easily generate, organize, and release your HTML5, AMP HTML, GIF, and MP4 ads on any social media platform or advertising network with BannerBoo.
Alternatives to: Bannerflow, Bannerwise, Creatopy.
Establish your own branding and present your ads to clients by taking advantage of the Branded Share URL (CNAME) feature.
Best for: Marketers, Marketing agencies, Small businesses.
Template Creation
Design & Editing
Ad Management
Analytics
Features included in All Plans
Unlimited banners
Unlimited exports to PNG, GIF, JPG, HTML, and AMP
Banner generator
Video ads
Branded preview link (CNAME)
Magic animator and magic resizer
Animated templates
Custom templates
PSD files import
Color palettes
Photo filters and effects
Gradients and vector masks
Audio tracks support