Blakify
With over 700 voices and more than 65 languages, you can quickly and easily create natural-sounding voices.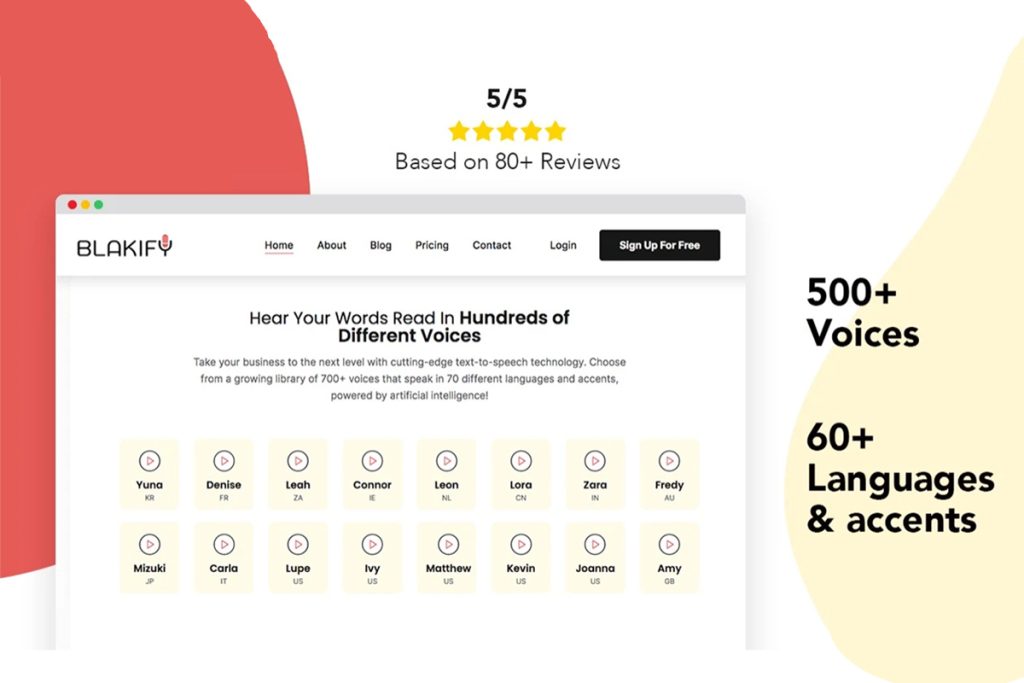 Blakify Text to speech is perfect for creating voices for characters in a book or script by adding a new dimension to your voice. With this tool, you can create natural-sounding voices in seconds.
In addition, it's integrates with popular applications such as Microsoft Word, PowerPoint, and Outlook, making it easy to convert Text to speech in any situation. Whether creating a presentation for work or designing a new website, this can help you create the perfect voice for your project.
In addition, BlakifyAI can provide high-quality languages and accents, thus allowing for a wide range of customers to use the service.
One of the unique aspects of Blakify is its ability to scale. No matter how big or small your project is, Blakify can handle it. It is also constantly adding new features, so you can be sure you're always getting the latest and greatest.
With this AI tool, you can upload any document and turn it into an audio file. This also supports SSML tags so you can customize your voice's sound. And with future updates, Blakify will provide music in the background and the use of multiple voices in the same script.
So, Blakify is an ideal solution for businesses or individuals who need a way to convert written Text into spoken word.
Meet Blakify
TL;DR
You can use Blakify to create voiceovers for your next video presentation or podcast or to create an audiobook.
Alternative to: Play.ht, Updigital, Voicely, Talking.Network, Murf, and Listnr
Easy-to-use interface, you can create custom audio content in minutes without any prior experience.
Best for: Bloggers, Influencers, YouTubers.
Key Features of Blakify
API
SSML Tags
Text Analysis
AI Voices
Chat/Messaging
Auto-Save
Tone Selection
Spell Check
Competitive Analysis
Monitoring
Content Library
Data Import/Export
Machine Learning
Multi-Language
Voice Generator
Multi-Voice
Multi-Language
Features included in All Plans
Speech Recognition
Unlimited Characters
Stylish Pronunciation
Powerful Online Editor
Switch to Any Language
Unlimited Plans Available
Load Fast, Takes Second
Convert to Any Language
Unlimited MP3 Conversion
PDF to Voice Narrator
Every Audio Is Professional
Natural Language Processing
Drafts and AutoSaved Features
Type, Paste, and Import Option
For Sales Teams/Organizations
Process/Workflow Automation
Third-Party Integrations