Playhunt
Playhunt is a video survey tool that quickly selects from a large number of CVs that most closely match the company's ideal candidate profile.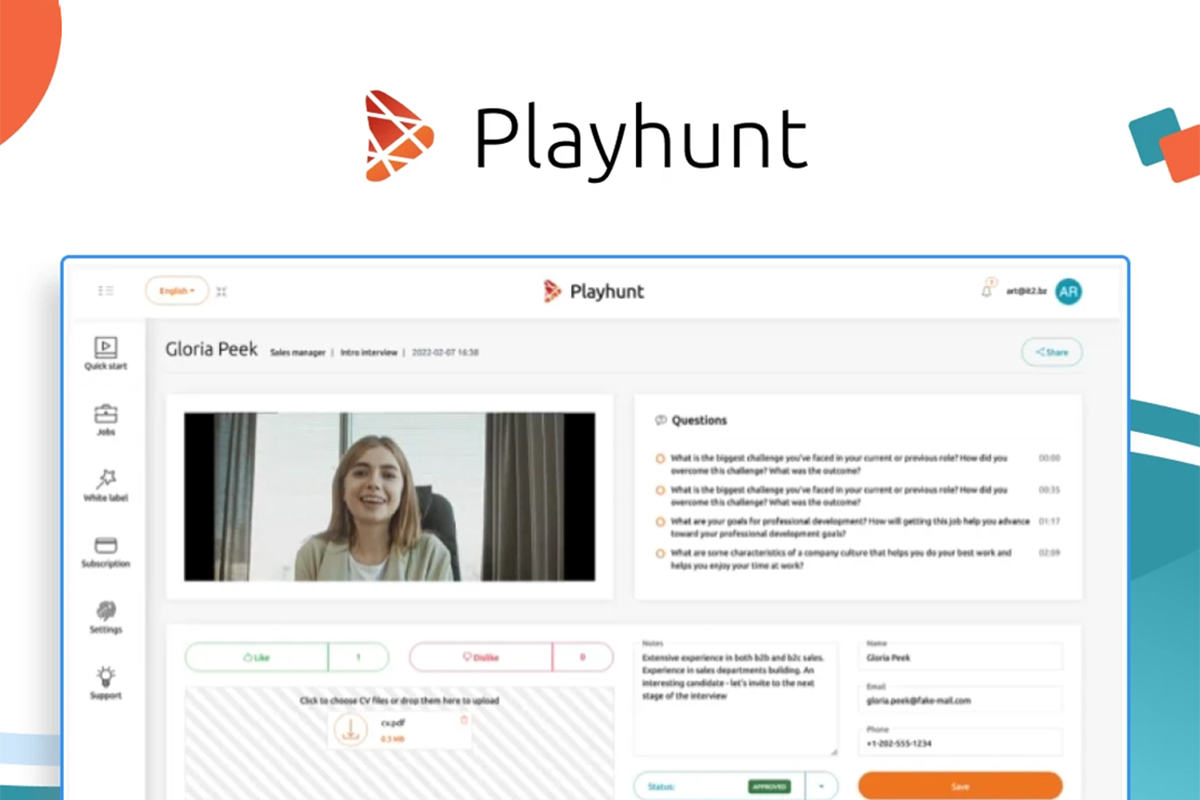 Playhunt is a powerful tool that helps employers filter through thousands of resumes quickly and efficiently. The platform includes features such as one-way video interviews, job openings management, and an analytical dashboard for a quick view of candidate profiles.
This tool makes easy to find the best-qualified candidates for open positions, saving time and energy in the hiring process. With Playhunt, employers can be confident they are making the best hire for their company.
With so many businesses now operating online, it can be challenging to weed through all of the applications and CVs that come in. However, it filters out the best-matched candidates quickly from thousands of CVs.
The team has developed unique video analysis technology that assesses a range of behaviors and characteristics, then provides an in-depth report on each candidate.
This tool gives employers a better sense of who would be the best fit for their company and saves time and money in the recruitment process. With Playhunt, employers can find the hidden gems in their candidate pool and ensure that they only interview the best.
Meet Playhunt
TL;DR
Simple, cost-effective solution that helps employers to interview more candidates in less time without sacrificing quality.
Candidates can apply by recording a short video answering questions about their skills and experience.
Best for: C-suite, Recruiters, Small businesses
Key Features of Playhunt
Activity Dashboard
Applicant Tracking
Background Screening
Collaboration Tools
Commenting/Notes
Email Reminders
Recruitment Management
Reporting & Statistics
Self Service Portal
Session Recording
Talent Acquisition
Video Management
Remote Proctoring
Candidate Screening
Access Control
Features included in All Plans
Interview Management
Pre-recorded Messages
Live Video Interview
Customizable Branding
Customizable Questions
Collaborative Hiring
Two-Way Audio & Video
Job Application Management
Unlimited job openings