Generate intelligent, appealing content to enhance website clicks and drive conversions.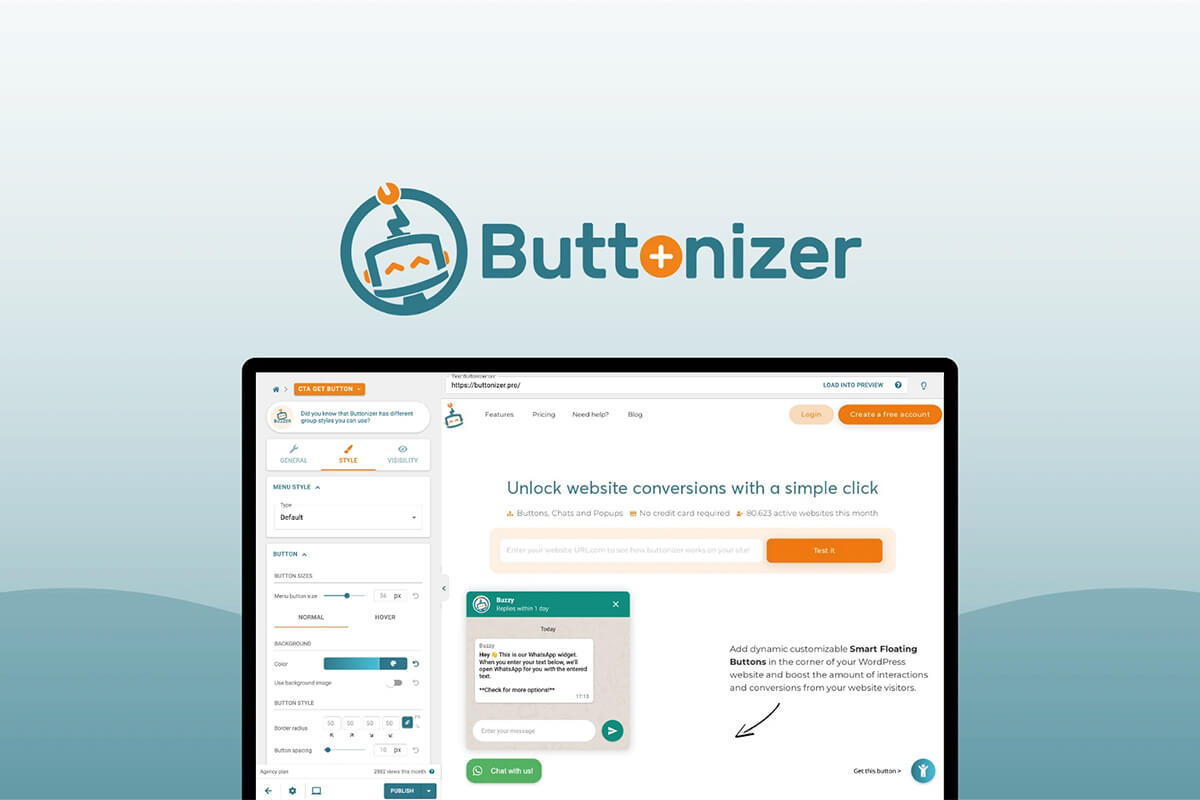 Buttonizer is a powerful and versatile tool that enhances user engagement and boosts conversions on websites. With its innovative features, this tool allows you to create and implement floating chat widgets, contact forms, and dynamic buttons that captivate your audience's attention and drive them to take action.
Its ability to generate floating elements that remain visible as users navigate through your website. These elements can include chat widgets for instant communication, contact forms for easy interaction, and dynamic buttons for specific calls to action. By staying prominently displayed, these elements provide users with seamless access to important functionalities, increasing the likelihood of conversions.
Moreover, Buttonizer's capabilities extend to a wide range of actions that can be triggered with just a click. These actions encompass social sharing, direct messaging, click-to-call, and email communication. For WordPress users, this tool integrates seamlessly by allowing the creation of dynamic smart floating buttons that can be key-placed on your website.
Furthermore, its compatibility extends to Shopify through its dedicated app, as well as the flexibility to embed short codes on any website. It also offers the ability to set up WhatsApp and Facebook Messenger chat widgets effortlessly. You can even design custom contact agents to handle various support inquiries.
Also, gathering user information is made efficient with Buttonizer's contact form feature. By creating clickable contact forms with tailored field labels and confirmation messages, you can collect user data seamlessly. The tool's flexibility is its capacity to integrate multiple buttons and craft interactive floating menus with unique styles and animations.
Plus, Buttonizer empowers you to exercise precise control over when and where your buttons are visible. You can set conditions based on factors like device type, landing page, user role, and time, ensuring that your content reaches the right audience at the right moment. This includes implementing time-triggered and behavior-triggered buttons to engage users during key interactions.
Buttonizer – Plus Exclusive has just been made accessible to AppSumo Plus Members. By being a part of the AppSumo Plus Membership, you'll not only gain access to this exclusive offer but also receive an automatic 10% discount on every product available on AppSumo.
With Buttonizer, the power to enhance user engagement and boost conversion rates is at your fingertips. Don't miss the opportunity to maximize the potential of this tool, now available for a lifetime deal of just $49 on Appsumo. Don't let this opportunity slip through your grasp.
Meet Buttonizer – Plus exclusive
TL;DR
Initiate communication with customers using the WhatsApp chat and contact form widgets.
Alternatives to: aturn Cloud, G2 Deals, Terminus.
Incorporate over 40 actions into levitating buttons, encompassing social sharing, chat functions, click-to-call, and direct messaging.
Best for: Freelancers, Marketers, Web design agencies.
WhatsApp widget
Contact form widget
Site search widget
Custom colors
Features included in All Plans
Infinite Levitating Action Buttons
Create Levitating Menus
Buttons for Social Sharing
Personalize WhatsApp Chat Messages
Tailor Button Placement
Customize Color Schemes
Select from 5 Eye-Catching Animations
Integrate Google Tracking Code
Display or Conceal Buttons based on Time Schedules
Apply Page-Specific Rules
Activate Exit-Intent Trigger
Unlimited Websites Supported