Breakcold
Establish B2B connections via LinkedIn, Twitter, and email by utilizing a single platform.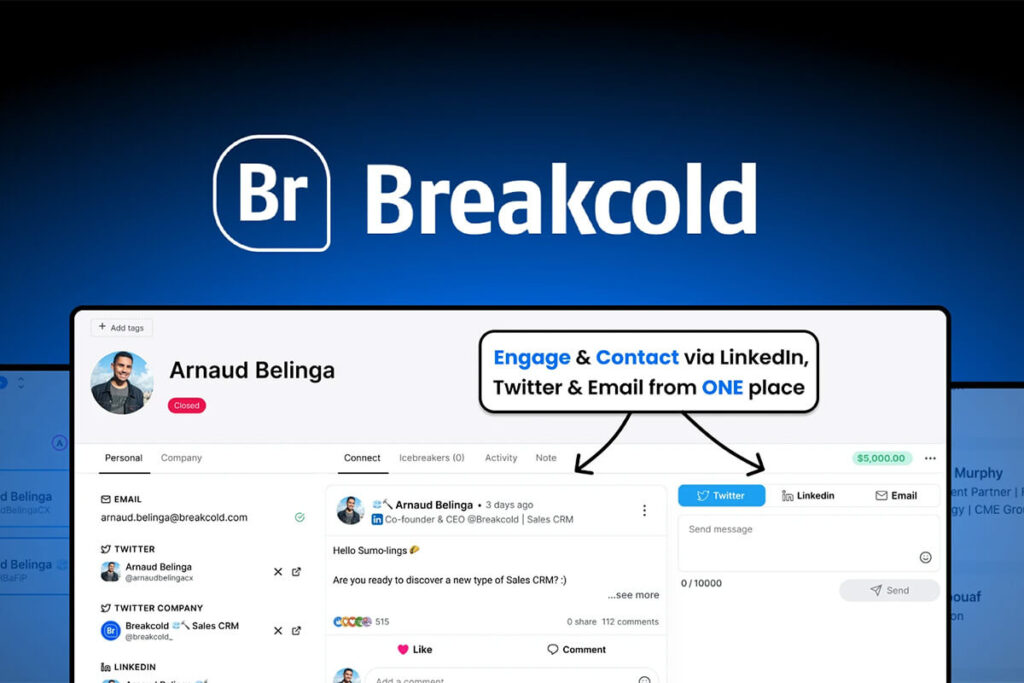 Breakcold is an advanced sales CRM technology that completely alters how you create and maintain B2B partnerships. With its comprehensive features and seamless integration with various platforms, Breakcold provides a centralized hub for efficient and effective B2B marketing.
By using the platform's intuitive interface, you can personalize your outreach efforts to resonate with your leads. This personalized approach enhances engagement and ultimately leads to increased deal closures.
This platform also provides you with access to relevant lead information, empowering you to craft tailored messages. Utilizing its customization feature, you can create custom sales pipelines with unlimited stages using dynamic plug-and-play templates. This flexibility allows you to adapt the pipeline to your unique sales process and track leads through each stage.
With Breakcold, you can manage and expand your business contacts while streamlining your B2B marketing initiatives. It makes it easier to manage LinkedIn, Twitter, and email conversations. As a result, you can concentrate on forging meaningful connections and reaching your sales objectives.
Additionally, it offers robust cold email campaign functionality. You can create and send unlimited cold email sequences, experimenting with different approaches to identify the most effective strategies. With the option to trigger sequences using Zapier, you can automate your outreach process and save even more time.
Experience the power of Breakcold and elevate your B2B marketing game to new heights. For an exclusive discounted price and a lifetime deal, head over to the AppSumo platform. Seize this opportunity to acquire this tool for just $39 and gain a significant advantage for your business. Don't miss out on taking your marketing efforts to the next level.
Meet Breakcold
TL;DR
Engage with leads seamlessly across LinkedIn, Twitter, and email directly within a single CRM while conveniently accessing all their posts through a unified feed.
Alternatives to: Pipedrive.
Effortlessly manage various B2B lists and sales pipelines, and unleash the potential of your outreach with unlimited personalized cold email sequences.
Best for: Freelancers, Marketing agencies, Sales managers.
Key Features of Breakcold
Prospecting Feed
LinkedIn Posts & Tweets Tracking
Sales Pipeline
Cold Email Campaigns
Contact Management
Email Verifier (Unlimited)
Features included in All Plans
Company news aggregation
Like and comment on LinkedIn and Twitter posts
Quick LinkedIn and Twitter direct messages and emails
Prospecting feed and prospecting feed pipeline
Activity sync
Team engagement
Unlimited contacts with custom fields
Email verifier