Proven.ly
Utilize the social proof effect and notification popup to establish trust with your audience easily.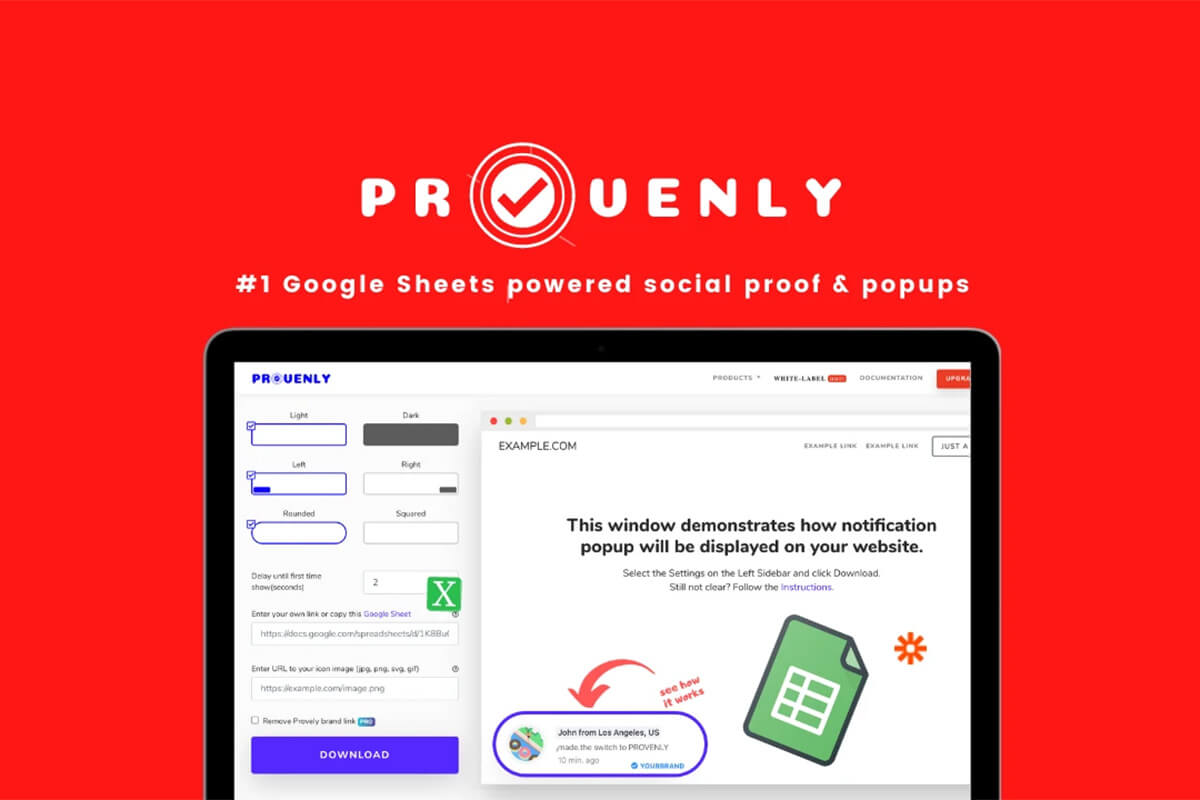 Proven.ly is a powerful tool that can improve your website's performance by adding compelling social proof and promotional announcements with just a few lines of code. The seamless integration with Google Sheets makes managing and updating your data a breeze. It ensures that your website always showcases the latest and most relevant information to your visitors.
Utilizing the Fear of Missing Out (FOMO) effect, Proven.ly cultivates a sense of urgency and excitement that encourages users to act right away. It also greatly increases your website's conversion rates. You can also customize social proof and promotional announcements to your audience's needs and tastes with Proven.ly's dynamic approach.
With this tool, you can generate more sales during crucial moments, such as landing and checkout. By strategically displaying relevant promotions and offers, you can influence user behavior and drive conversions right at the moment of decision-making.
Moreover, Proven.ly offers a selection of ten additional user notification templates to accommodate varied use cases. These templates have been carefully created to accommodate a wide range of circumstances. This adaptability guarantees that you can produce compelling announcements that connect with your audience and encourage more attention and engagement.
Furthermore, whether you run an eCommerce store, a service-based website, or any online platform, this tool holds the key to unlocking new levels of trust and engagement with your audience. It also helps you stand out in a crowded digital landscape, creating a lasting impression that encourages repeat business and increased customer loyalty.
So, use Proven.ly to improve your website's functionality and increase conversions. Secure lifelong access to this revolutionary technology on Appsumo today. Unleash the full power of your online presence for just $39 to grow your company and engage customers.
Meet Proven.ly
TL;DR
Foster FOMO and skyrocket views on inner pages and throughout your entire website.
Alternatives to: udgify, ProofGain, SooProof..
Showcase social proof, product banners, promo widgets, announcements, and notifications seamlessly on any webpage.,
Best for: Marketers, Sales managers, Social media managers
Key Features of Provenly
Import Past Data
Work on Any Websites
Customizable Settings
Clickable Product Links
Your Custom Branding(Pro)
Ultimate Marketing Star
Customizable Icon Image
User Geo Location(beta)
Automate with Zapier(Beta)
Google Sheet Powered
Customizable Colors
Features included in All Plans
Build trust with your audience easily
Unlimited notifications
Easily edit the design and update info with an online builder for a lifetime
Ideal for small beginner startup, one-page stores, SMB's eCommerce, marketing agencies, e-marketing agencies,and makers
Easily modify the information in the widget via Google Sheets
Build trust with your audience easily
Generate more sales on landing & checkout
Increase conversions on your website & store