Howuku Optimize
Utilize this Google Optimize alternative to improve website engagement and conversion rates.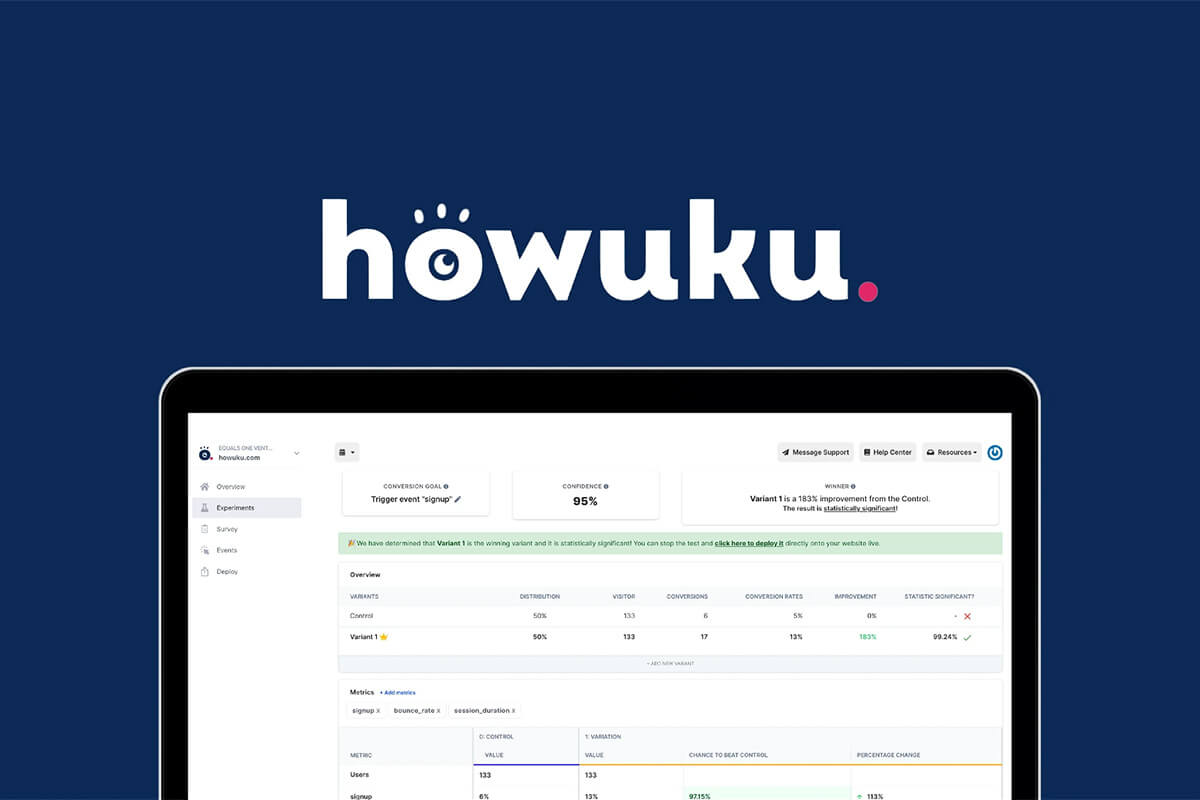 Howuku Optimize is a cutting-edge platform that revolutionizes Conversion Rate Optimization (CRO) strategies for websites. It empowers businesses to conduct tests, implement changes, and enhance their online presence without the need for extensive coding skills. In the realm of CRO tools, Howuku Optimize stands out as an excellent alternative to Google Optimize.
The multi-armed bandit optimization feature of this tool allows users to assess multiple testing options simultaneously. It maximizes the effectiveness of experiments both during and after testing. This strategic approach ensures that the most successful variations are identified and implemented in real time.
Howuku Optimize also simplifies the survey AI creation process. Users can define their research goals, and the platform's AI generates relevant survey questions to collect high-quality feedback. The Pop-up surveys of this tool can also be seamlessly deployed as visitors navigate the website, enabling the capture of valuable insights.
The platform's AI capabilities extend beyond surveys. They sift through analytics data, reducing complex information to short, straightforward summaries. The conversion of raw data into useful insights speeds up decision-making processes.
Moreover, once experiments are concluded, Howuku Optimize enables users to download and share comprehensive experiment summaries with clients and stakeholders. The customizable reports and relevant metrics can be selected to communicate the impact of experiment outcomes effectively.
Furthermore, another feature of Howuku Optimize is its flexibility. It accommodates unlimited goals and metrics. It allows users to conduct an extensive array of tests tailored to their objectives.
To summarize, Howuku Optimize advances website optimization by simplifying the process of experimentation and change implementation. Appsumo is currently providing access to this tool for Appsumo lifetime deals at an incredibly affordable rate of just $59. Take advantage of this tool without delay.
Meet Howuku Optimize
TL;DR
Effortlessly conduct tests and deploy changes in real-time, all without the need for extensive technical know-how or coding skills.
Alternatives to: Smartlook, VWO, Mouseflow, Glassbox, LogRocket, Heap.
Initiate uncomplicated web experiments like A/B and split URL tests to amplify conversion rates.
Best for: Marketers, Marketing agencies, Product managers.
Key Features of Howuku Optimize
A/B Testing
Visual Editor
Code Editor
Traffic Allocation
On-site Survey Widget
AI Text Recommendation
Features included in All Plans
Unlimited websites
Split URL tests
Limitless sub-domains
Visual and code editing tools
Traffic distribution management
Integration with event tracking and user attribute APIs
Boundless goals and metrics
Infinite variations
Onsite survey widget
AI-driven text suggestions
Summary report download and report sharing capabilities
Campaign scheduling